August 21, 2017 Solar Eclipse
Alliance, Nebraska
We got to see the solar eclipse today, but we almost missed it. We started in Ogallala, Nebraska and awoke around 5:30 for a 6:30 departure. That would, hopefully, give us enough time to get into position, assuming the traffic would be slow.
The weather at sunrise was thick, pea soup fog. We were anticipating that it would burn off and decided upon our pre-selected viewing location on Spring Valley Road or somewhere else in the sand hills north of Ogallala. We proceeded northward through Arthur and found a nice spot along the road. It remained cloudy while Martin and I drove northward to scout out a better spot.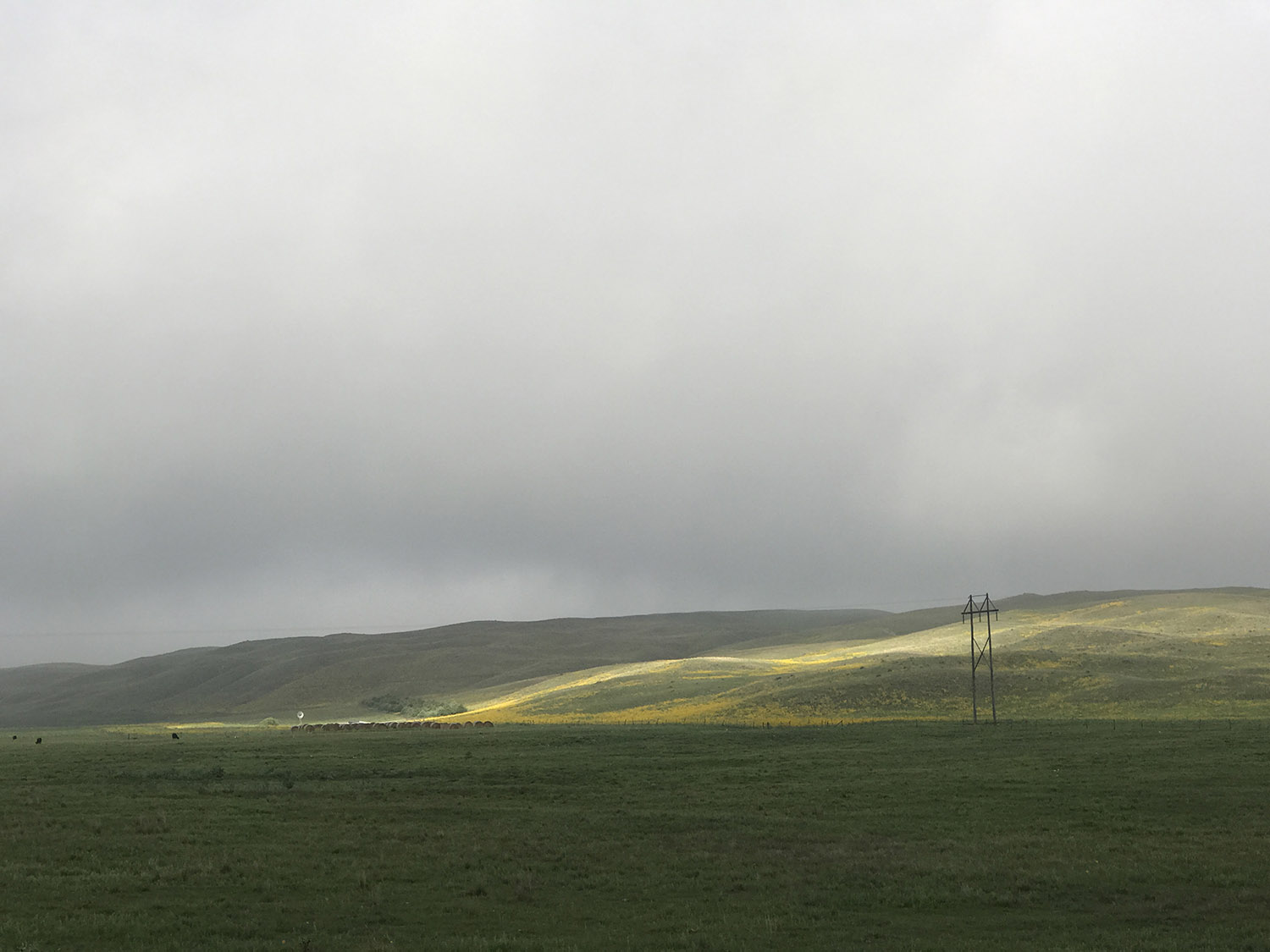 Our first stop of the day as the fog was lifting.
As it turned out in the end, this first stop would have afforded us a view of the total portion of the eclipse. While we were there, however, it looked like this area might be the last to see clearing due to the low-level convergence around an area of low pressure and an approaching cold front. However, secondary vertical circulations around this clouded area helped clear it out around the time of the eclipse (sunshine in surrounding areas, differential heating, warm air rises, cooler air sinks, etc.). The timing would have worked out, but clouds moved back into this area later in the afternoon, and we would not have been assured full sunshine at the time of the eclipse.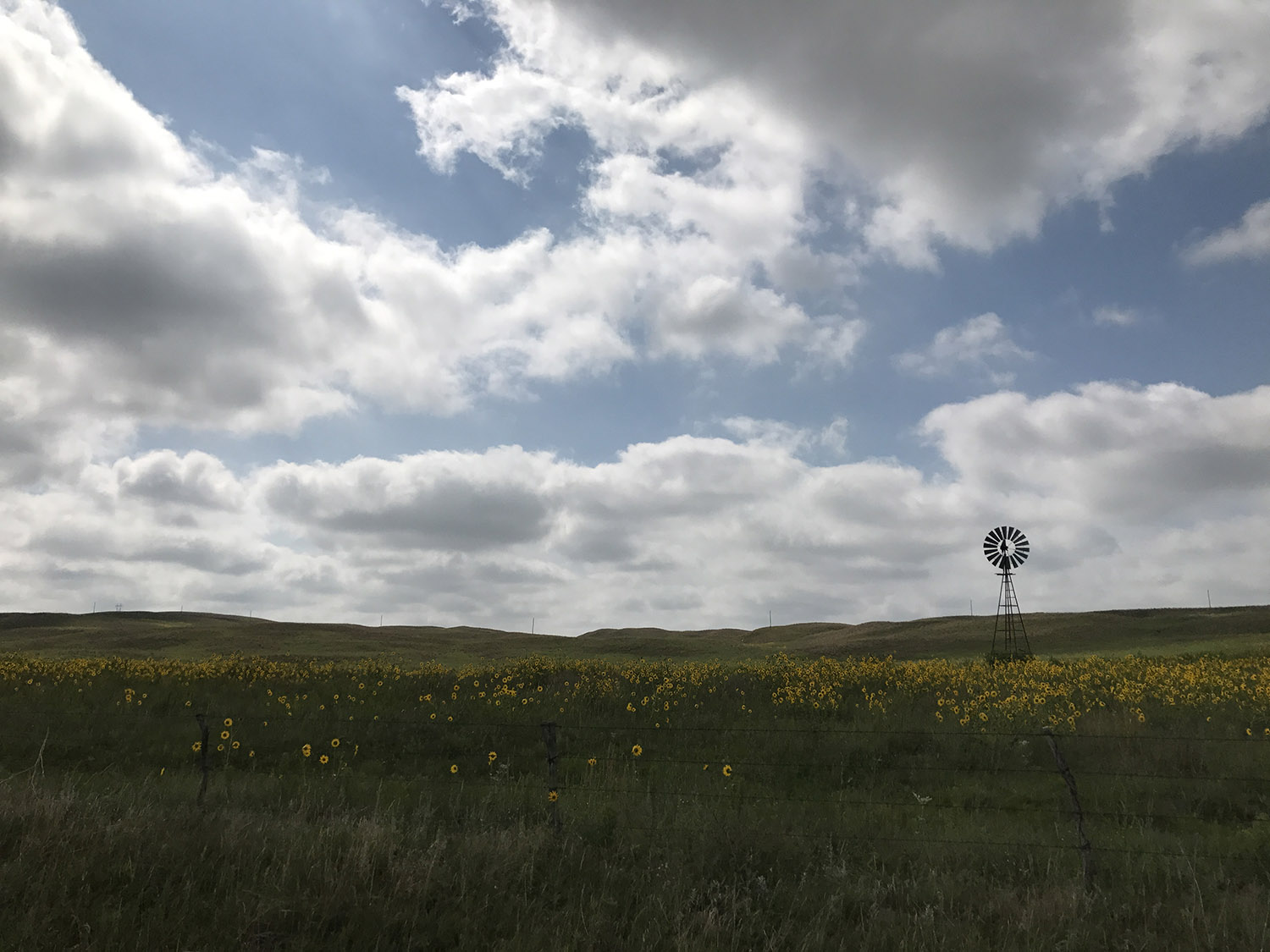 Our second stop along Spring Valley Road was gorgeous! Local ranchers drove by and informed us we were on a private road.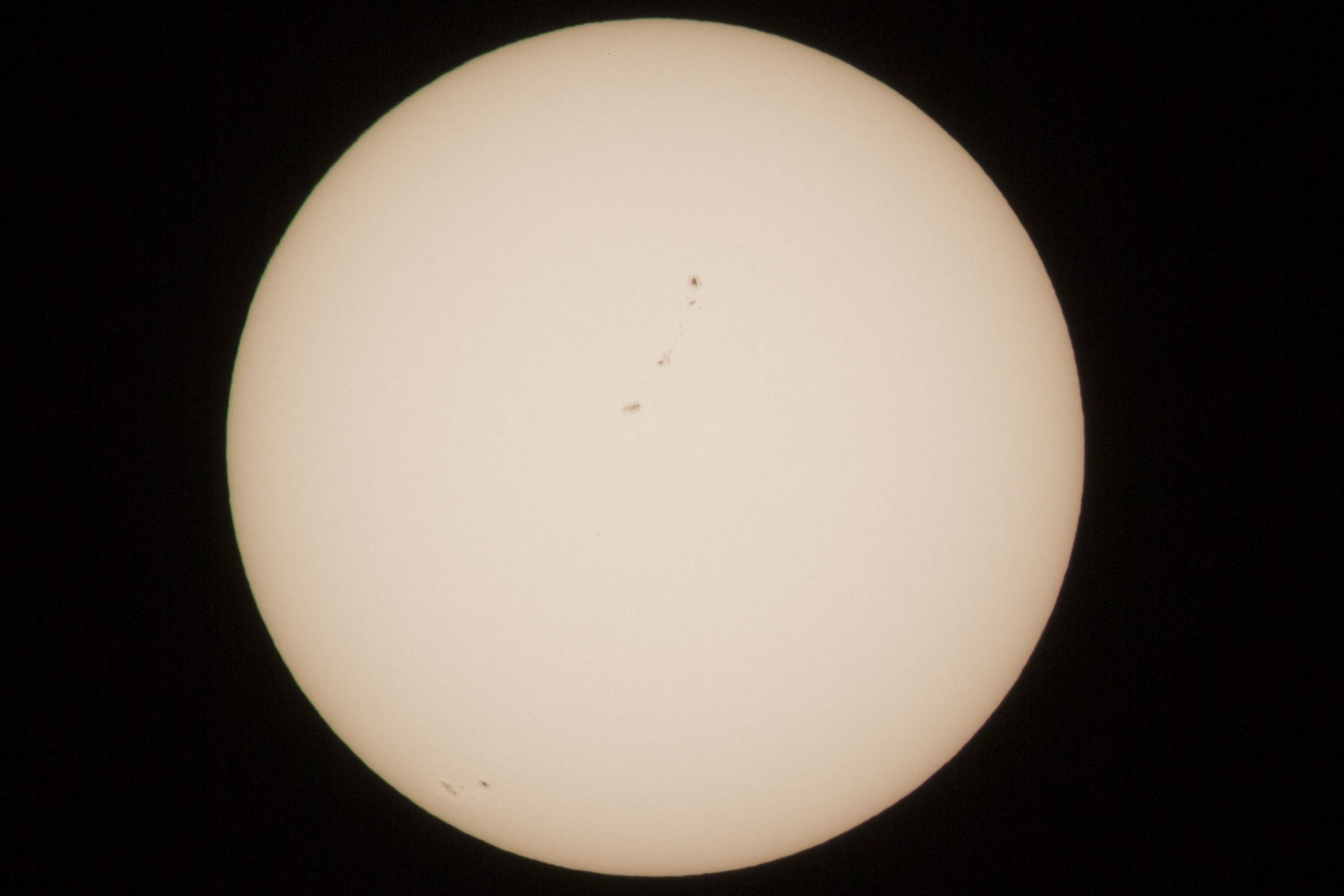 The sun about 30 minutes before the start of the eclipse. Two sunspot groups are visible.
Our second stop was really quite scenic. It turned out that Spring Valley Road is actually a private road, and the local ranchers who live along it informed us of that, warning us not to hop the fence and trespass, but they said we were welcome to stay and view from the road.
When we arrived, the trend in cloudiness was really looking pretty good. We had gone from completely overcast to 50 percent sunshine, and the clouds were looking a little flatter. However, another 30 minutes after that, we realized the clearing trend had halted, and there was a somewhat thicker stratocumulus deck to the north that was threatening to move in. Just 10 minutes before the start of the eclipse, we decided we needed to move to be assured a good view of totality.
We hopped back in the vans and headed north to Hyannis and then westward to find the western edge of the clouds. As we drove along, through, the clouds filled in from the north and were actually pushing back southwest. Our last hope was to make it to Alliance, but there was no way to continue west from there. The road options were either northwest or southwest. When we approached town, the skies looked better to the northwest, so we zig-zagged around town to make our way in that direction. When we got due north of the city center, just past the last residential neighborhoods, we were finally west of the last big cloud, and there were, at most, five minutes remaining before totality. It was time to set up. We abruptly brought the vans to a stop and jumped out.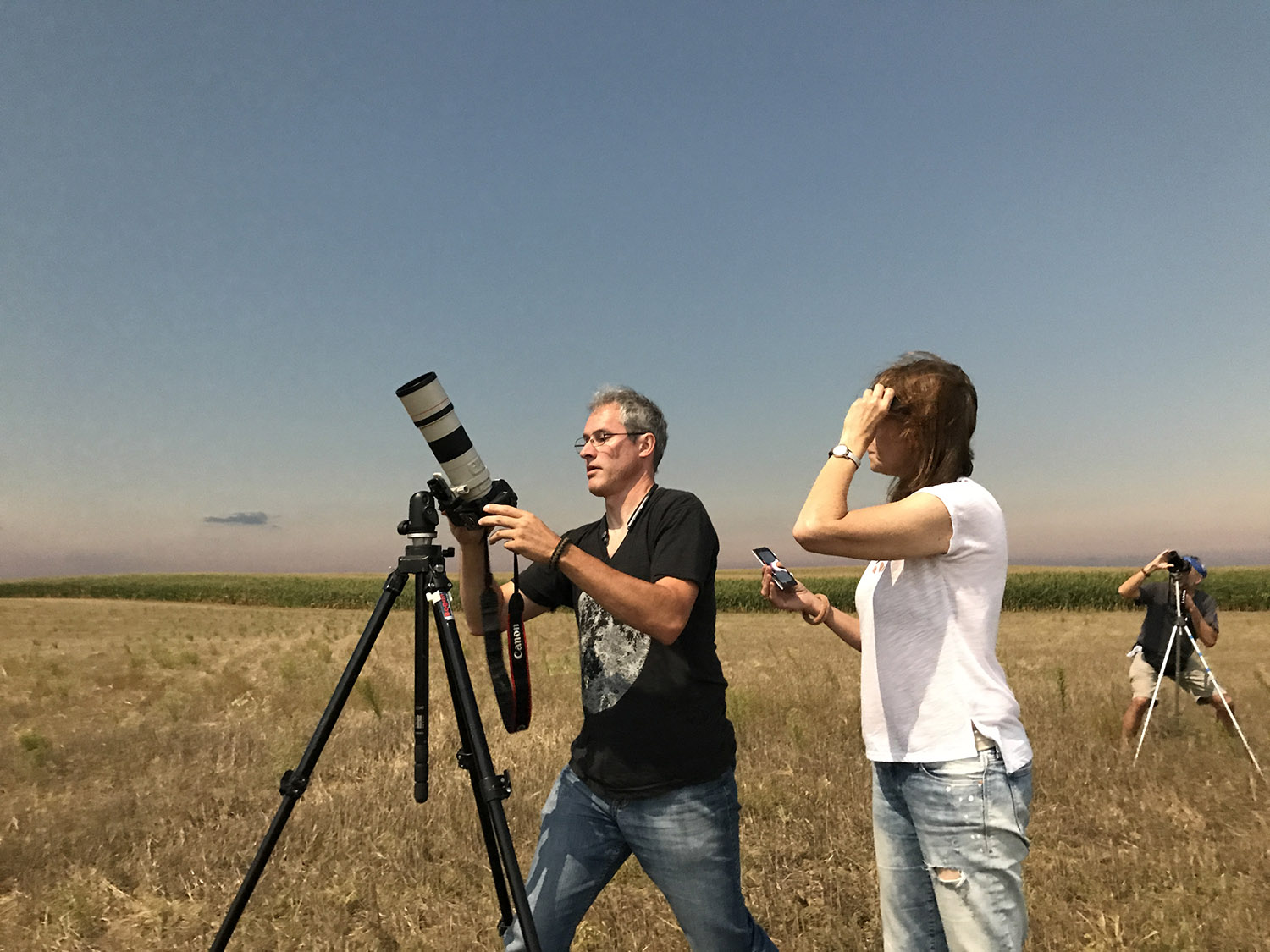 Frantically getting set up immediately before totality. When I took this shot, the eclipse was probably around 95% or more.
I quickly got set up and started snapping away. In my haste, I forgot to set my lens to full zoom, so I shot at 200mm rather than 800mm. Maybe I'll have to go south for the April 2024 eclipse so I can get better shots. As I was snapping away, I suddenly noticed I was not able to see what I was doing. I looked up to see the full eclipse in progress, and the sun's corona was much more visually apparent than I thought it would be. The transition from apparent sunshine to totality was much, much faster than I thought it would be. The onset of darkness until that point of time is very slow, and the experience is very similar to wearing a strong pair of sunglasses- except that you aren't. You can look around at noon on a clear day and not squint.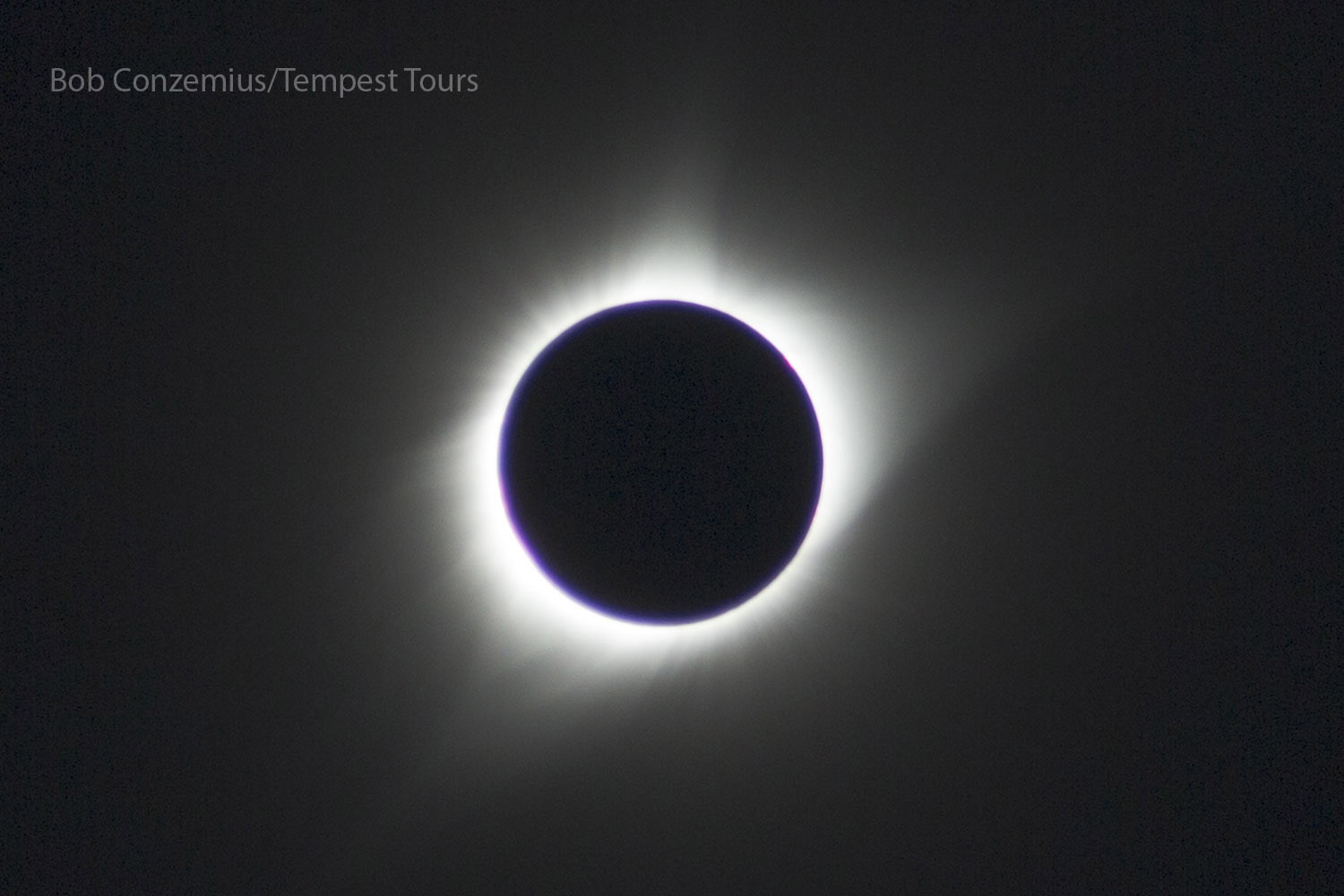 Totality.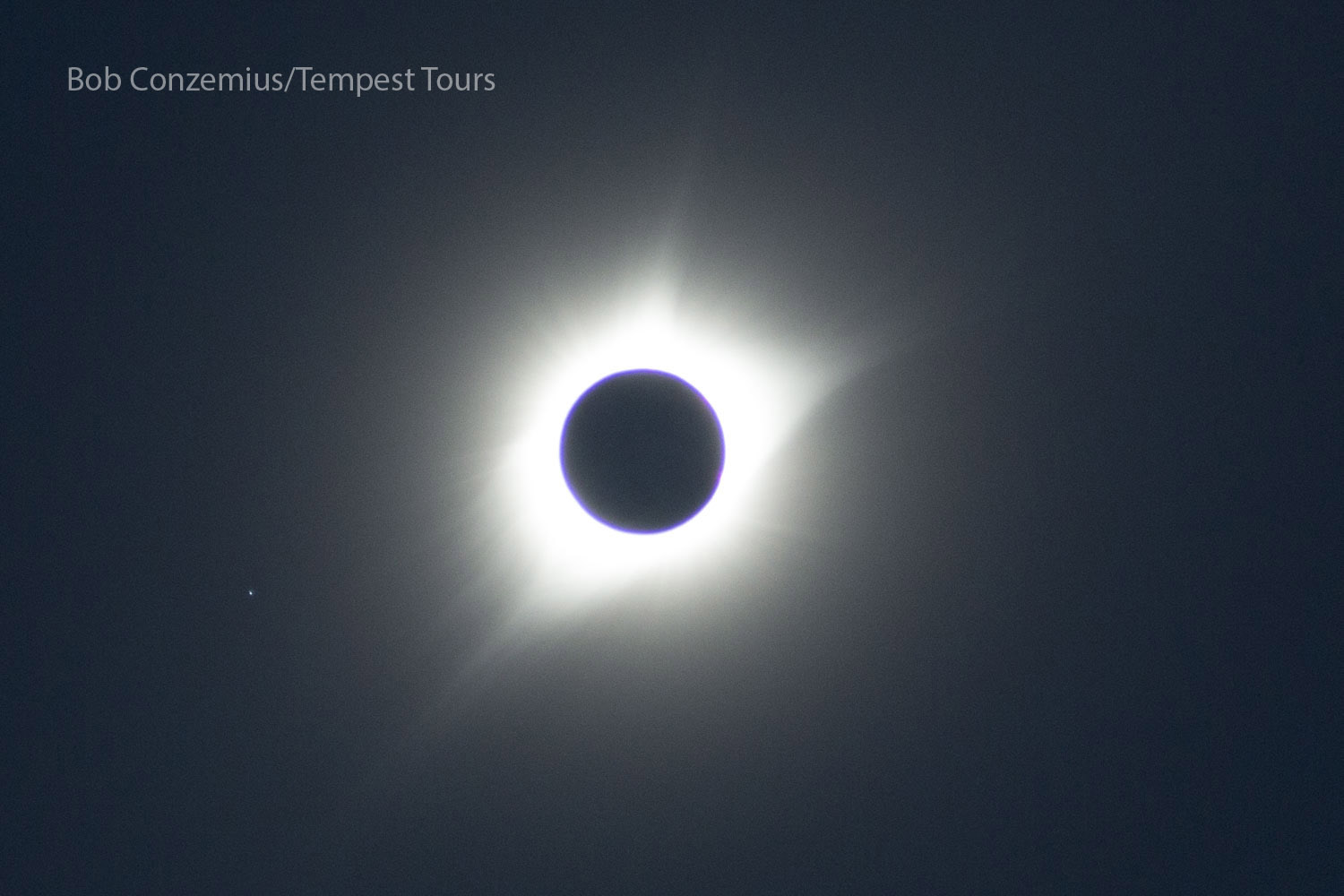 I tried to capture the Earthshine, but it could not expose correctly.
About halfway through totality, I realized I could see the lighting of the moon's surface from Earth-- so called Earthshine. I tried to bump up my ISO to capture this, but it was really tough to capture, and I could barely see it. It turned out that photographing totality is more challenging than it looks because, depending on what you want to capture, you have to choose from a very wide range of possible exposures. To get prominences on the limb of the sun, you need to have an exposure time short enough to mostly remove the corona. If you wanted to get Earthshine, several seconds of exposure and a tracker might be recommded.
Anyway, totality quickly went by, and in seemingly a quarter of the time it actually lasted, the outside part of the solar disk emerged from the right. I changed my exposure and captured a few images of the retreating moon. I captured some of the sunspots and called it good.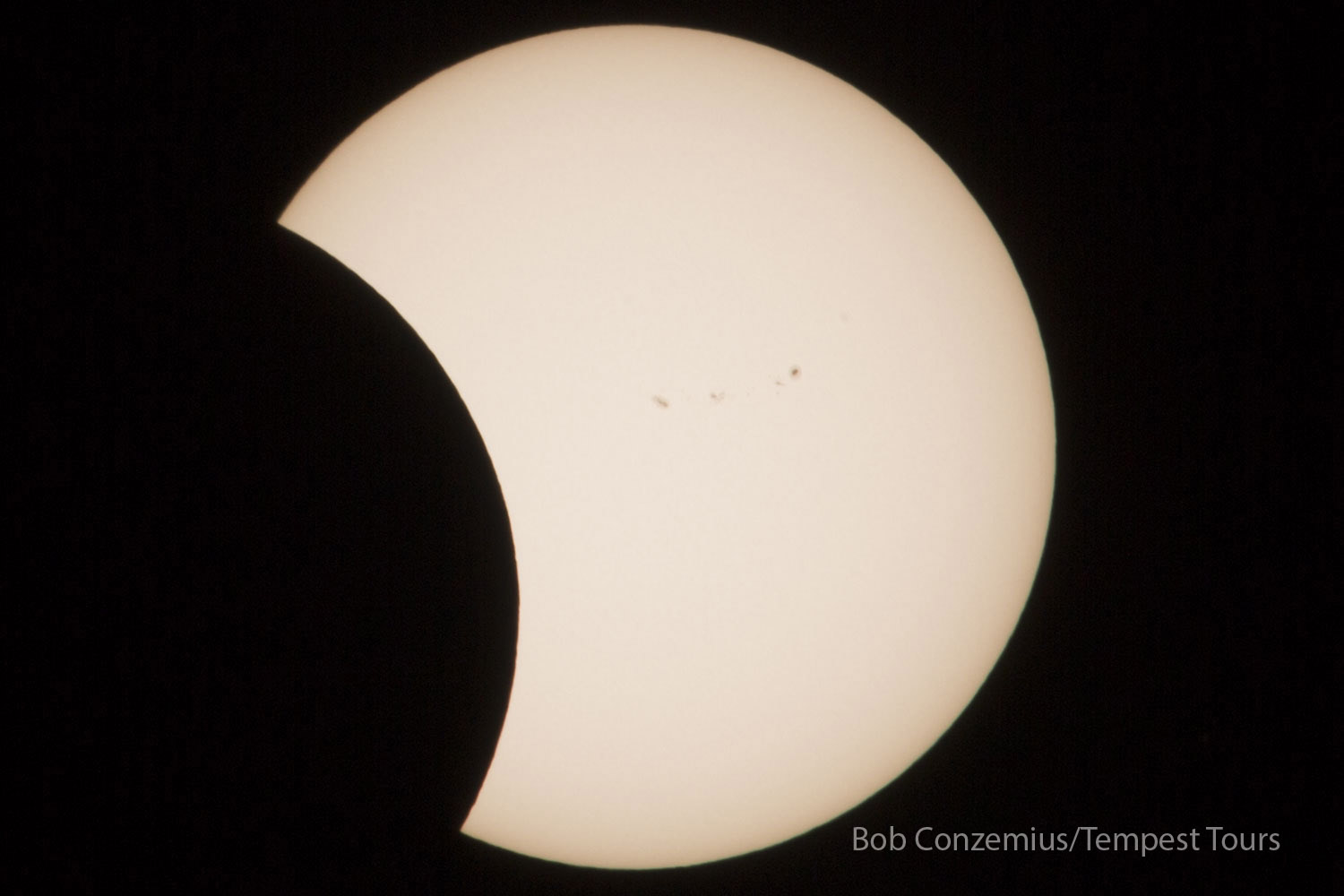 The moon retreats from the solar disk.
We waited for the eclipse to end, and then we decided to retreat in the direction from which we came. U.S. 385 southwest from Alliance was jammed with traffic. We started east, quickly encountering some van transmission issues. This was the last season of service for the 2010 van, and it had already been sold, but it decided to give up a couple hundred miles early. We made it back to Ogallala just fine and brought it into service there. Kim had to stay in Ogallala and wait while the van received a new transmission, and we took the guests back to Denver the following day without inconveniencing them.
When we arrived in Ogallala, we decided to take the other van and any willing guests east on I-80 should any storms pop up as we were in a risk area for severe weather. As it turned out, nothing developed in our area, so we turned around at North Platte and had some dinner at Margaritas Mexican Restaurant. We spent our last tour night at the Stagecoach Inn.
EV travel: A Supercharger in Ogallala would make this trip relatively easy, but round trip to Alliance would require full range. One Tesla Model S was parked on Spring Valley Road.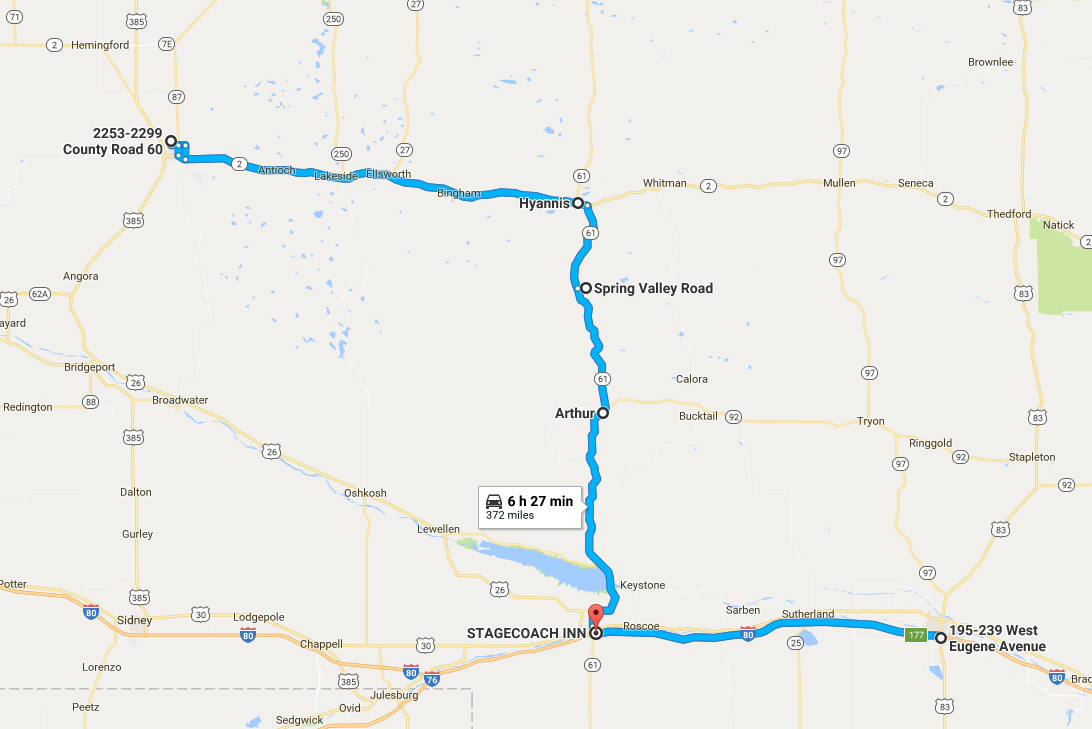 The day's route.
Back to Storm Chases | Home