St. Joseph to Cameron, MO Supercell
May 7, 2009
It looked like the area of northeast Kansas and western Missouri would be the only areas with any chance of seeing a decent storm today, and there was an outside chance of seeing a tornado there as well, so we elected to head north from our Hotel in Edmond, OK. There would likely be nocturnal storm development in southern Kansas later on, so we made the decision to get a hotel in that area overnight.
An east-west line of high-based or elevated storms had developed just south of Omaha, Nebraska into southwestern Iowa early in the day, and this area of storms eventually became the focus for more surface-based supercell development in the evening. We drove north to about Ottawa, KS, where we noticed that the field of cumulus, which had accompanied us, no longer appeared to be rooted in the boundary layer, but rather, they seemed to be above an inversion at the CBL top. With strong southerly winds promising to advect the more moisture-laden and warmer boundary layer air from the area from which we had just come into the area where we currently were, we continued slowly north to Lawrence. There, we held up for the hope of development along a dryline/fineline type feature on radar to our west. However, no such development occured, and it soon occurred to us that we would have to continue north to intercept anything that might develop on the southwestern flank of the ongoing activity south of Omaha. This southwestern flank was at the nose of the low-level CAPE axis.
Soon enough, a couple cells developed just south of the east-west line and began to turn to the right. We targeted the western storm of the pair, which, when we arrived at St. Joseph, MO, was a rather small LP storm that was not even producing lightning. After 15-30 minutes or so, some CGs started to appear, and the chase was on. Because we had such great visibility under the high base of this storm, we elected to do video and photography from the west side, where the setting sun bathed the updraft tower and the pileus on top of it in a warm orange-yellow color. The storm became warned, and we continued east to near Cameron, where we watched the last of the sunlight illuminate the storm top. Since it was now getting dark, we picked this moment to start our trip back to southern Kansas. We hopped on I-35 and headed to Emporia to spend the night. While we were on our way, our storm became tornado-warned and had a nice hook for a while, but it was later overtaken by the whole complex of storms to its north. In Emporia, the nocturnal storms developed right on schedule, and we were treated to a rather stormy night. The storms actually started out of an area of stratiform precipitation in northeastern Colorado and moved quickly southeast through Kansas, reaching Emporia sometime around 2 AM, with some additional development occurring on the eastern side of the MCS. This major MCS became a derecho-producer, and produced one of the strongest MCVs I have ever seen. This MCV even had an eye in far southern Missouri. Amazing!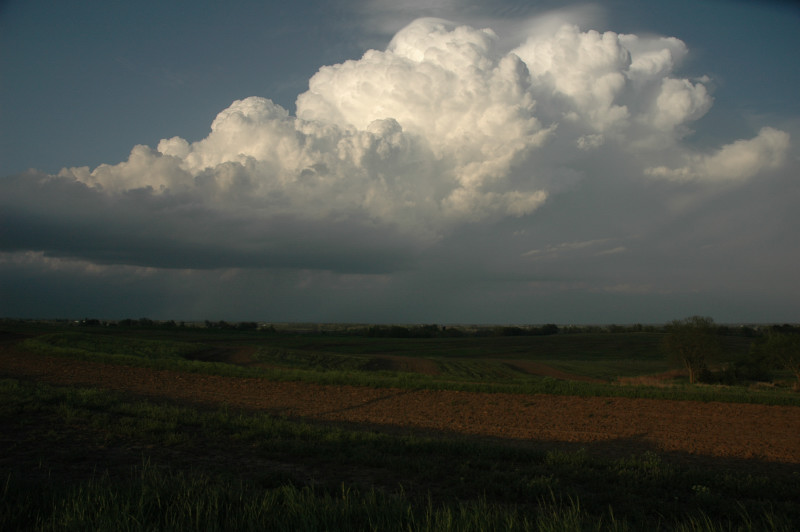 LP storm just east of St. Joseph on the north side of U.S. 36.

Pileus and an inflow band develop as the storm grows to become severe-warned.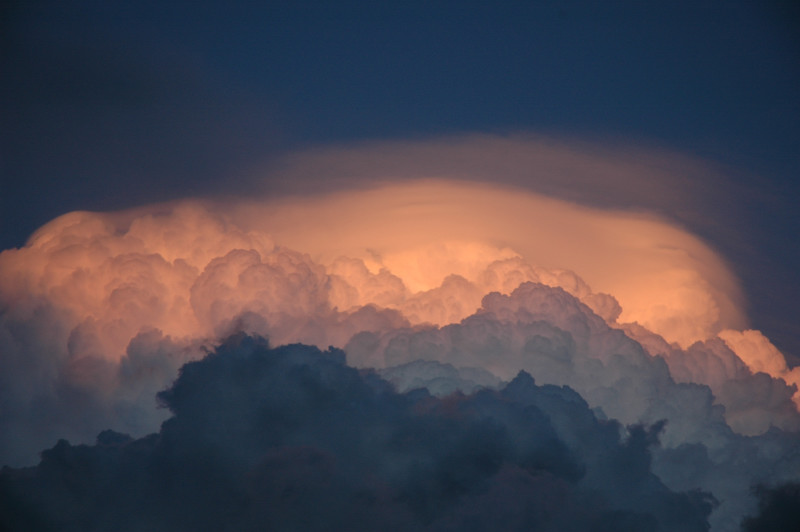 The sun illuminates pileus at the top of the storm. Fast upper-tropospheric flow prevented anvil backshear.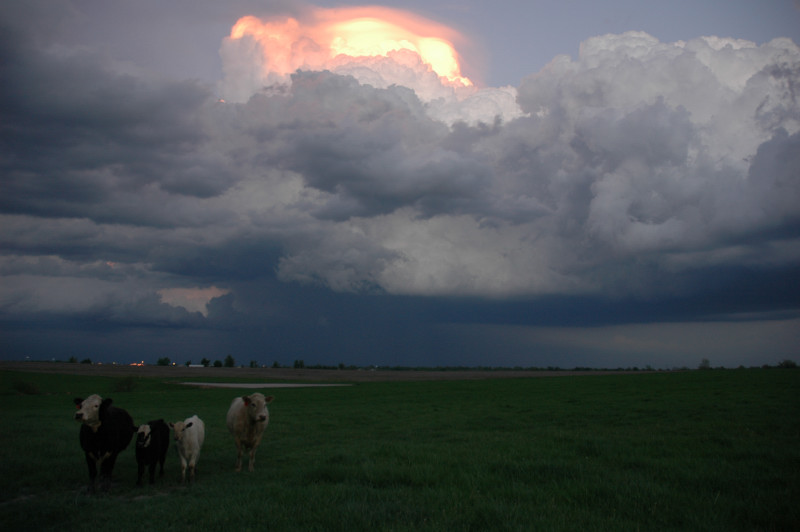 Cows west of Cameron enjoying our severe-warned storm.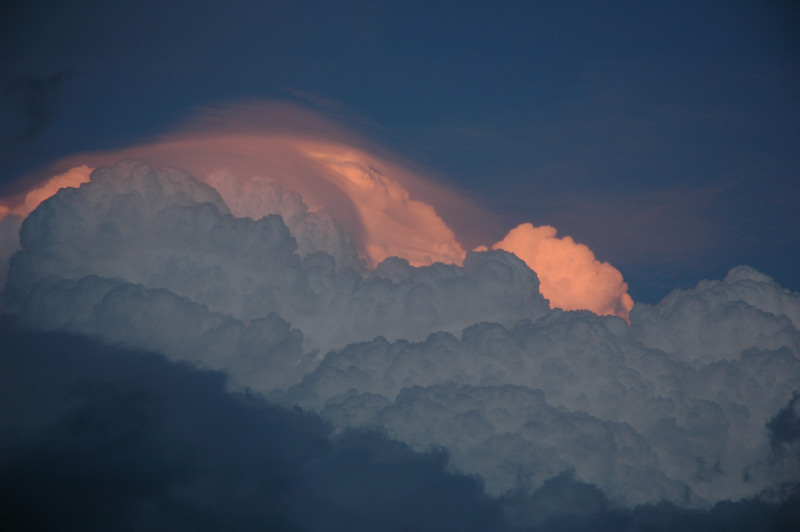 The last of the sunlight.
---