June 26, 2012 Saskatchewan Dryline
A frustrating day for chasing. We started Day 2 of Tempest Tours 2012 Tour 9 in Miles City Montana a bit farther from the Canadian border than I really wanted to be, thanks to the oil boom in places farther northeast along I-94. Since the target really looked to be in Canada, and we had a couple guests without passports, we needed to sort out the logistics of dropping them off someplace comfortable and coming back to retrieve them the next day. After doing that, we were on the road north via Glasgow. I was thinking there would be a chance our storm would be very close to the border.
As we drove up there, a dryline started to punch into central Montana with thunderstorms developing along it from just south of the border and into Alberta. That influenced me into taking U.S. 2 west out of Glasgow. About 10 miles into that route, I decided it would have been better to take Highway 24 north out of Glasgow because the dryline was marching eastward pretty quickly. However, to drive back now was pretty even either way, so we continued onward, planning to drive across the border via U.S. 91.
We were held at the border an hour as the Canadian border officers checked with the next crossing to the east about whether Tempest staff needed work permits. Our border station was a very small and lightly travelled one and had no customs officials. After an hour of occasional questions and the officials processing other cars while they waited for a reply from the next station to the east, they let us cross without a permit. In the meantime, the dryline blasted past us along with any chance of getting a good look at any storms. We did manage to take a couple pictures of them developing just to the northeast immediately after the dryline went through. The show of the day was near Moose Jaw, where a supercell we could see on the horizon as we drove north to the border produced a photogenic tornado. We needed to be in Canada about three hours earlier to get that tornado.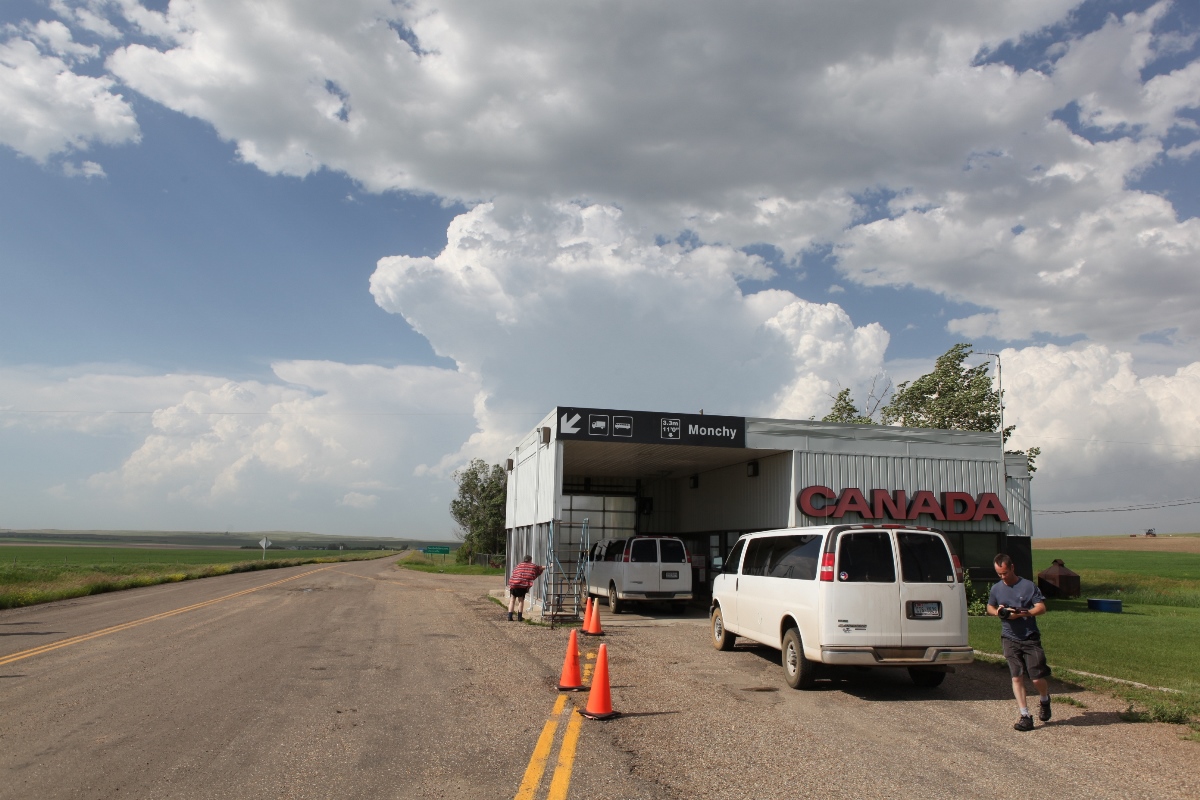 Storms erupting northand east of the border crossing station at Monchy, SK.
We still attempted to catch up with the storms, but they were moving up to 60 mph. The chase became a matter of how we could minimize the rate at which we fell farther behind them.
We gave up at a rural cooperative gas station at Hazenmore when it took us half an hour to figure out their gas pumps, which required you to take a safety quiz before it would let you pump the gas, and then it only let you pump a limited amount of gas. We then proceeded to look for a place to stay. We checked in LeFleche, and we could find only one really old place with a few rooms above a local bar, but I wasn't finding any known chains anywhere within 100 km, so I need to check every place. When I walked into the bar and could not find any staff, one of the customers (a local farmer, I suppose) yelled out, "Can I help you, ma'am?" I got the picture that I looked a little out of place here among the locals. When the waitress came out, she said there were only three rooms upstairs. So much for that town.
We next inquired in Assiniboia, and I could not find any places I recognized, so we drove around a bit. There were three places large enough to host us. The first, which I felt best about on the phone, was totally booked. The second place, the Wheel Inn, had a very strange sounding proprietor. Something seemed wrong about that place, so I called a third, which had a pretty friendly woman working the desk. We were almost in town, so I needed to check the places out visually. After some confusion with Google Maps giving wrong locations, we found the third place, but it looked completely run down with boarded up windows and old furniture lying around outside. We went over the the Wheel Inn, which was next door and actually looked okay for a motel.
When I stepped inside the office, it immediately became clear why the proprietor sounded so strange on the phone. He imbibed. The best descriptionof him I can provide is a happy version of the Trailer Park Boys character Jim Lahey. We had nice, clean rooms with new flat screen televisions. He offered the old CRT televisions to us for free, but we had no place to store them in our vans. He offered us a drink, too!
We ate dinner at a nice, clean restaurant in town, stayed overnight, at breakfast at the same restaurant in the morning. It was much colder and windy. We drove back to Miles City, where our guests there told us it had been over 100 degrees there the previous day, yet they had gone hiking and had a fun day.
Back to Storm Chases | Home