West-Central to North-Central OK
August 24, 2002
RJ Evans and I departed in the early evening to catch some storms that were initiating just west of Oklahoma City. Wow! Initiation within an hours drive-- what a concept! A cluster of severe storms (some with supercell characteristics) had already initiated around Amarillo, TX and had moved into the northeastern corner of the Texas Panhandle.
Of course, as we drove toward the storms developing just west of Oklahoma City, one by one, they died. However, one managed to throw off a number of cloud to ground lightning strikes before it faded completely. The following three pictures show the updraft of one of the attempted storms as it was dying. It's amazing how some updrafts continue to struggle against the odds-- they continue to tighten up (maybe helping preserve the high theta-e parcels) until the column of moist air is so narrow it disappears completely.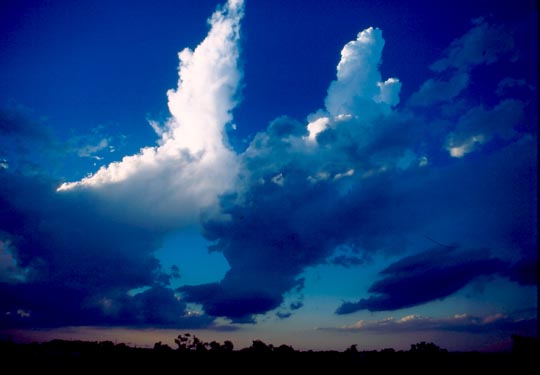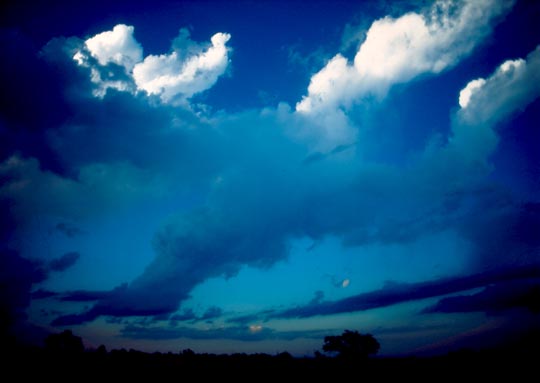 "Corkscrewing" Updraft
We looked west to see the TX Panhandle storm also dying off, but right around sunset, it seemed to regain quite a bit of strength, so we decided to pursue it. This storm did not die as we approached it. Another novel concept. Severe thundestorm warnings were issued for this storm, which appeared to be a left-moving supercell in the northwesterly flow (it moved quickly east-northeast, with the updraft base on the northeast side of the storm). We tried for some time to get into position for lightning photography. Eventually, we got far enough north near the updraft base and out of the rain to get a couple of good shots.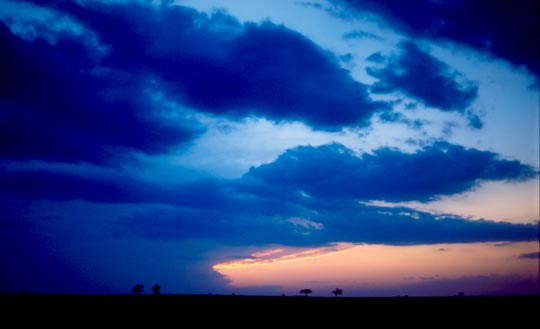 Storm at sunset entering OK from TX panhandle.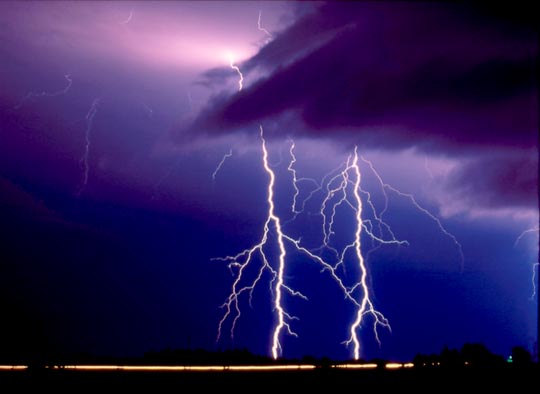 Lightning near Covington, OK
---