Central Kansas Supercell
May 8, 2008
This was day number eight of my chase tour with Tempest Tours. Since the previous day's system had just exited, progs showed a rather CAPE-starved environment in our target area of west-central Kansas. Nevertheless, there were good kinematics (shear) in the area, so we thought our chances of seeing a high-plains supercell were rather good. Our tornado chances, however, appeared rather slim.
Indeed, a supercell storm developed in the Colorado-Kansas border area and moved slowly east. It produced "landspout" tornadoes very early in its lifecycle, but unfortunately, we were over a hundred miles away when this happened. All we could do was patiently drive north while knowing that the tornadic phase of this storm would probably be over when we arrived. The view from our approach was still very nice, and we enjoyed it as we drove north. I was even able to set my video camera on the dashboard and take a timelapse due to the straight road and flat, open landscape.
When we arrived, the storm was very strong, but the updraft base was somewhat disorganized in terms of its rotation. We followed it along, and watched a couple gustnadoes along the way. Eventually, we drove through Jetmore and through Kinsley while a few new cells developed to our east. We saw a shed with its roof blown off from strong, easterly, inflow winds of our storm. A little farther east, we saw some one to two inch hailstones along the road and stopped to pick them up. Back in Kinsley, we took shelter and watched the core of another storm, which had developed to our west, overtake us. We drove to our favorite City of Dodge t spend the night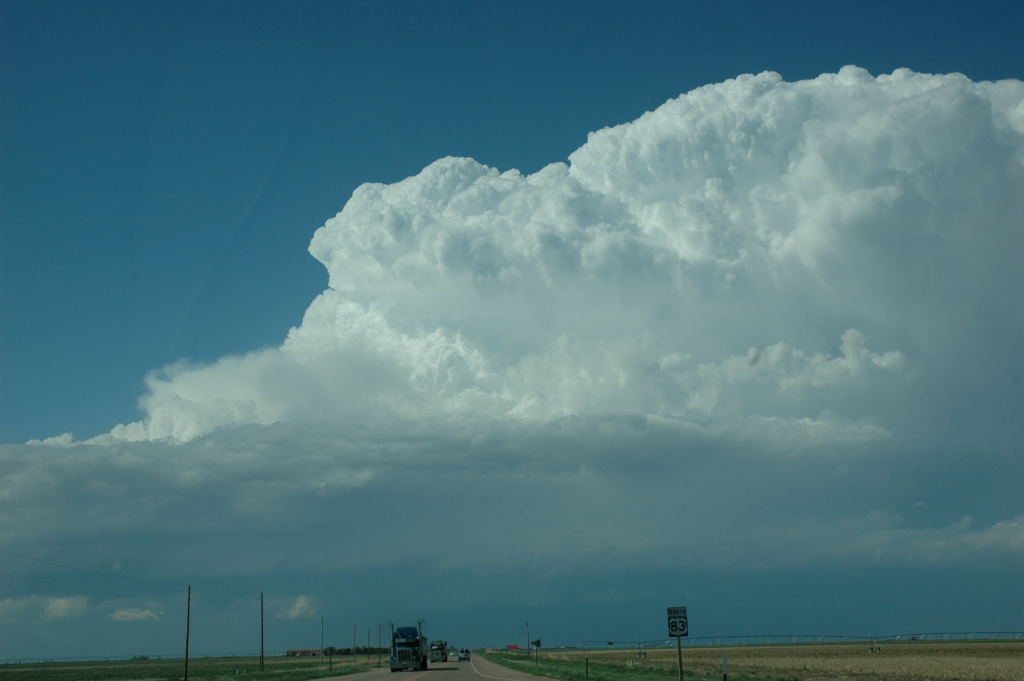 View of our storm as we approached from the south.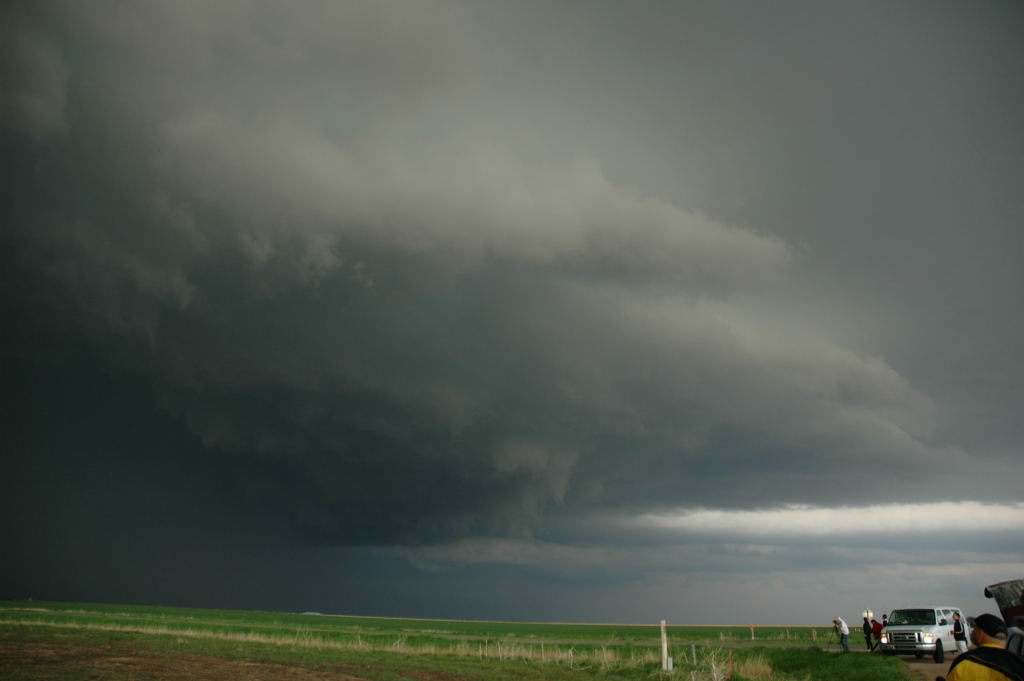 Updraft base of the storm.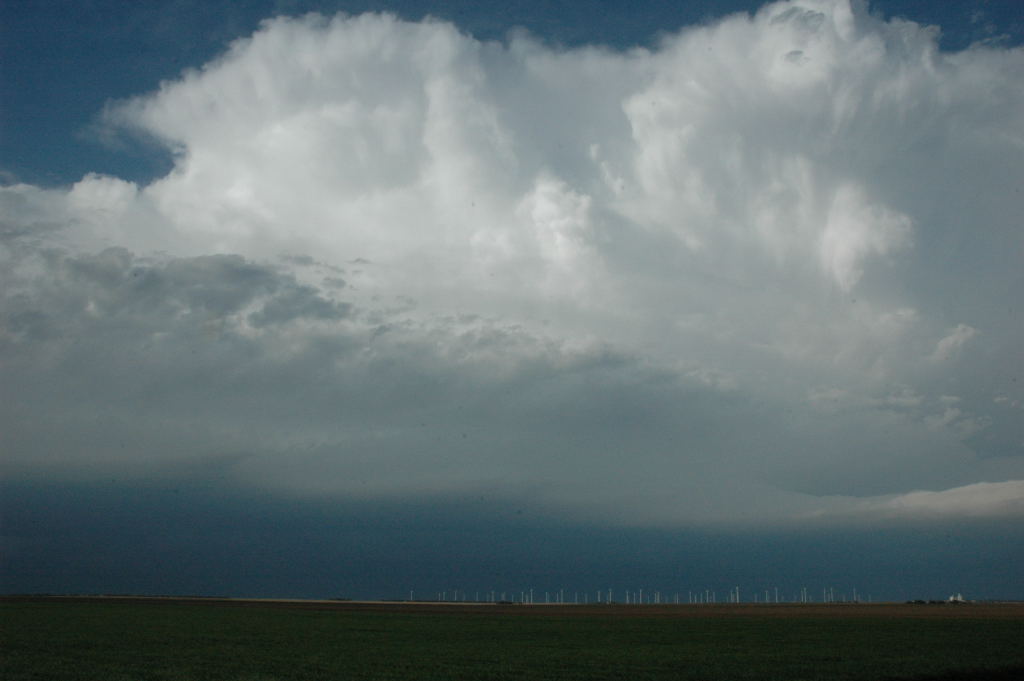 Storm and a wind farm near Kinsley, KS.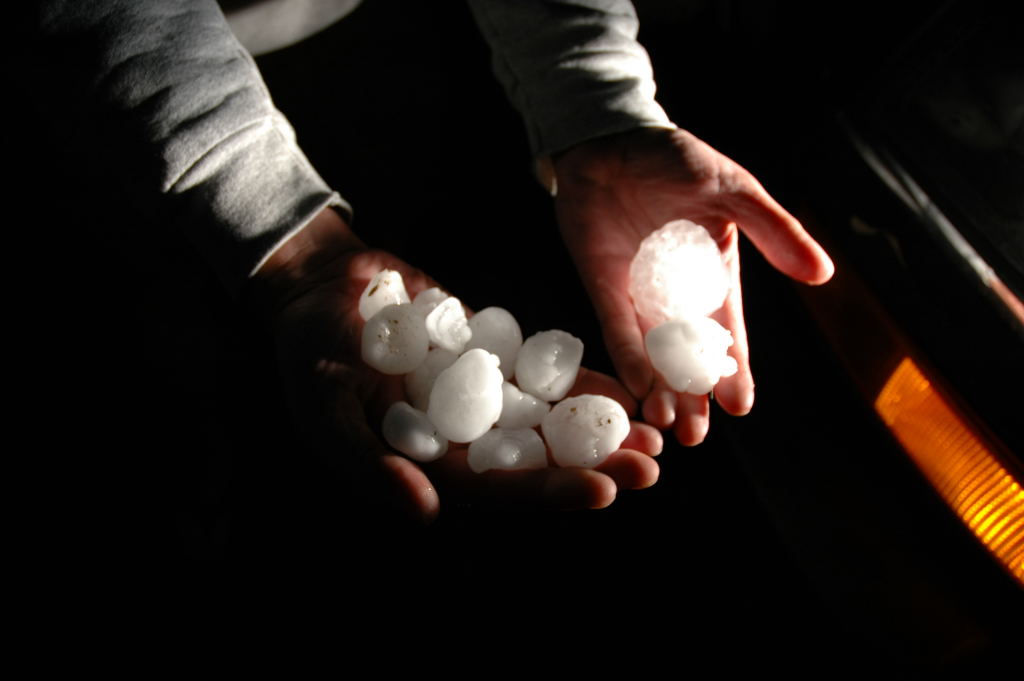 Hailstones east of Kinsley.
---