June 18, 2014
Wessington Springs, SD Tornadoes
Unfortunately, it appears another community, Wessington Springs, was hit pretty hard today. we did not see that tornado, but we did see several others in the area.
We started the day in Lemmon, SD after missing tornadoes the previous day. The larger scale environment was looking favorable for tornadoes again today with CAPE greater than 4000 J/kg and decent deep layer and low-level shear. The best combination of these parameters appeared to be in the southeastern quarter of South Dakota and adjacent portions of Nebraska, so that's where we headed, making sure not to waste any time getting there. The previous day had given us a longer drive than we had anticipated, bringing us to the target about two or three hours too late to see tornadoes.
We had lunch in Gettysburg, SD while a line of storms developed to our west. A quick trip west to see these storms brought us a nice view of a rather cold-looking, outflow-dominant storm in a large area of cloudiness. We needed to get farther south. We drove to I-90 at Kimball as the line persisted to our northwest. It was in Kimball that we would wait for an hour or two for hopefully more discrete development just to our south or west, but by about 6:15 or so, the cumulus field around us began to dissipate, and it became clear that we would not get that discrete development. It was time to cut short our losses and see what we could do with the linear storms back to our north.
The moment we started north, a tornado warning was issued for the southern storm in the line due to a spotter report of a tornado there. At first, this did not make sense to us because it was a linear storm, but one look at the velocity display on radar and another look at the surface map quickly told me otherwise. There was a substantial amount of vertical vorticity along the front on which the storms were developing, and the temperature and dewpoint immediately on the west side of the front were not significantly different from what they were on the east side. With equal amounts of CAPE on either side of the boundary and a nice vortex sheet to roll up into tornadoes, the report made sense to me.
More tornado reports came in, and we arrived on the storm pretty quickly because it had been only about 15-20 miles to our north. What we saw at first was a series of semicircular updraft bases with little if any visible rotation, which surprised me a bit given the rapid-fire nature of the reports seemingly coming in. 15 minutes later we still saw only very weak rotation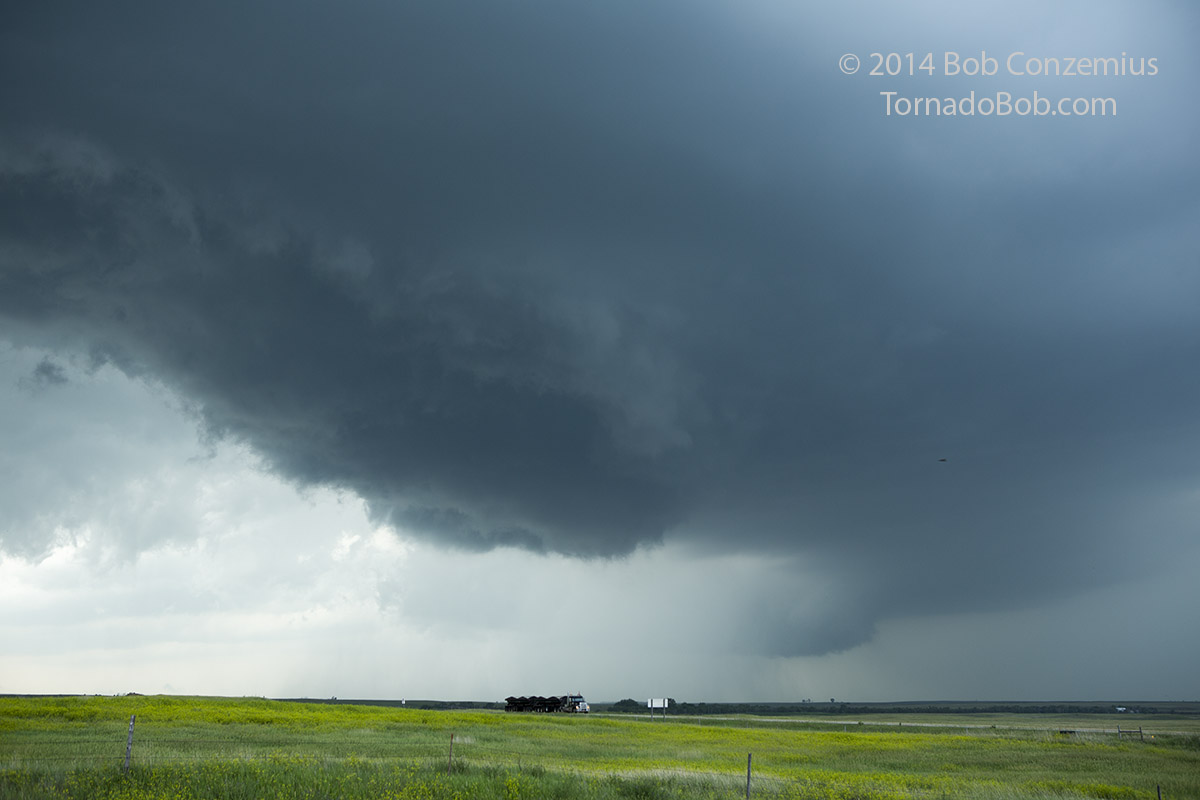 First appearance of the storm as we arrived at Gann Valley. Looking northwest along the line.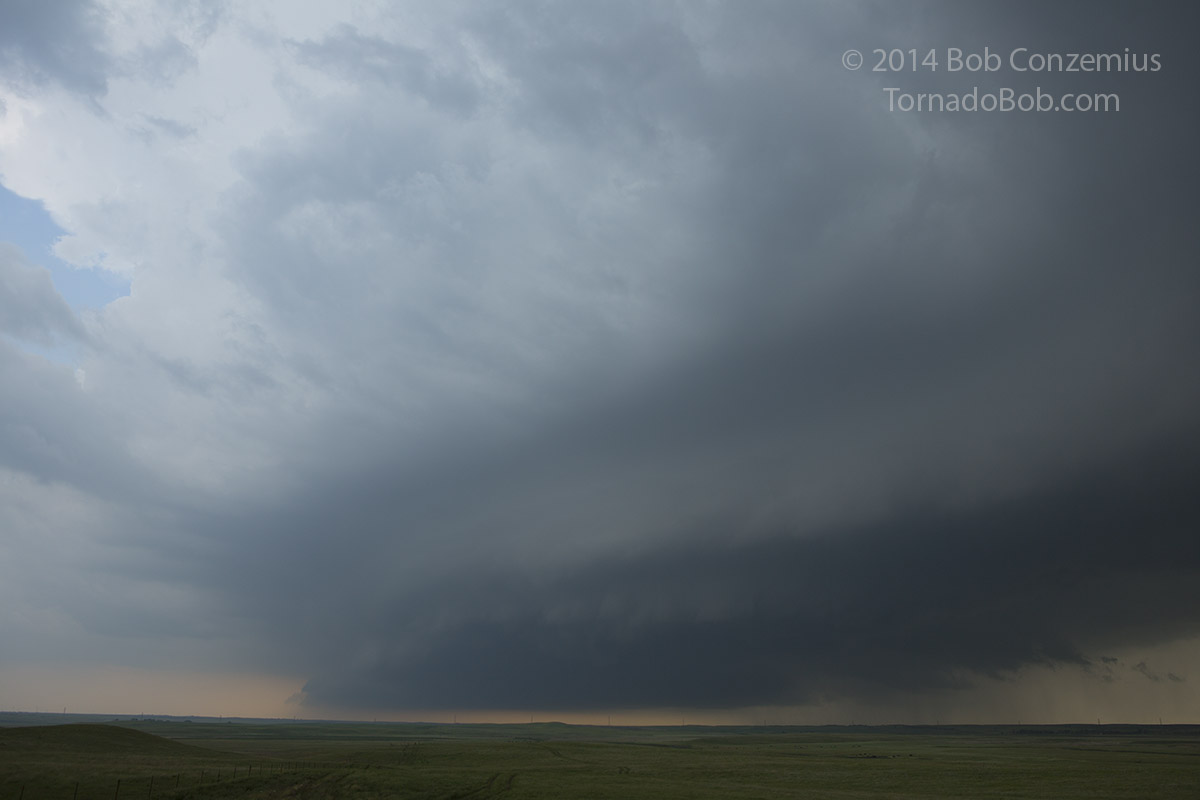 Looking south toward the tail end part of the line.
Not long after that, a funnel suddenly appeared to our south, and it had a dirt whirl underneath it. Tornado!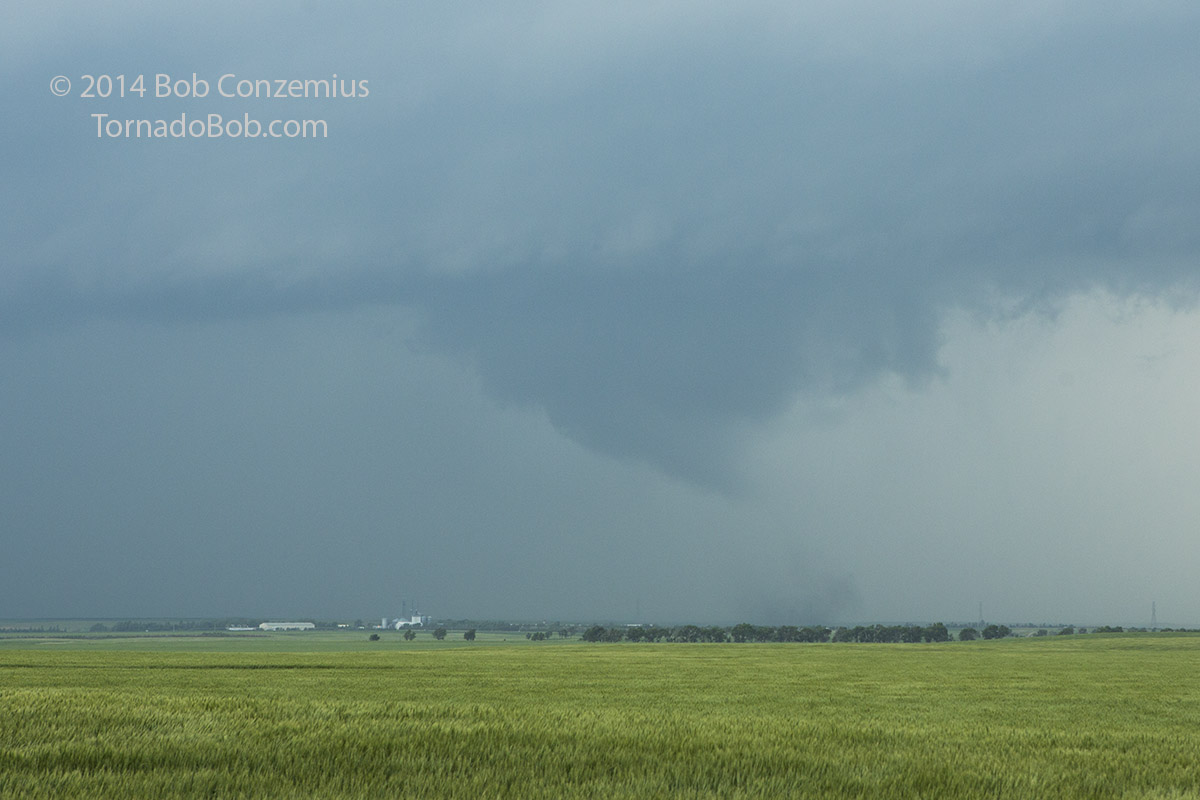 The first tornado of the day: a debris whirl underneath a truncated cone funnel. The direction of this photo is to the south-southwest.
This first tornado dissipated pretty quickly, but not five minutes later, a second funnel appeared to our west, just barely around the corner from a rain area to our southwest. The funnel quickly touched down, and we had our second tornado! At the same time, a barrage of cloud-to-ground (CG) lightning strikes began, making it a bit dangerous to remain filming outside the van.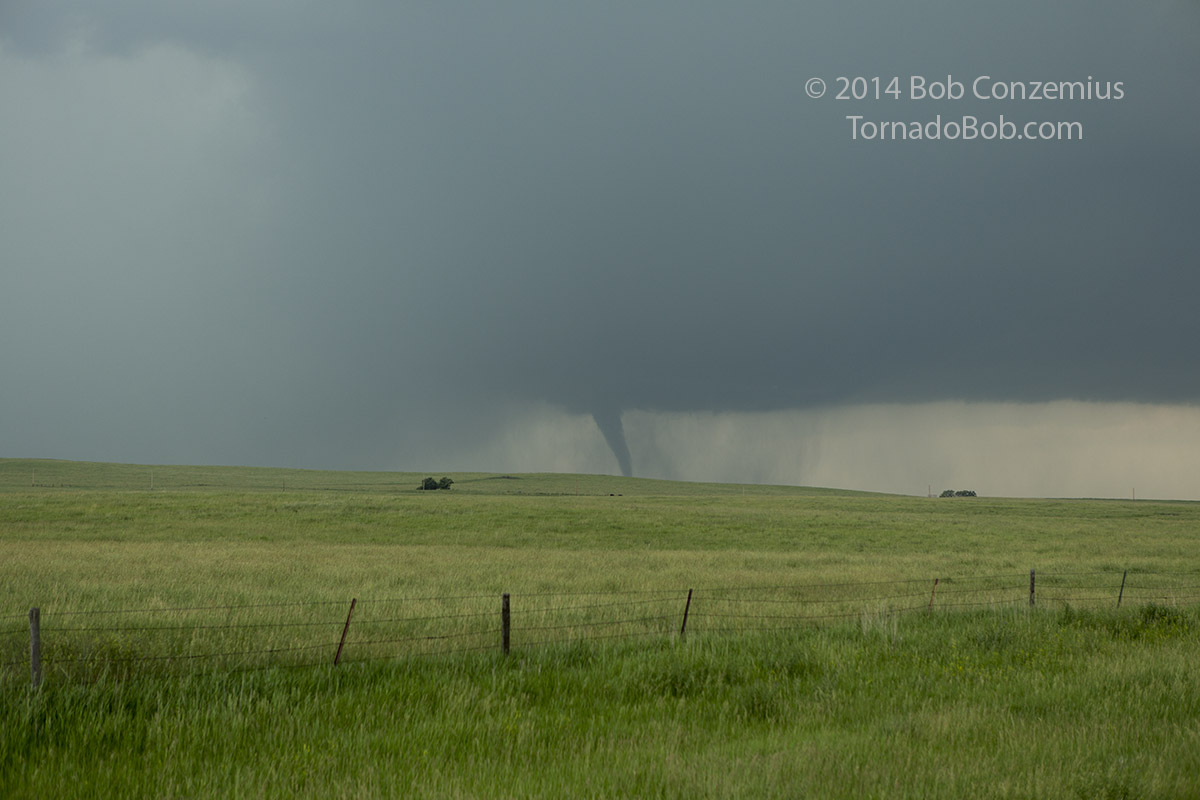 Tornado number two, looking southwest.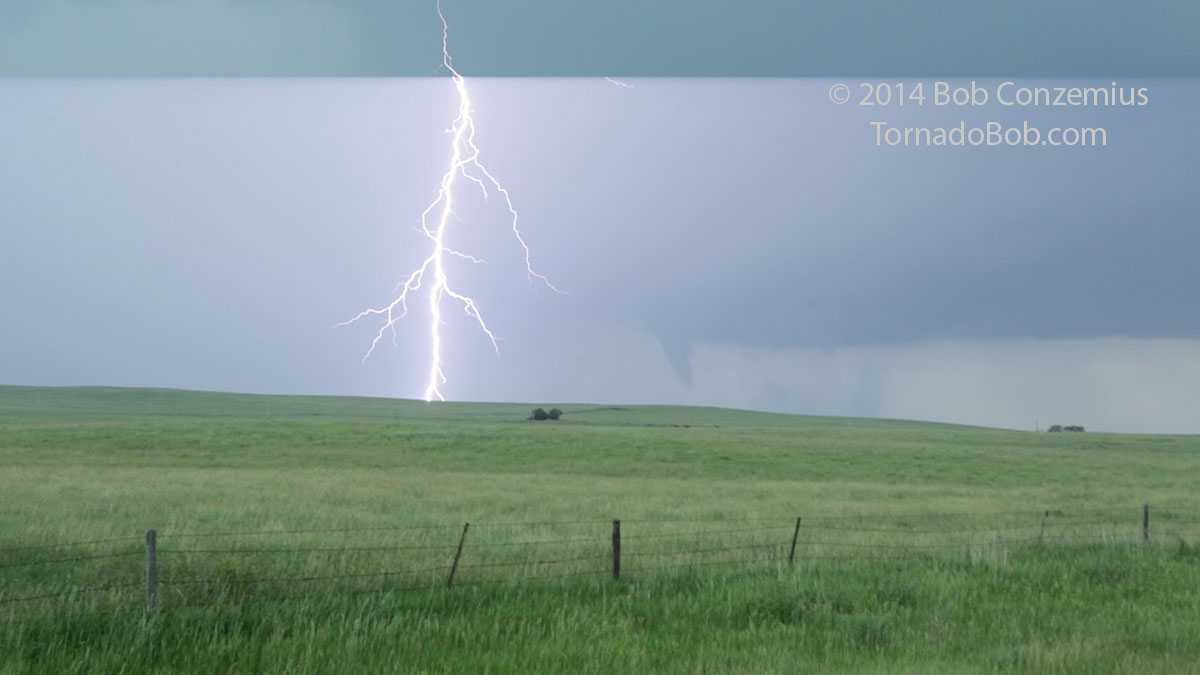 Video capture of tornado number two along with lightning.
With the intense lightning around us, and with another stronger cell appearing to our south, which was apparently moving east-northeast, it was our decision to drive well east of our present cell and then south to get ahead of the next cell. That our second tornado dissappeared behind a rain area to our immediate southwest did not clue us in to the fact that it was best to stay where we were, and our move caused us to miss two tornadoes. The first was a pretty large wedge tornado that might have been pretty strong but did not hit much, so it was rated EF-2. It was a bit low-contrast, and not many chasers saw it (I still have not seen any pictures) because it was apparently partially wrapped in rain and definitely not visible from the east, or else we would have seen it from our next viewing position. The second tornado developed in an area of rain and moved into Wessington Springs. It was visible from only a very close range.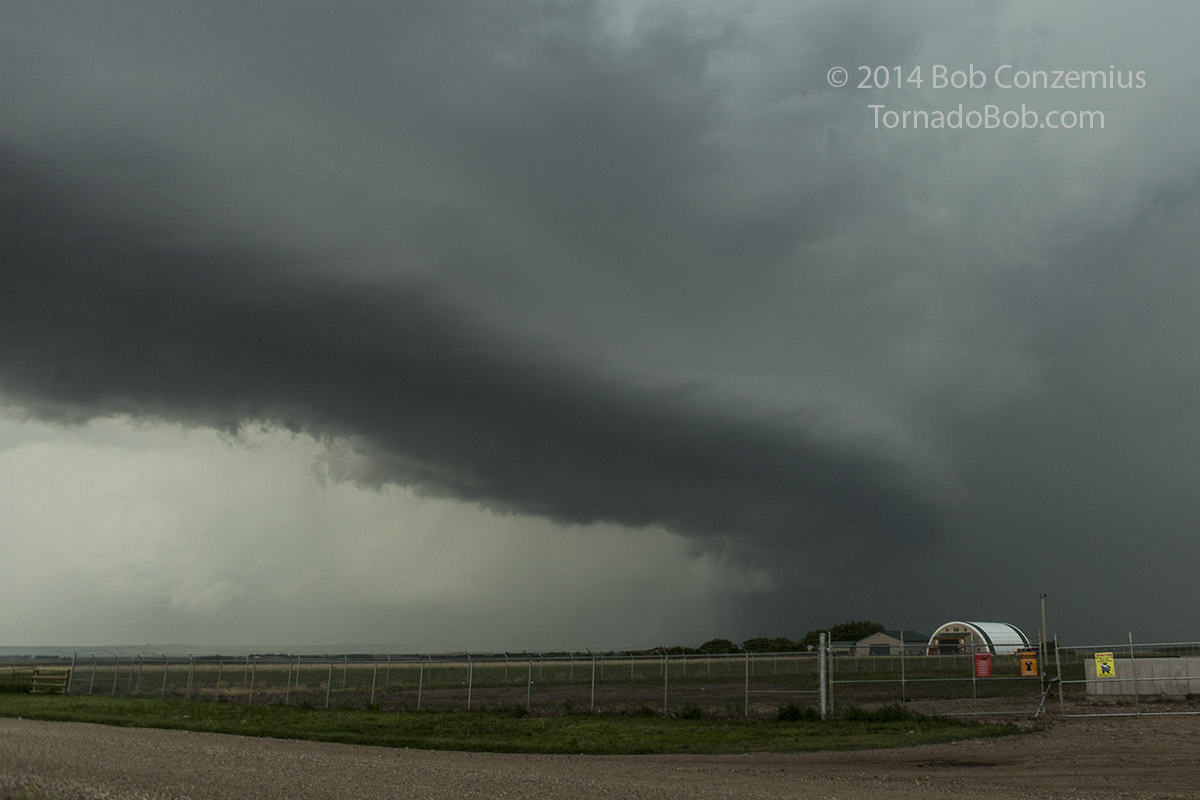 Looking northwest toward Wessington Springs. Tornadoes were occurring in the rain-filled area underneath the lighter clouds in the distance and on the left.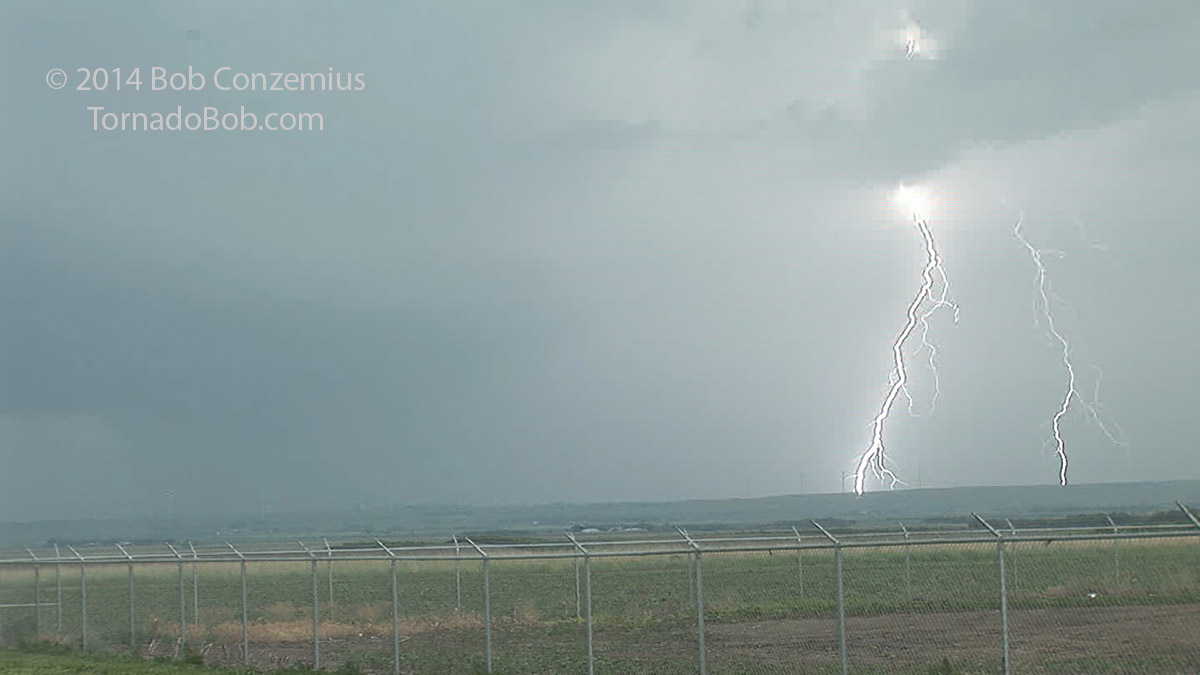 Lightning strike in the vicinity of the Wessington Springs wind farm.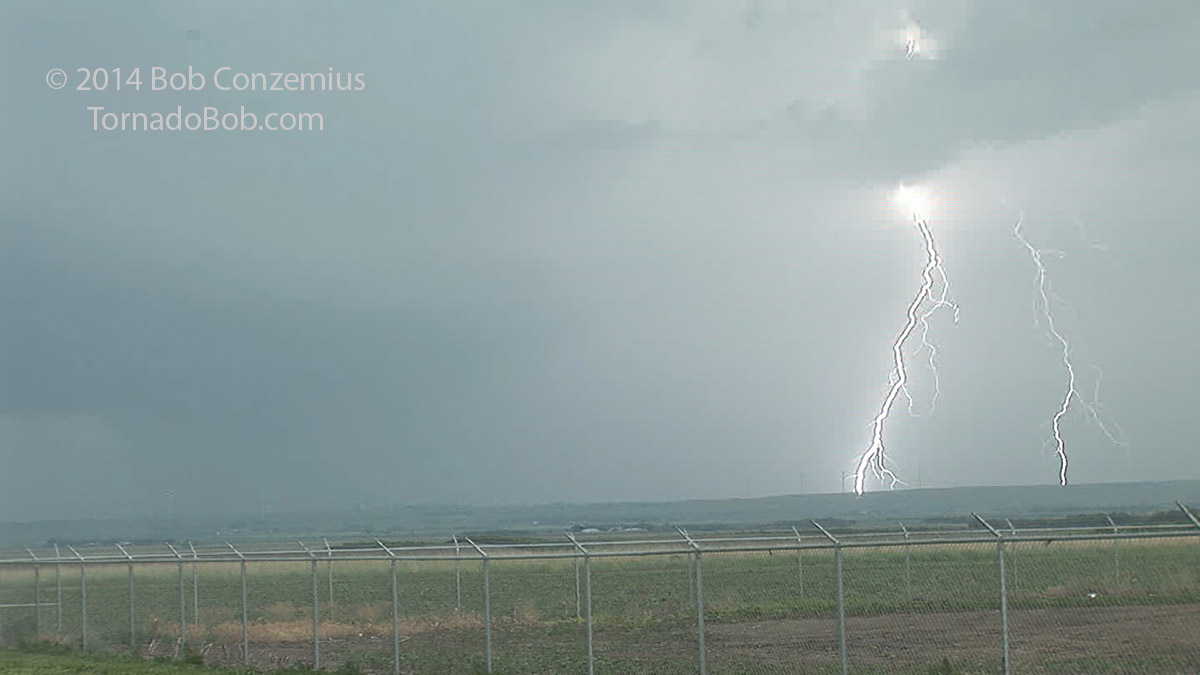 Lightning strikes just down the road from us.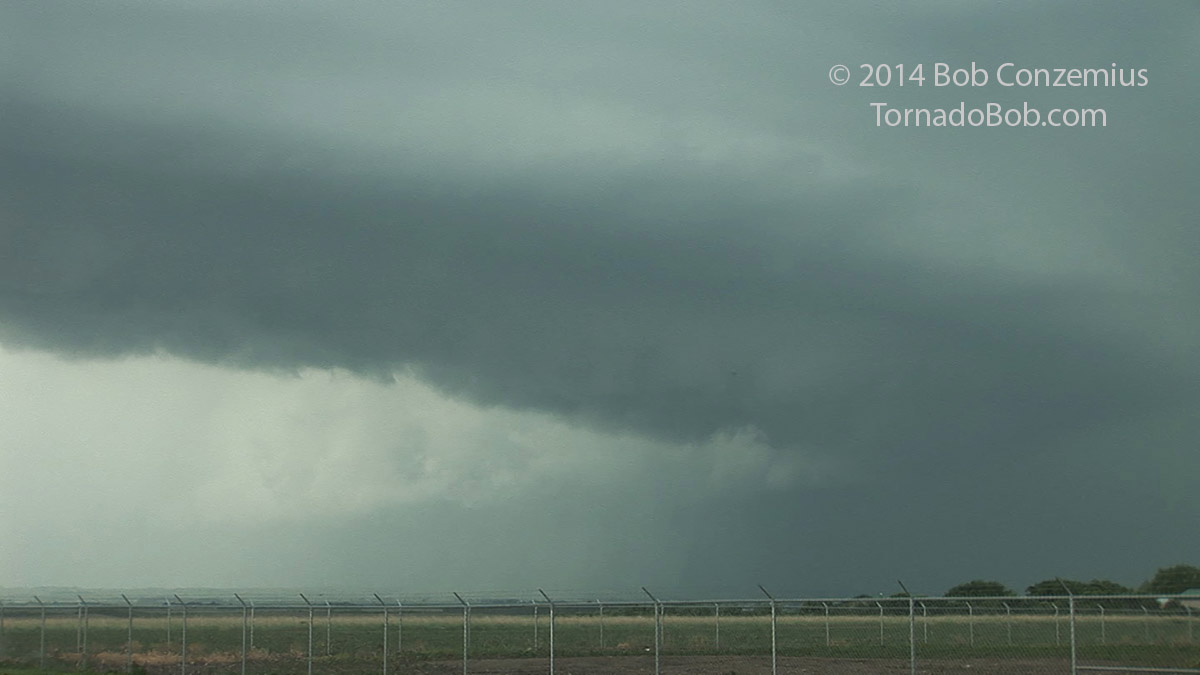 Somewhere in the rain-filled area in the distance, a tornado is developing that will, unfortunately, hit the town of Wessington Springs.
I suspected we saw the action area that developed into the Wessington Springs tornado as we were standing on U.S. 281 southeast of Wessington Springs. We were looking west and northwest as the area became wrapped in rain and moved north of the wind farm. Meanwhile, the CG barrage continued to our west and gradually moved over us. It was time to move again.
We drove only a couple miles farther south on U.S. 281 before intense dirt whirls appeared in the field immediately to our southeast. We were right on the wind shift line, and an area of rotation was right overhead! We thought we would have a front seat view of tornadogenesis, but the dirt whirls dissipated, and it took several minutes for the rotation at cloud base to become well organized. By this time, the action area had drifted a few miles north-northeast of us, and it was time to catch back up.
Several minutes after we got in the van and zig-zagged northeast, a stout funnel became visible to our north with a second funnel to its east. We took the first north road we could find, which was not paved. As soon as we started down this road, we had two tornadoes in front of us! We travelled a couple miles farther until we caught up enough to get some decent stills and video.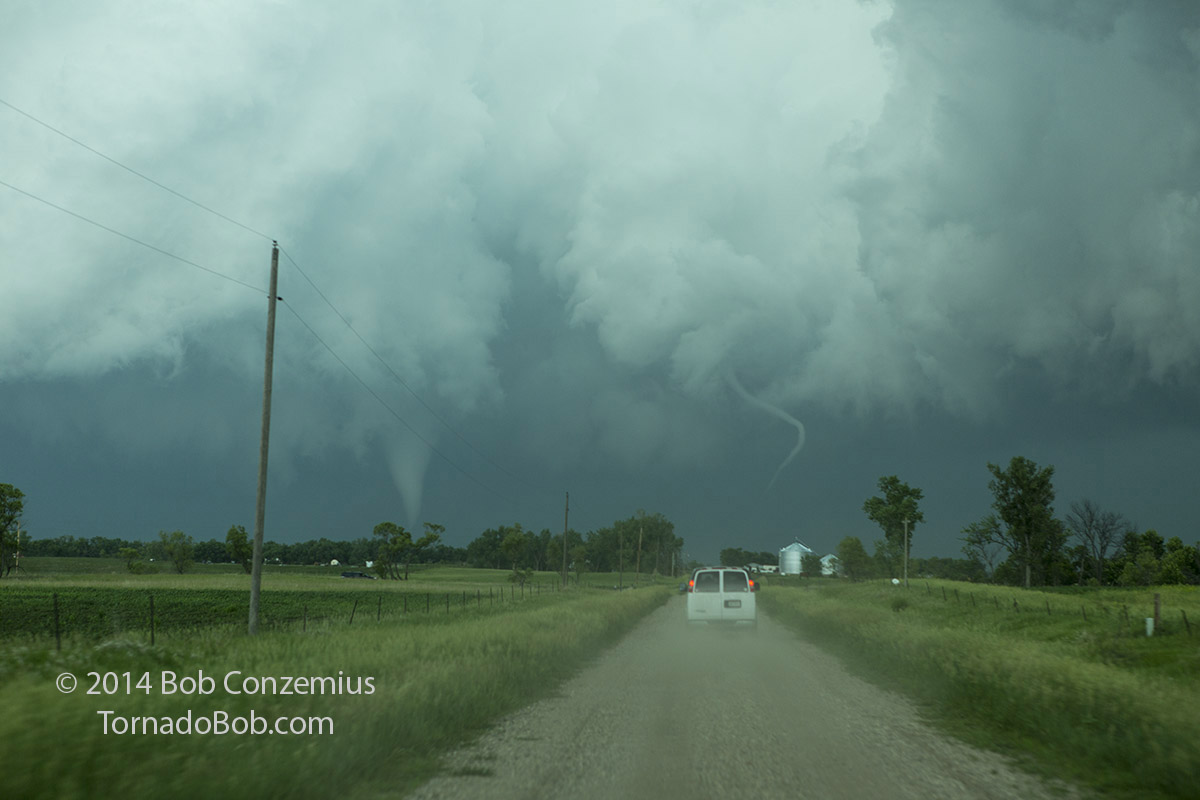 Dual tornadoes for the second day out of the last three. Looking north near Lane, SD.
The smaller rope tornado dissipated after a couple minutes while the larger tornado went into a multiple vortex phase as we worked feverishly to get closer to it. On the way, we passed a small damage path of the rope tornado while the larger tornado stayed to the west of the road the entire way. We stopped for a few minutes to get some stills and video.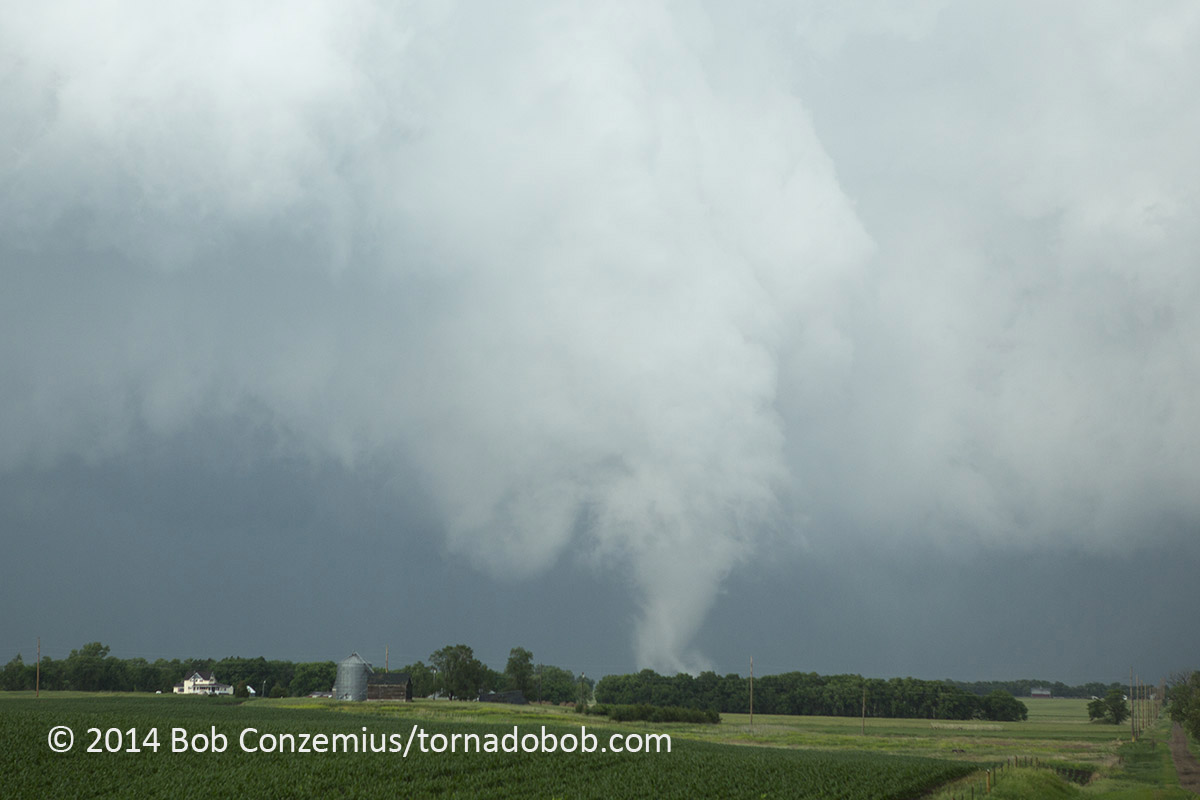 Tornado southwest of Woonsocket, SD.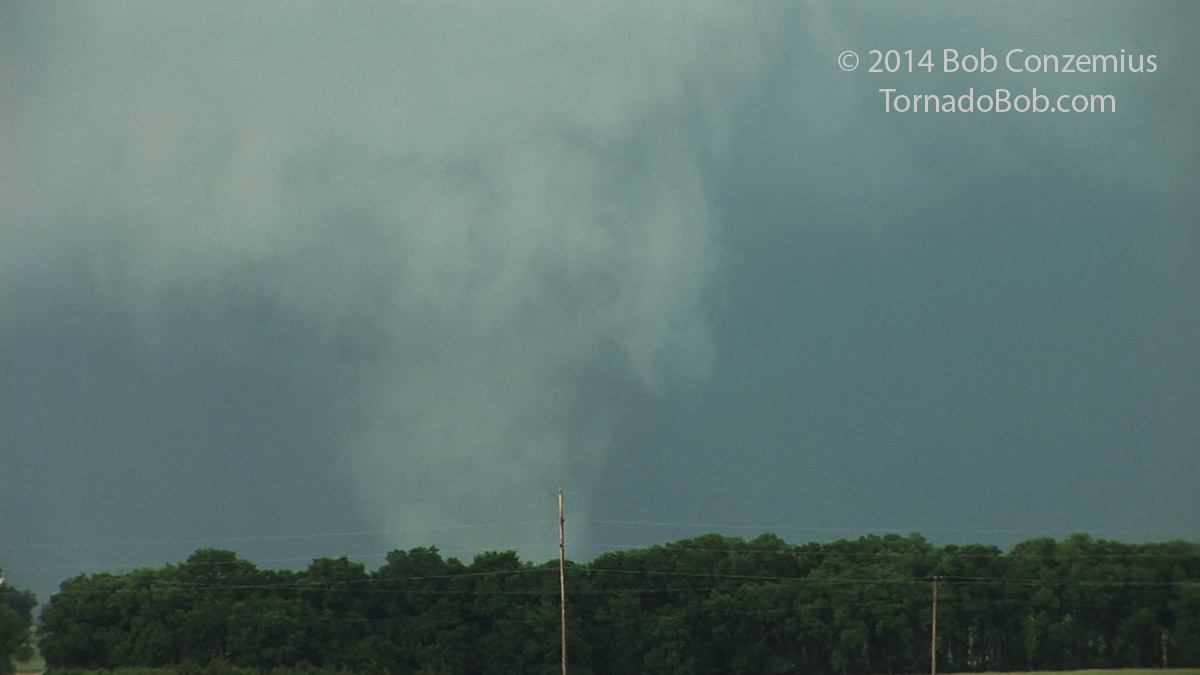 Zoomed-in video capture of the tornado.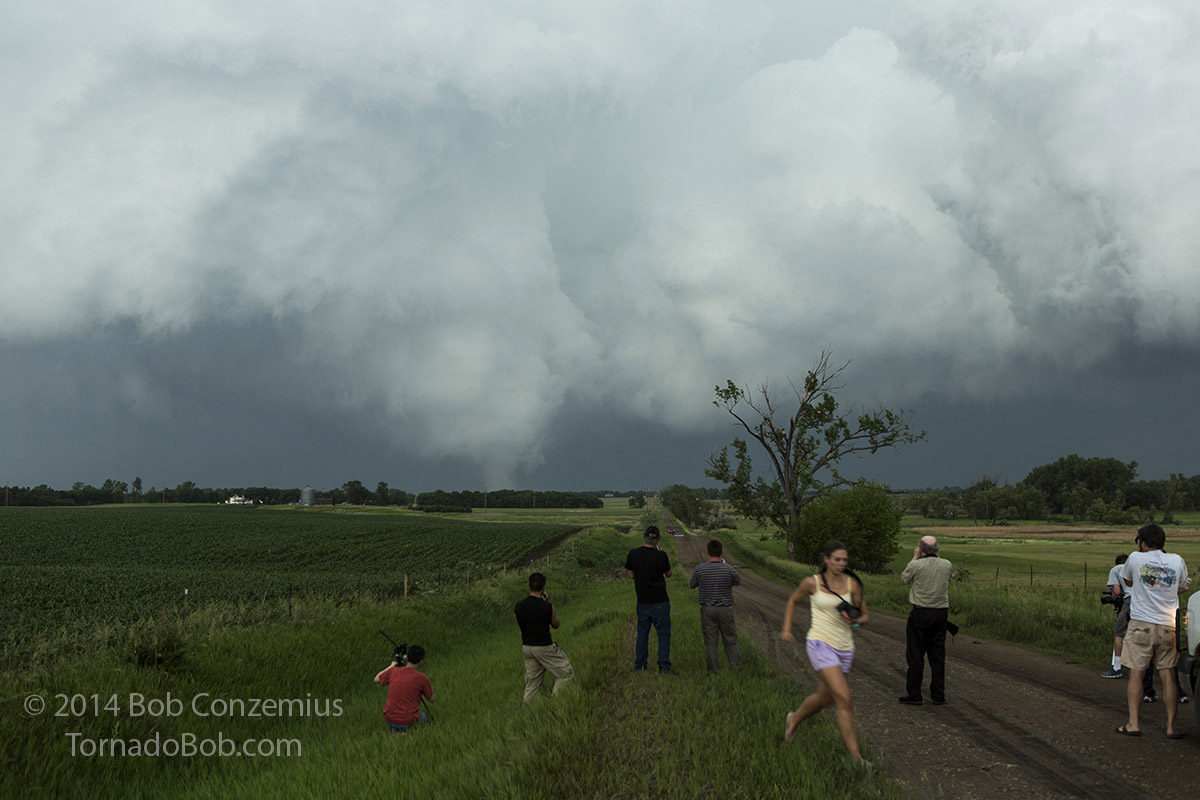 Wider view of the tornado and storm structure southwest of Woonsocket, SD.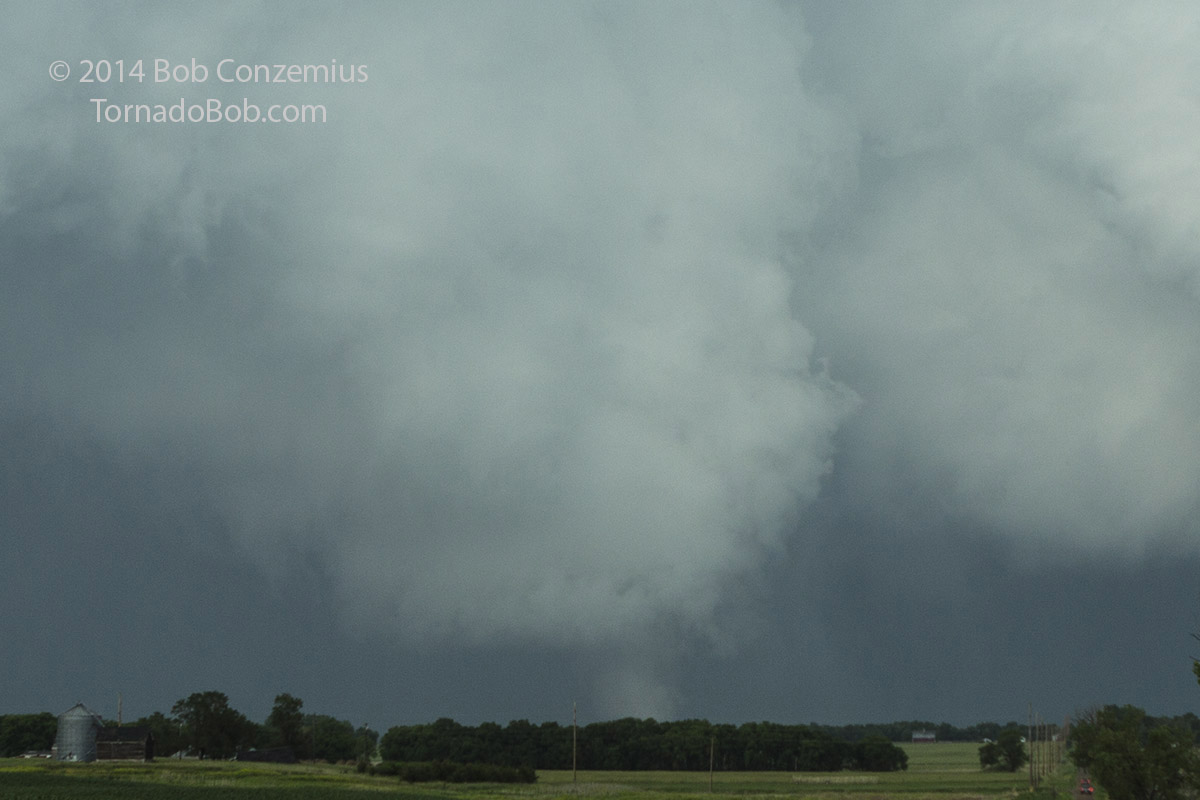 Another cropped shot showing a closer look at the tornado.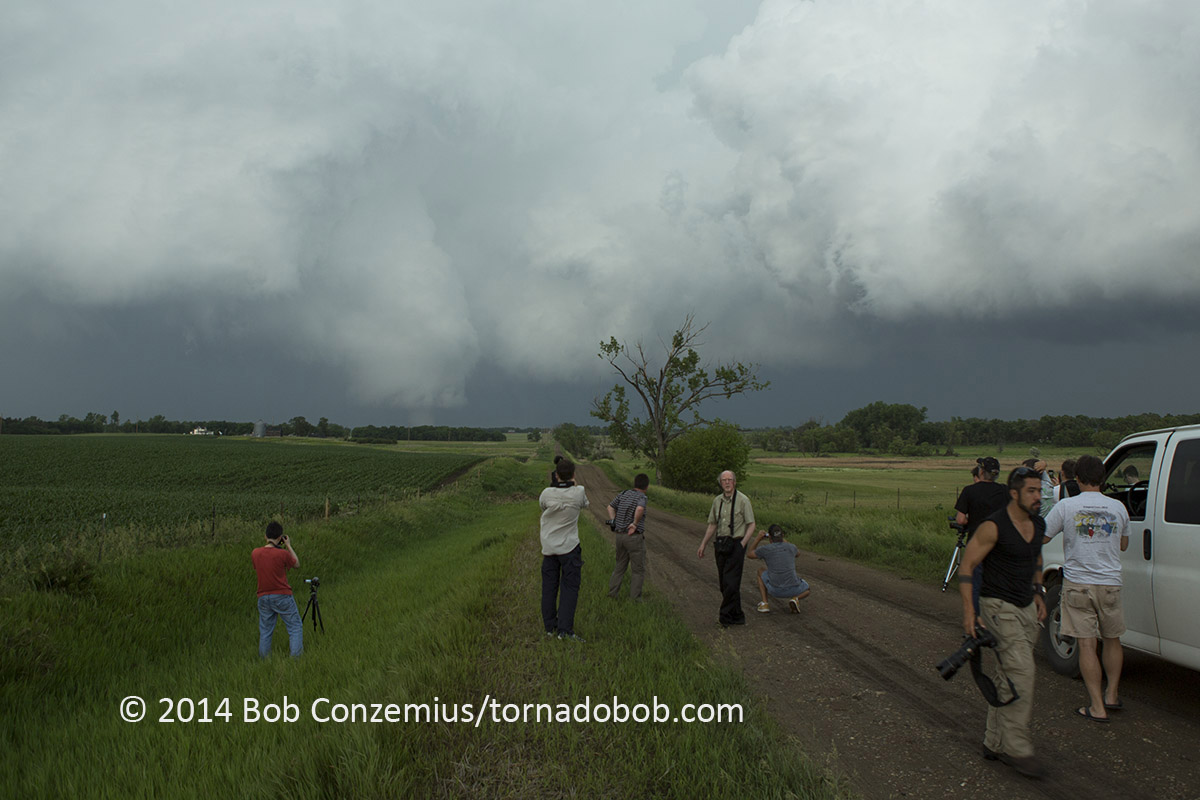 Tornado is starting to get more distant from us. Time to catch up!
While we had been shooting video, the tornado had become larger and more organized, but then it almost completely disappeared in the distance. We hopped back in the van and got back within viewing distance as it widened to a large cone. It looked to be pretty strong at this point, but we did not realize that it had reached EF-4 intensity. When we got to Woonsocket, the tornado was in the beginning of its rope-out phase, which lasted seemingly at least 10 minutes. This gave us a chance to get back to the same latitude of the tornado as it roped out completely. A new updraft developed to our southeast, but it never got its act together, and another LP-type storm farther east failed to organize. The storms were done producing tornadoes for the day, but four tornadoes total was pretty impressive for a storm that never appeared to be completely supercellular.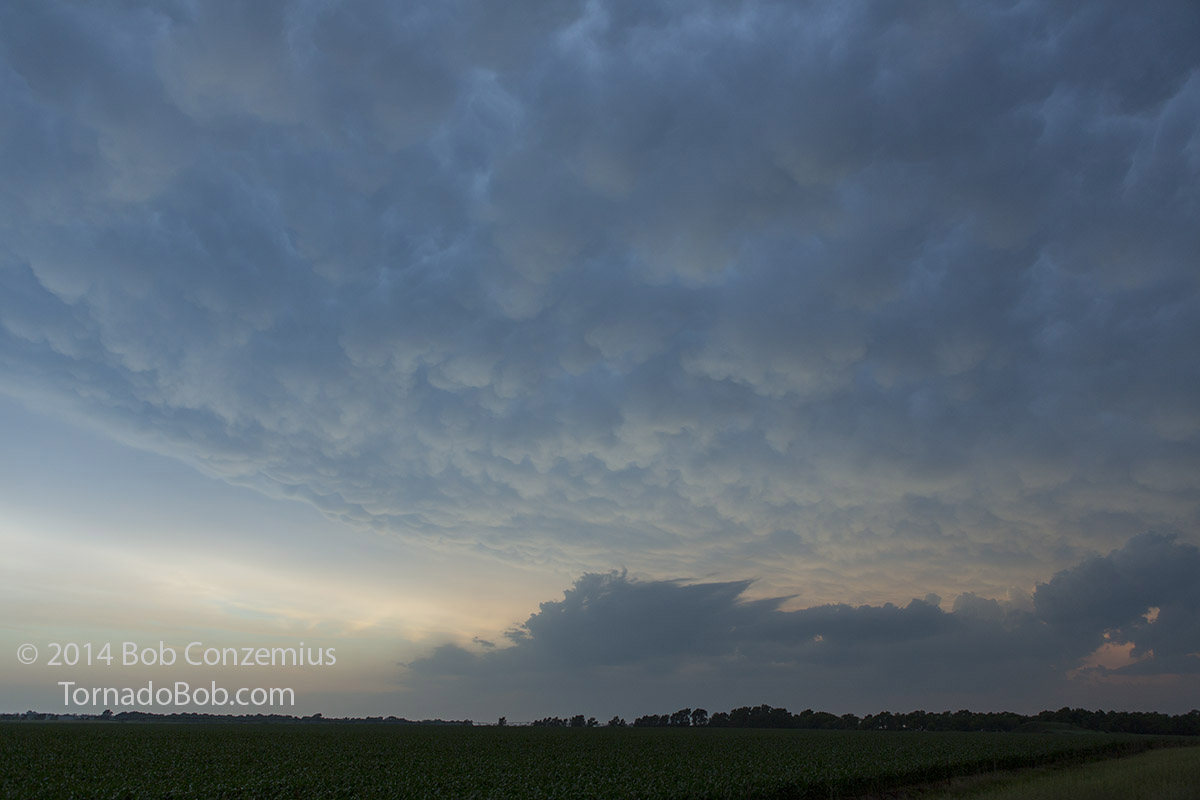 A nice mammatus display ended our chase.
Back to Storm Chases | Home