June 6, 2013 Raton, NM Storm
After starting the day in Amarillo, we weren't expecting to see much today, so we decided to do a little sightseeing and to get into position for tomorrow's chase for storms developing off the Rocky Mountains. We had a casual morning, then checked out of our hotel and headed for the Big Texan restaurant on the east side of Amarillo. Nobody attempted to eat the free 72-ounce steak, but we all had fun.
After we finished at the Big Texan, we drove through Clayton, NM and up to Capulin National Monunent. Capulin is one of numerous extinct volcanoes in the northeastern portion of New Mexico between Clayton and the Raton Mesa. The area could still produce new volcanoes some day, but it didn't when we were there. It was nearly closing time for the national monument, so we hurried and did our walks around the crater, taking a few pictures along the way. In the distance, we could see a few storms developing over the mountains, but we didn't expect to witness any of them up close. That would change.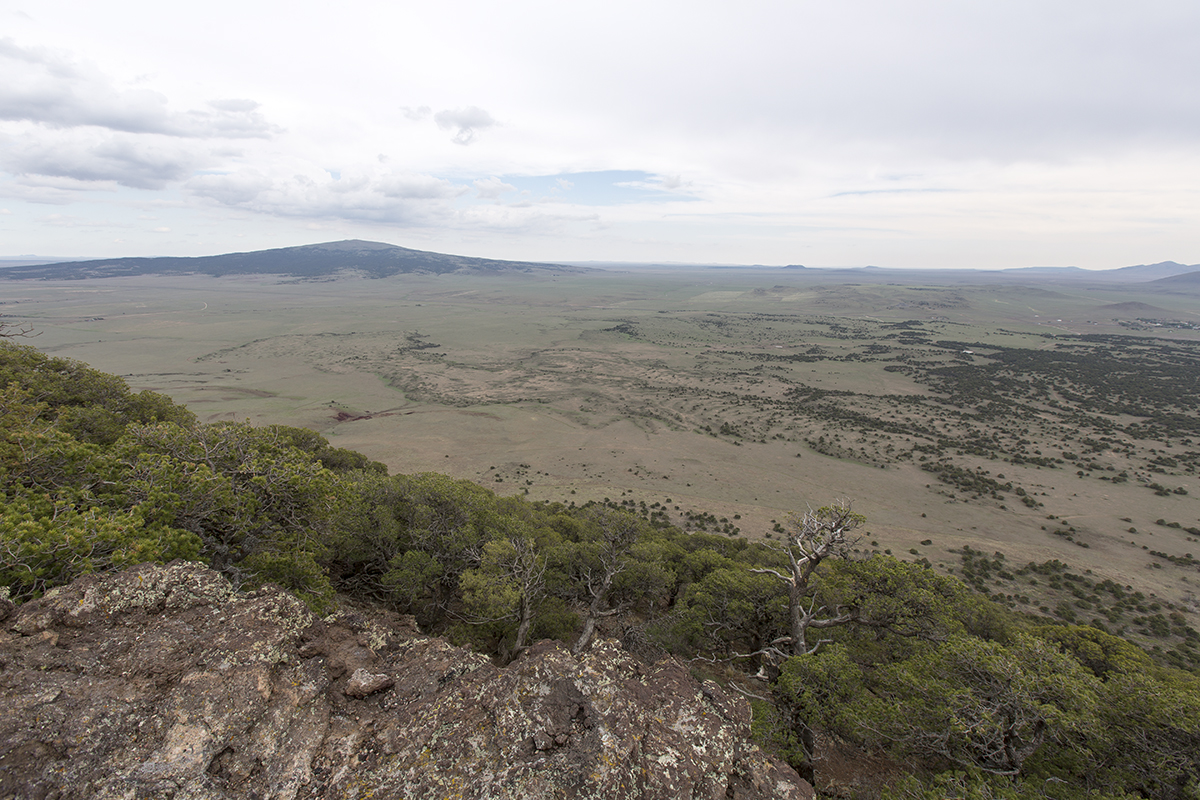 A look to the southeast to Sierra Grande on the horizon and some lava flows on the plains below. Canon 16-36 mm wide angle at 16mm, f8, 1/125 second, ISO 100.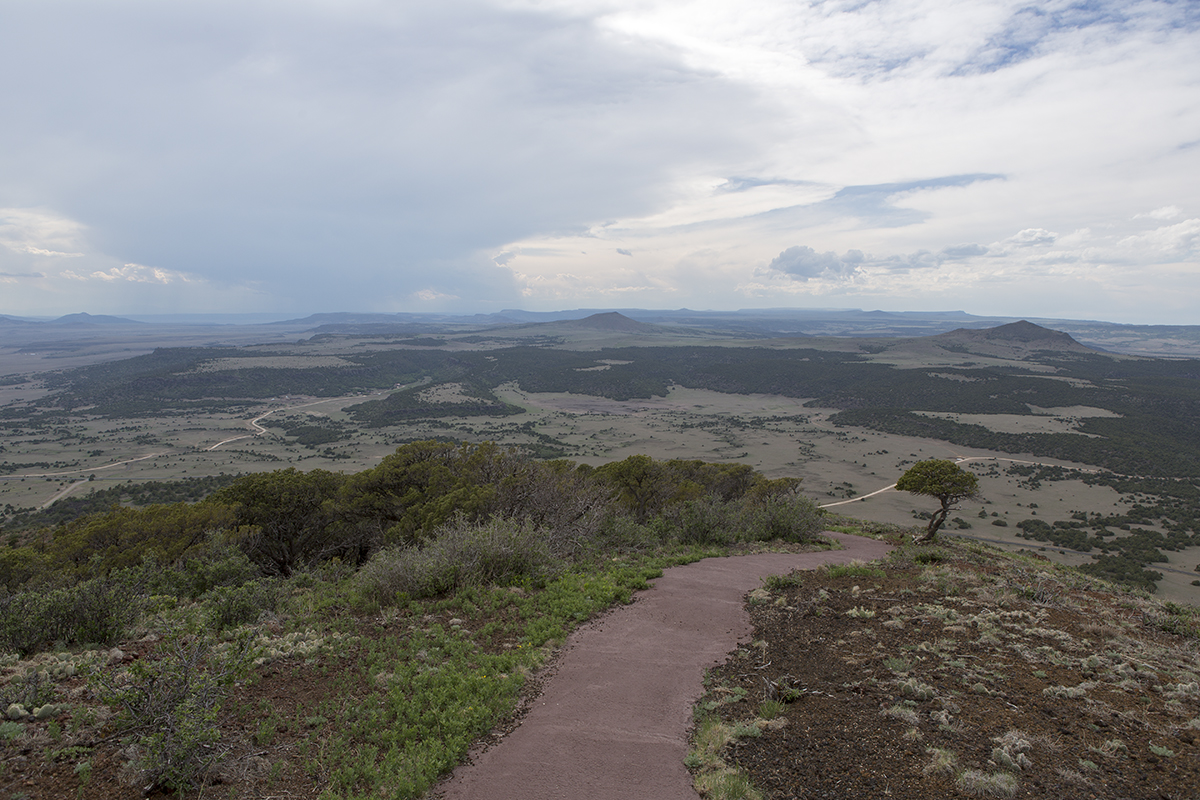 A look to the west reveals a thunderstorm developing over the mountains. Canon 24-70 mm wide angle at 24mm, f8, 1/80 second, ISO 100.
Raton
We arrived at the Super 8 in Raton just after 6:00 PM. I told the group they could scatter and eat and be back by 8:00 for some lightning photography if there were storms nearby at that time (indeed, the skies were getting a lot darker to our west). A large group went across the street to have dinner at the Restaurant next to the Best Western hotel. Shortly after we arrived, a new updraft sprang up immediately to our northwest with a nice hail shaft coming out of it. Darn! I didn't think to bring my camera gear with me. It was back in the hotel room. The updraft came right overhead and dropped hail up to half inch size and a bit of heavy rain. The ground started to turn white, but then it stopped. It turned out that the Super 8 across the street had a bit more hail than we did at the Best Western. It's interesting how much the hail fall can change over such a short distance.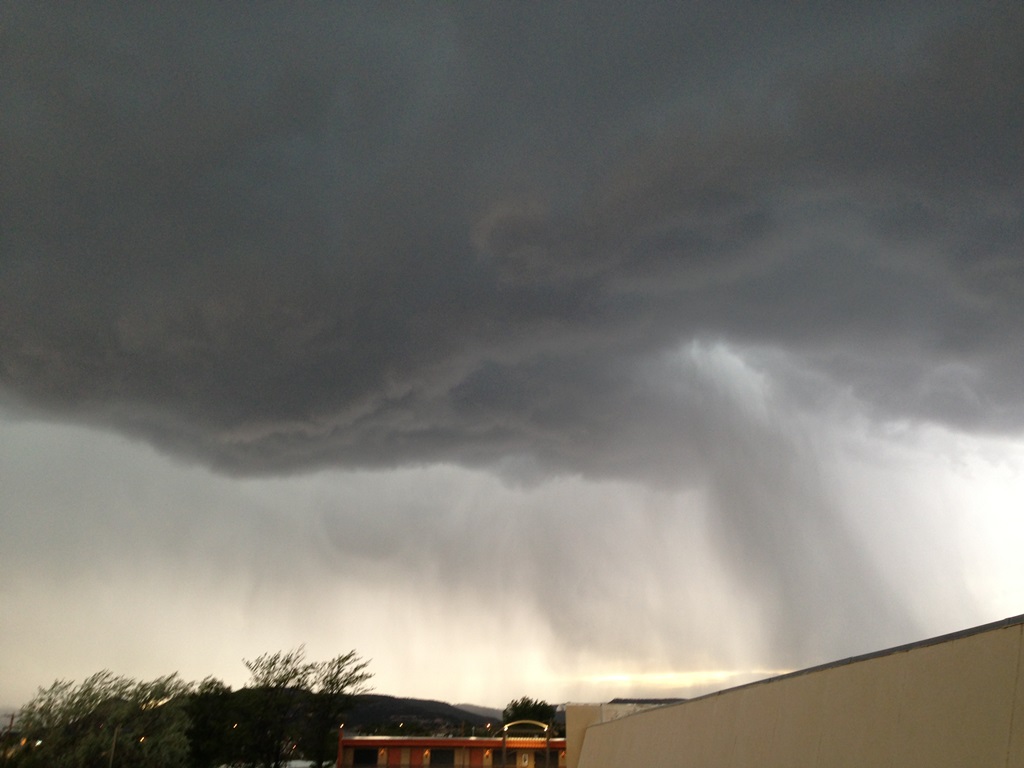 A look to the west and our new storm. That apparent, narrow rain shaft on the right hand side is actually mostly hail. (iPhone photo)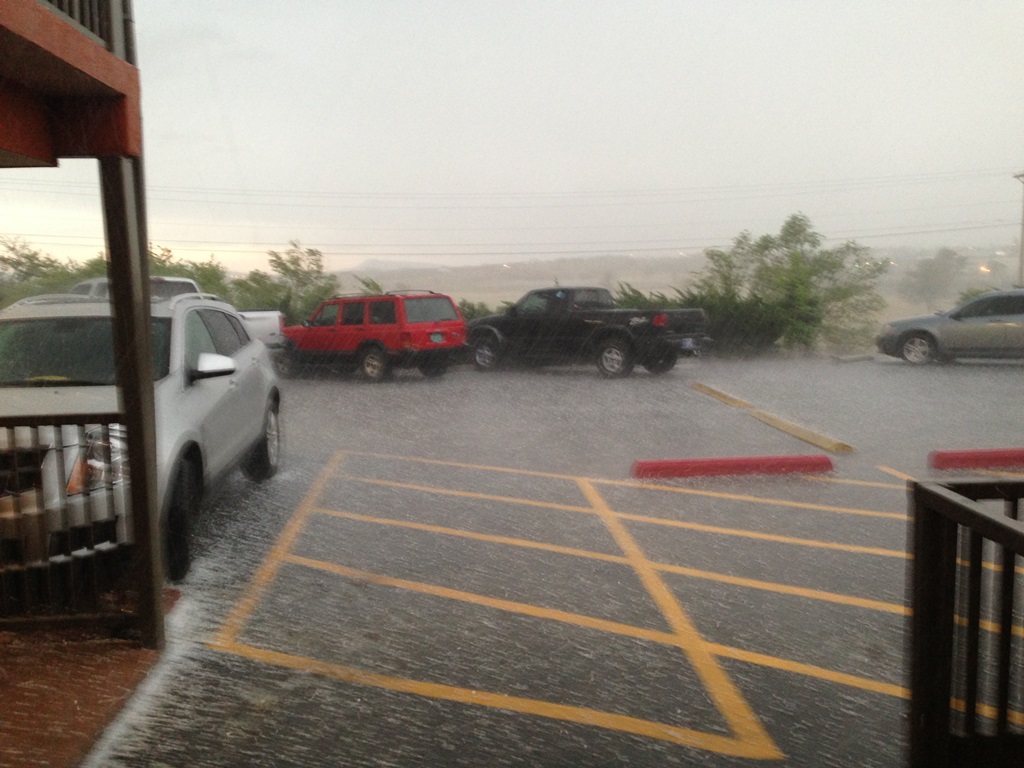 Hail accumulating in the parking lot. (iPhone photo)
No Lightning Photography
When 8:00 rolled around, there were a few people who wanted to go out and shoot lightning, but the rest wanted just to get some rest. We drove a few miles east on U.S. 87 out of town, but the storm gradually dissipated and left us with nothing decent to photograph. We decided to call it quits and head back to the hotel.
Back to Storm Chases | Home