July 12, 2013 Grand Forks to Thief River Falls Storm
I was visiting some friends in the Frazee/Vergas, Minnesota area the previous day and had stayed overnight, so I was readily available to chase a slight risk area in western Minnesota and the extreme eastern Dakotas. The primary risks were wind damage and large hail, but a tornado could not be ruled out (although those appeared rather unlikely).
I spent a casual morning with my friends then drove northwest to Detroit Lakes, stopped for a quick lunch, and checked weather data while eating. The data revealed a north-south oriented front in eastern North Dakota with northerly winds to its west and southeasterly winds to its east. 500 mb winds were near 50 knots, which meant the storms would be moving fast. To the west of the surface front was a north-south line of elevated showers and thunderstorms. One of these storms was intensifying as it was moving toward Minnesota, but it looked to be out of reach for me. I looked to my more immediate west to consider the possibility of new storms developing and moving into the area where I already was, but that did not appear likely, so I continued northwest to Fargo and continued northward from there towards Grand Forks. On my way there, I drove underneath the surface front, and once I got on its west side, some surface-based storms started to develop along that front to my north-northeast. I considered going more eastward after them, but they were really struggling, so I stayed focused on the stronger, yet elevated activity to my west.
As I continued northward on I-29, another storm in the line intensified, suggesting it might now be drawing in more of the humid, low-level air I was driving through. As I approached Grand Forks, a darker base came into view with what looked like a hybrid between a shelf cloud and a supercell updraft base with a long inflow tail to its northeast. As I got closer, I could see that it was more of a shelf cloud, yet the shelf cloud was being drawn up into a more concentrated mid-level updraft base, resulting in a thicker cloud attached to the concentrating updraft base but detached farther northeast. I wanted to stop and take a picture, but I was getting into the city limits of Grand Forks, and with an intensifying storm nearby, I had to get through town first to avoid hail. That was a good choice because as I turned east onto U.S. Highway 2, the storm was warned, and soon some hail greater than an inch in size was falling in Grand Forks, but I stayed ahead of that and made it to a place where I could stick the camera out the window and snap a quick picture.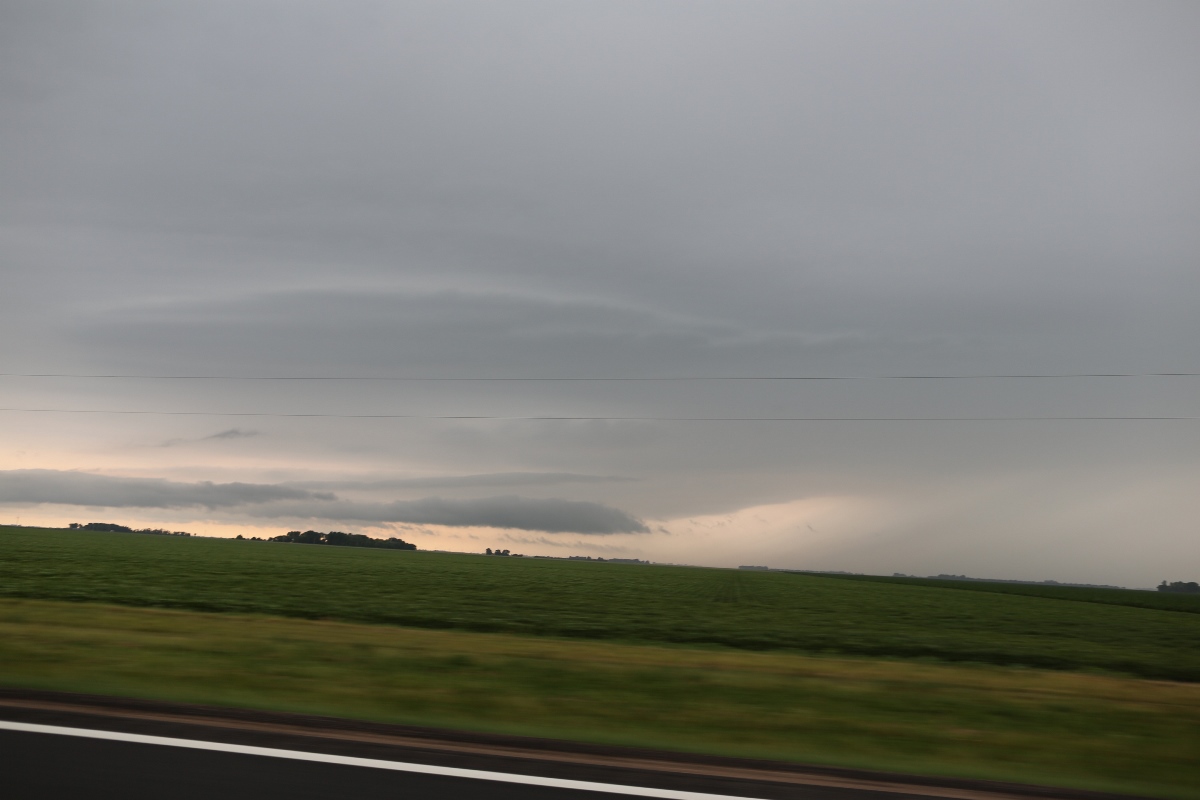 Severe thunderstorm taken from County Road 19 northeast of Grand Forks while 1.25" hail was falling in Grand Forks.
The storm was moving greather than 40 mph, so I had little time to stop and take any pictures. I stopped briefly once I got past U.S. 75 and waited for the enlarging shelf cloud to approach me. I kept going east on the same county road, but the storm was developing a little bit of a notched appearance on radar, and that notch was getting north of me, so I would soon have to zig-zag north a bit if I wanted to stay in the best position with respect to the storm.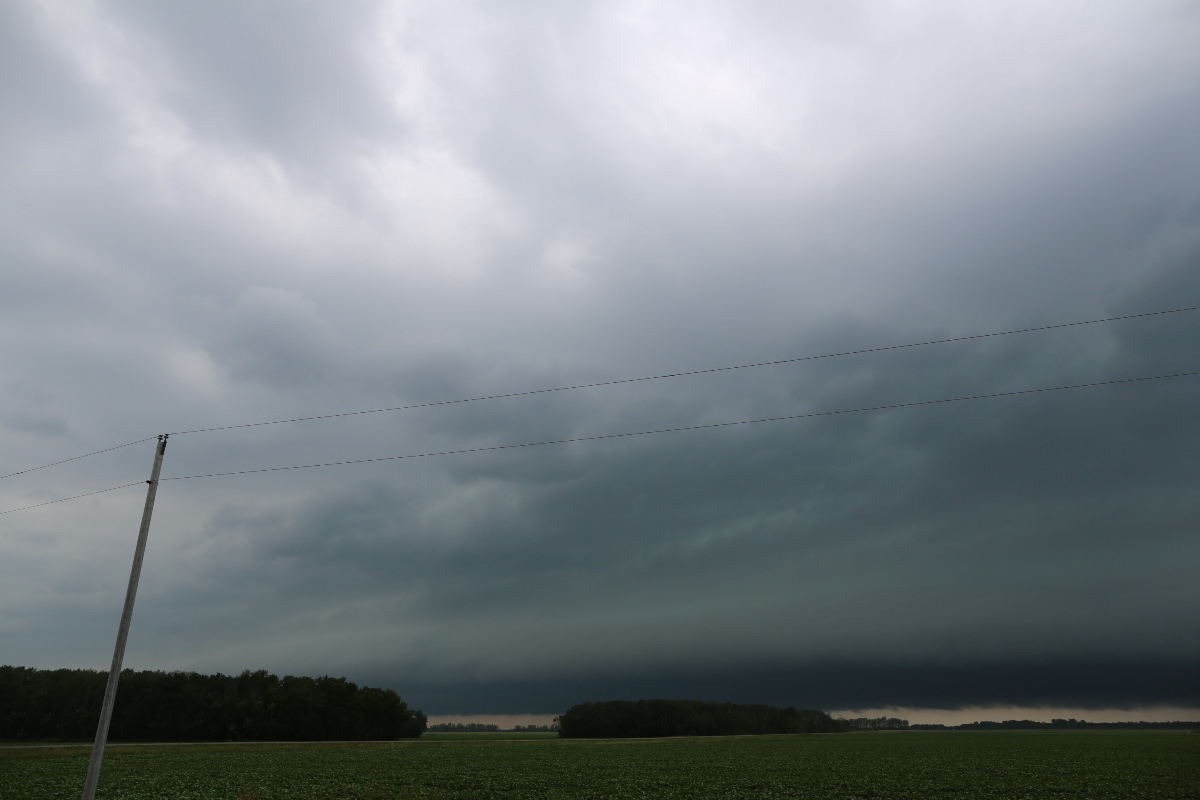 Darkening shelf cloud east of Euclid.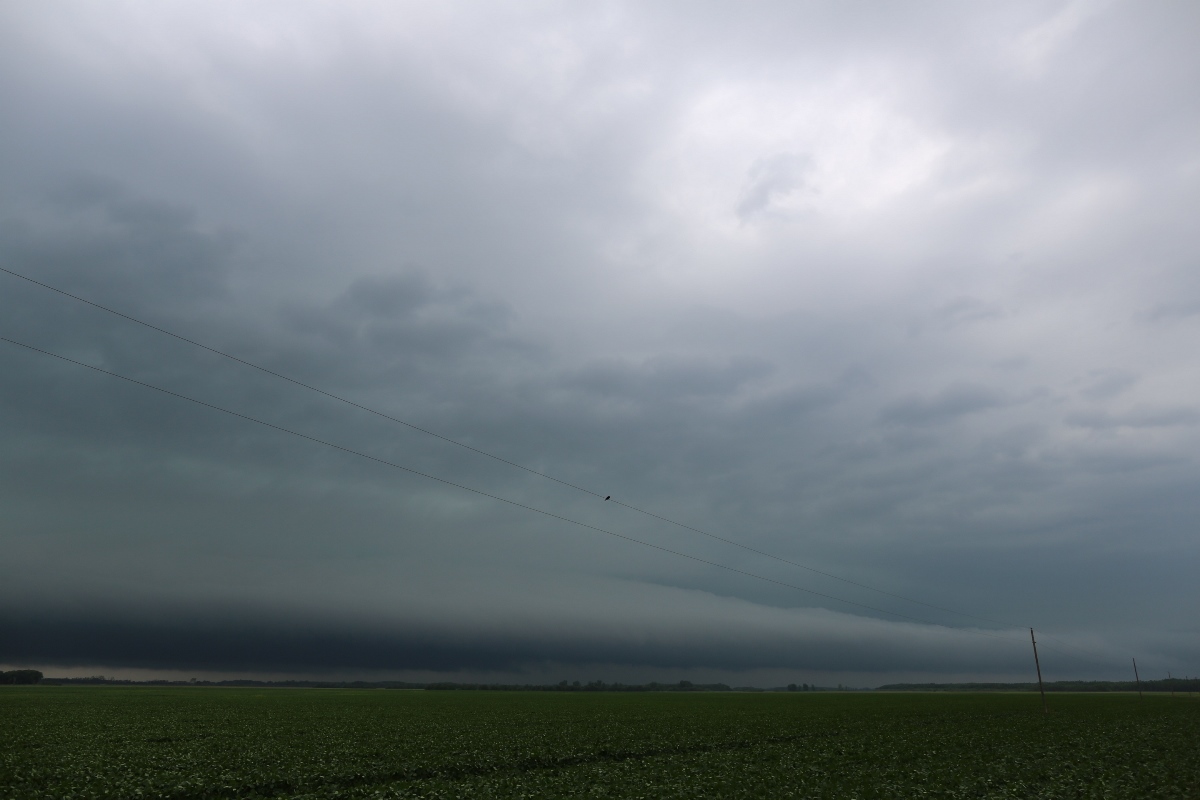 Another shot, same as before, but looking farther north.
Somehow, I like the lone bird on the power lines in this shot. Normally, I get a little frustrated when I have power lines in the picture, but they worked okay here with the bird on them. I soon realized, however, that my road would not take me a lot farther east. A jog to the north would get me in core, so I decided to drop south at this point for further development.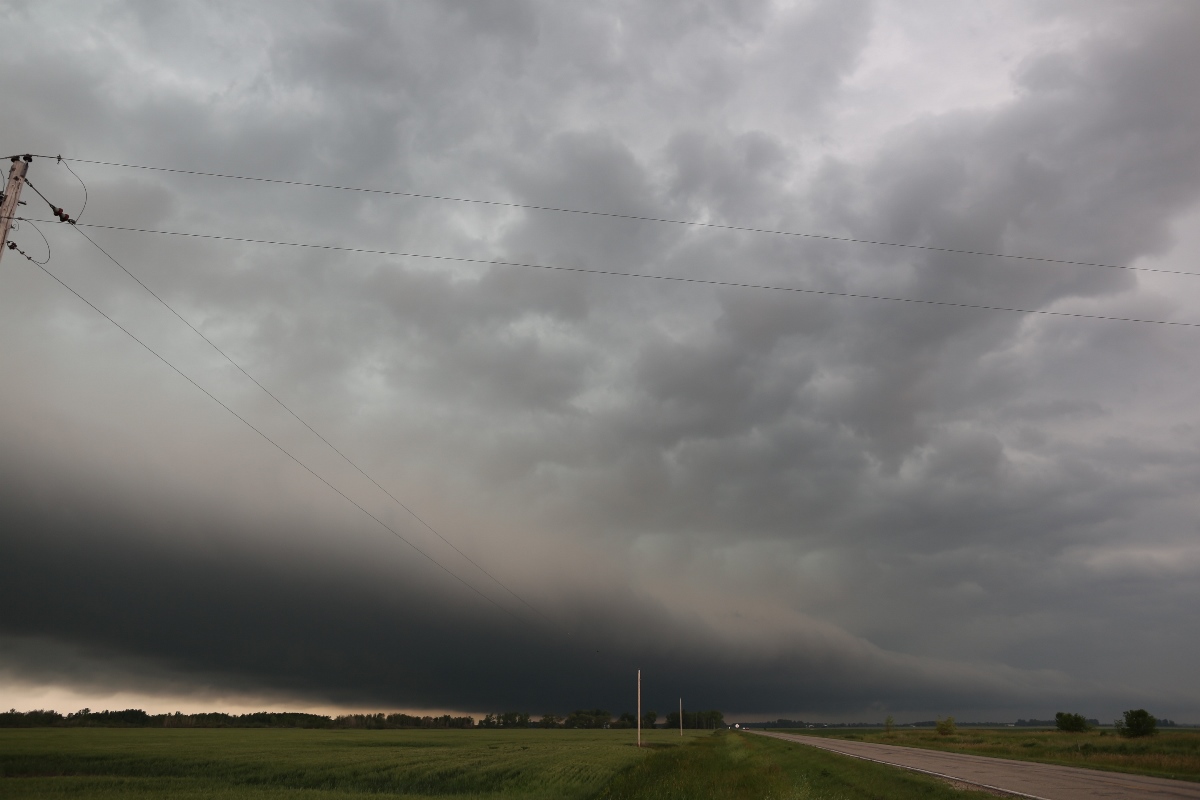 This is my last shot of the storm about 13 miles southwest of Thief River Falls.
That development never really happened. I drove southward to Red Lake Falls and continued southeast and then east, which eventually took me home. The surface-based development to the east of the surface trough, which had struggled all afternoon, was now gaining hold. Meanwhile, the storm I had been on intensified as it reached Thief River Falls and produced winds over 100 mph just to the east of that town. It would not have been particularly fun coming up on that damage.
Back to Storm Chases | Home