Northwestern Oklahoma
October 3, 2002
Ernani de Lima Nascimento and I took a late afternoon trip to northwest Oklahoma today because we felt the thermodynamics (LFC fairly low) and shear (0-1 km helicity) were acceptable for possible tornadoes or, at least, supercells in northwestern Oklahoma with an ejecting shortwave trough coming out of New Mexico and Colorado. We drove northwest to Seiling, where we intercepted a new line of storms, which were not yet warned. Initiation appeared to have happened in a linear fashion.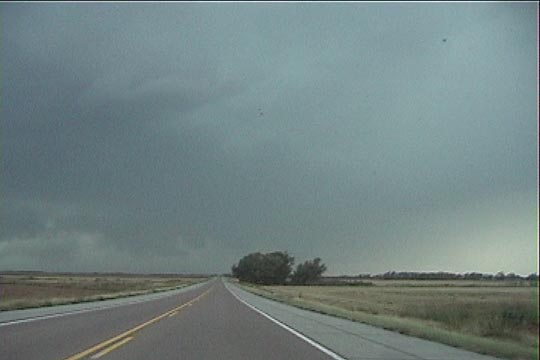 First view of the line of storms northwest of Seiling.
As we approached the line, we could see several scud-like lowerings along it, one of which (to our northwest) had a *very* weak wall cloud look to it. This feature quickly dissipated, but there were some minor inflow bands into this area that persisted. Behind us to the SW, was a pretty nice, low shelf cloud in the distance. Soon, a severe thunderstorm warning was issued for Woods County (the next county to our north) and soon thereafter, a tornado warning. Lured by this, we raced northward and eastward, but we already had an interesting storm just to our west-southwest, moving quickly northeast, so we figured we'd be headed northeast anyway.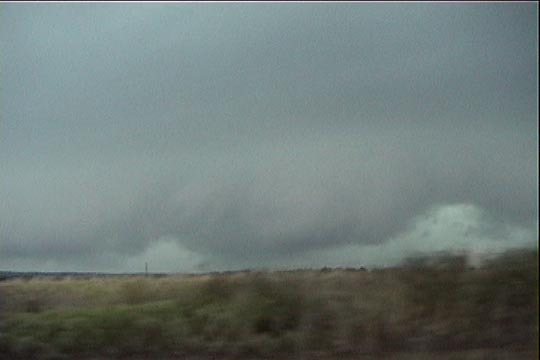 Shelf cloud approaches us from the west and southwest.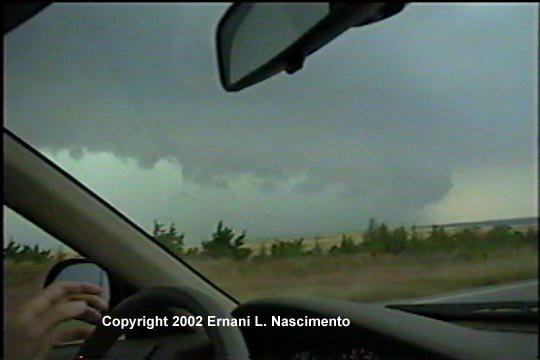 Northern end of the shelf cloud wraps back around to the west
The storm behind us caught up to us as we headed north along U.S. 281. It was a risky move, but we decided to get north before going east (we would have wound up in the same spot anyway). The shelf cloud came right up to us, with the northern end displaying somewhat of a collared look to it.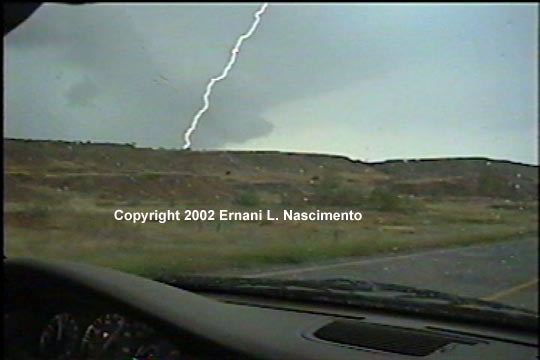 Collar-shaped northern end of the shelf cloud with lightning.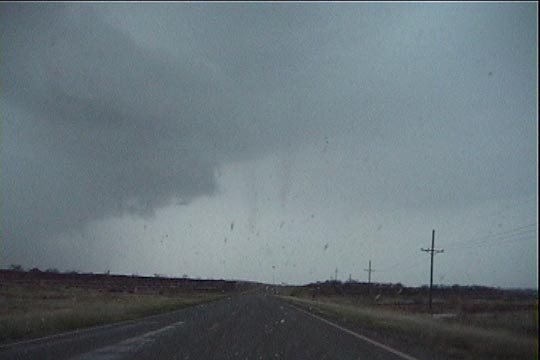 Somewhat collar-shaped cloud
The next several minutes were rather tense, as the core of the storm came very close to us. We started getting some light/moderate rain, but we stayed barely ahead of the really heavy stuff. In the process, we were able to observe some very close lightning strikes-- close enough to pinpoint, within a few yards, where they struck.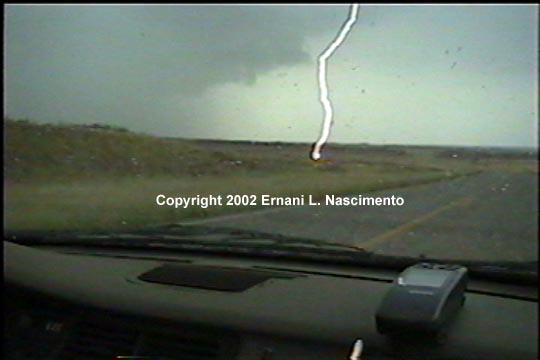 Lightning strikes 200-300 yards in front of us.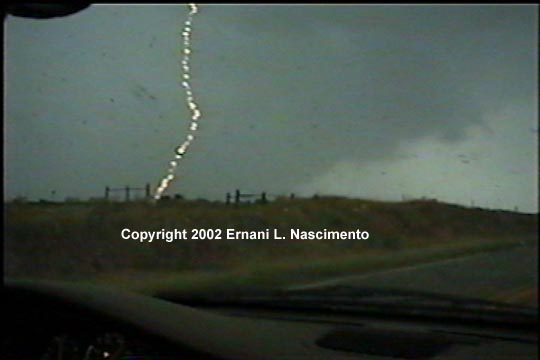 Another very close bolt with beads/continuing current.
When we reached the southern end of Waynoka, we were in southerly winds near 50 mph, and the bowing segment of the storm was right behind us from our west to our southeast. It was a narrow escape. Other OU grad students, who were only a few minutes behind us, were caught by the core and extreme downburst winds, which splattered their car with mud, snapped trees at the base behind them, reduced visibility to zero, and (as they told it) nearly tipped their car over.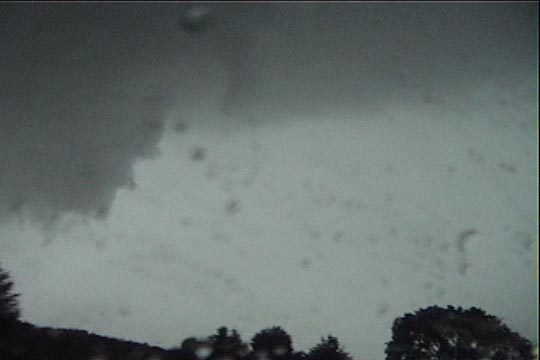 Last view of the collar in Waynoka around 6:35.
Near 7:00 pm, with the tornado-warned cell still out of sight to our north and heading into Kansas, we decided to simply head east to I-35 and then home. A second cell came up from the southwest, which we took video and stills of, and then we headed home. On the way, we stopped to grab a quick dinner at a Dairy Queen on I-35. Fortunately, when we arrived, there was only one other vehicle in the parking lot, so we thought it would be a quick stop. Unfortunately, that vehicle was a busload of junior high cheerleaders who had arrived moments before we did, so it was a while before we left.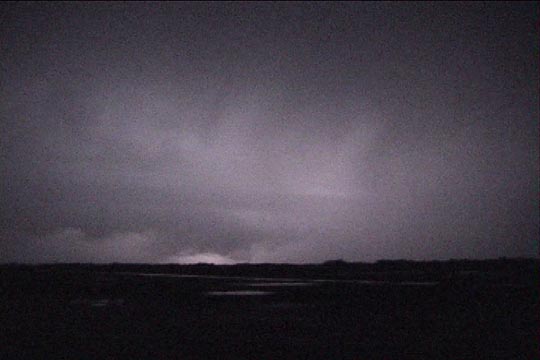 Second storm.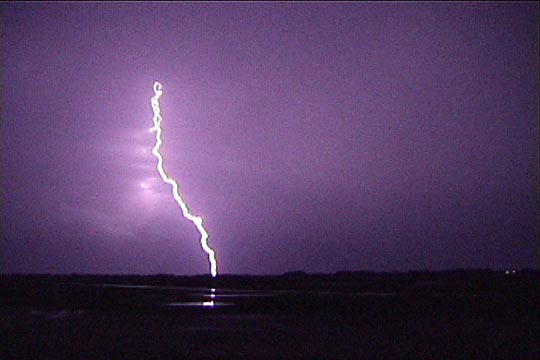 Lightning bolt out of the front of second storm.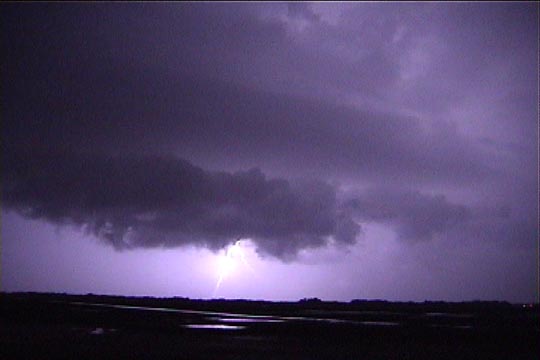 Lightning and structure on second storm.
---