April 26, 2016 Chase
This is a day that initially had somewhat high expectations, but there were some details in the wind profiles that made it look like it could be a day of linear storms. That's indeed what happened.
I went for a nice morning run around the local community college (they had some small, noisy wind turbines as part of a turbine technician training program) and gravel roads north of town then grabbed breakfast back at the Comfort Suites. We left the hotel and topped off at the Love's station in Pratt. From there, we headed east to Wichita, getting some relatively fast food at a Chipotle restaurant. The food was delicious, but I had difficulty obeying an "out of order" sign in the men's bathroom (don't worry-- all was well).
Initiation
While we were eating lunch, the cumulus were towering, and as we came out, the first echoes appeared on radar. We drifted east through town to figure out our route and to see if any of these might be a good target. The storms were developing as a line right away, but this was not surprising because the upper level flow was nearly parallel to the south-southwest to north-northeast-oriented cold front. We liked the backed winds along an old outflow boundary to our northeast around Emporia, so we drove up the Kansas Turnpike as new storms were initiating along that northwest-southeast-oriented boundary.
As soon as we got on the turnpike, the Storm Prediction Center issued a PDS (particularly dangerous situation) tornado watch for much of Oklahoma up to the Kansas border. We might have considered turning around briefly, but we essentially disagreed with the watch and continued northeast (indeed, I don't think there were any tornadoes in that watch-- at least not before sunset). When we arrived in Emporia, the winds were blowing more from the east, and storms were popping up around us. NWS Topeka was soon issuing tornado warnings on cells to our northeast, but these cells were very closely clustered, and we wanted to try to get a more discrete storm.
We saw new storms developing to our west and thought they had a chance of becoming more interesting as the crossed our boundary. We intercepted the new storm near Marion, KS, but when we arrived, this storm weakened a lot, leaving us with mostly gray skies. Meanwhile, numerous small cells were firing in a 50-mile-wid area to our east and merging together to form what would be a more organized line of storms. This evolution did not present us with any great photographic opportunities. One of the more exciting moments was when we approached a shelf cloud (from behind) near (I think) Council Grove. There was a lot of cyclonic shear along this boundary, and Chris was somewhat hesitant to cross through that area because of rotation visible in the rain curtains ahead of us, but we crossed through that area with no problem. We got barely ahead of the storms as we got back to the turnpike, and we headed southwest back toward Wichita. There were some moments of nice staccato lightning bolts, but we were on a section of turnpike with no exits, and we could not find a really safe spot to pull over and photograph.
Our stay for the night was at a Days Inn on Laurel Street in Wichita.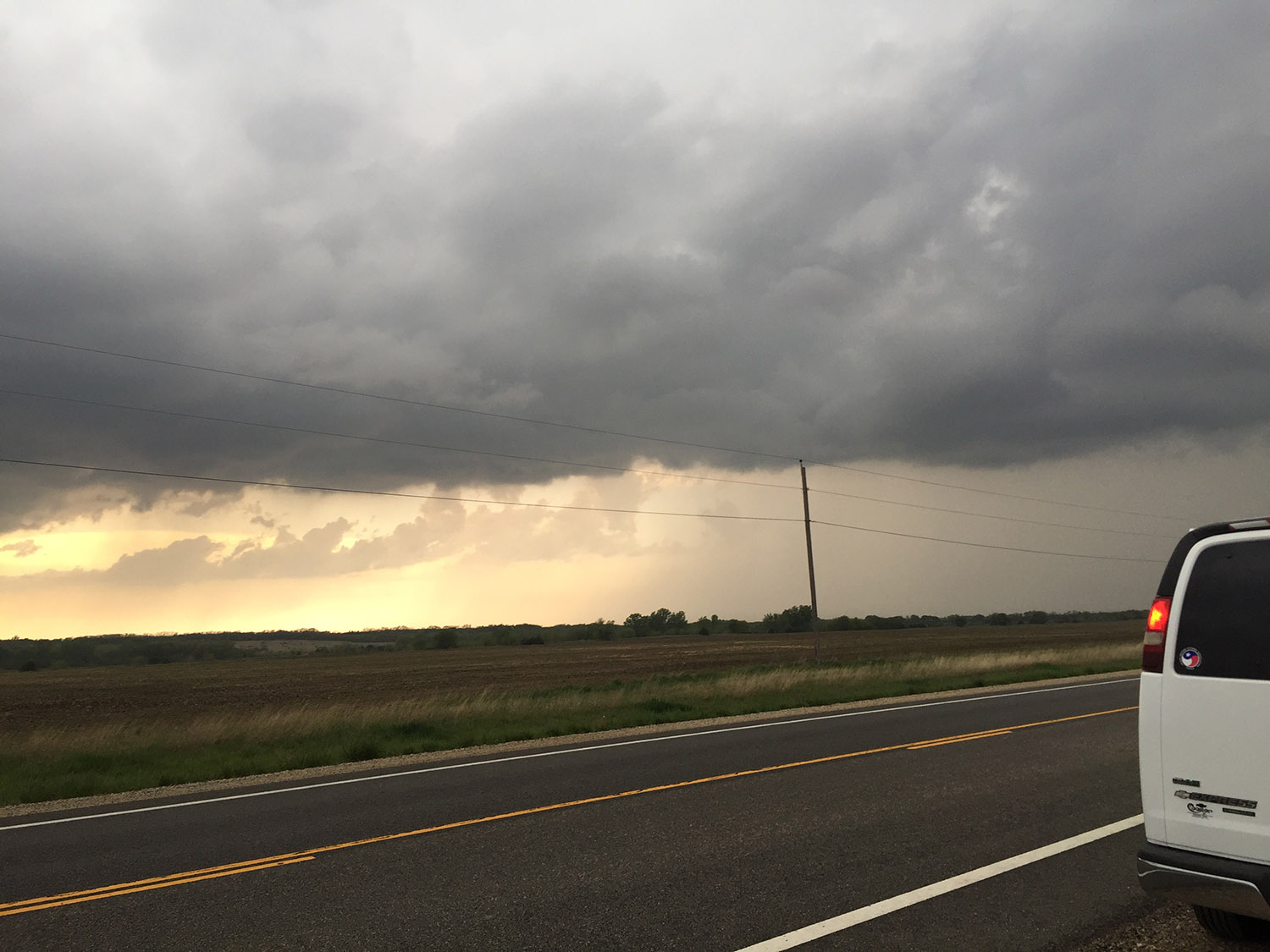 A weakening storm near Marion, KS.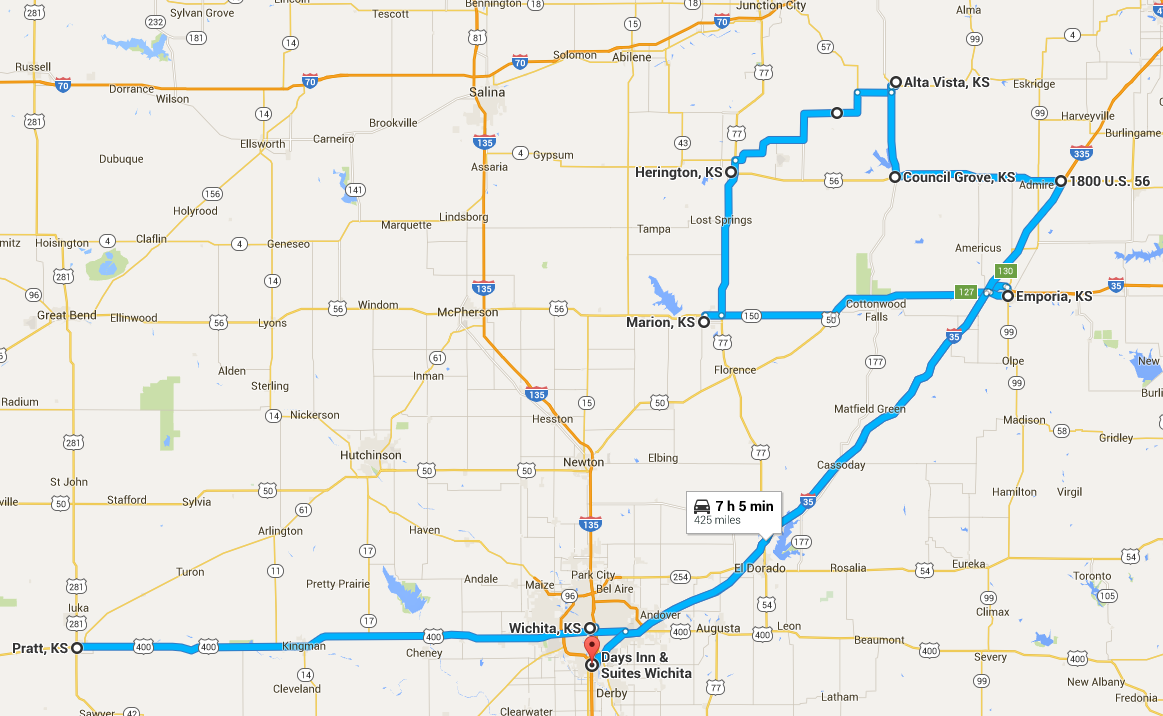 Our approximate route for the day.
Back to Storm Chases | Home