August 29, 2013 Tornado
Remer to Hill City, MN
After eight years living in Grand Rapids, I had a very successful, close-to-home storm chase with a tornado, and I didn't even have to leave work early! Given our climatology, I was really not expecting what happened today, but everything had indeed come together just right. The National Weather Service office in Duluth conducted an aerial damage survey of the storms and that survey can be found here. I have annotated the damage path map with my own views and viewing locations (see below).
The setup for this storm began with an MCS that moved through in the morning, laying out an outflow boundary somewhere just south of U.S. Highway 2. As things heated up during the day, the outflow air became very moist and warm, and the low-level winds were still backed (east-southeasterly) just north of the boundary. There was a lot of moisture present on either side of the outflow boundary with dewpoints in the low to mid 70s. Temperatures were in the mid to upper 80s south of the boundary and ten degrees cooler on its north side.
About an hour before the end of the work day, a thunderstorm developed south of Bemidji, apparenly just to the north of this boundary. I kept an eye on it as it was gradually increasing in intensity, but it was looking pretty multicellular (on radar, a lot of smaller looking red blobs within the larger storm), so I was not sufficiently excited about it to cut out of work early. There would be plenty of time to take pictures after work. Over the last half hour of the work day, I really needed to get some things finished, so I stopped paying attention to the storm.
Just after 5:00 PM, a friend at the weather service in Duluth called me to ask if I was going out to look at the storm, so I decided to take the weather a little more seriously and actually look at radar again. One glance is all it took to get me running out the door. I only had one camera with me but did not bother to drive home (only 1.5 miles away) to grab the rest of my equipment. I looked at the road network, which was relatively sparse, so I picked the town I thought might be nearest the updraft base 30 minutes from now. That town was Boy River.
I started west on Highway 2, then hesitated, thinking that road would take me too far north. I started south from Cohasset to cut over to County Road 63 but decided it would be better to simply get back on 2 and take Highway 6 south. County Road 65 would take me west from there to Boy River. On that road, I had my first view of the large anvil on the storm.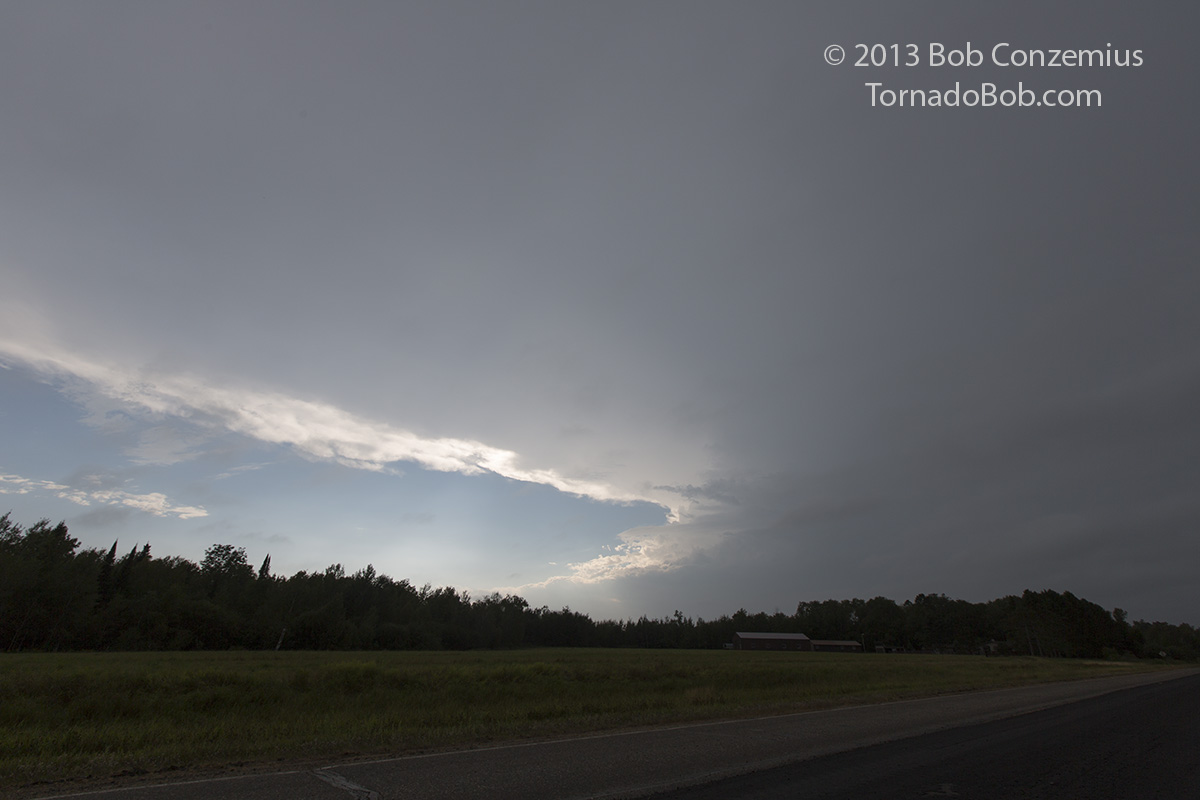 My first view of the storm and its expansive anvil on Cass County Road 65.
Upon my first close look at the updraft of the cell, I could tell it meant business. The low-level cloud motion into the cell was among the fastest I had ever seen, although my perception of the speed was aided by the fact that the LCL/cloud bases were perhaps only a few hundred feet above ground level.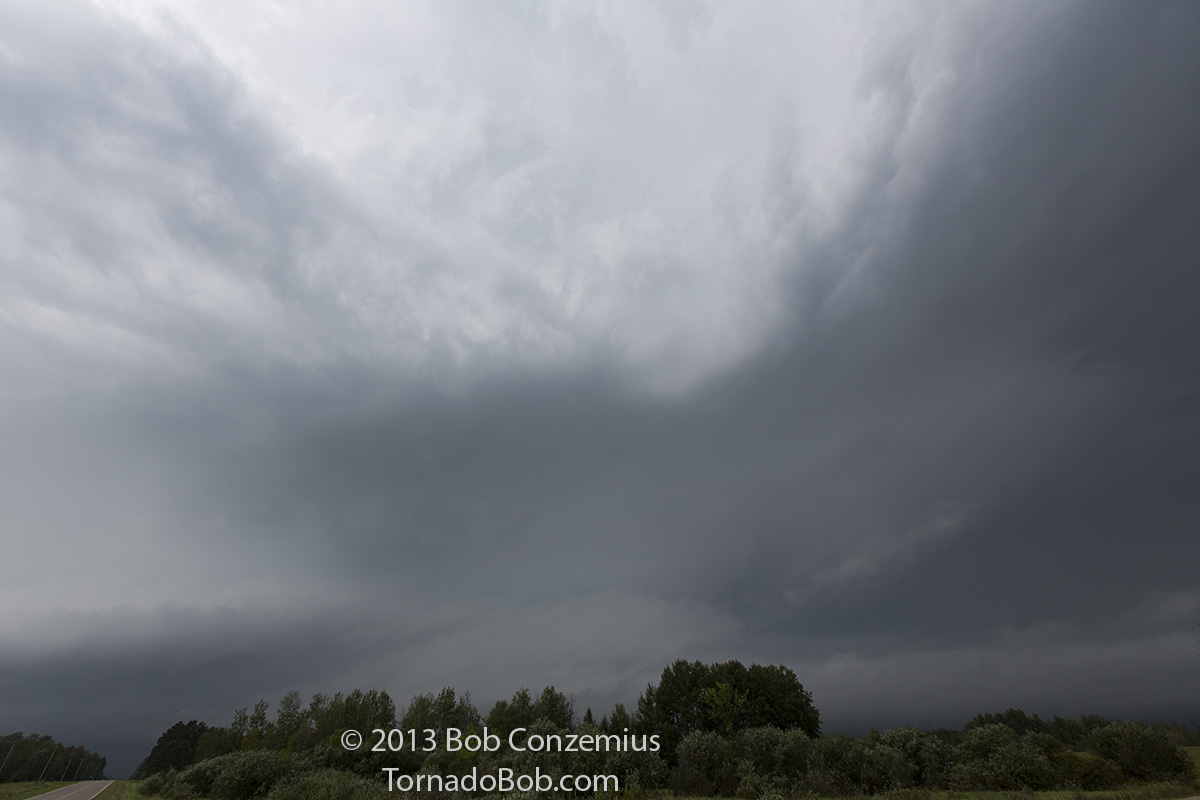 My first view of the low-level structure near Boy River. All inflow bands you see in this picture were moving very quickly into the updraft.
I wanted to stay a little longer to look under the updraft base, but, being uncertain of the exact speed of the storm, I felt I should keep a safe distance ahead of it. I was also somewhat motivated to get a better view of the whole storm structure, which meant getting farther southeast. I found a couple more spots to pull over and look at the storm, and the inflow was strong enough to strip a few leaves and maybe a twig or two off the trees. Every time I tried to get a view underneath the updraft base, however, the cloud base was so low and dark I could not make out any features, even when the trees were less of a problem.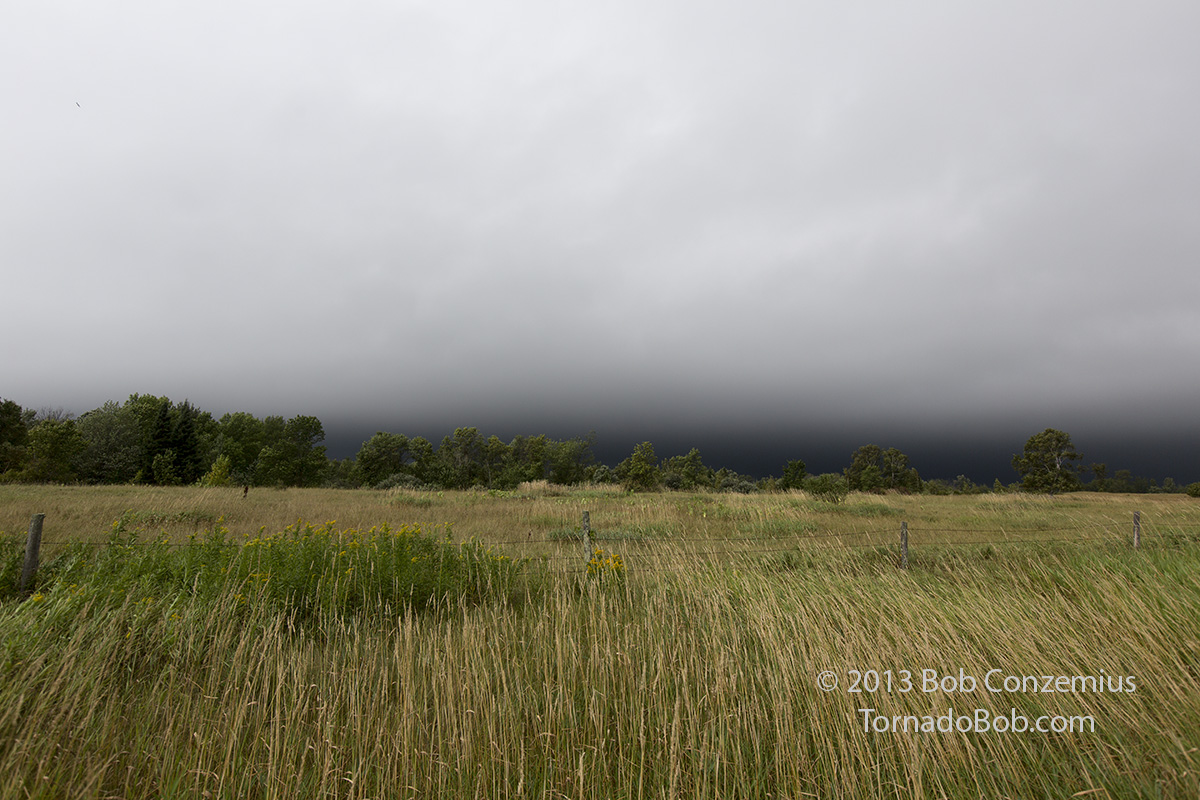 Another stop to try to look under the updraft base between Boy River and Remer. Very low cloud bases prevented that from happening. Front lighting on the very tall and upright front side of the storm with cloud bases so low that very little light penetrated underneath made it difficult to see under the base.
I found a third place to stop by Little Sand Lake, which finally afforded me a good view under the mesocyclone. At first, I did not see anything remarkable because everything looked so dark, but then the gust front came close enough to reveal an RFD cut under the base.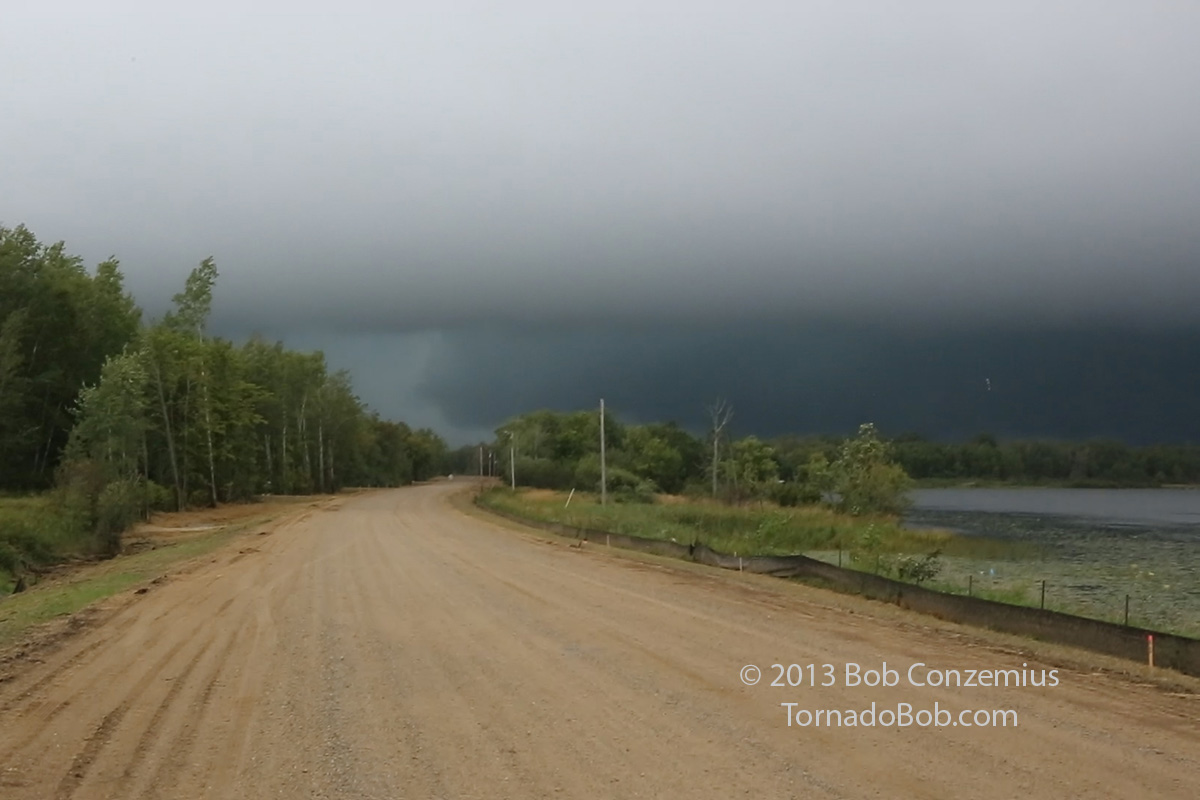 Rear flank downdraft (RFD) cutting into the storm. The RFD is the brighter area, just above the road, wrapping around the dark, low-hanging cloud just above and to the right of the road.
I looked underneath the expansive, ground-scraping wall cloud for any tightened areas of rotation. It didn't take me long to spot one rotating lowering with condensation looking like it was down to tree top level. A possible tornado! It could have been in progress for a while already (maybe even when I was in Boy River), but my inability to see under the updraft base had been preventing me from seeing it. Actually, there were multiple areas beneath the low cloud base at Little Sand Lake that looked suspicious. As it turns out, the damage survey did not find any convergent patterns that would be indicative of a tornado, although there was some scattered light damage. I think, at this point, that there were multiple weak vortices that had not yet consolidated or intensified to tornado intensity.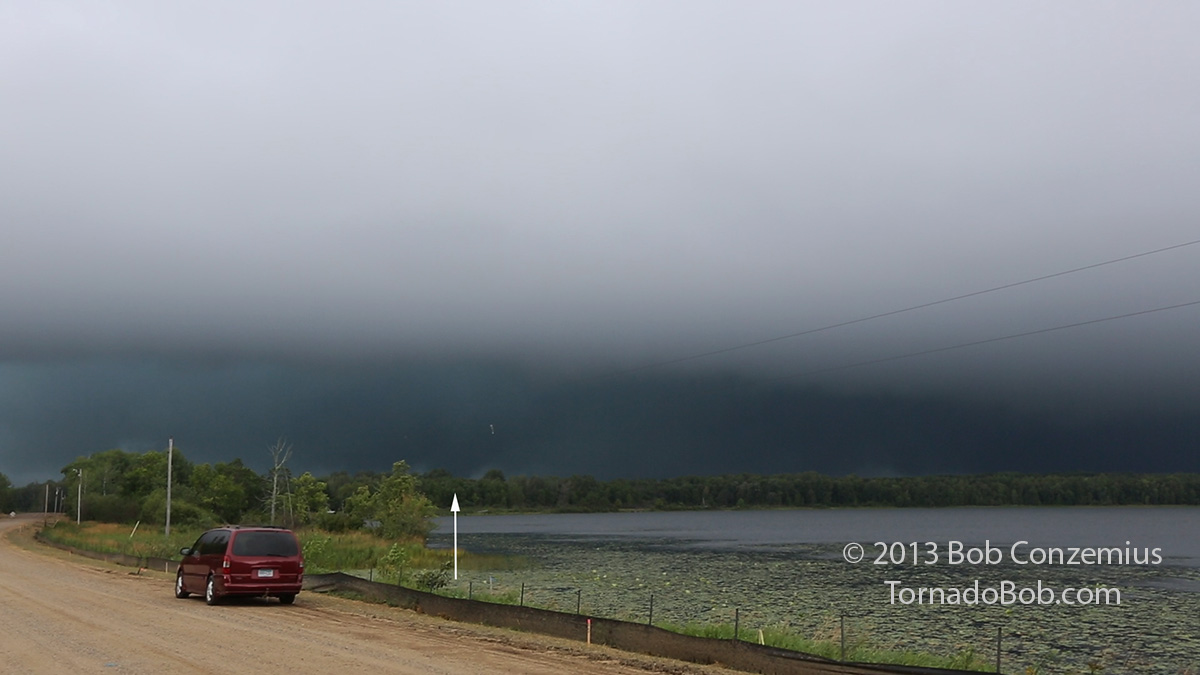 Developing tornado northwest of Little Sand Lake, northwest of Remer.
I continued southeast through Remer and found a clear spot to pull over (Viewing Location A on the map below) on MN Highway 200. When I first got out of the car, there was only rain and darkness beneath the base, but as the RFD gust front approached, a wedge-shaped object appeared at the intersection between the RFD gust front and the inflow bands coming in from the east. I wasn't sure if everything I was seeing was a tornado or if the width was due more to rain curtains wrapping around the tornado. A hard left edge would reveal itself, then a hard right edge, and then a narrower cone, and then no condensation all, with all of this action in the middle of an area of rapidly rotating rain curtains. It was difficult to discern tornadic motion, but this had to be a tornado. The NWS survey indicated this to be the beginning of the tornado damage path.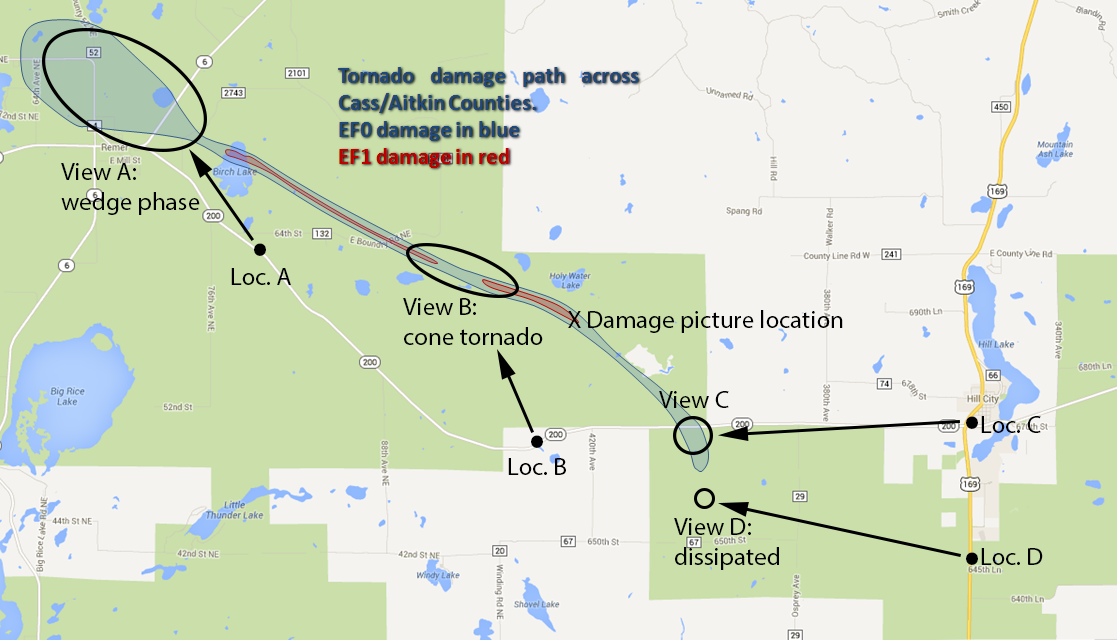 Tornado damage path from National Weather Service damage survey (map courtesy of NWS DLH). My viewing locations (A, B, C, D) and corresponding views of the tornado are indicated. My damage picture (below) was taken at the southeast end of the EF1 damage swath south of Holy Water Lake.
First picture at Viewing Location A (6:26 PM CDT). Multiple inflow bands are moving very quickly into the main updraft of the storm. It just looks black under the base.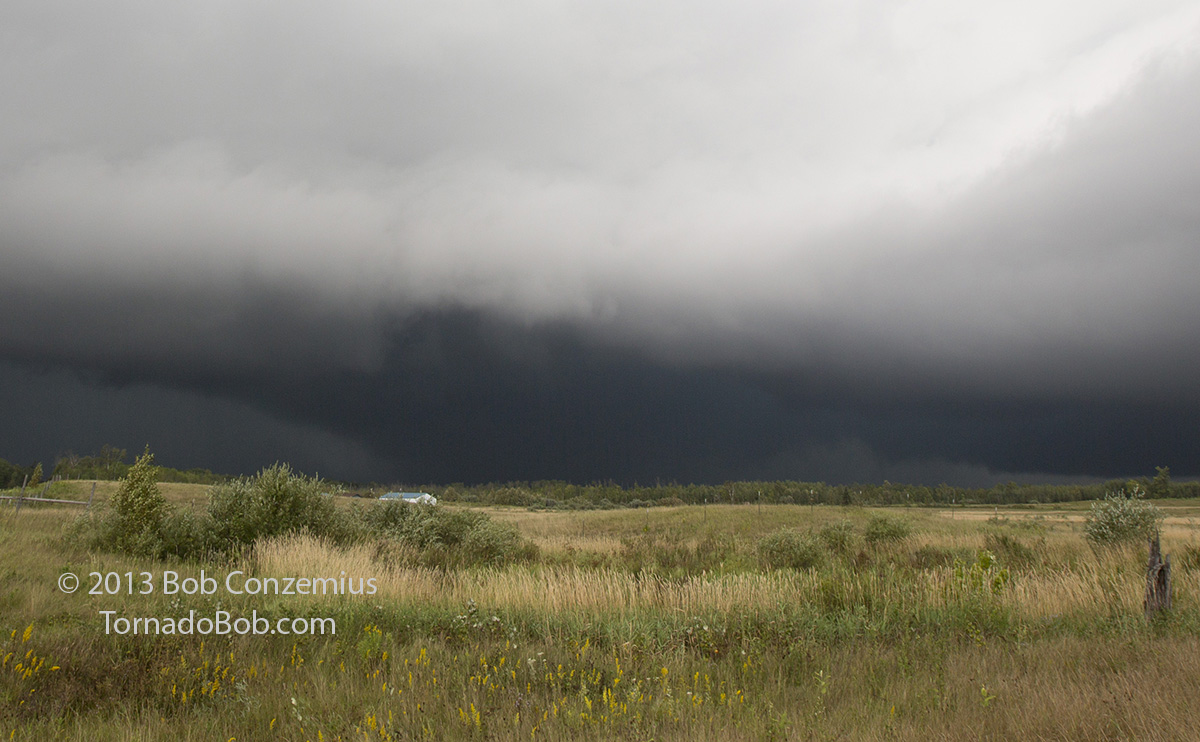 View A at 6:28 PM. A wedge tornado appears. Despite the appearance, it was not strong. The wedge shape was caused by the very low cloud bases. The tornado was EF0 at this point.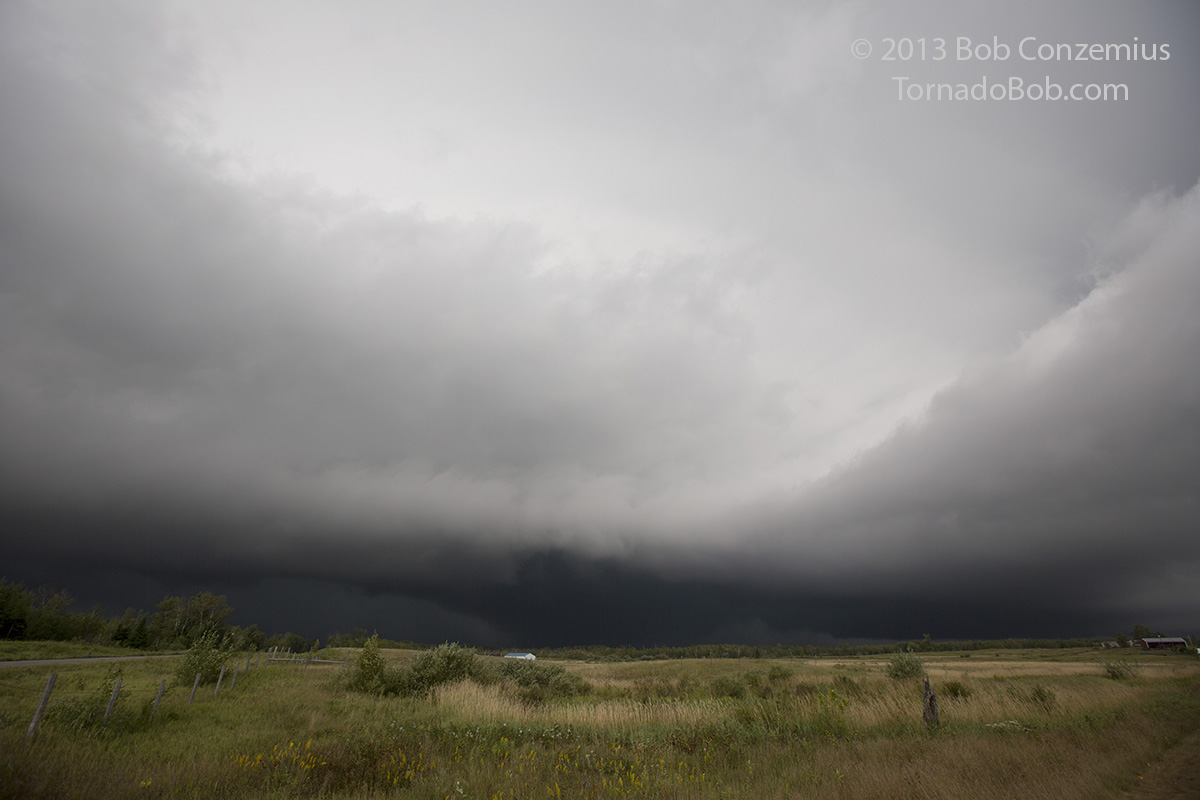 Non-cropped to show outer circulation, inflow bands, and structure (View A).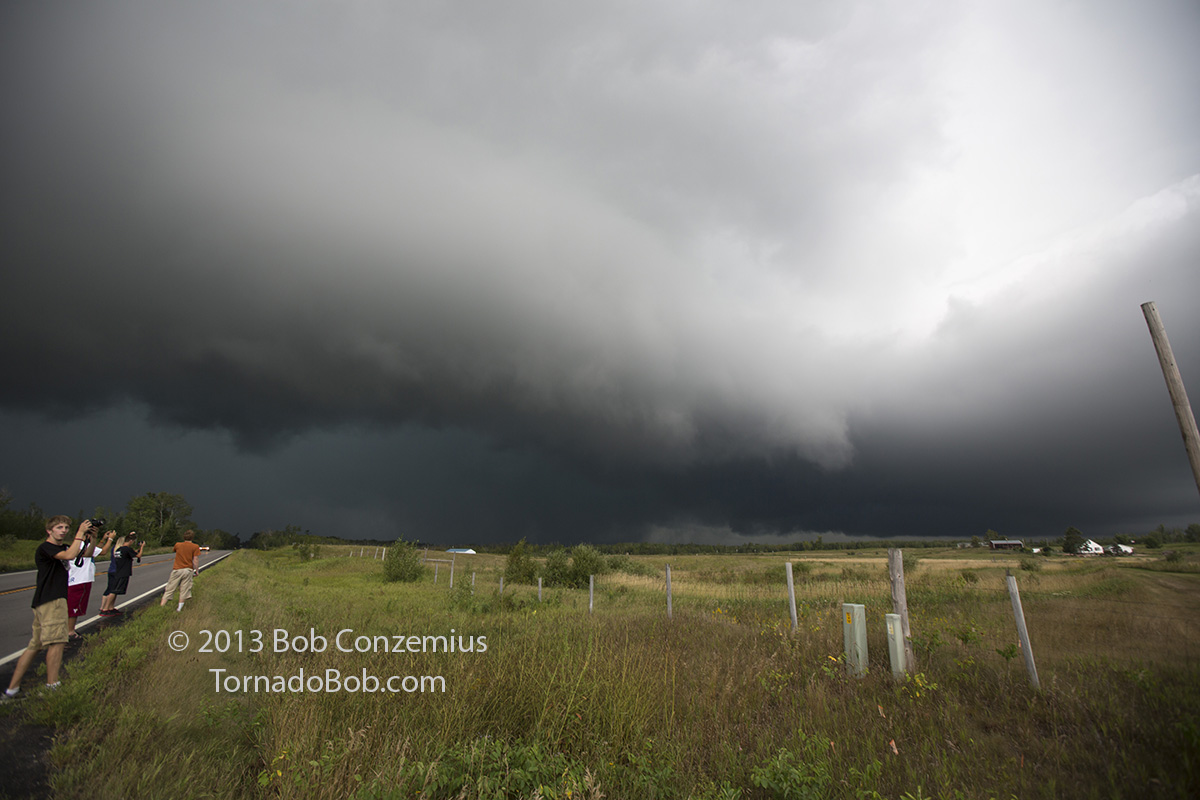 View A. It looks like a wedge from here, but as it gets closer, it's hard to see a well-defined tornado.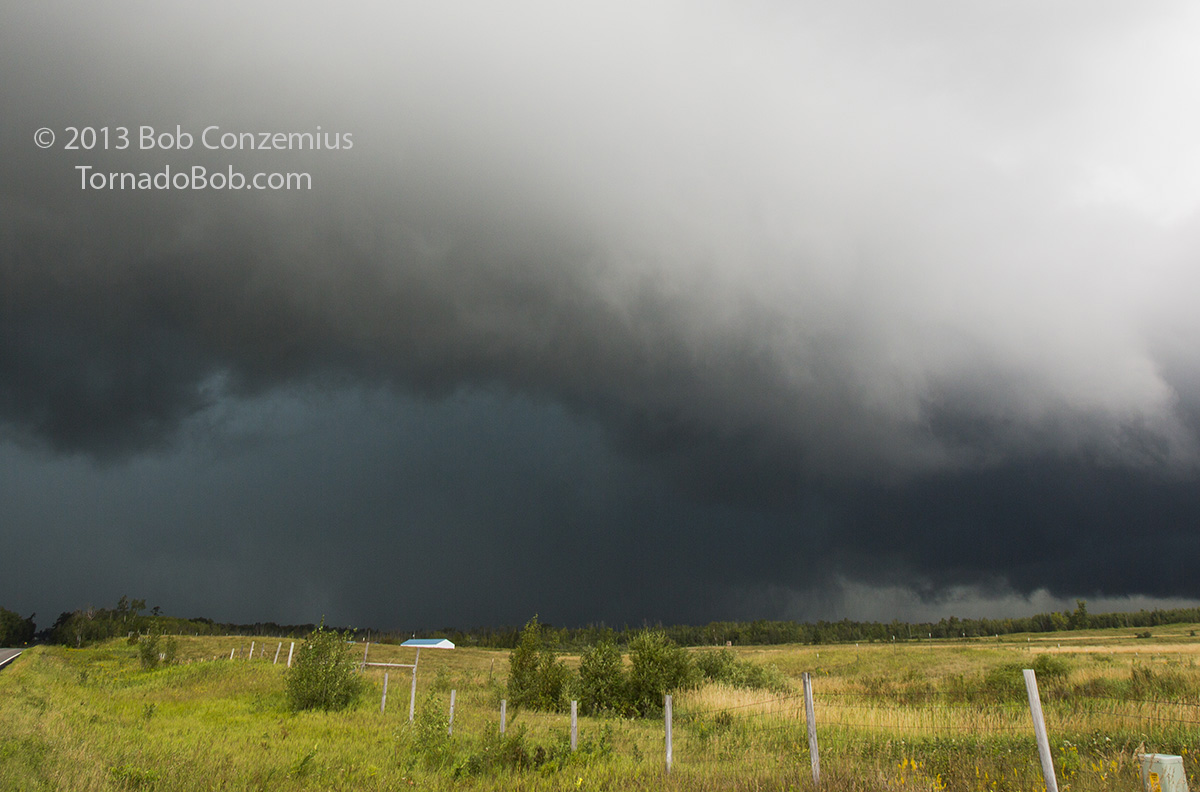 View A. Tornado or wrapping rain?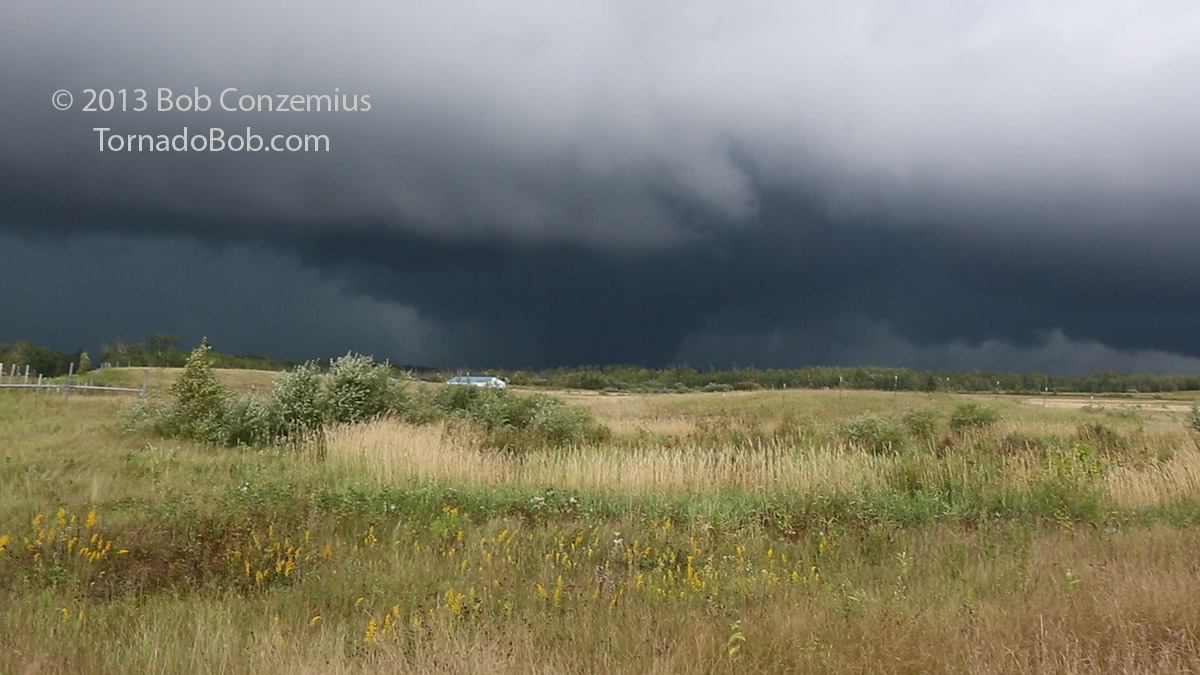 View A. Video capture from the same location just east of Remer.
The RFD gust front was nearing again, so it was time to run southeast. I continued a few miles to an open fen about halfway between Remer and Hill City (Viewing Location B). The tornado and its rotation were more clearly visible from this spot. I had run into my coworkers by this time, and we all viewed the tornado for about five minutes.
Interestingly, we also ran into a motorcyclist who was on a cross-country journey, and he found my YouTube video several months later. He was kind enough to send me his account of the day.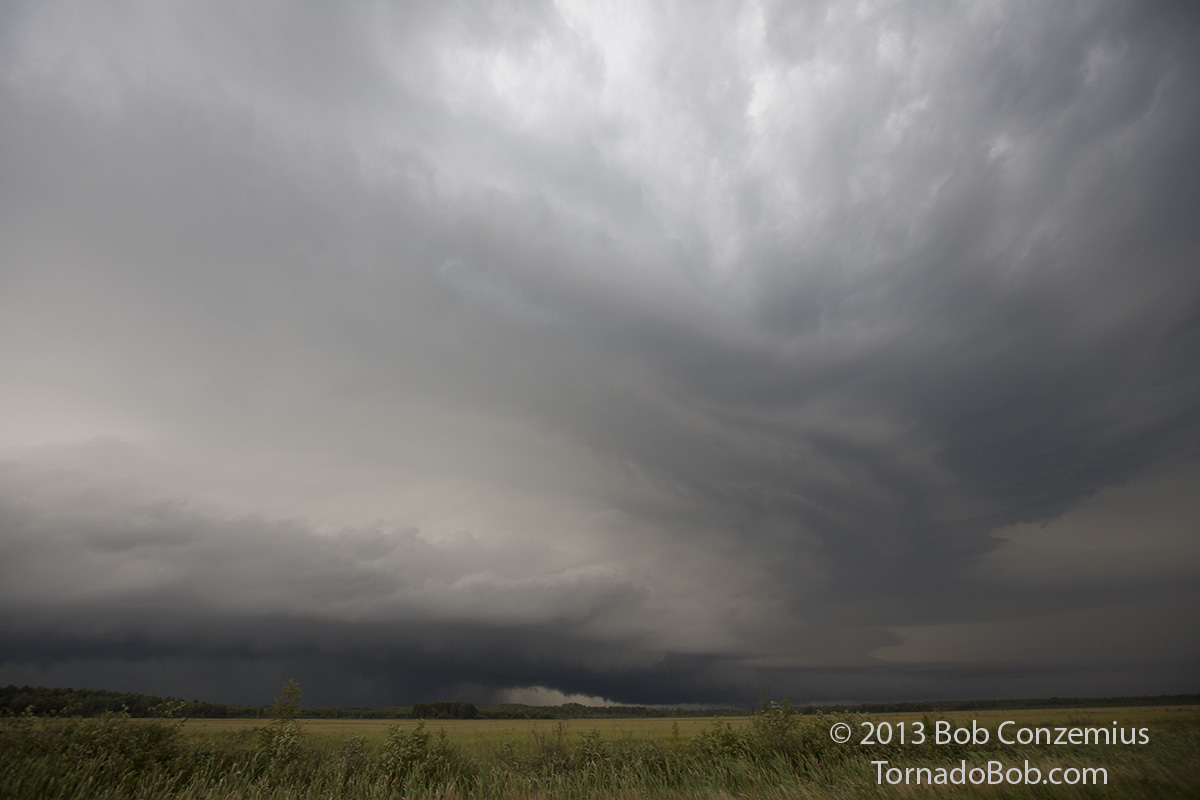 This is at 6:39 PM on Highway 200 east of Remer (View B) where the view opens up as it crosses a bog. Incredible structure here, and narrow cone tornado is just popping out of the rain.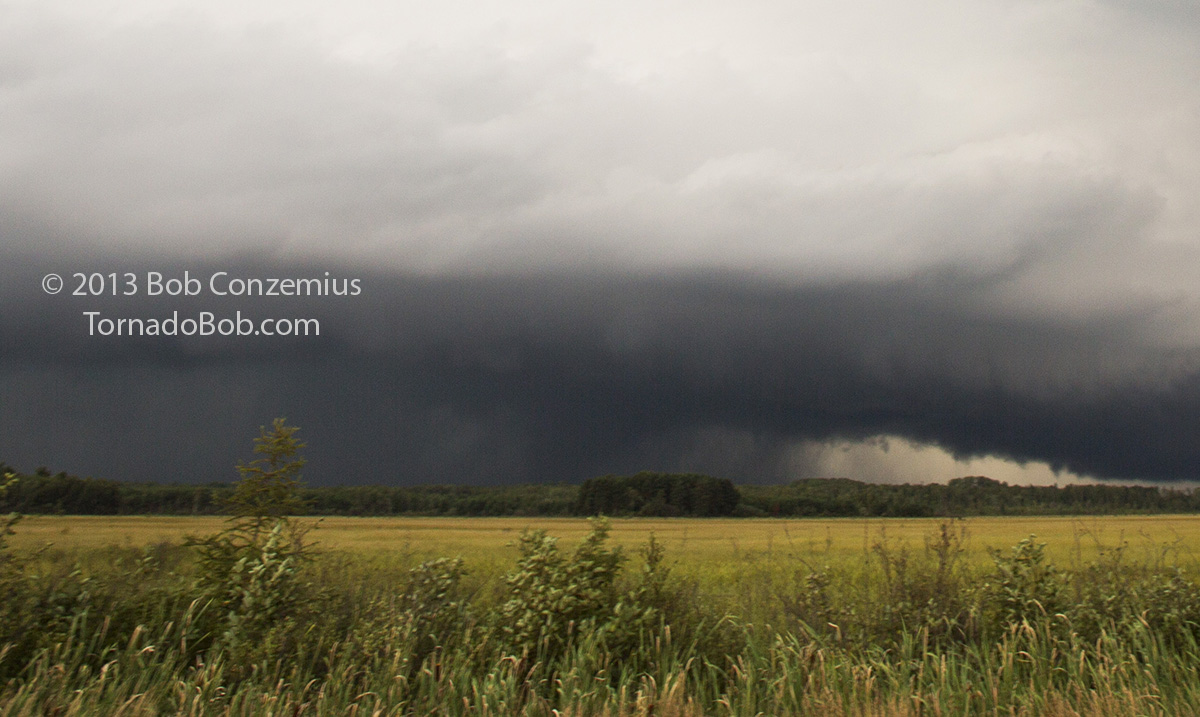 Cropped in from the image above. Contrast is REALLY poor on the tornado.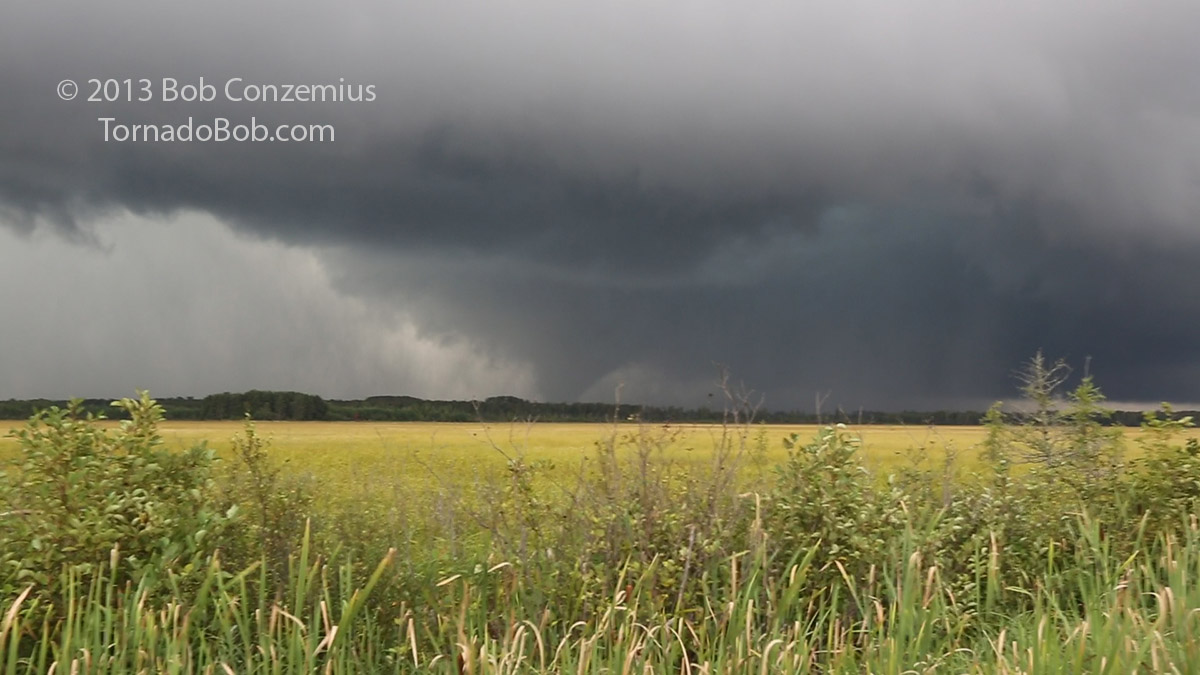 View B video capture. I shot video when the contrast improved.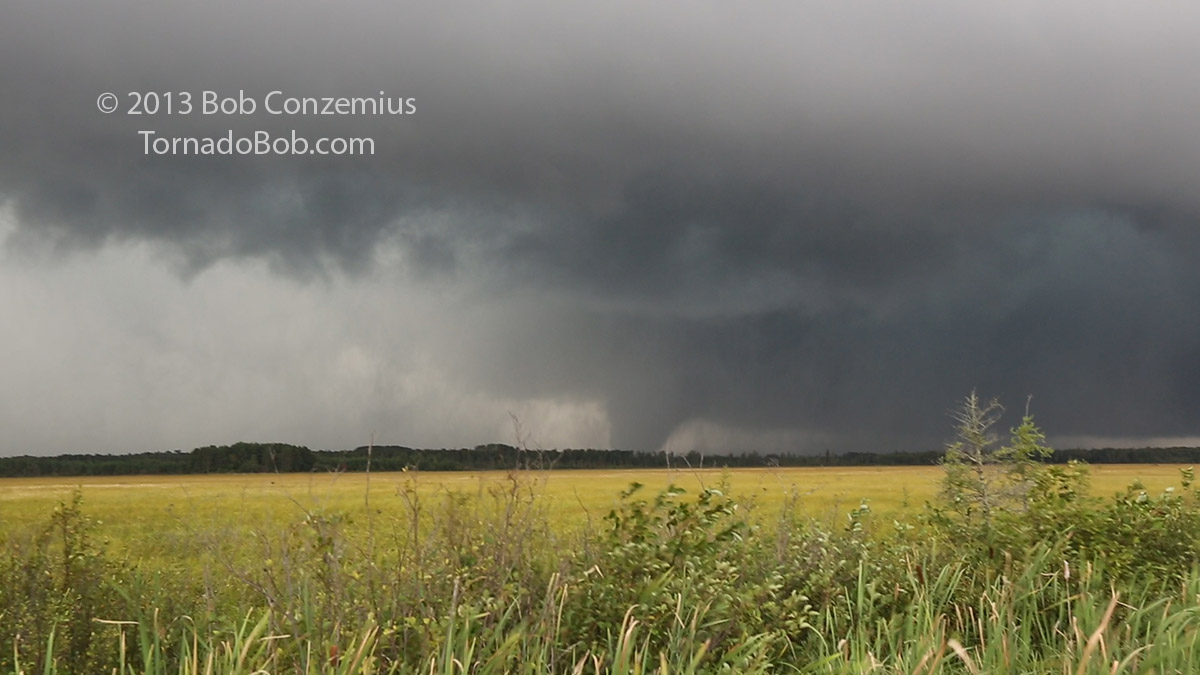 A second View B video capture from halfway between Hill City and Remer. 6:40 PM CDT. Click on the image for a higher contrast image edited by Melanie Metz.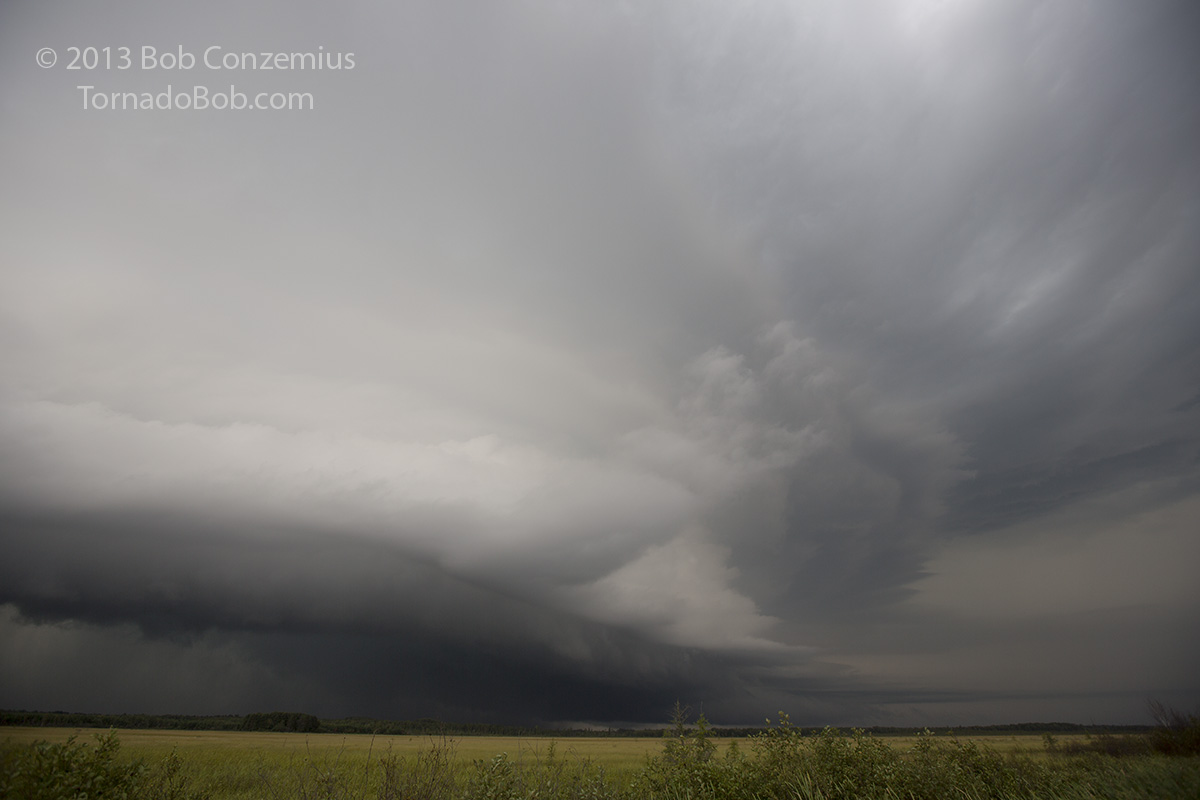 A couple minutes later (View B). Tornado is still in progress.
When the notch of the storm got east of us, I got back in the car and drove east to Hill City (Viewing Location C). The tornado was still in progress when I got there, but when I repositioned south of town on U.S. 169, the tornado had dissipated. At the time, I guessed that it had ended about when it crossed Highway 200 west of Hill City.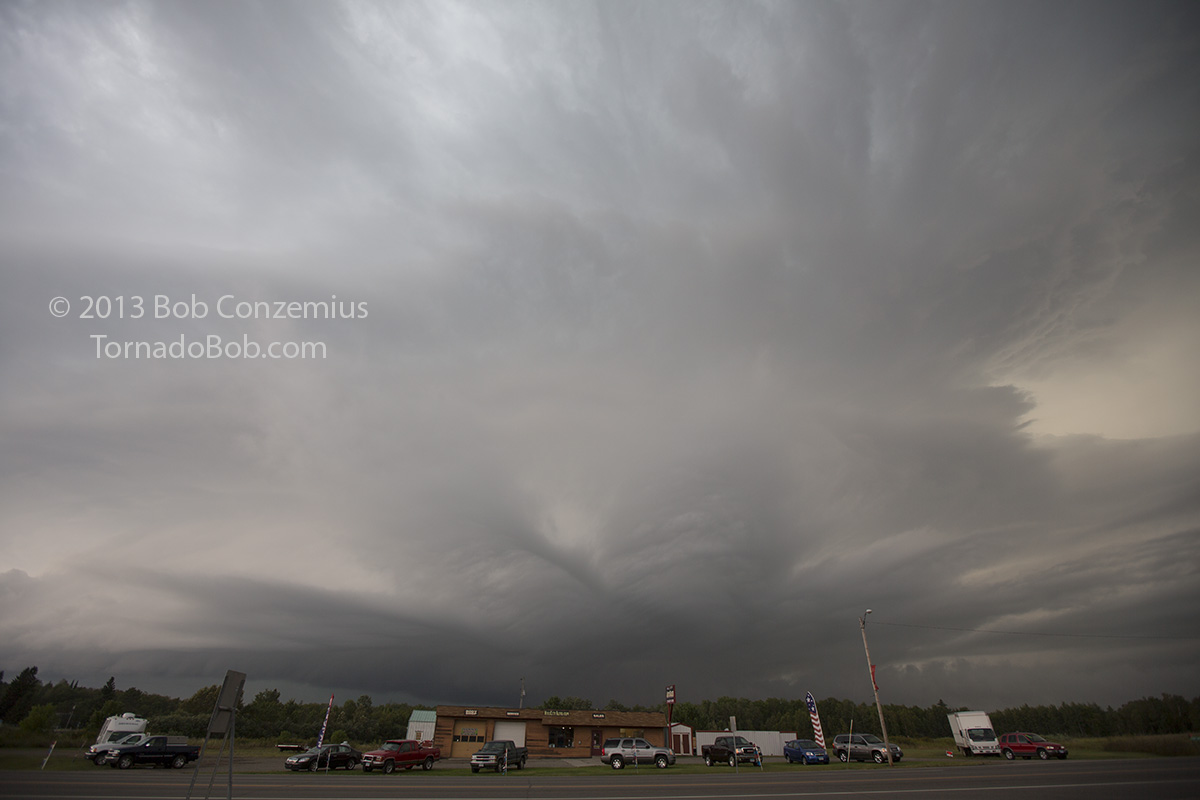 Storm viewed from Hill City (View C). Tornado is still in progress below, but it is mostly wrapped in rain.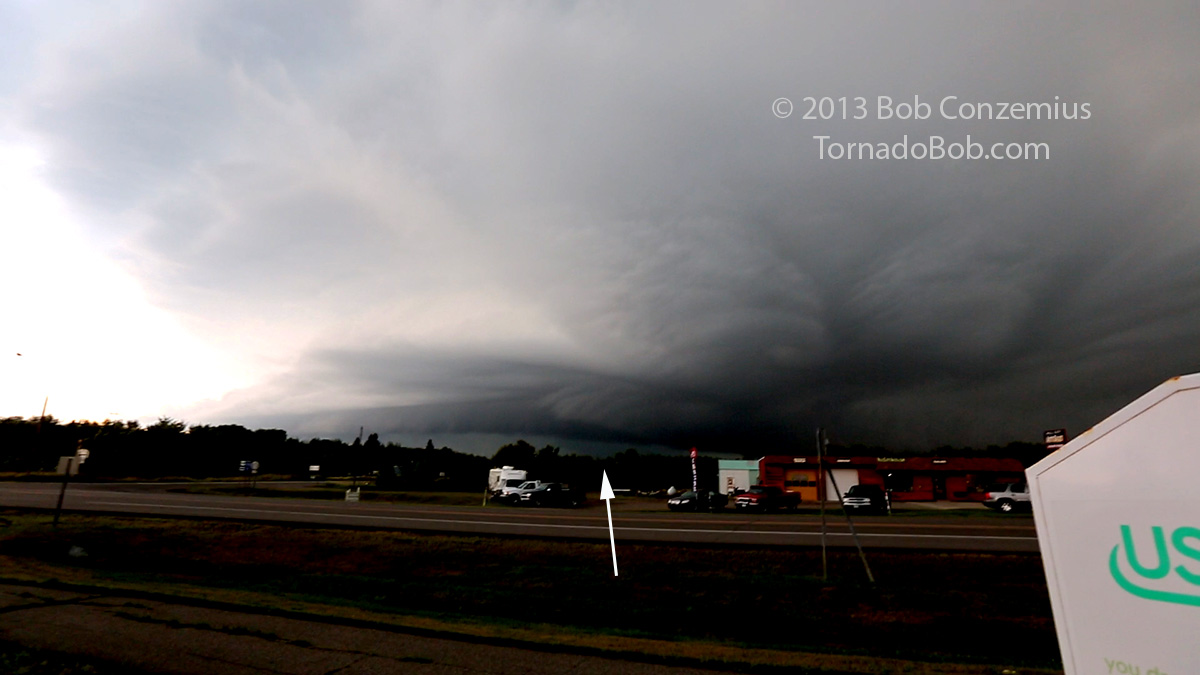 Contrast-enhanced video capture from Viewing Location C. The most likely location of the tornado is indicated by the arrow.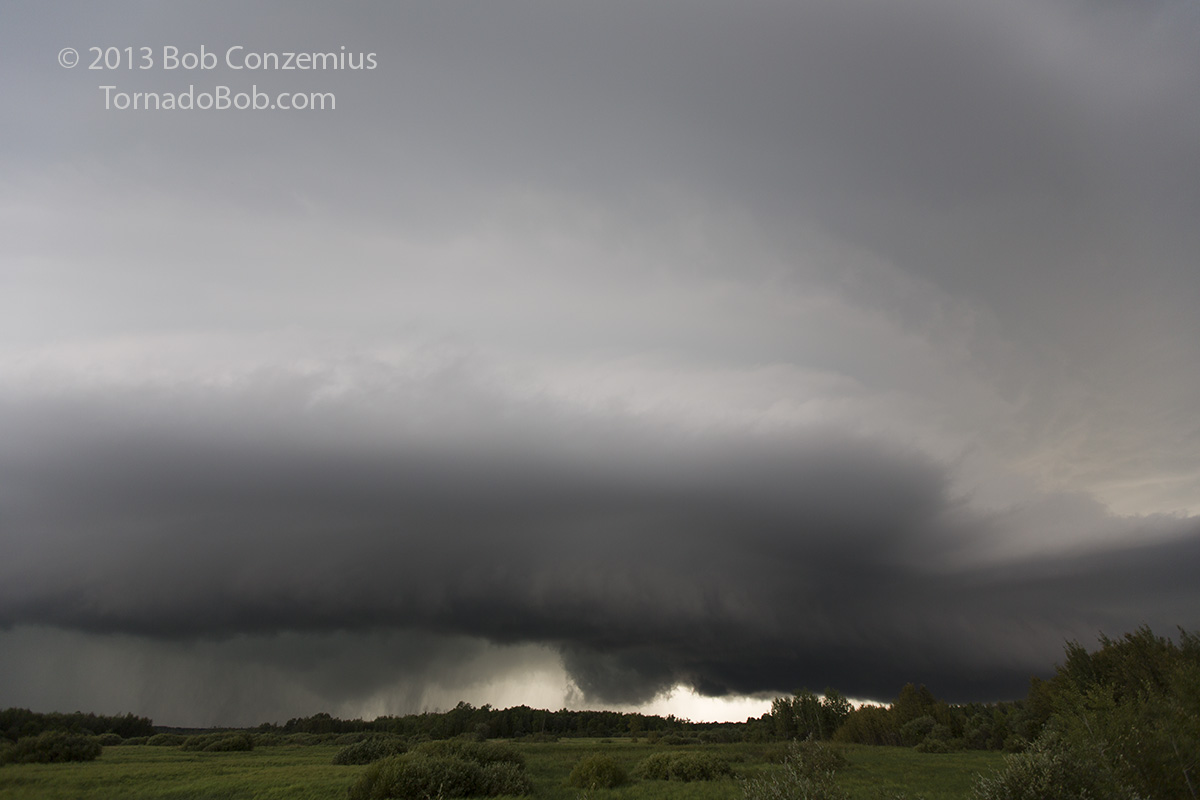 View D. Essentially dissipated at 6:58 PM. The remnant circulation is the conical shaped item in the rain on the left, NOT the higher contrast lowering closer to the center.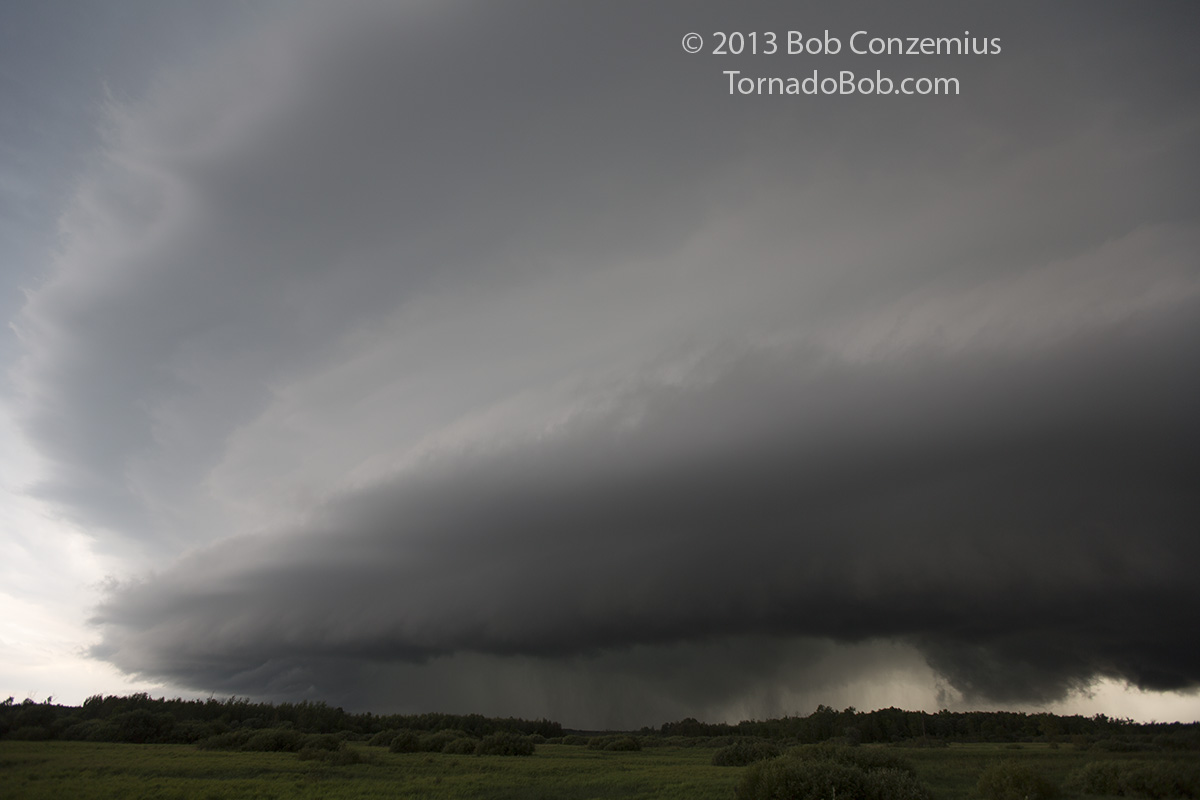 View D. Looking to the southwest around the leading edge of the mesocyclone.
I continued slowly south in order to find a location in the line of storms where I could safely punch back north without hail damage. At County Road 3, I thought I had found my spot, but then another mesocyclone developed along the line and passed near me. The inflow had really weakened, though, and so had the low-level shear. I tried again to punch back north about 6 miles north of Aitkin, but a third mesocyclone developed there and wrapped heavy precipitation around my location. I looked in disbelieve at the radar as I found myself under the highest reflectivity and started to worry about a cracked windshield. Fortunately, I only got hit with a couple hailstones-- maybe 1/2" or 3/4". I was back to Grand Rapids before 10:00 PM.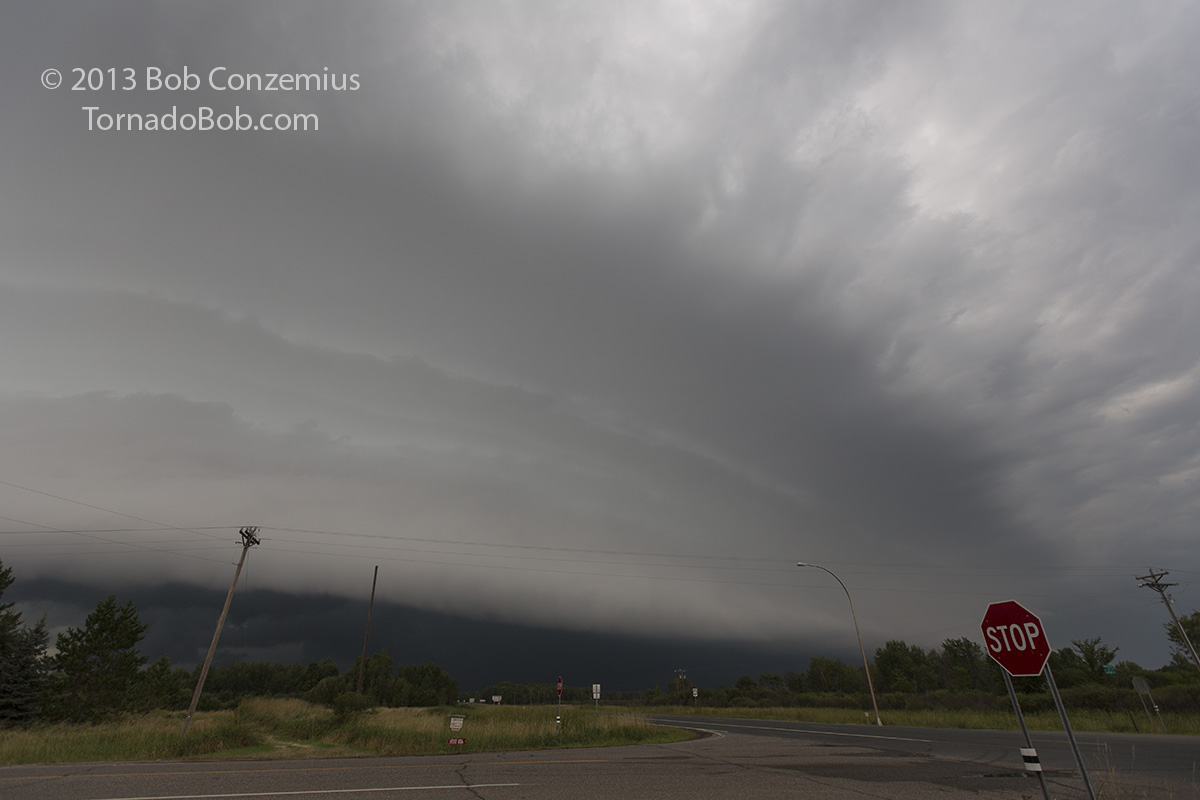 County Road 3 and U.S. 169 in Aitkin County south of Haypoint. The storms are more outflow-dominant now with circulations behind the leading shelf cloud.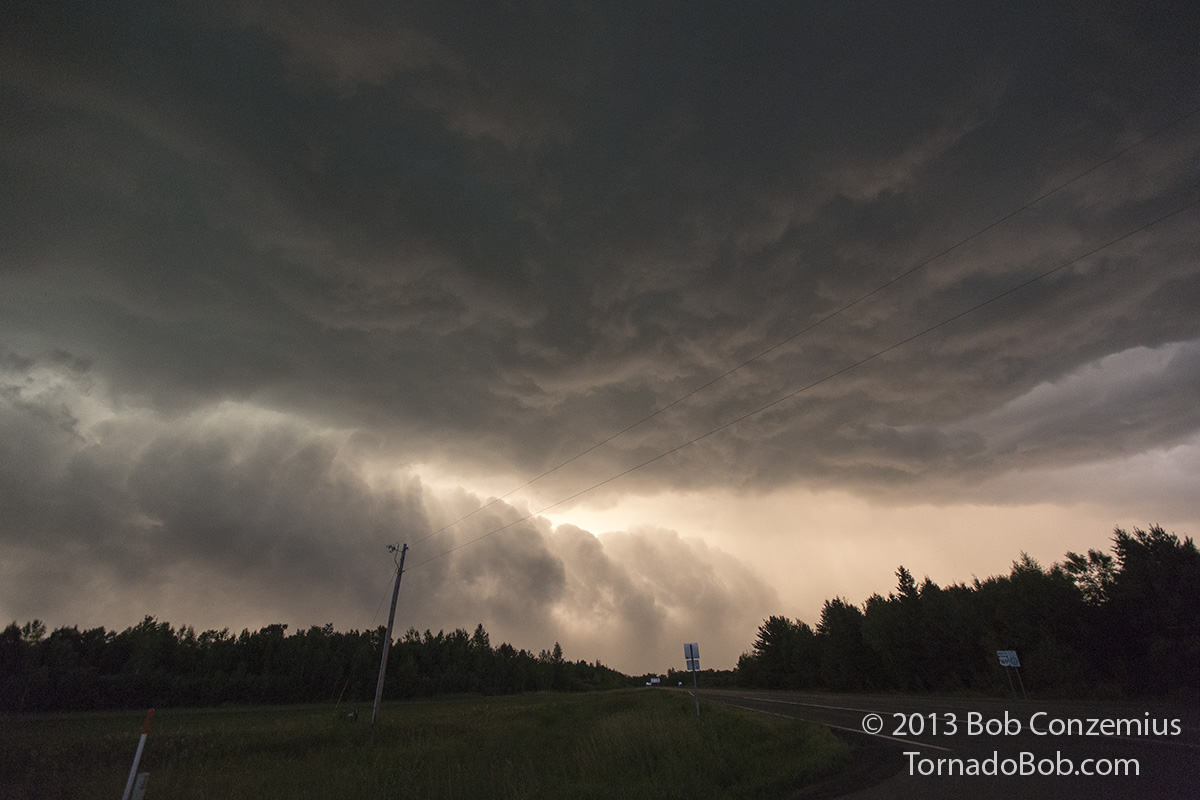 About six miles north of Aitkin, another cell intensifies with an inflow band and a developing circulation just to my northwest. It was never really intense, and it never had any inflow at this point.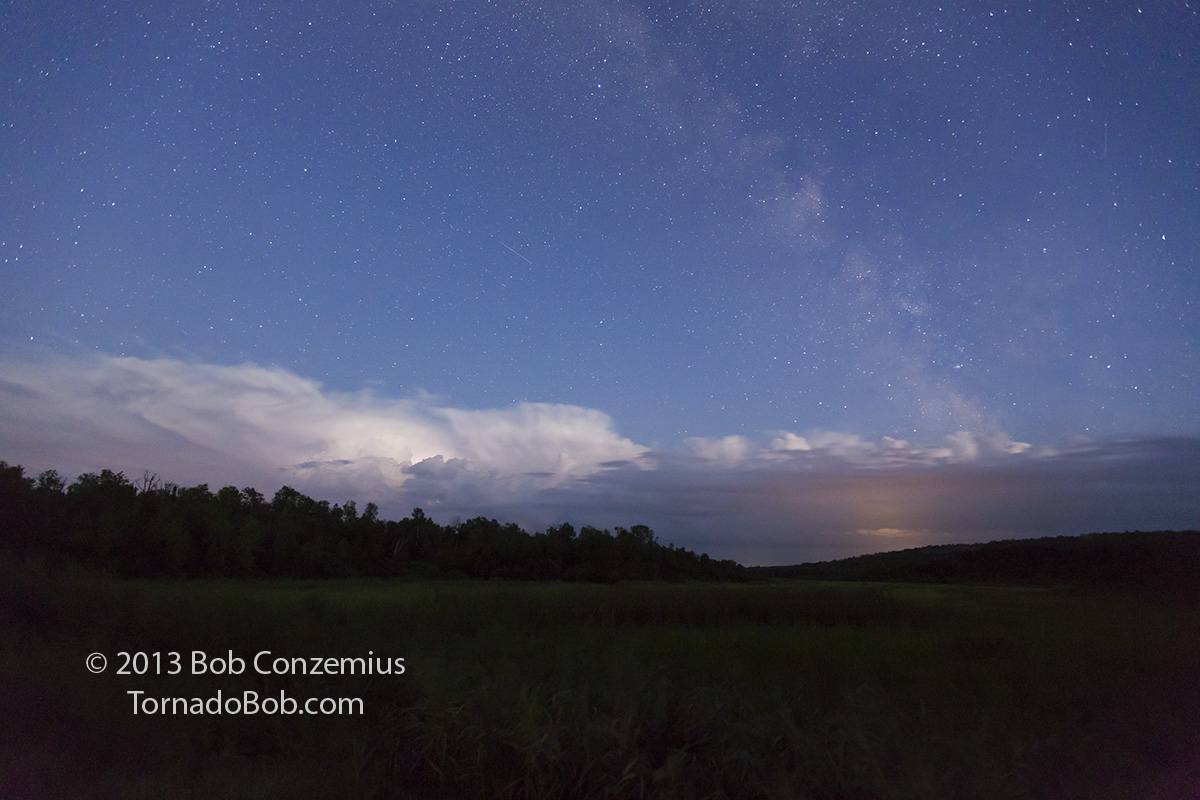 A final shot from County Road 17 at the south end of Sherry's Arm on Pokegama Lake back in Itasca County.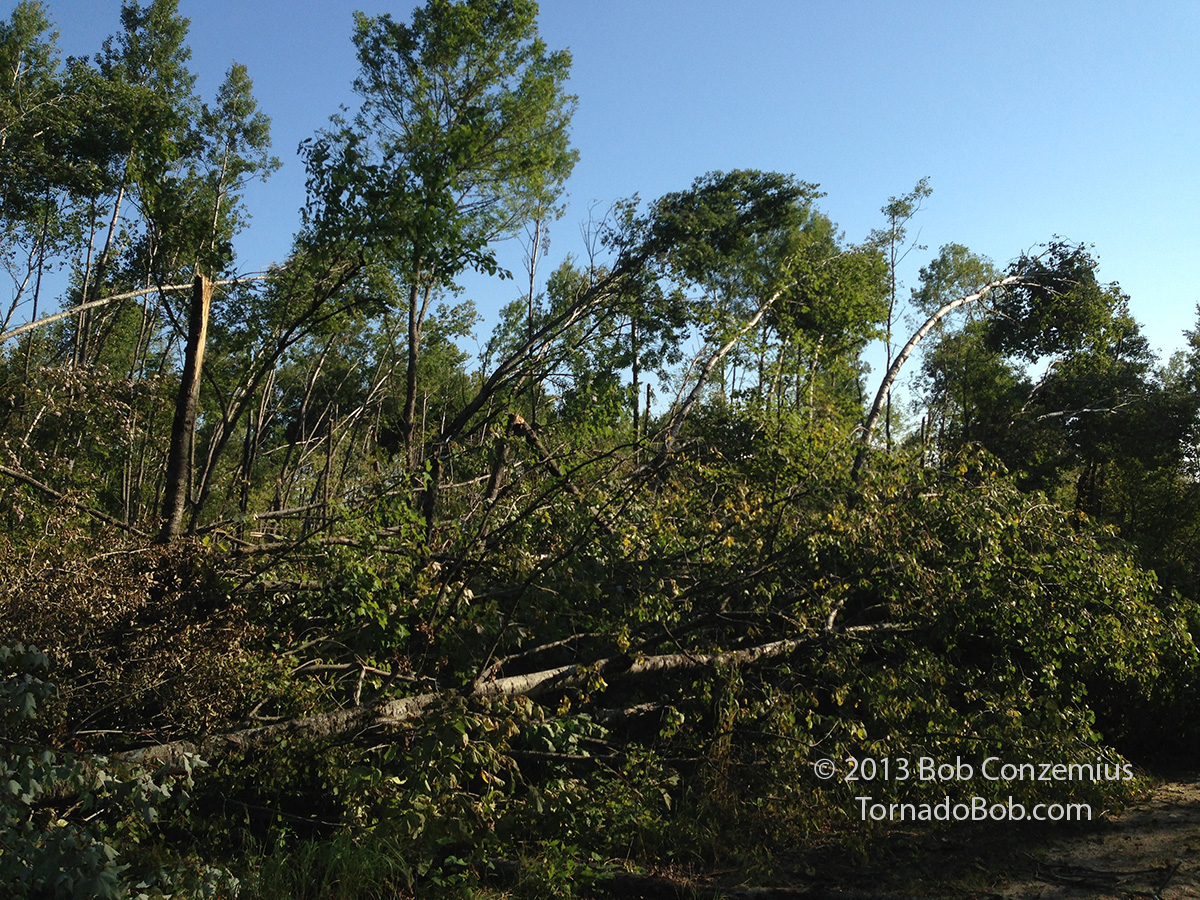 Tornado damage just south of Holy Water Lake. This is at the end of the EF1 damage track on the survey map above.
Below you will find two YouTube videos: one is the original chase video. The second video is a snowmobile ride through the damage path I took the following spring.
---
---
Back to Storm Chases | Home