Western North Texas
March 11, 2001
RJ Evans and I saw some potential for severe storms later this Sunday, so we decided to try targeting the Red River Valley area somewhere among Altus, Childress, and Wichita Falls. A shortwave trough had moved through in the morning, and the target area looked to be between shorwave troughs. I warned RJ that it could be a fairly late show, but he likes shooting lightning photography and doing hail core intercepts, so he was game to head out anyway.

The first cells we saw go up just after 5:00 died a rapid death when we approached them. This was quite disappointing, and I thought our show was essentially over, but I didn't want to come away empty-handed, so we stopped for video and stills of the sunset. I set my video camera on tripod to point at the congestus that continued to boil to the southwest, illuminated a nice orange-yellow by the setting sun.

Eventually, a scattered stratocumulus deck developed and grew thicker overhead. This was a sign that low-level convergence and lift over the area were increasing. Finally, the congestus to our southwest turned into thunderstorms, so we went south to intercept them.

These storms turned out to be supercells, sporting slightly corkscrewed updrafts above bulbous bases. Unfortunately, it was getting dark, so opportunities for stills and video were not that great. I tried some lightning photography, but after shooting about 48 stills, I came to realize I had no film in my camera. DOH!!!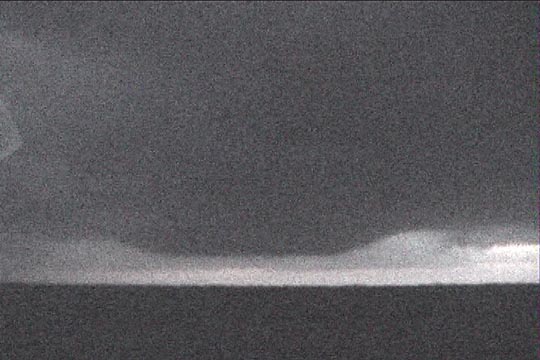 Bulbous base at dusk.
---