June 30, 2012 Central South Dakota Supercell
Finally! We had a nice storm chase today. I started the day with low expectations but a bit more optimism as there appeared to be a subtle indication of better forcing for upward vertical motion over South Dakota. There was now better moisture around, and we were east of the worst drought-stricken areas.
We started the day in Bowman, North Dakota and worked our way mostly eastward to Mobridge, South Dakota. We stopped there to have a leisurely lunch and to watch storms develop in our vicinity, which appeared to be a good spot for them to initiate if they did. We had a nice view over Lake Oahe, a reservoir on the Missouri River. We watched a few struggling towers to the northeast before a more definite storm developed to the west-southwest. The chase was on!
Our First Supercell of the Tour
We reached our first cell less than 30 minutes later and pulled over on a gravel road to watch it. It had a nice, rain-free updraft base and was growing in size and intensity.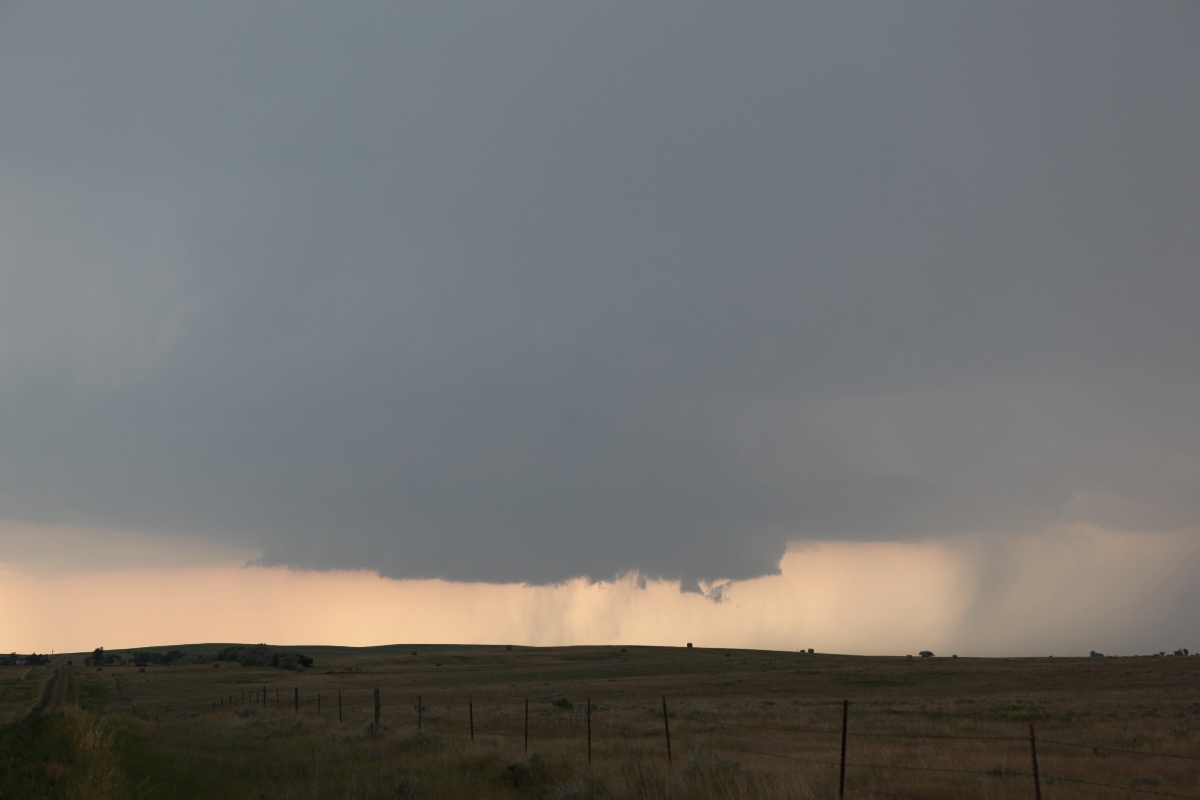 A new storm in central South Dakota west-southwest of Mobridge.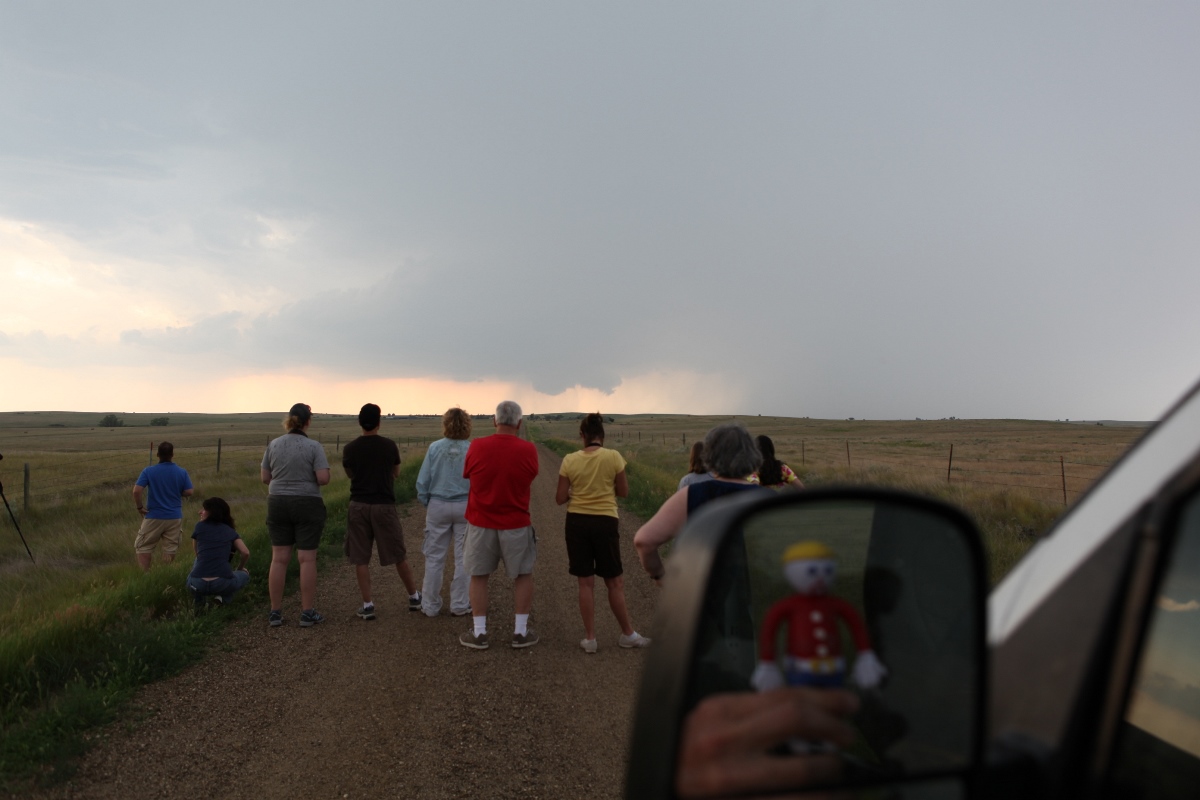 The group and Mr. Bill check out a developing wall cloud.
The storm was getting a bit south, and a new wall cloud was developing so we dropped southwest to U.S. 212 to get a better look. We soon had a full-fledged supercell on our hands. The structure looked better all the time. First, a wall cloud continued to develop underneath an increasingly circular updraft base. The updraft had a nice separation from the rain, so the visibility was pretty good. We could see the hint of a barrel of an updraft above all of that. To make things even better, the storm was moving only slowly south-southwest at about 15 miles per hour.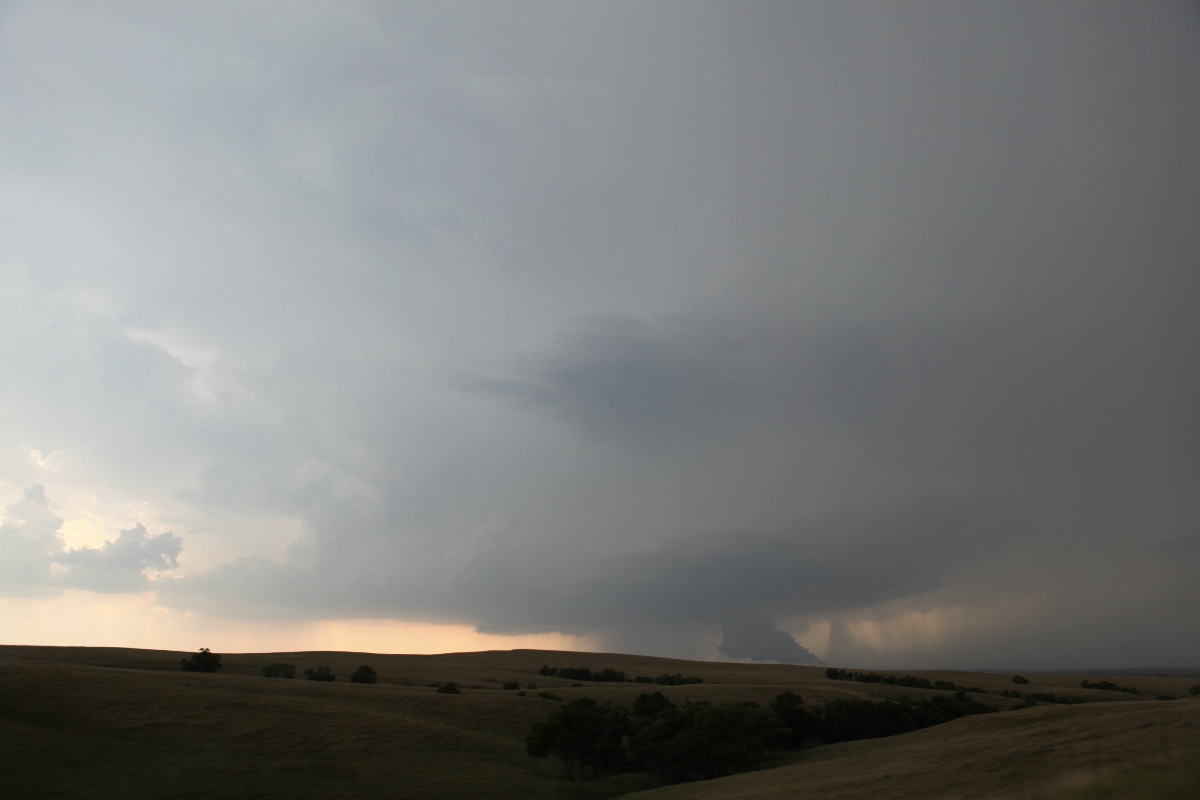 A wall cloud develops underneath a more circular updraft base.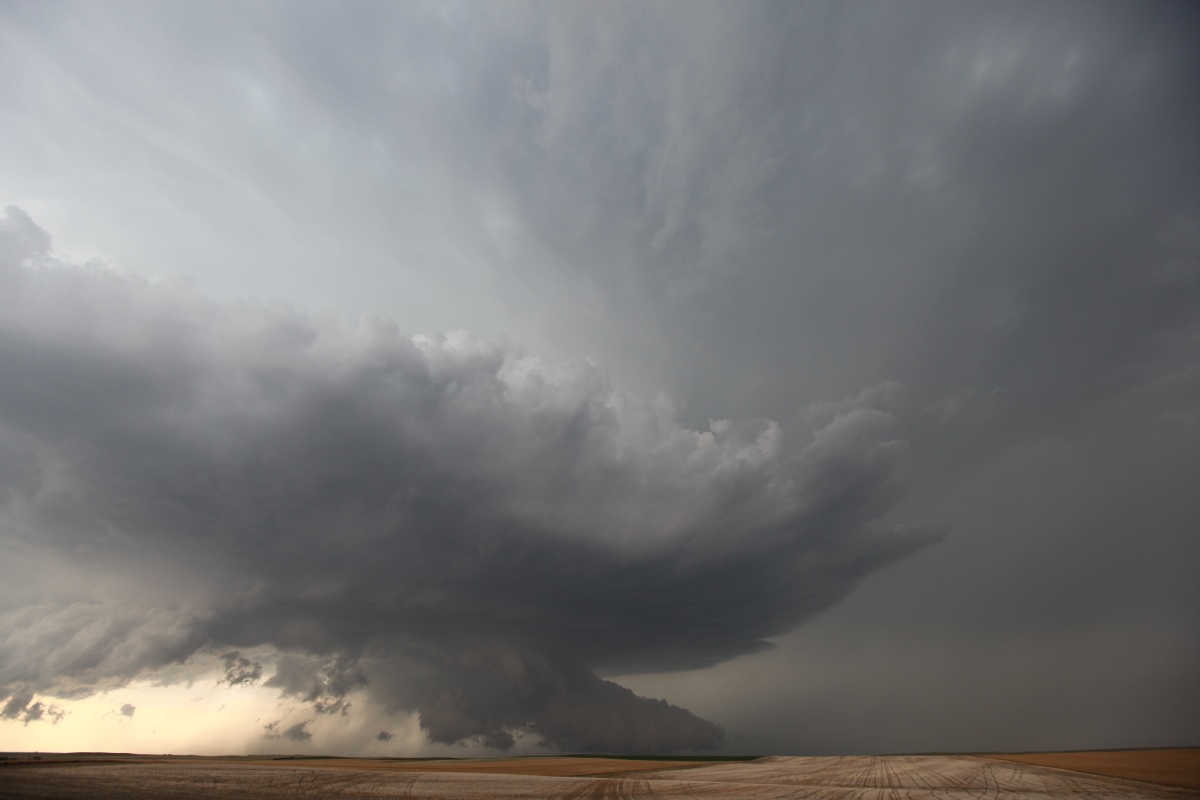 This is now a fully developed supercell approaching Faith.
When we got to Faith, our gas tanks were nearly empty, so we needed to stop to fill up. Our cell was closing in on the town, though, and it was producing baseball size hail, so we needed to hurry up. The pumps seem to take forever in those situations, and with a severe storm approaching, a lightning strike can render the pumps and payment system inoperable. When the gust front blasted through, and large rain drops began to fall, I couldn't take it any more, and yelled for everyone to get back in the van, and we drove south, fully paid, but with less-than-full gas tanks. We got back safely ahead without any difficulty and chose another spot for photography and viewing.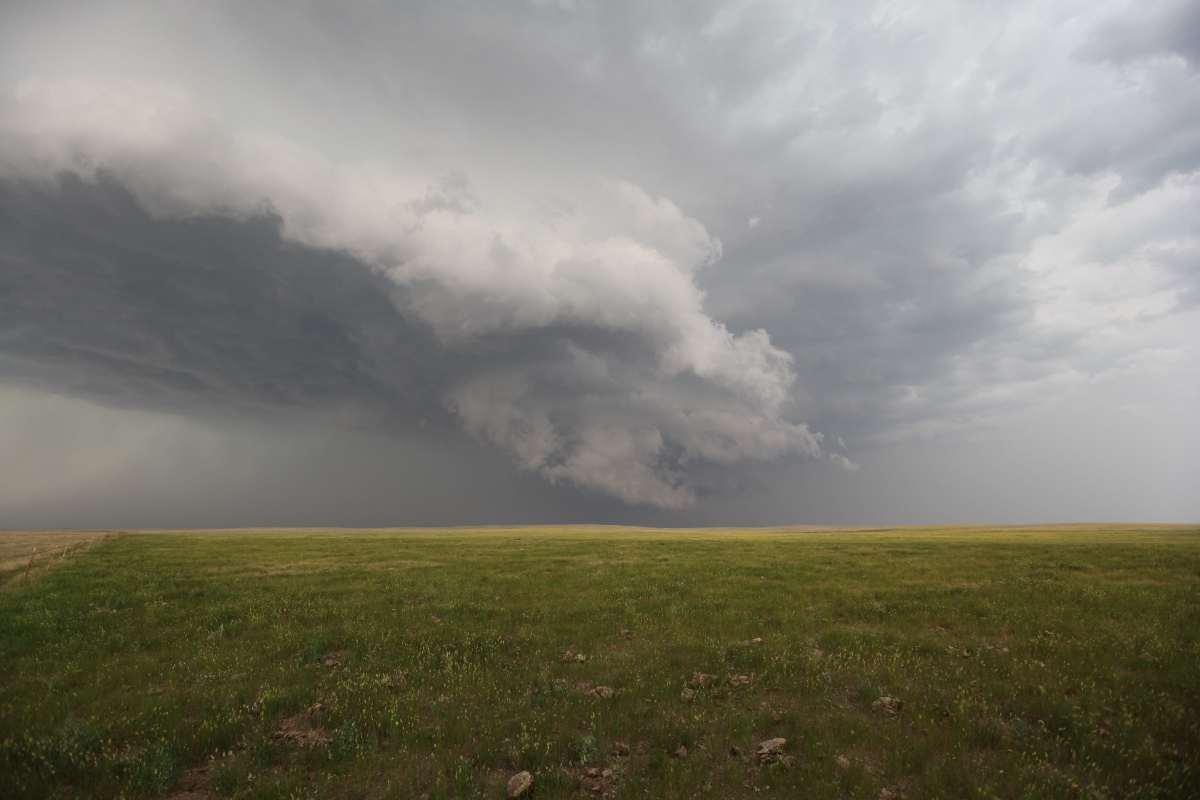 The storm is starting to push a bit more outflow.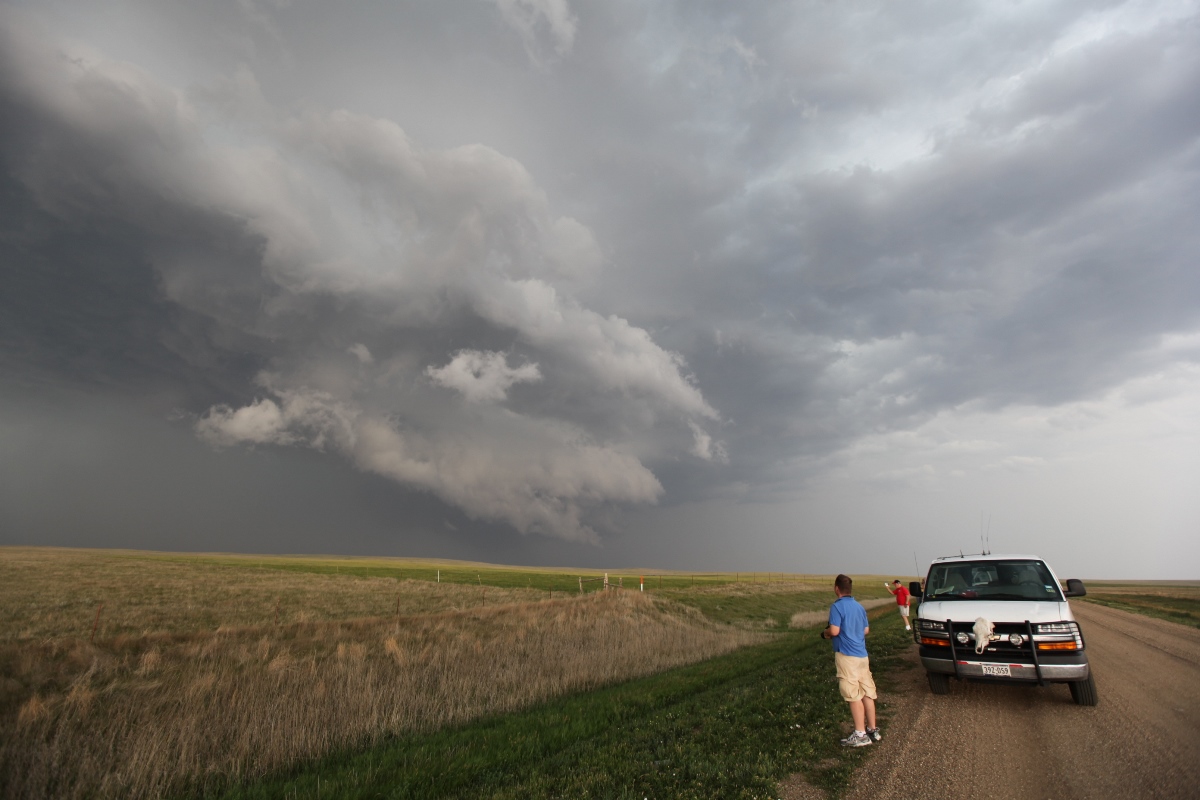 We are about to get blasted by outflow here.
At this spot, the gust front had a bit of a surprise for me. The outflow boundary had already gone through, and winds were picking up a bit, but it really was not too bad. The guests were out enjoying the storm, and I had my video camera recording the action on a fully extended tripod. I decided to go back to the van to get my camera and was shooting a few stills when a sudden gust of wind knocked over my tripod and video camera, driving the eyepiece into an ant hill. That broke off the eyepiece, but since the ant hill was made of relatively soft sand, the damage was a lot less than it could have been. The camera was still fully operable otherwise. We dropped south across the Cheyenne River and continued on Highway 73/34.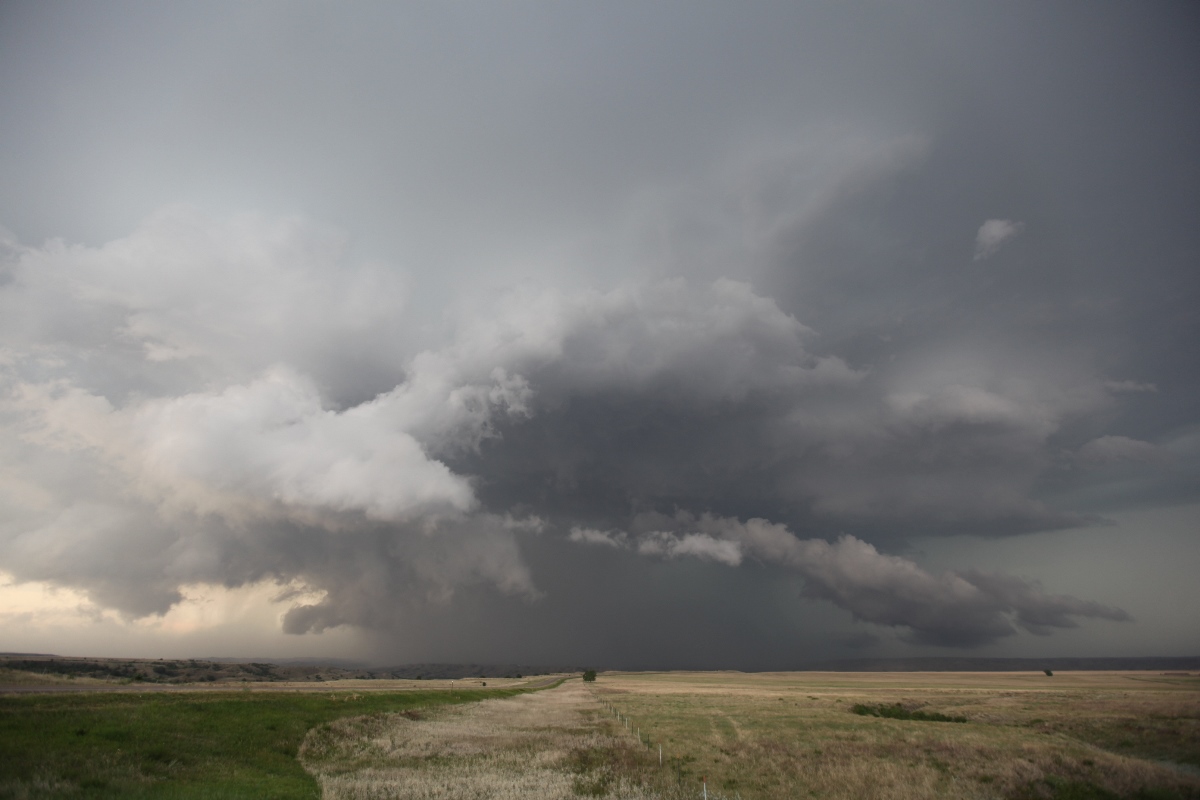 Storm about to cross the Cheyenne River south of Bridger.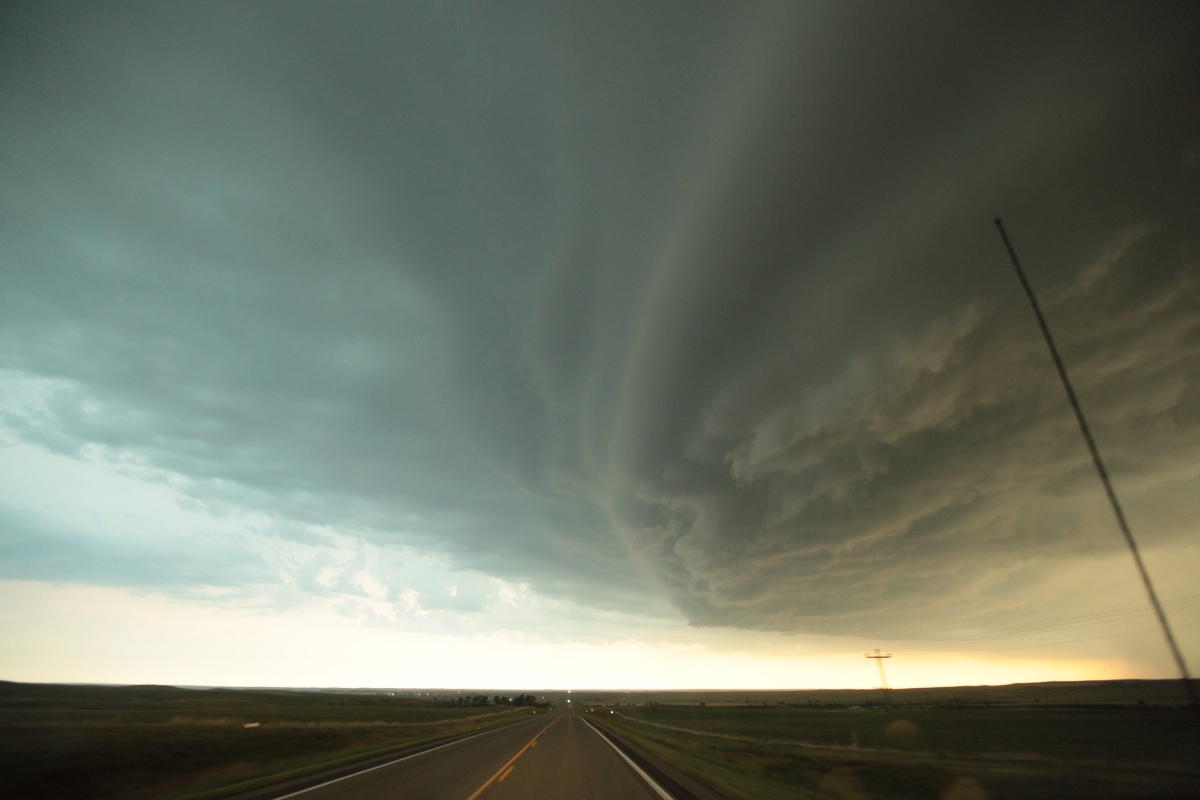 The storm is now much more linear as we drop south.
We ended up shooting a nice sunset scene just north of Kadoka as the cell became almost completely linear. The base was still pretty nice with occasional cloud-to-ground lightning strikes underneath. I set up the Canon for a time lapse, which, a year later, I have yet to process, but I am finally working to catch up on my storm stills and video. We drove into Kadoka, where, like we, the storm retired for the evening.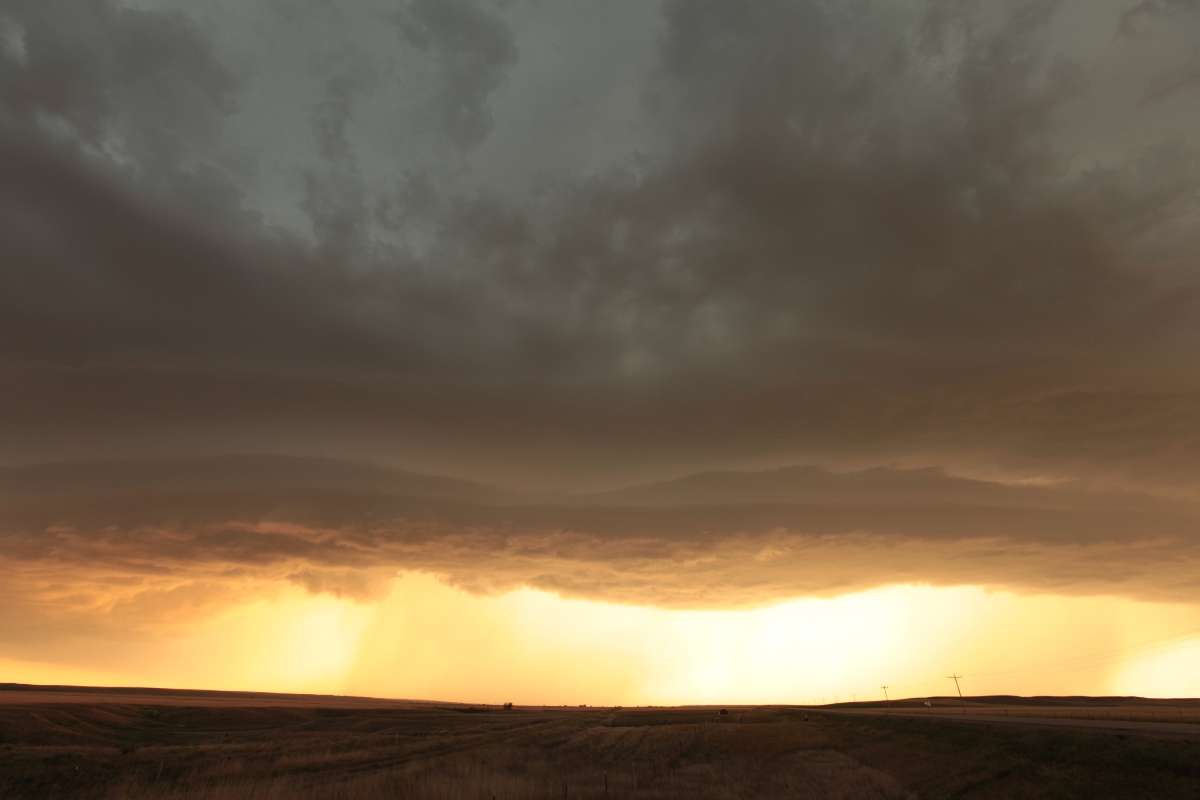 A shelf cloud near sunset near Kadoka, South Dakota.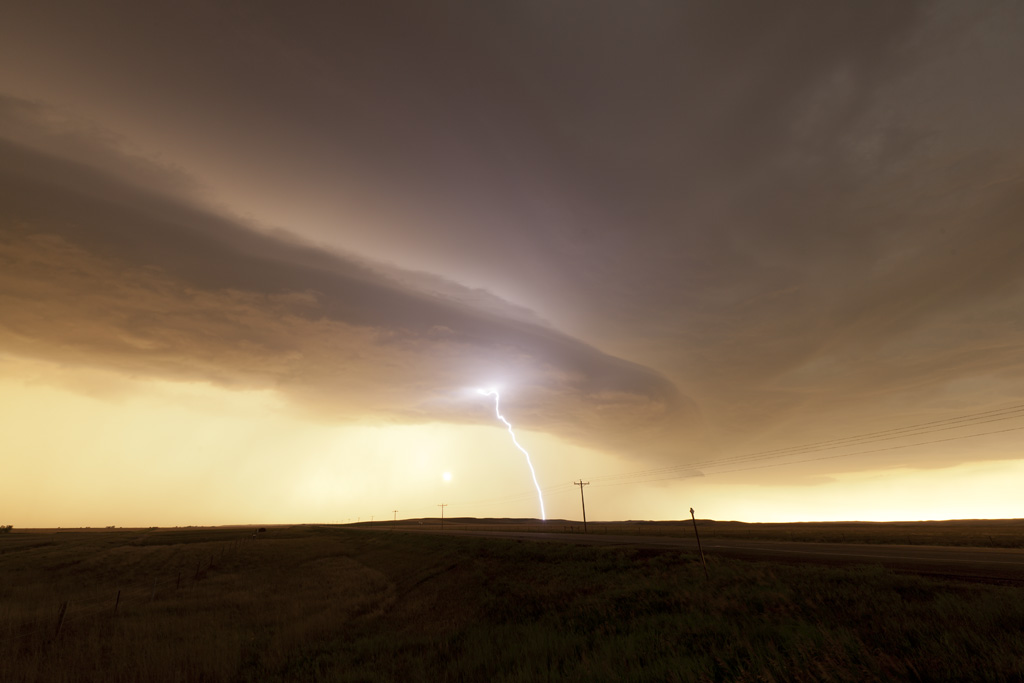 Lightning strikes through the updraft base.
Back to Storm Chases | Home