Brownwood-Early, TX Supercell
May 8, 2009
It took us a while to get into position this day. We began in Emporia, KS after having experienced the early stages of a derecho- and flood-producing MCS. We continued southward through Oklahoma and finally found the cold front near Guthrie, OK. We continued into north Texas and stopped in St. Jo, where we figured initiation would be most likely. The air was warmer here, and the cap was weaker, so storms were likely to initiate first in Texas then spread northeastward along the cold front in Oklahoma.
Just before 5:00 PM, I noticed a thickening line of cumulus from Albany through Abilene. I looked at our distance to these towers, and it was over 75 miles away. We would have quite a drive ahead of us, especially if the storms moved southward. The cumulus quickly developed into storms, so our work was cut out for us. I had no real inhibitions about going after this initial activity, even though it was in weaker shear, primarily because I had had similar experiences in the past, when the southwesternmost storms along the sagging cold front in western north Texas were the most interesting.
We drove southwest through Jacksboro as the storms intensified and developed a more supercellular look on radar. One storm was over Possum Kingdom Lake, and the other was near Ranger. Both seemed to be interfering with each other a bit, but the northern storm actually looked a bit healthier. As soon as we moved into position on the northern storm, however, it rapidly began to shrivel. It has a nice, vaulted updraft for a bit, but soon looked anemic. At this point, we considered turning back north to target new development along the OK/TX border, but my thoughts of the southwesternmost storm persisted, and we were closest to that storm anyway, so we decided to continue.
That was a good choice. We passed through Comanche, TX on our way southwest on U.S. 377/Texas 67 to get to the southern flank of the storm. When we arrived, we were greeted by a large barrel updraft and a wall cloud with rapid rising motion on its inflow side. The storm was also spitting out copious CGs. We made two stops on either side of Blanket, TX, where we observed the setting sun and fairly frequent CGs behind the wall cloud. The storm was tornado-warned, and it caused quite a bit of damage to Early, TX, about eight miles to our west. There was a tornado reported there, but we are not sure of that report because we were unable to see that area, and when we looked at the damage in Early the next day, all the debris was blown from the east-northeast to the west-southwest. We chased the storm to near Zephyr then let it go as it was getting dark. We spent the night in Brownwood, where it was a little difficult to get a motel room due to the storm damage.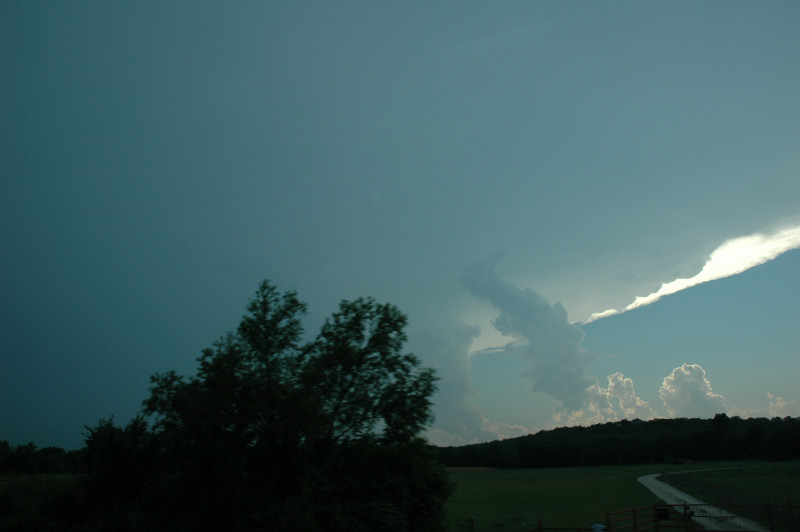 Our target storm over Possum Kingdom Lake viewed from near Jacksboro, TX.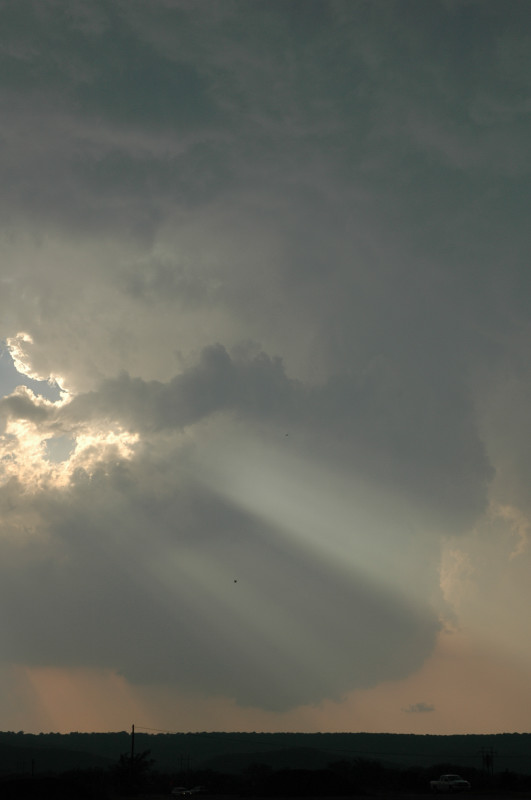 When we finally got into position, our storm became LP and rapidly started to shrivel.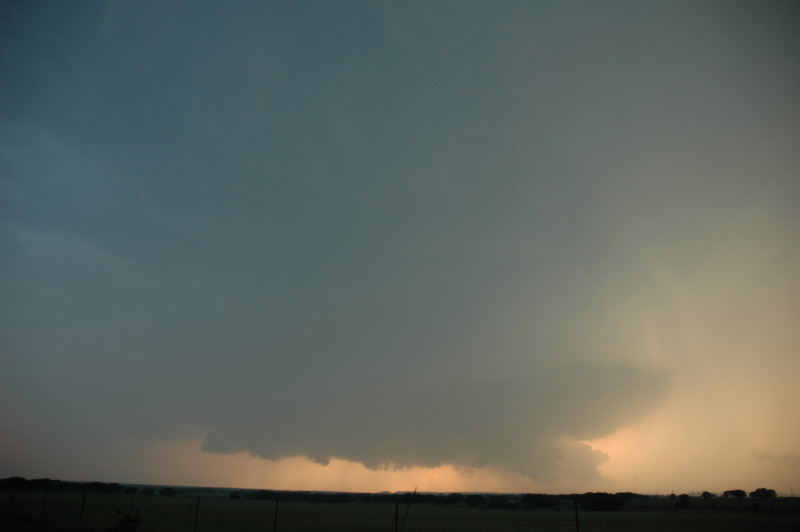 Southern end storm viewed from just northeast of Blanket, TX.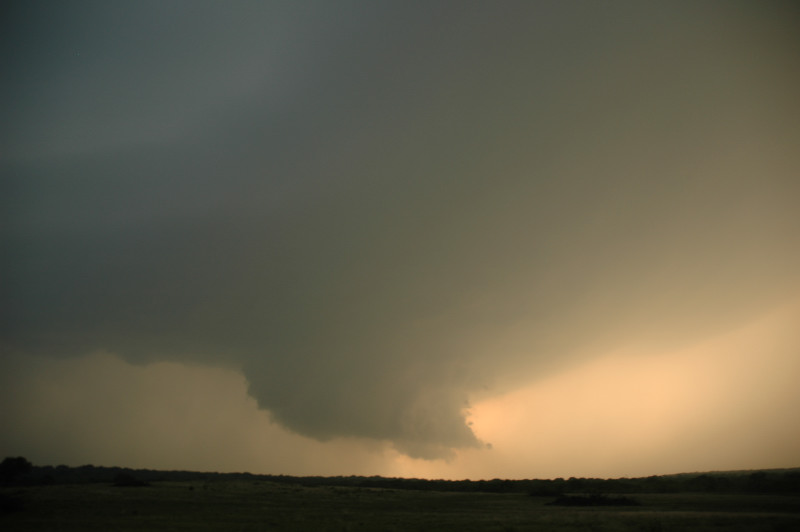 Just south of Blanket, TX. Nice rapidly rising motion on this wall cloud.
---