June 5, 2013 Tucumcari, NM Severe Storm
Day number three of Tempest Tours Tour 5 brought a risk of severe storms over eastern New Mexico. We had stayed overnight in Guymon, OK the previous night and started southwest on U.S. 54 via Dalhart, TX to Logan, NM where we ate lunch at a rather interesting barbeque type place with lots of movie memorabilia inside. When we finished lunch, we found that storms were developing in the mountains to our northwest and west, so we drove through Tucumcari to I-40 and went west from there towards some cells that were headed towards Santa Rosa, but a dominant storm was not taking place. I was not really liking the evolution of the storms. We decided to pull off at Cuervo.
We looked a little at the storms to our west, which did not look very appealing. In my mind, I had settled on a target farther west than where we were, and I thought a tail end storm farther west would be our best option, but those cells were not looking the best. Meanwhile, a storm had begun to intensify just east of I-25 near Springer and was starting to drop southeast. Somewhat reluctantly, I decided to target this storm, which looked outflow-dominant on radar, but it was the strongest cell within our range. It was making a beeline toward Tucumcari, and I calculated that we most likely would not make it to Tucumcari ahead of the storm, but it it was close, so we were going to give it a shot.
We hit the outflow boundary on the west side of Tucumcari, but the core was several miles behind the outflow boundary. There was supposedly some pretty large hail in that, so we wanted to stay away. Fortunately, we did by a couple miles. I-40 took a little dive to the southeast once we cleared town, and we got safely away from the core. The next thing to do was find a good vantage point and pull over. That was a bit of a problem. There was I-40, but I was not going to let the guests out on the interstate. We pulled off on an exit, but we only found a parking lot with a lot of light poles and a big chain link fence around it. That wasn't very good. Soon, the outflow boundary and blowing dust were upon us again, so we cleared that area and drove a little farther east. When we cleared the outflow dust, we got into inflow dust and quickly lost contrast and visibility on the storm. Had we dropped south on NM highway 209 from Tucumcari, the core would have caught us, and we would have taken hail and had to let the storm pass over us. I think, for the guests, that might have been a preferable option. Next time, I'll probably find shelter in town and let the storm pass.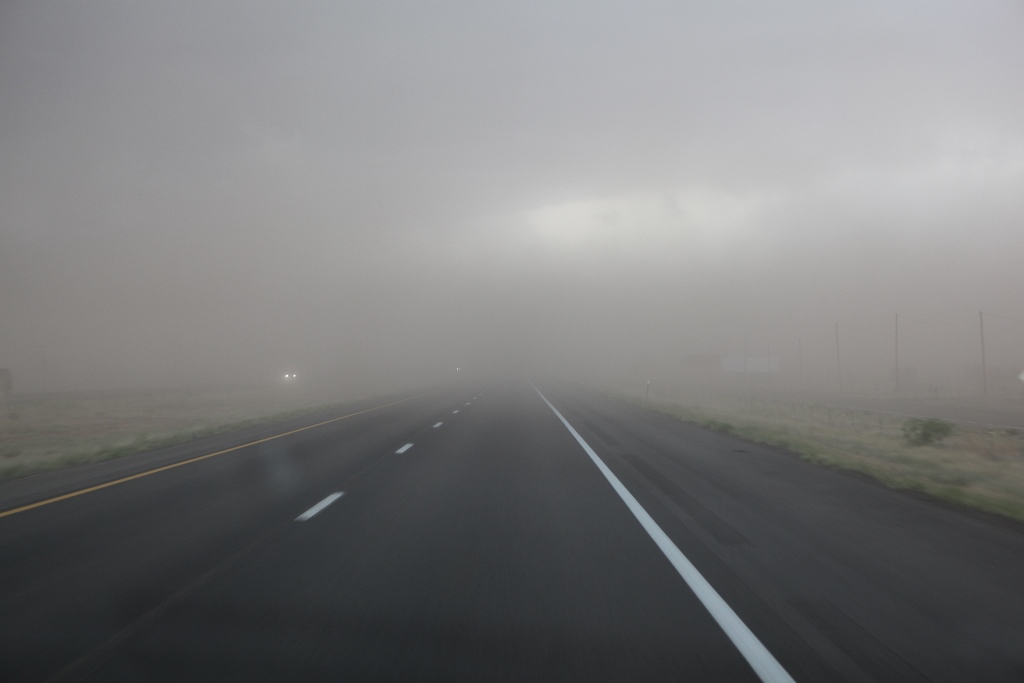 Blowing dust behind the outflow boundary of a severe thunderstorm in the Tucumcari area.
We crossed into the Texas panhandle and dropped south on Highway 214 for another attempt at the storm, but we got into a lot of low clouds and little visibility on the storm. We decided to return to I-40 and spend the night at Amarillo. The next day looked like a quiet one weatherwise, so we would be doing some sightseeing.
Back to Storm Chases | Home