Southeast OK storm
May 4, 2003
This was chaser number two in an extremely frustrating week. Although the best area looked to be north of Oklahoma, conditions still looked favorable for supercells and tornadoes very close to home in Oklahoma. The toughest part about the upcoming chase was that the progged storm motions were very rapid-- east to northeast at 50 mph. We went east on I-40 then a little north towards Muskogee to position ourselves well east of the initial development. By a stroke of bad luck, storms developed well north of our latitude and fairly well south of our latitude, with a significant hole in development right at our latitude. Looking at the northern storm, I knew I really wanted to go north and would have done so had I been on my own, but the decision was made to head south, given a greater likelihood for intercept on that storm (the northern one was moving fast and we would have barely gotten to it or been just behind it, given the slow speed of the radar trucks). This took us deep into the mountains and jungles of southeast Oklahoma. Although it is not impossible to see storms here, radar deployment is generally not possible, as I did not see any sights free of significant beam blockage. We managed to intercept a storm near Red Oak, east of Macalester. It was tornado-warned, and we heard of tornado reports in the Macalester area, but these apparently turned out to be false reports, given that no tornadoes were indicated in the SPC logs for the day in Macalester. I came home that night and could not sleep, with the images of the missed violent tornadoes from the northern storm and the term paper I still had to finish swirling through my head. This was as about as much as I could psychologically handle and not go insane.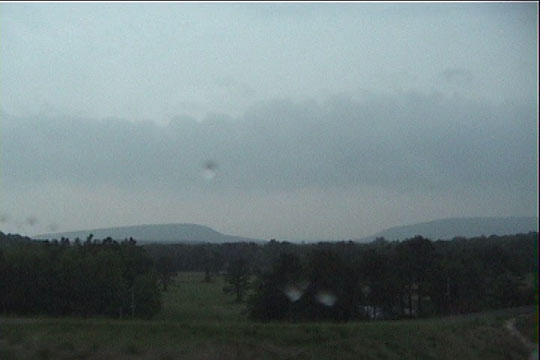 Mountains of SE OK and long inflow band on our storm.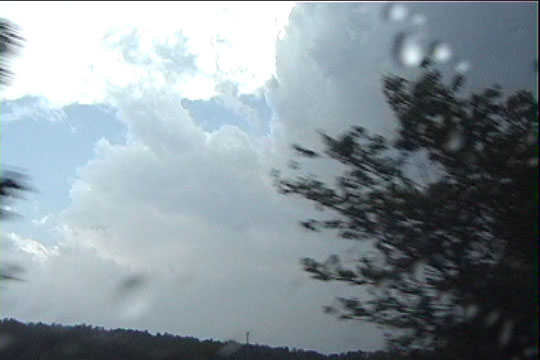 Split-second view of the updraft and anvil of our storm.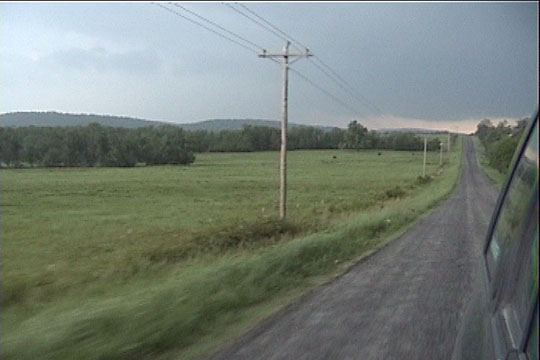 Base of our storm from a Very brief clearing in the trees.
---