April 29, 2017 Tornado
Eustace, TX
We started the day in Wichita Falls, TX with hopes of seeing a squall line along the cold front after having had a busted chase on Friday. The cold front had already passed through Wichita Falls, and we awoke to temperatures in the 50s and a northwest wind. After breakfast at the hotel, we drove southeast on U.S. 287 then south on I-35W through Fort Worth and continued on I-35 to Grandview, where we met Martin Lisius and crew at the Subway restaurant.
We drove a little farther south to the town of West, Texas where Martin puchased some kolacky pastries that we sampled for dessert. Then, we waited for storms to develop. We had some large cumulus in our area, but this area of large cumulus moved east and slowly grew into weak thunderstorms. Meanwhile, to the west, nothing had yet developed along the cold front. After nearly an hour of waiting, watching the storms develop to our east, and nothing happening to our west, we grew impatient. Our decision to start driving east was made when we realized we had a chance to catch storms because they were developing in the same spot then moving quickly north as they grew and intensified. The shapes of these storms were rather interesting.
We plotted a course to Corsicana then drove east from there on Highway 31. It was hazy, and there were a lot of clouds around, so we could not see the storms ahead. As we drove, some rather interesting circulations (seen on radar) developed in the cells as they matured. When we got to Karens, we could see darkness ahead but no structure. The National Weather Service issued a tornado warning on a storm to our northeast, which was probably out of reach due to the rapid storm motion, but there was another cell to the south, and it had a weak circulation, so I set that as our target storm. Finally, as we approached Trinidad and had an opening across a bridge, we could see a dark, churning base to the south of the road.
Just before we stopped to view the base, a tornado warning was issued for the cell. Given that radar showed the circulation to be right over the road, and the radar image was a couple minutes old, I figured any tornado would be north and buried in the rain that we could see to the north. Moments later, a tornado report came out to our north, but it was clear that that report was for the next cell to the north, not ours. Maybe we were indeed looking at the action area for our cell (maybe the mesocyclone was tilted a little bit and the radar beam was intersecting the storm at a much higher altitude).
We decided to follow as closely as we could. Our best long term road option was to head east to Athens and catch Highway 19 north, but we had a tornado warning right NOW, and the Highway 19 was more than 10 miles to the east. With the haze and low clouds, it was unlikely we would be able to see any tornado from that far away. I opted for 198 north from Malakoff. We were getting far enough east that trees were really obstructing visibility. Nevertheless, we came to a clearing and could see a rapidly rotating wall cloud immediately in front of us, and it was starting to produce a funnel!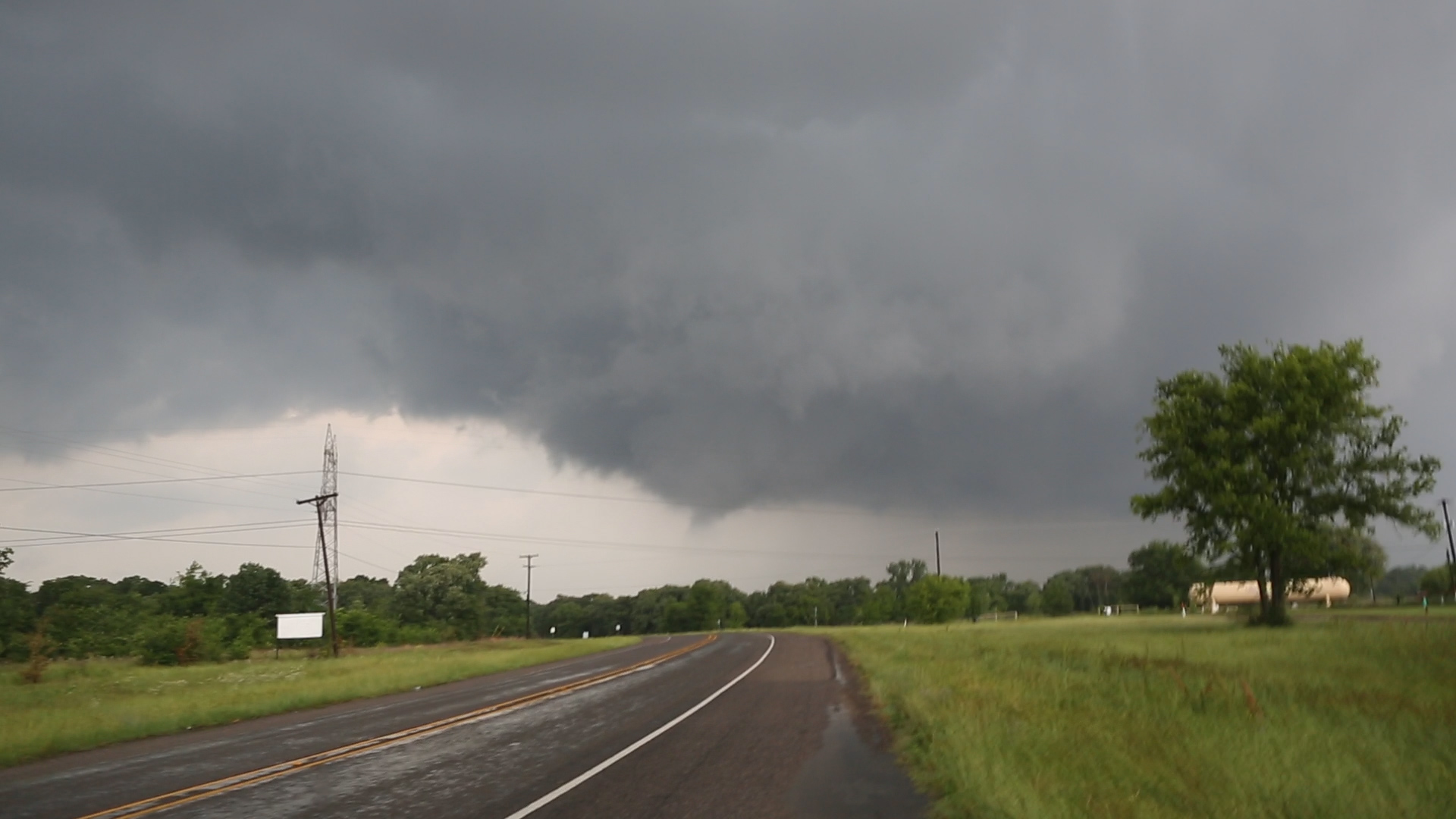 Funnel cloud rapidly developing.
We drove ahead a little farther and let the guests out to do some photography. I thought it might produce a tornado at this point, but the wall cloud moved northeast rather quickly without condensation to the ground. I called the guests back in the van, and we continued toward the town of Log Cabin. As we crossed the Cedar Creek Reservoir, we could see a funnel across the lake, and just before we got to the other side, a narrow wisp of full condensation reached to the ground. It was a tornado!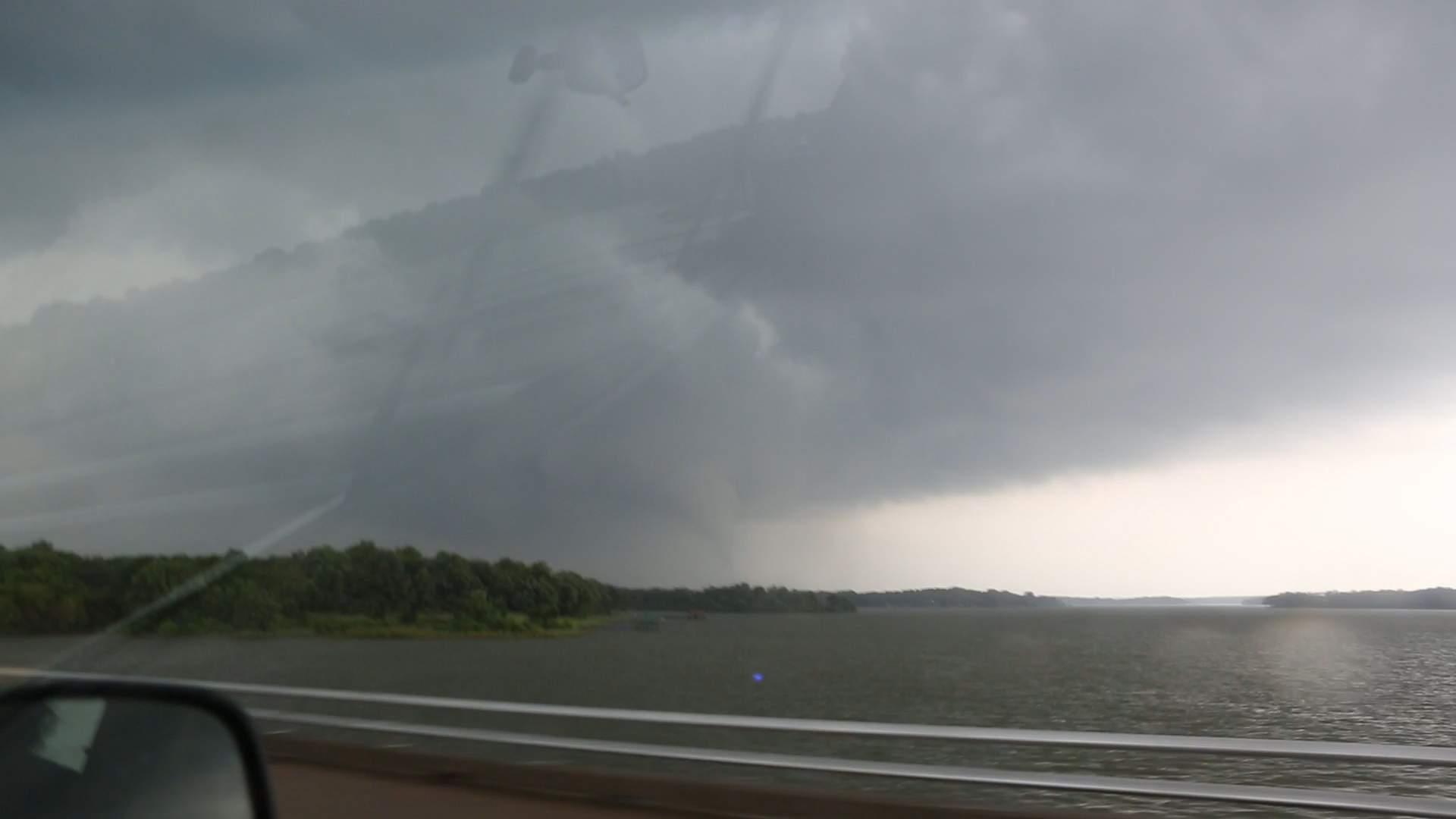 First condensation we saw to the ground, viewed from Cedar Creek Reservoir.
We continued on a zig-zagging northeastward route, but the storm was moving away quickly. On 3054, we could barely make out a cone tornado to our north where the trees were cleared far enough from the road to allow us to see the storm. We quickly drove into trees again before we reached 2329, and that was the last we saw of the tornado. We had already crossed one area where twigs and small branches were scattered across the road (probably from the earlier Eustace tornado), and immediately after we turned east on 2329, we had another zone of twigs and small branches (our tornado). It was not a very strong tornado at this point.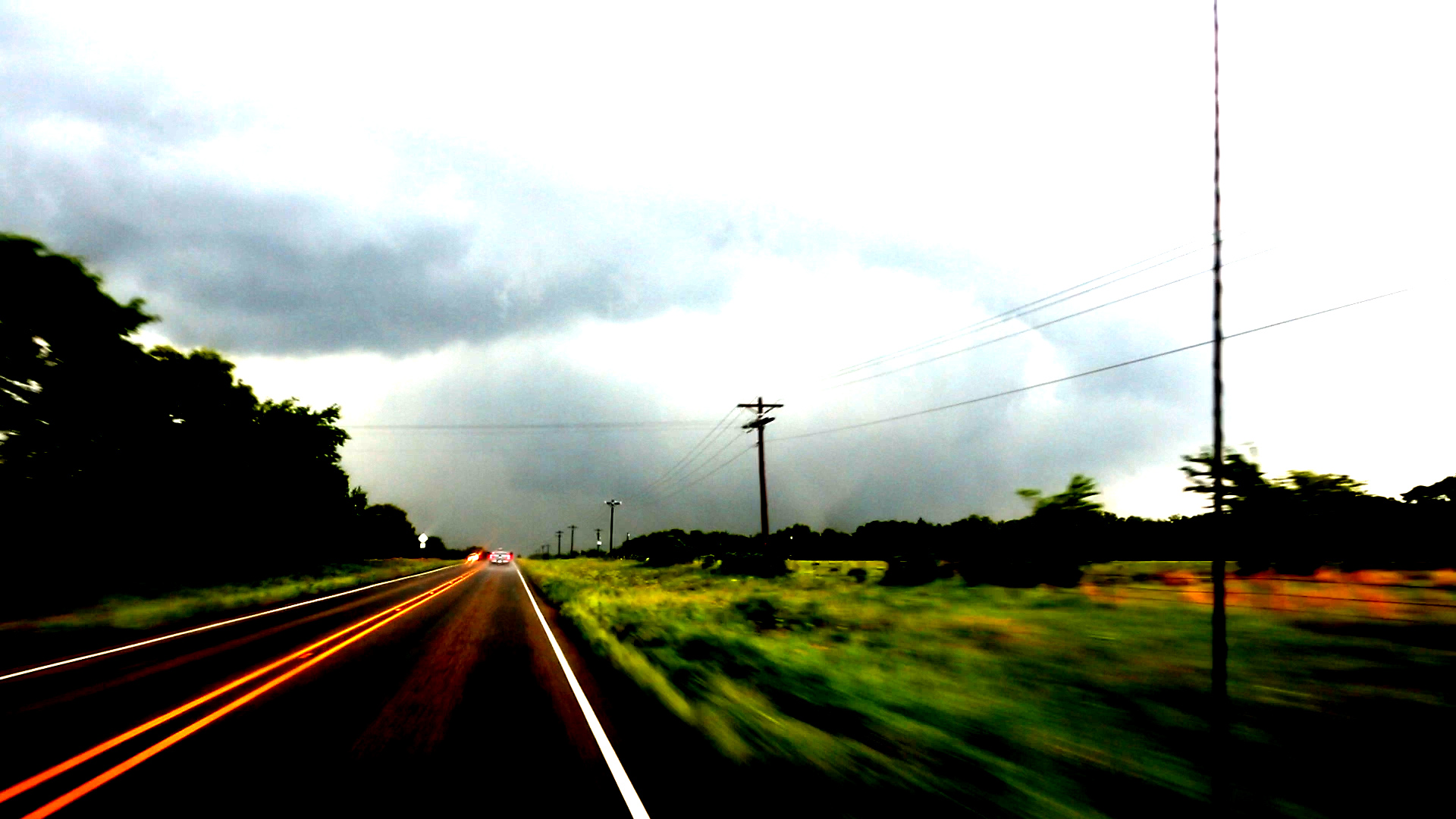 From this point, the tornado was difficult to see, so contrast enhancement was necessary.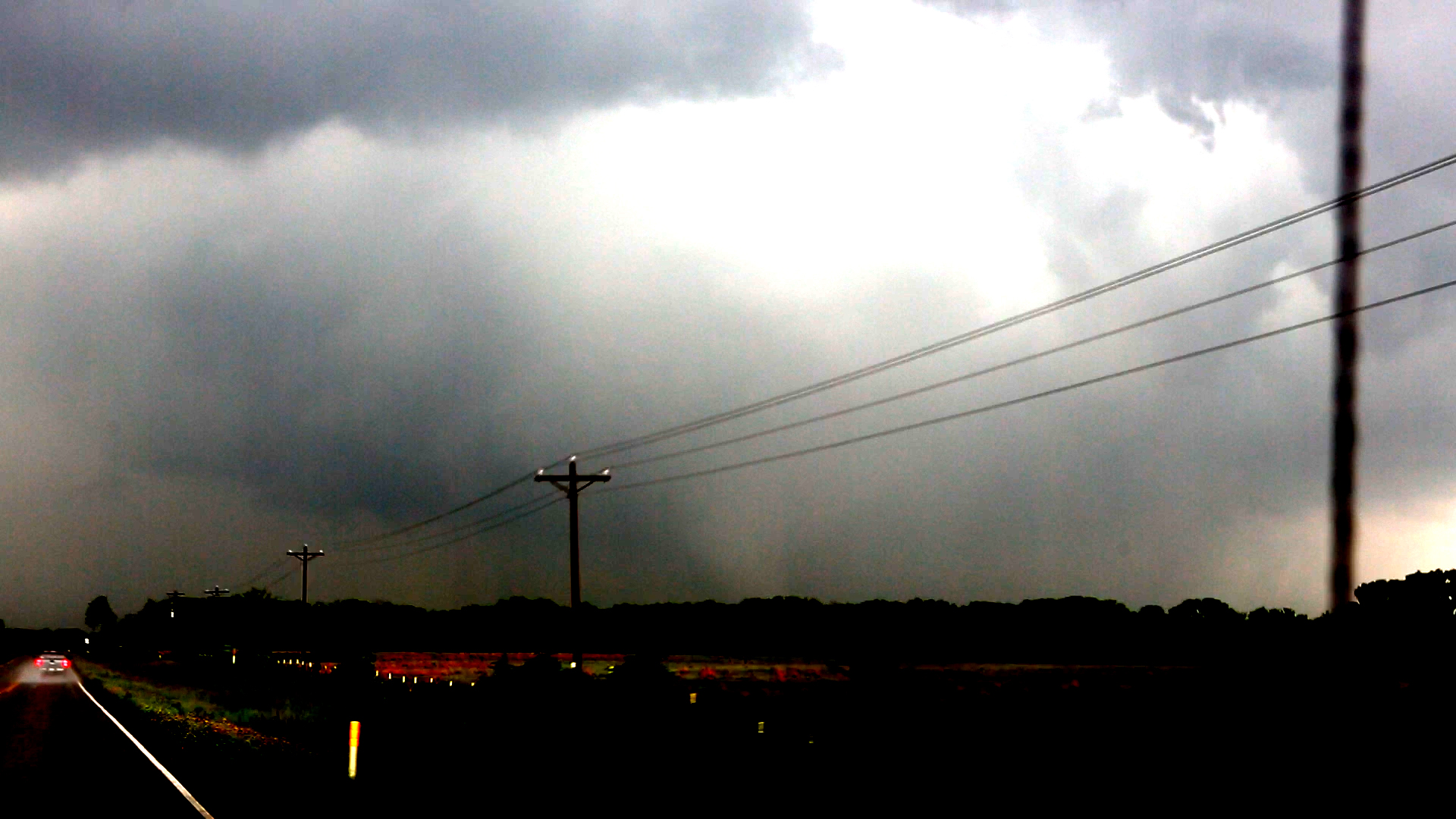 Trying to catch up, but the roads were unfavorable.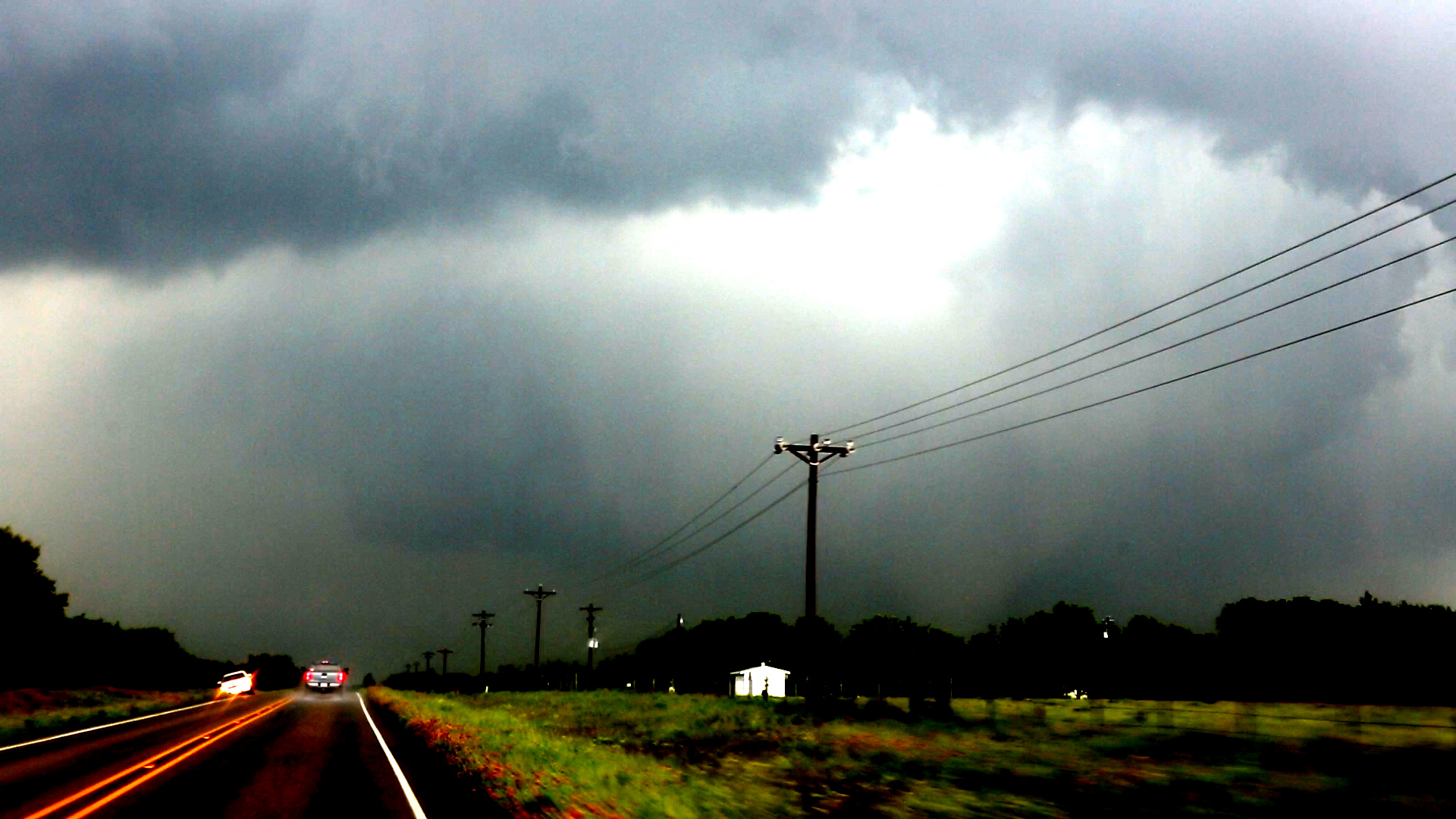 This is the last sight we had of the tornado.
Maybe northwest on 2329 would have been better, but there was heavy rain in that direction so we drove east, where we met with U.S. 175 and had to zig back northwest. On 175, we crossed two damage paths of approximately F1-intensity with mostly tree damage and maybe some slight structural damage. At Eustace, we drove east on 2709, which would take us to Highway 19-- a much faster north road. We were not far behind, and the north road would allow us to catch up.
A couple miles to the east on 2709, we ran into damage. There were a couple small trees across the road, a ground wire from the overhead power lines, and a damaged mobile home. It took a few minutes here to move the trees aside so we could drive around (there were already a couple people checking the home to see that any occupants were okay). A mile down the road, we encountered another damage path with larger trees down across the road. These would require a chainsaw, and it seemed like we lost 15 minutes at this second stop. There was a home that had slid off its foundation when the tornado hit, and it was reduced to a pile of tin at the corner of the foundation. First responders were working to free the trapped occupants of this home. At this point I took no further pictures or video because it seemed inappropriate.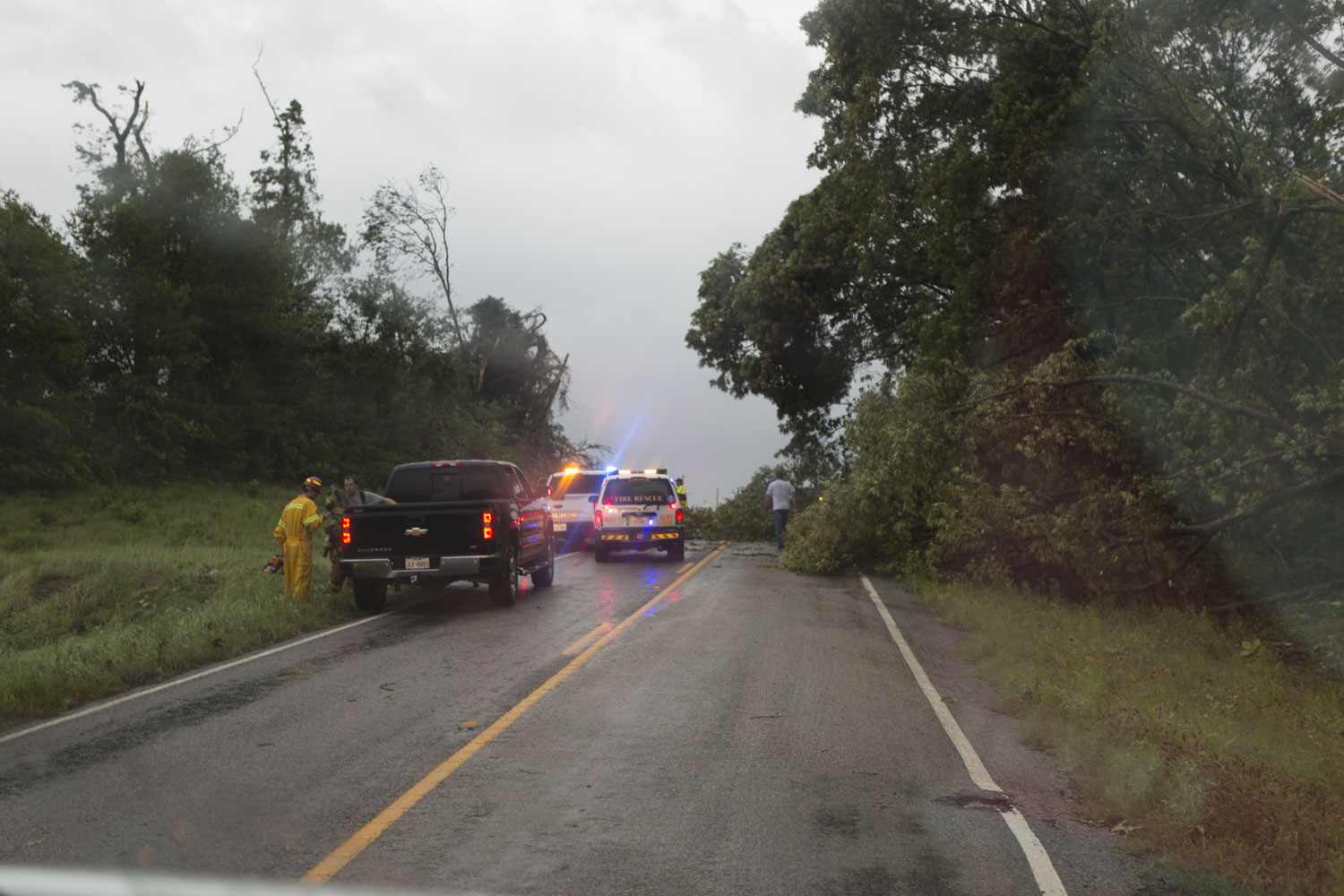 Trees blocked the road and essentially ended our chase.
Finally, we got to Highway 19, but we were 19 miles behind the circulation on radar. It had not lost any strength. I had little hope we would catch back up because the circulation appeared to be moving north right over the road, so there would likely be a big mess ahead of us. We drove quickly north and were starting to close the distance, but we soon came across that big mess. There were emergency vehicles ahead, and they had the road blocked off. Everything ahead appeared to be shredded. We did not want to see that damage, and emergency responders were already at the scene, so we turned around and drove back to Athens. We reserved rooms at the Super 8 there, and before we could check in, another tornado warning was issued for a storm to our west. Back north on 19 we went (after mistakenly starting northwest on 175 and realizing this was not the best path to the northeastward-moving storm). The circulation got ahead of us, and the sky turned dark and ominous. I decided we should stop rather than driving into the circulation, but the damage path was ahead of us anyway. I'm not sure if any tornado occurred, but it would have been over the same path of the previous tornado.
We drove back to Athens and had dinner at Ochoa's Mexican Restaurant. It was great food again. This group of guests was certainly experiencing above-average food on this tour. It's more typical to arrive in town after all the good restaurants have closed for the evening.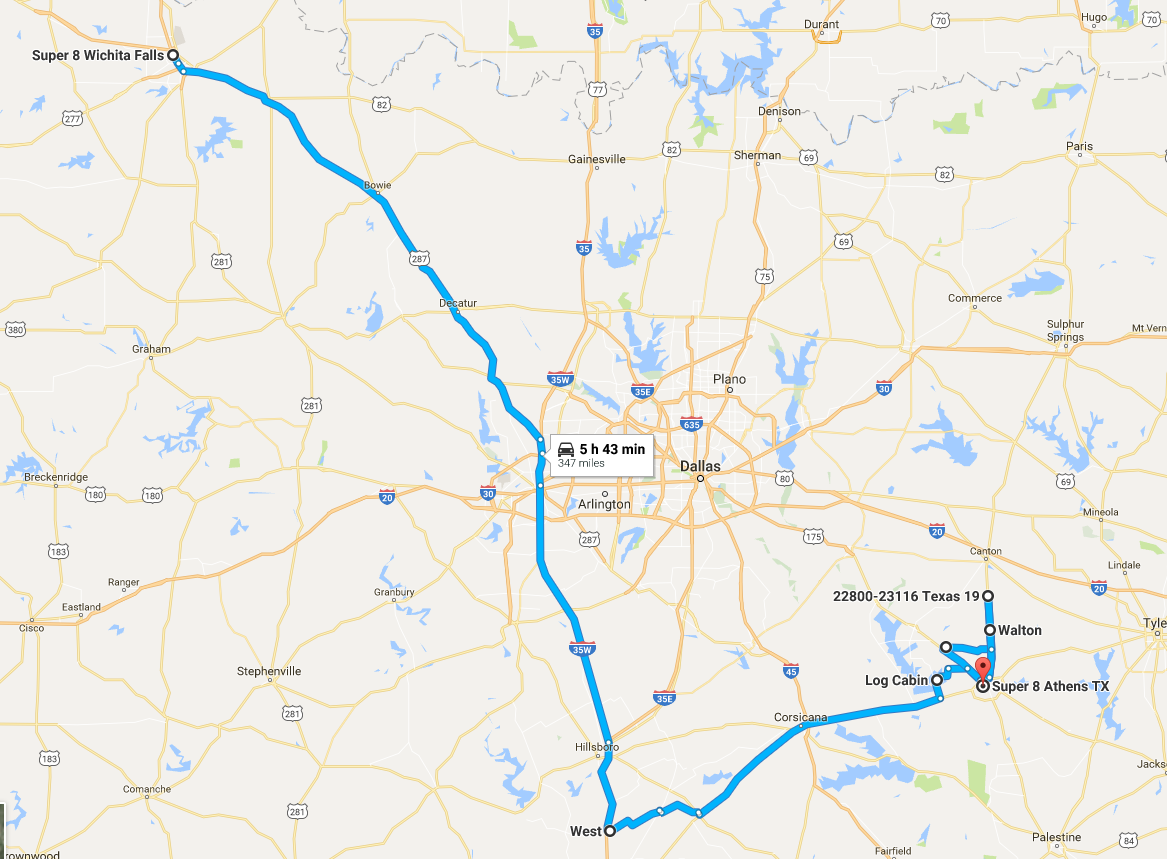 Our route for the day.
Back to Storm Chases | Home