Bushland, TX Tornado
April 20, 2010
Tempest Tours Tour #1 and I started the day in Clayton, NM. After a late morning of drinking espressos at the local coffee shop and doing laundry, we decided to pursue some storms developing off the Raton Mesa to our northwest. We intercepted a non-severe, high-based storm near Gladstone, NM, which is the same place we spent time yesterday. The wind shear looked rather marginal this day for severe storms (or maybe the outside chance of a supercell), but there was no categorical outlook by the Storm Prediction Center. Only hail and wind were outlooked at 5%, and I agreed with their assessment. Little did we know the day was going to become a lot more interesting.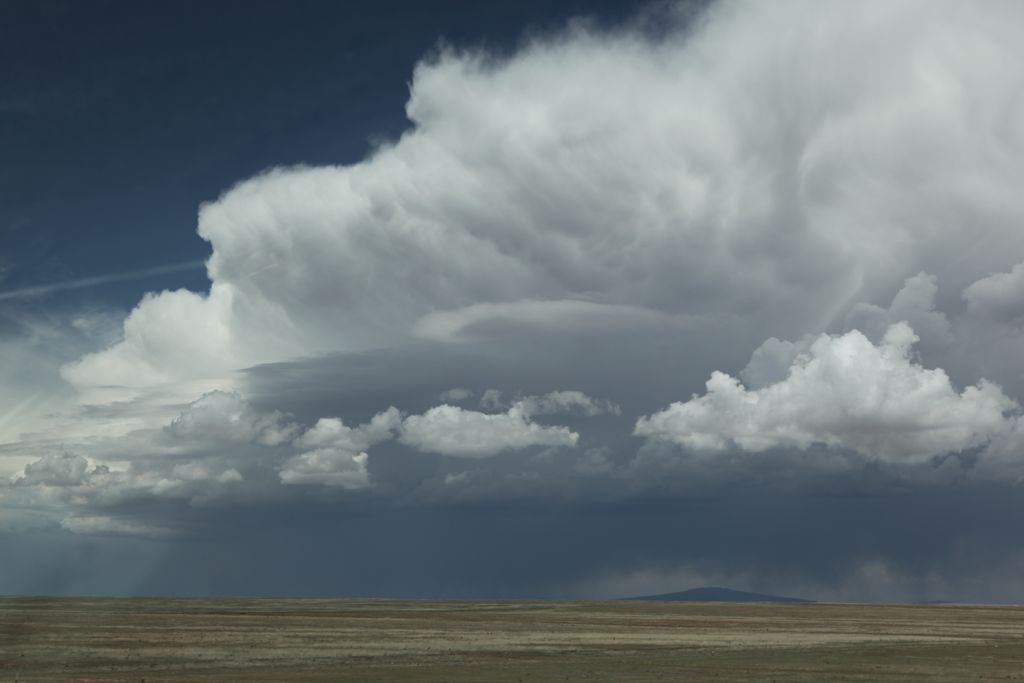 Our first non-severe storm developing somewhere near Capulin, NM, viewed from east of Gladstone.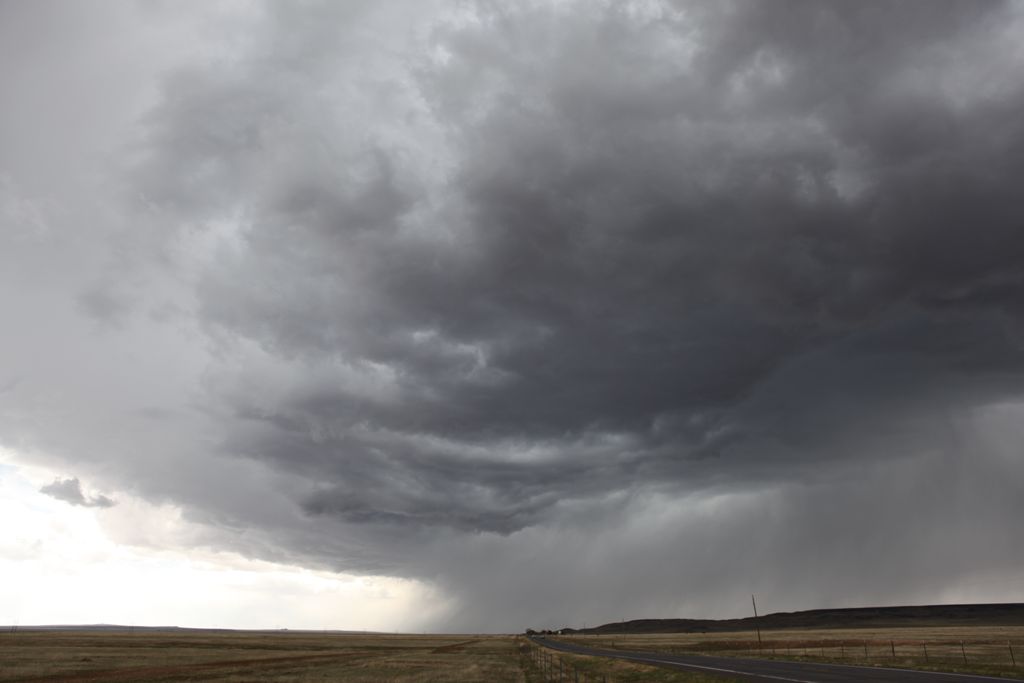 Updraft base of our storm (forward flank updraft) viewed from just east of Gladstone, NM.
Our cells never developed supercell characteristic and remained multicell in nature. They showed occasional reflectivity above 60dBZ, but they eventually started to look less organized. I then noticed a clump of congestus to our southeast, which I figured was in the Texas panhanle. After looking at the line of developing cumulus on the satellite picture and finding the intersection of that line with the line to our location, it appeared the updrafts were west of Boys Ranch, TX. We drove back to Clayton, and I was feeling rather unmotivated because our original storms would clearly not produce much, and the shear did not look any different in the Texas panhandle. However, after looking at the dewpoints there, along with the developing dryline, I decided "what the heck" (it was still early, of course), and we went southeast after the new storm. We caught up to it near Boys Ranch and followed it south to the interstate.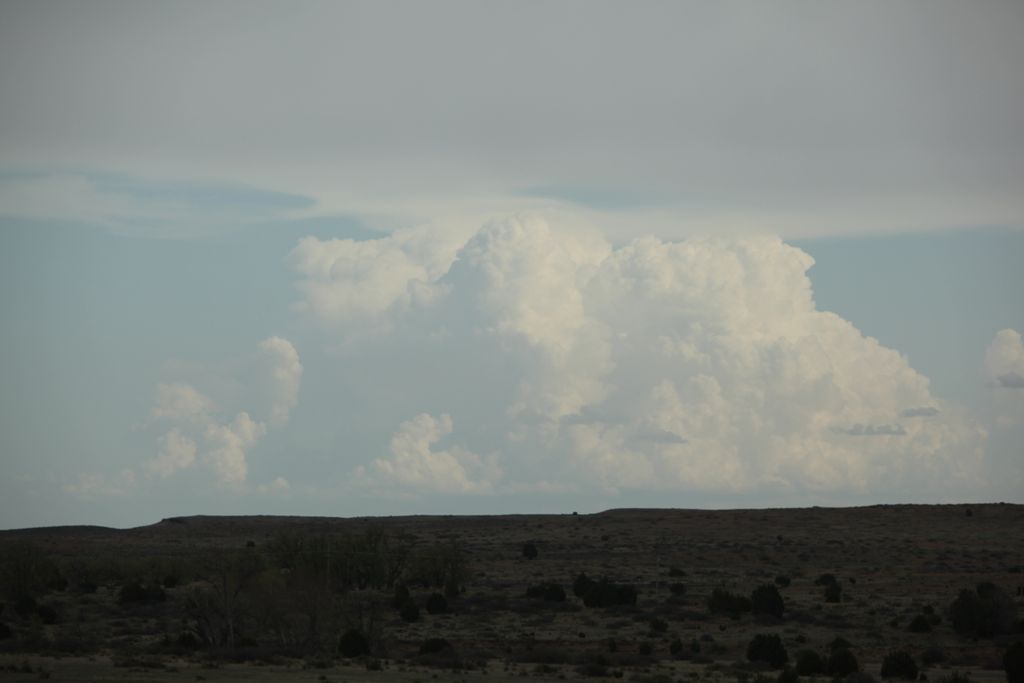 New storm near Boys Ranch, TX punching the leading edge of our original storm's anvil.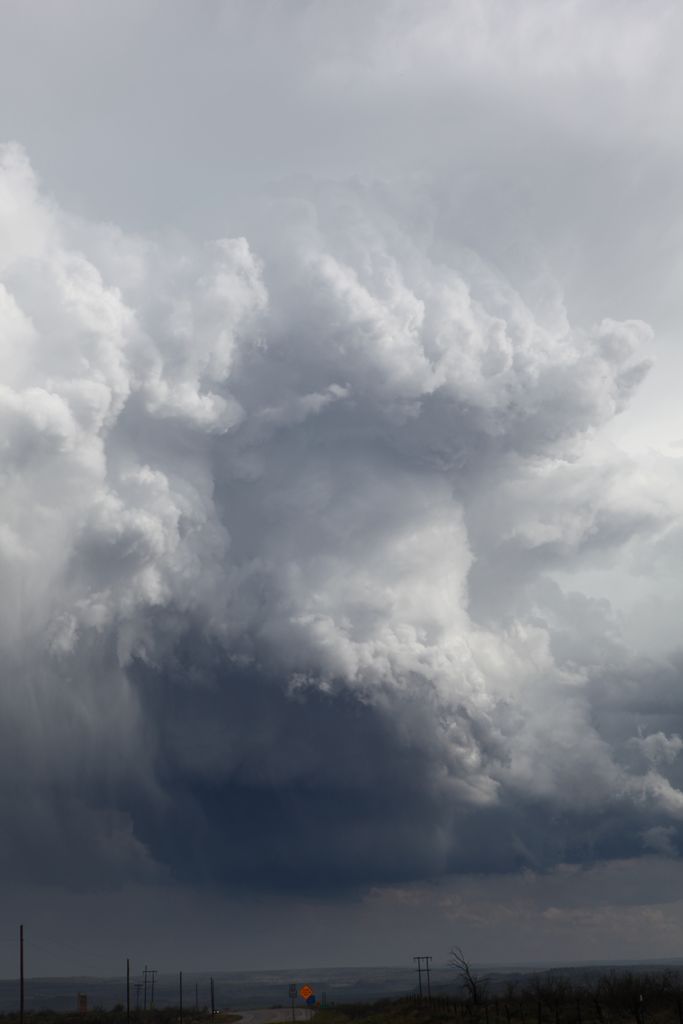 Looking south from near Boys Ranch.

Supercell storm.
We made a pit stop at Vega, then went east on I-40. An RFD developed ahead of us, and we watched rapid cloud motions with the RFD and also saw a semi turned over on the interestate. We made it to the Wildorado exit on I-40, then headed south on Farm to Market Road 809. We kept our eye on the low, bowl-shaped updraft of the storm to our north. We went east on County Road 26 to about Westline Road, where it appeared we were sufficiently far ahead of the action area that we could rest a bit and view the storm. As we were pulling over, we saw a funnel developing. It quickly became a tornado.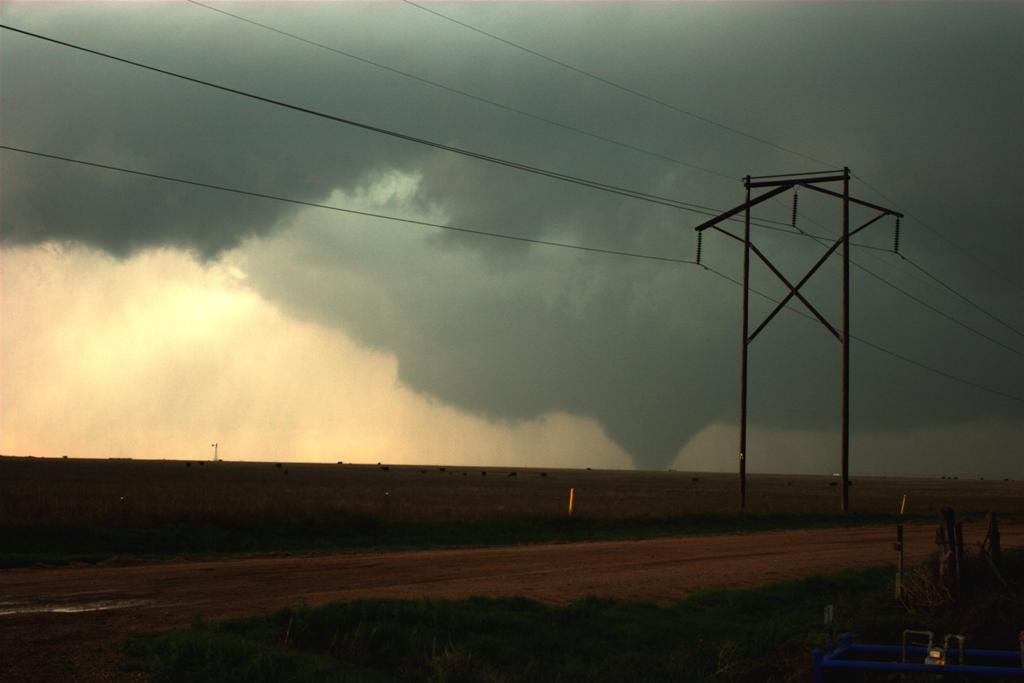 Tornado near Bushland (west of Amarillo). Tornado image courtesy of Marcia Perez.
We continued to follow the storm south and southeast through Canyon to about halfway between Canyon and Happy. The storm had nice inflow bands around it and a bell-shaped updraft, but soon, other storms merged with it from the west, and the whole system transitioned into an outflow-dominant line. We let the storm overtake us, and enjoyed it as the remnants of the mesocyclone moved directly overhead (undercut, of course, by outflow).
---