July 4th Lightning Show
On my return home from Tempest Tours Tour 9, I landed in Minneapolis-St. Paul, picked up my cats from my parents' house, and headed north on Highway 65 through Mora and McGregor. My neighborhood had been hit hard with a Derecho two days earlier, and I knew I would be returning to a home without power. To make the trip even more interesting, another round of severe storms was threatening Grand Rapids and much of central and northern Minnesota. A severe thunderstorm watch was in effect, and a couple tornado warnings were issued for cells well to my northwest. I had never gone storm chasing with cats before, but there's a first time for everything, and up 65 we drove.
Well, it soon turned dark, and the storms soon merged and mostly weakened below severe limits. I attached the GoPro camera to my windshield to record my passage through the heavy rain and lightning. That passage was largely uneventful, but on the north side of the storms in the stratiform precipitation region in the trailing portion of the MCS, there was a good crawler lightning show developing. Just south of McGregor, I pulled over on the Soo Line Trail to take a few pictures of the lightning. Here's the best one I got.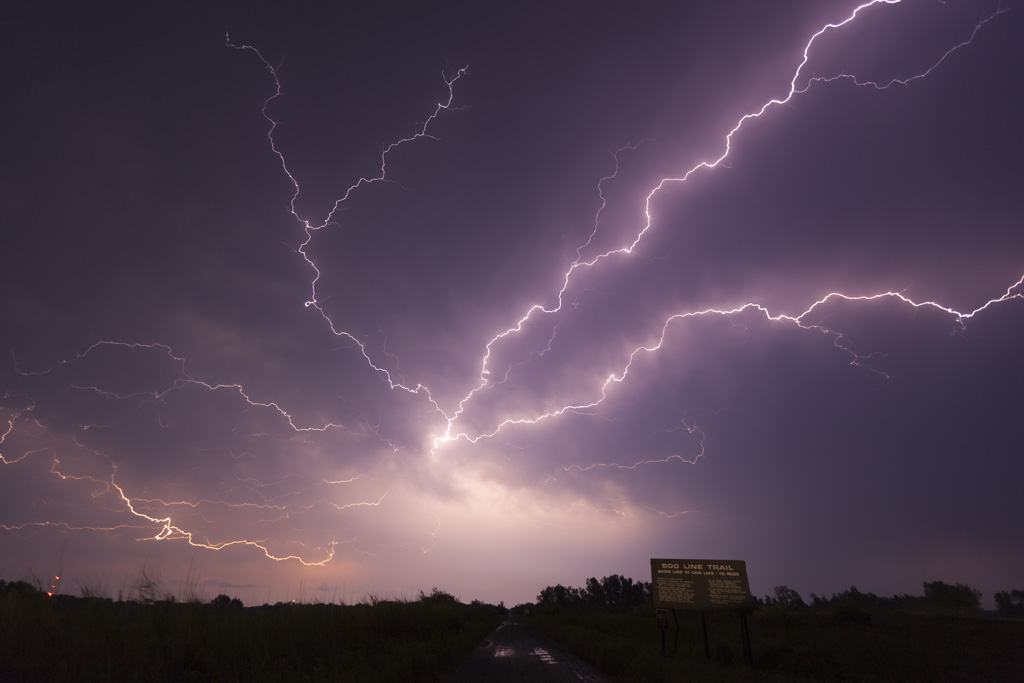 Anvil crawler lightning just south of McGregor on the Soo Line Trail.
Back to Storm Chases | Home