July 20, 2014
Thunderstorms near Bemidji, MN
Went on a mellow Sunday chase today. There was a slight risk of severe storms, the CAPE was pretty large (3000+ J/kg), and the 0-6 km wind shear was sufficient for supercell storms. The high resolution models (4km NAM and HRRR) showed the first storms developing over Lower Red Lake, so I decided to drive in that direction.
We left Grand Rapids around 2:15 PM and headed northwest through Northome, then west on Highway 1 through Redby and around Lower Red Lake, and finally up to an intersection in the road called Fourtown. It was a rather quiet place, and there appeared to be only one pickup truck parked outside the only building there-- a restaurant/bar. Driving through the Red Lake Indian Reservation, we found there was almost no cell service along the way. I was astounded at how underserved the Red Lake community as (and that may actually be the case, too), but we had almost no cell service in Fourtown, either. We had to go visual, just like in the old days! I soon noticed a cumulonimbus to the south-southwest, so we turned around and headed back south.
As we approached, it soon became evident that these new storms were struggling, with the updrafts getting sheared off from where the low-level convergence was maximized. From MN 89 south we cut west on County Road 22 through Pinewood, targeting a very small storm a little farther west. By the time we had driven about 10 miles west, the storm had essentially dissipated, but there was still a small updraft, which we observed for about 10 or 15 minutes before a stronger updraft developed to our south.
Dissipated storm still has an updraft.
We drove south to Shevlin and proceeded east on U.S. Highway 2. We stopped along the railroad tracks south of the highway and observed as the updraft grew into a thunderstorm. I set up a time lapse for a bit, and then we headed to the west side of Bemidji.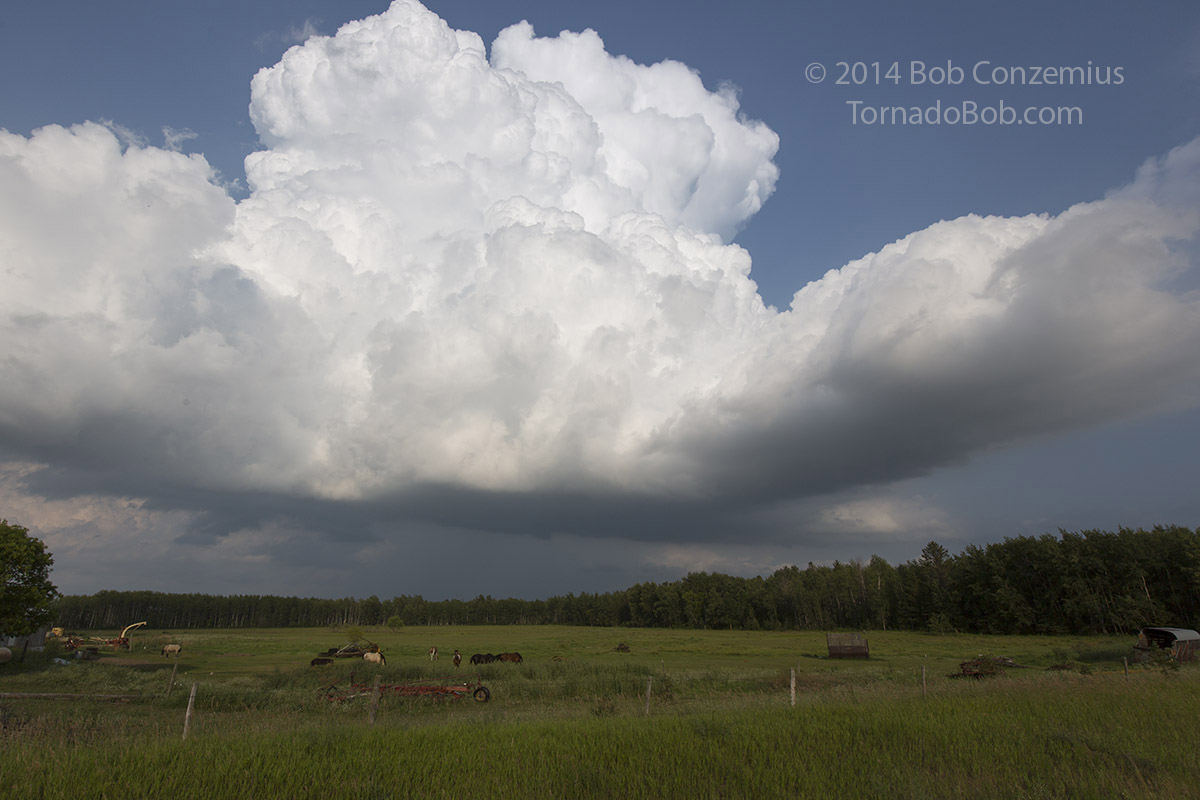 Strengthening updraft near Shevlin, MN.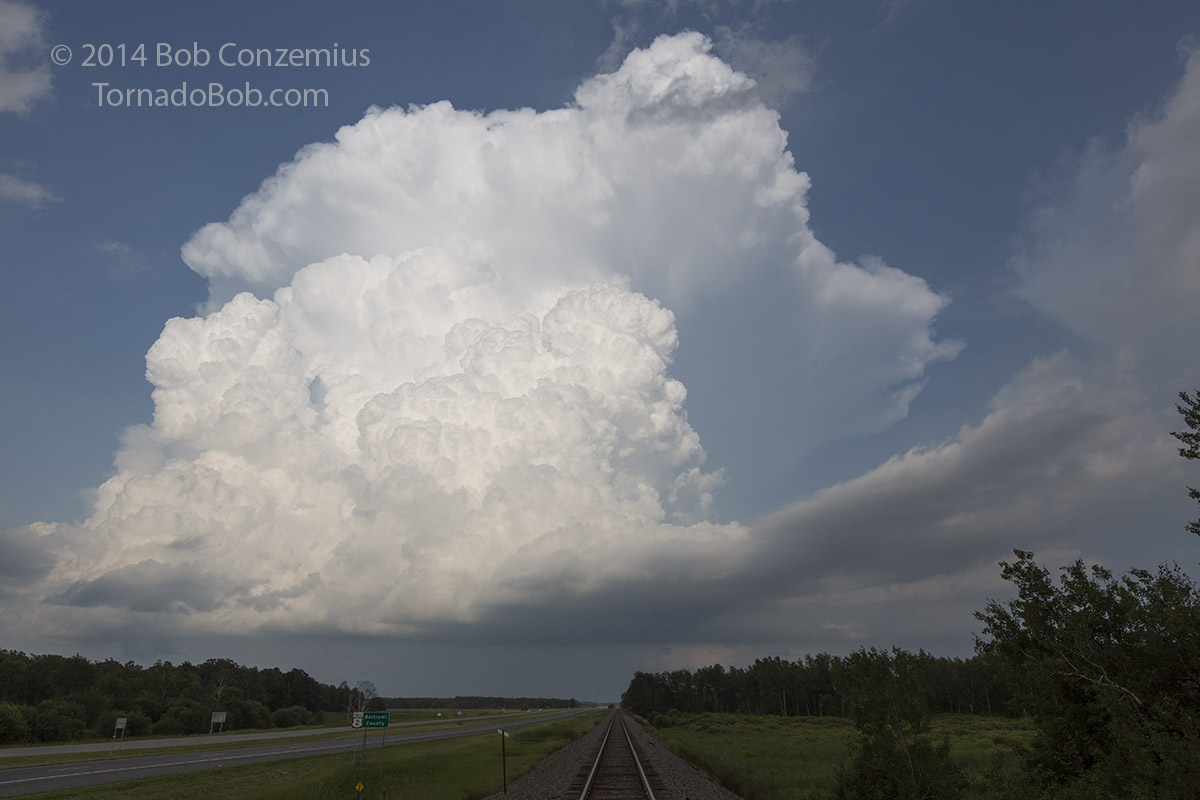 We now have a thunderstorm.
I looked on radar, and it appeared that a new storm to our south was gaining strength, so I decided to head east on 2 and then south on U.S. 71. This afforded us a view of our original storm from the south.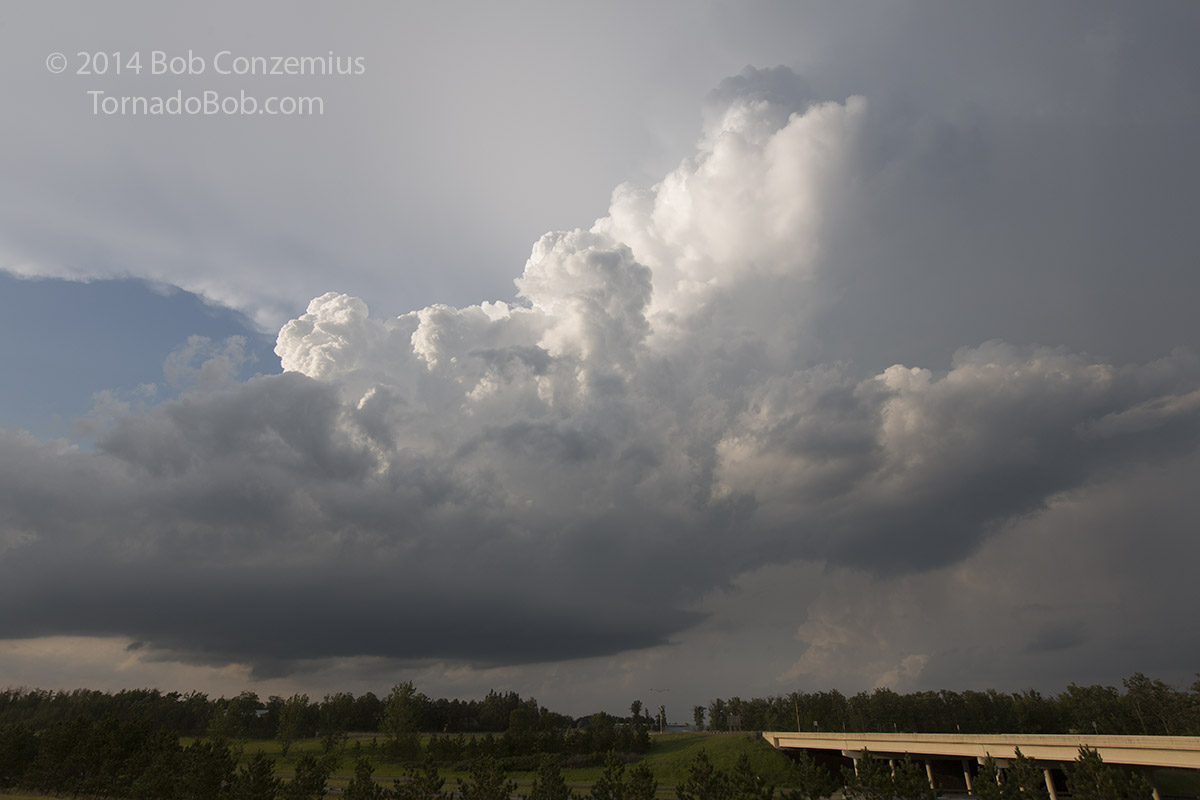 View of the storm from the south.
We continued south on 71 until we broke out from the rain and looked to the west to see somewhat multicellular activity. Nevertheless, it contrasted reasonably well with the blue sky to the south and the green, marshy foreground. I snapped a few pictures a few miles west of Lake George on U.S. 71 and turned around back north and east. The storms weren't really very strong, so it was a good time to head in the direction of home.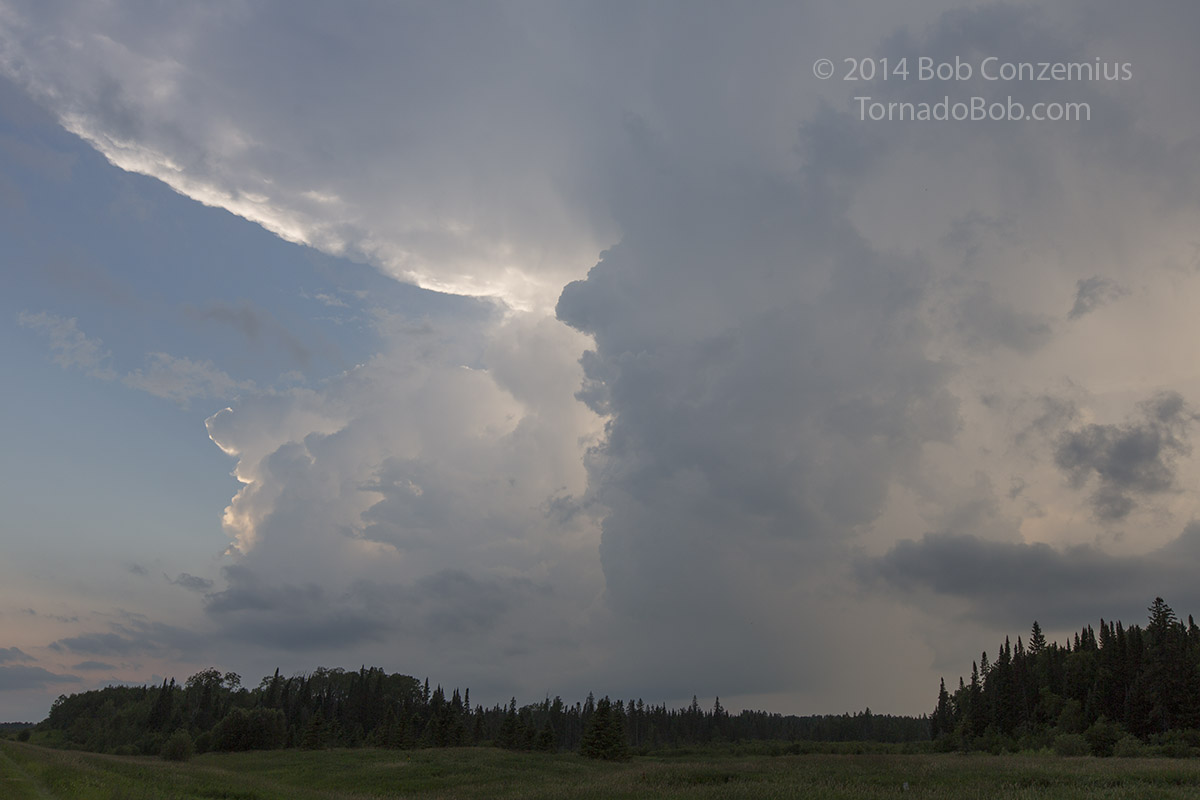 Storms to the west of Lake Goerge.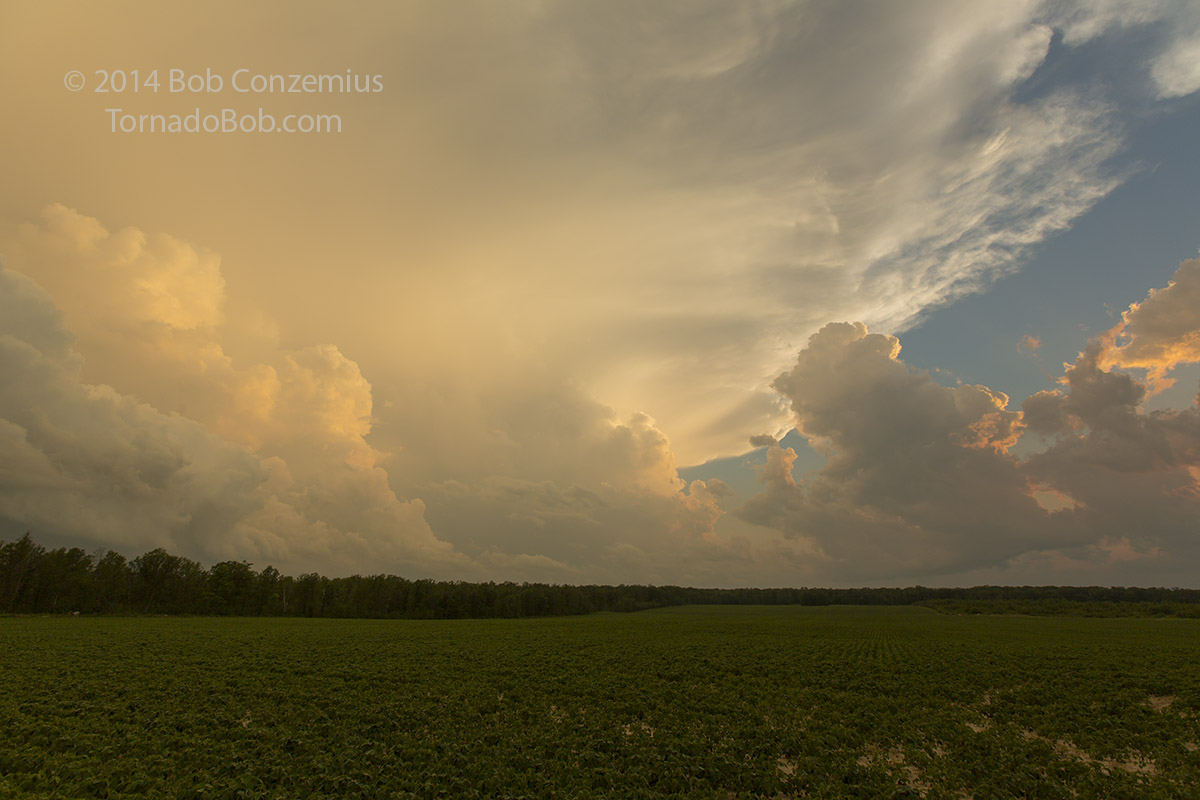 Back side of the Lake George storms at sunset.
Thinking that was the end of the chase, we stopped for a Subway dinner in Bemidji, but when we came back out, the storm had reintensified a little bit, and a really nice lightning display was underway. Anvil zits were firing all round the updraft. We snapped pictures for about half an hour, then started east again, finding another storm photo opportunity near Bena. I got home around midnight.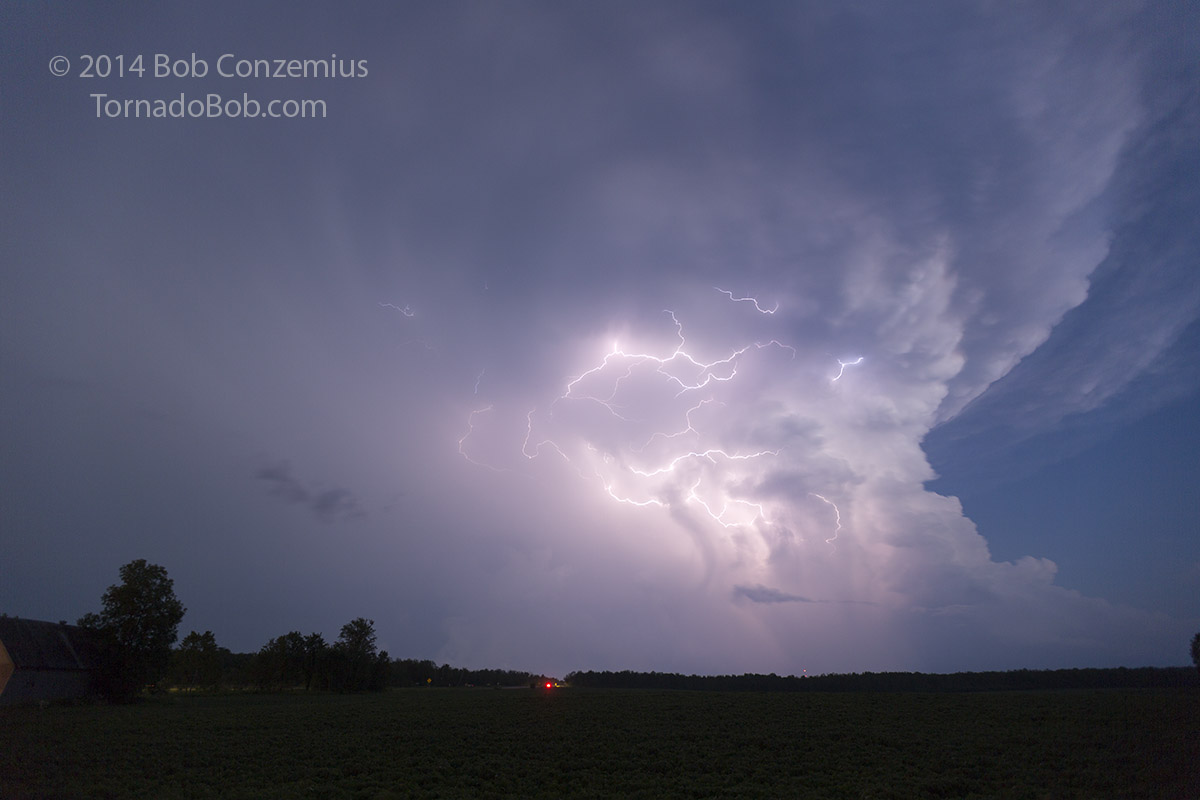 Lake George storm right after sunset.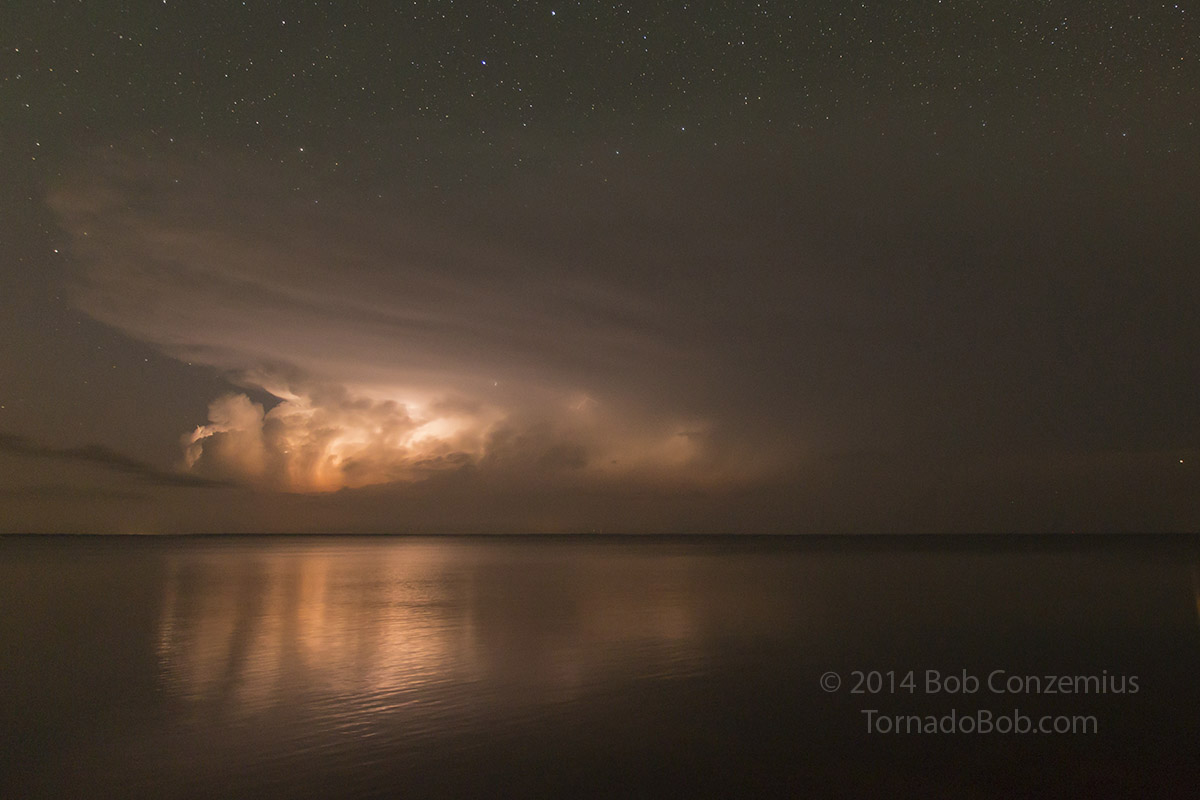 Storm over Lake Winnibigoshish.
Back to Storm Chases | Home