July 23, 2016 Storms
Summit, SD to Dumont, MN
The Storm Prediction Center had an enhanced risk of severe storms across central Minnesota for storms that were expected to develop during the late afternoon in eastern South Dakota and continue across Minnesota during the evening. It was a Saturday, so I did not have to work, and I also had Sunday available for rest and recovery.
My target area was the southeastern corner of North Dakota, but when I arrived in far western Minnesota, the warm sector appeared to be a little farther south, so I ended up in Wheaton, MN. Seeing a percolating area far to the west from Ellendale, ND northward to just west of Grand Forks, I decided to begin moving slowly west-northwest with the hope of catching a healthy storm along the North Dakota/South Dakota border.
That did not quite happen. The initial area of development completely fizzled, and I watched cumulus congestus continue to my west for more than two hours. I had held up near New Effington, SD near an entrance to I-29, which allowed me to get north in a hurry if need be.
Just after 7:00 PM, a small cell developed near Florence, SD. Hesitant to commit to something farther from home, I stayed put, hoping the congestus to my west would break loose. After about 30 minutes of hoping, I saw no real progress, and the storm over Florence was growing larger, so south I went. It was 55 miles, but the speed limit on I-29 is 80 mph, so the trip took around 45 minutes.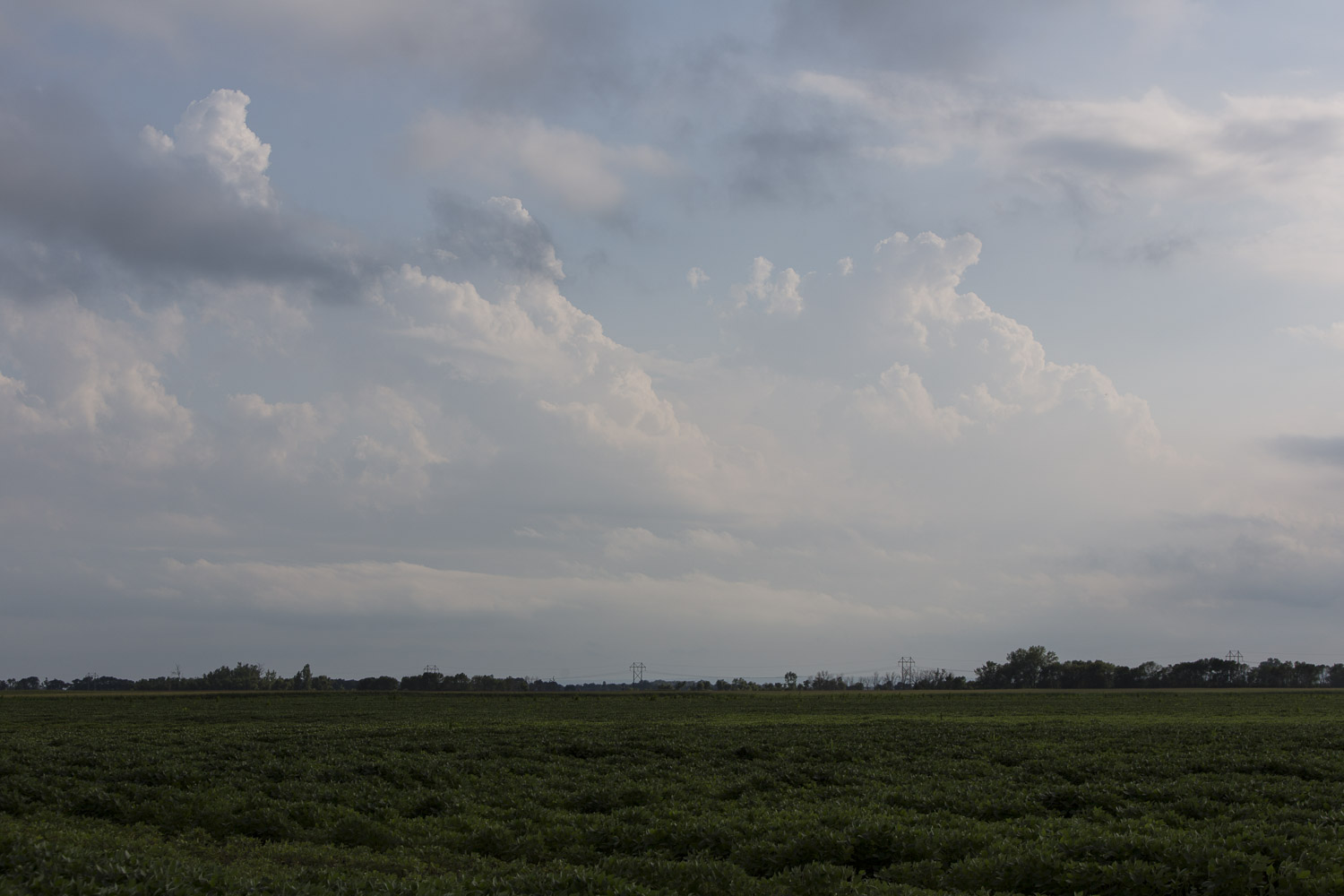 For more than two hours, deep convection struggled to develop.
When I arrived, the updraft was so small compared to the other towering cumulus around it that I did not identify it correctly. Either way, it was not impressive, and I saw a stronger storm developing just to the north, approaching Summit, SD. I wasted no time in heading back in the direction of home. It was after 8:00 now, and I had more than four hours of driving ahead of me if I planned on getting back home. The storm grew larger on radar, and I was pretty interested in what could happen since the LCL (lifting condensation level) was only a couple hundred feet above ground level (at most) at the top of the Buffalo Ridge at Summit. When I reached Summit, I headed about a mile to the northwest to check out the updraft base.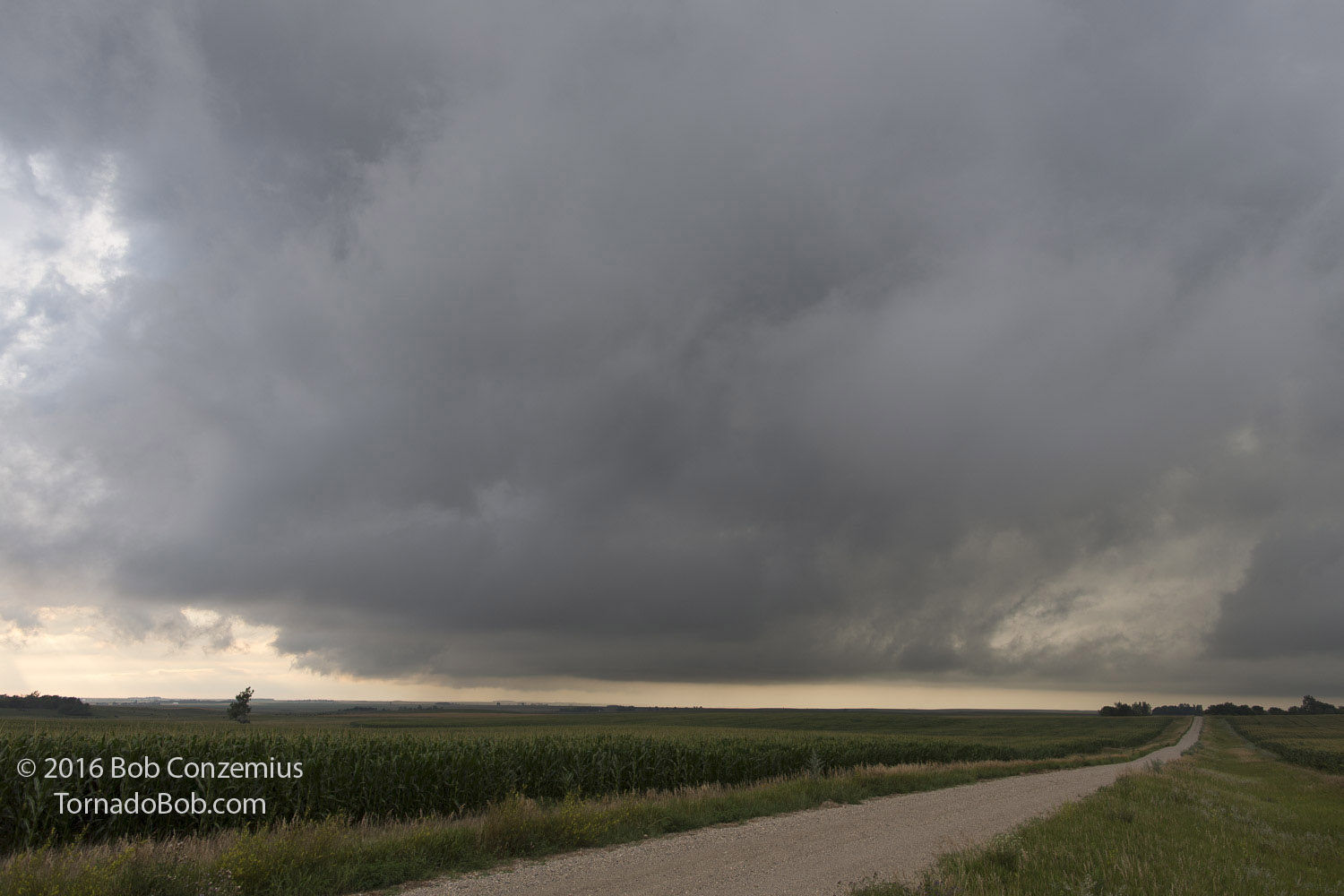 Updraft base of the summit, SD storm.
I was not really sure those low clouds were being ingested into the storm's updraft base or if they were just going underneath it. There was no strong upward motion at cloud base, and there was no significant differential motion of any kind, either. Hearing thunder farther to my east, and noting that I was at the far western edge of the storm on radar, I headed east and drove down the eastern slope of the Buffalo Ridge toward Milbank.
I detoured northward from Highway 12 and ended up on a nice, quiet road that bypassed Milbank and took a more direct path to Big Stone City and Ortonville, which I would have to go through if I wanted to stay on the storm into Minnesota. It was a slow-moving storm, and my time on this quiet road was very relaxing. I stopped at several spots and took pictures of the storm and the scenery around me.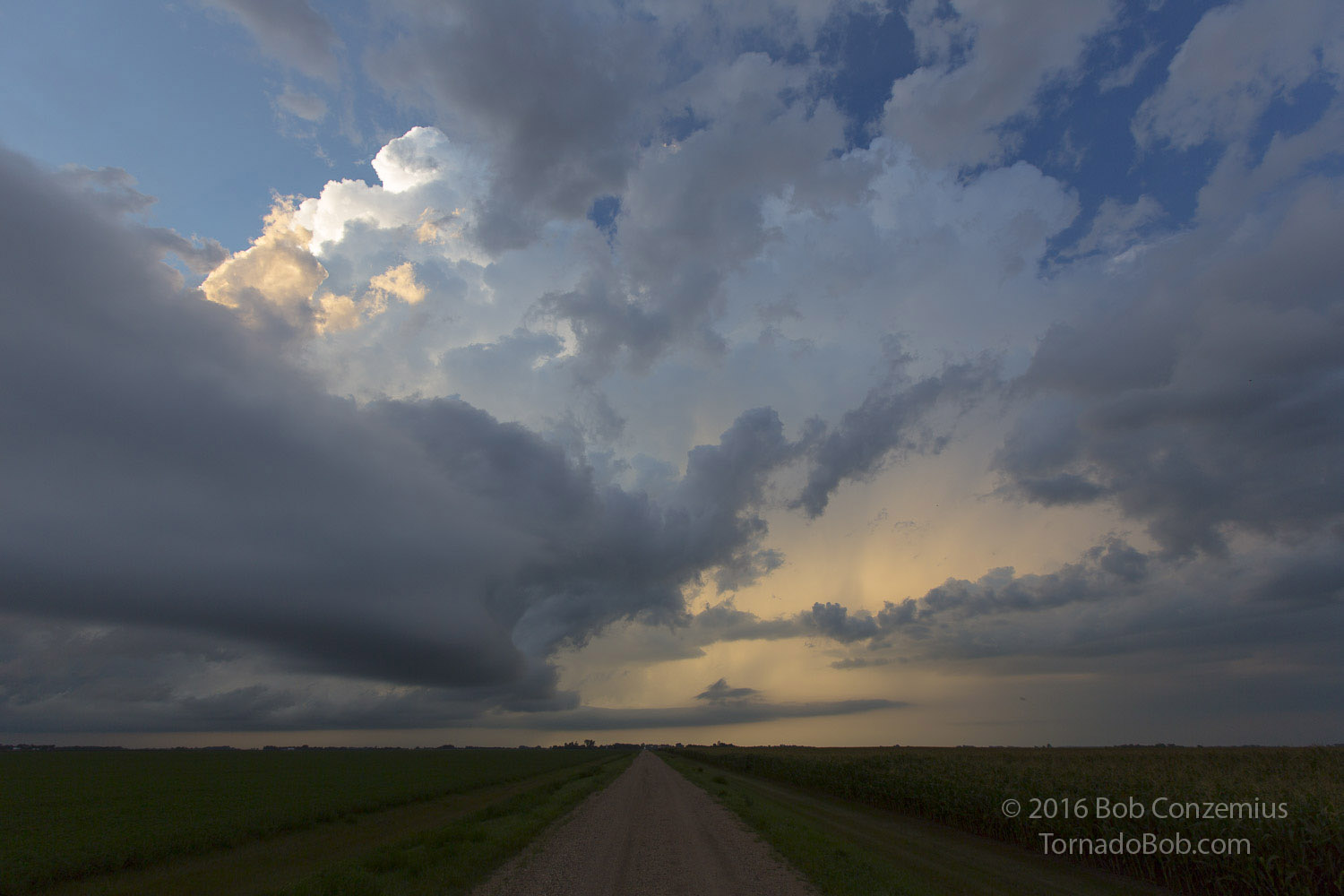 Storm tower to my north and some other clouds developing along a boundary that may have been attached to the RFD gust front of the storm.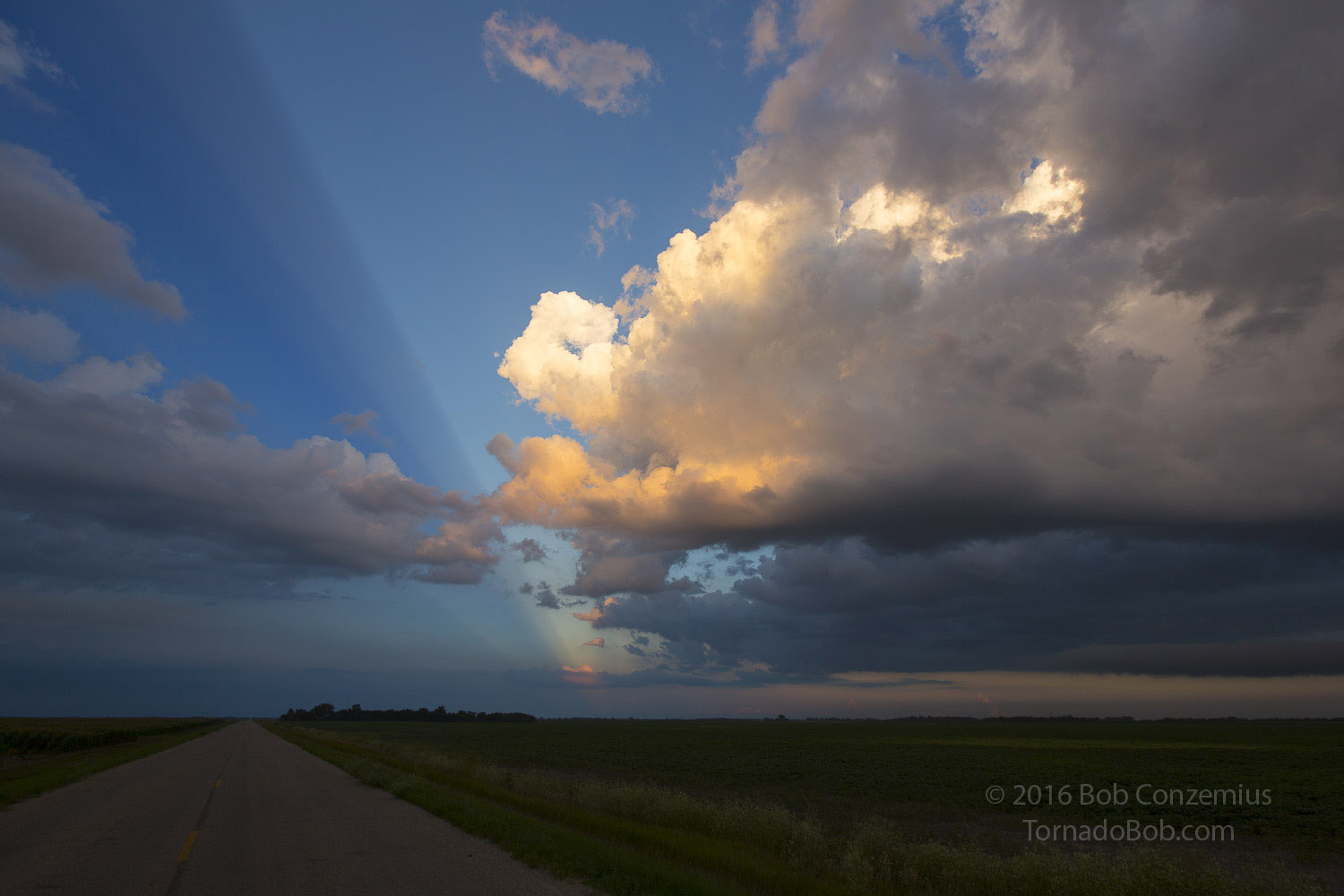 Anti-crepuscular rays cast by the storm in the above photograph.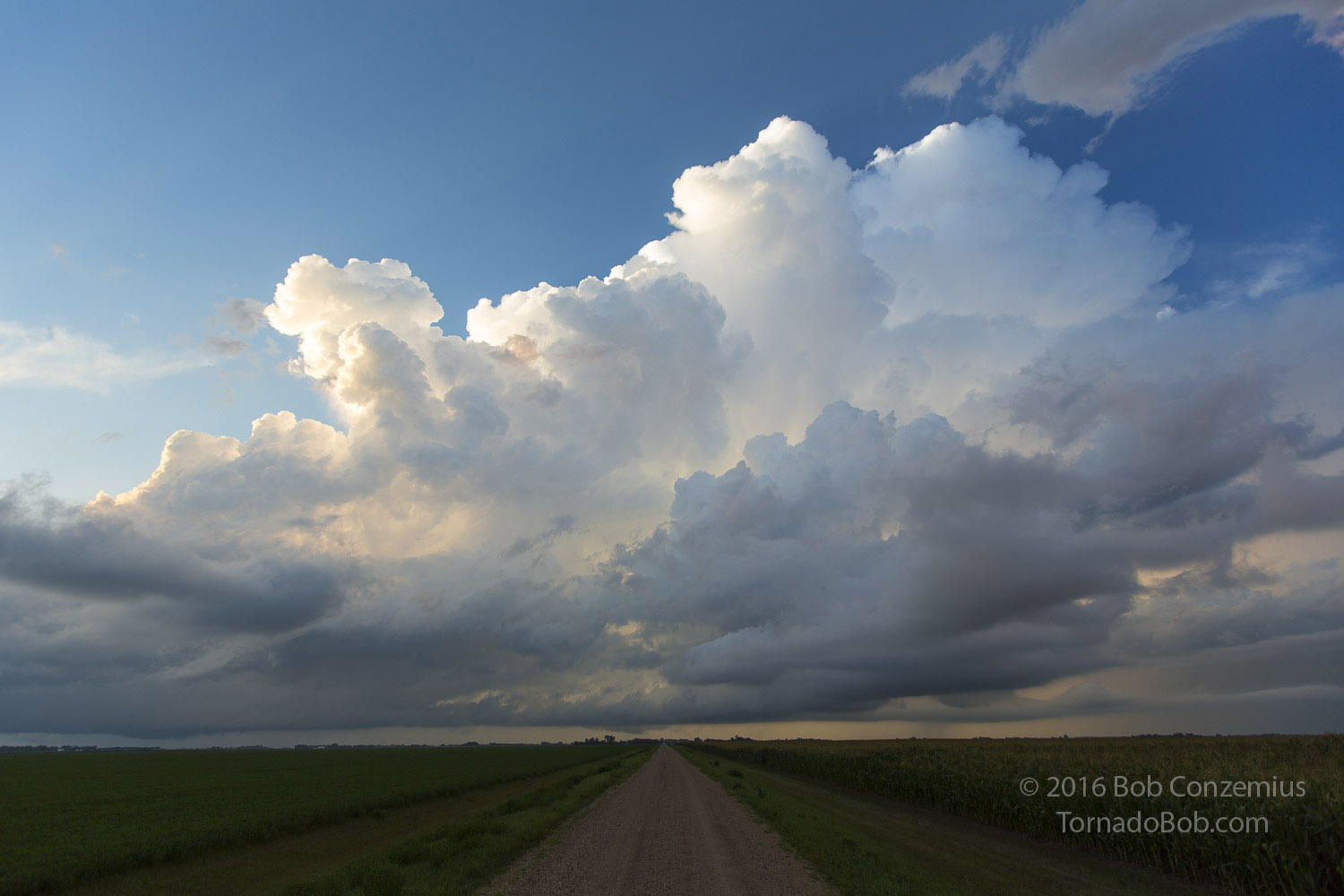 The storm in its entirety viewed with a 16mm lens. It looks much farther away in this picture, but the closest edge of the base was three miles to my north.
As you can see, the storm was not very large or strong. I tweeted that the left-mover to its north had a higher probability of producing a tornado than this storm did. I just did not see any interesting motion at cloud base, and I was three miles away. It turns out that it came a little close than I thought, and with low cloud bases, three miles can make a difference. Bill Doms was parked directly underneath the rear flank updraft base, and he was able to look nearly straight up and see a funnel develop in an erosion in the rearmost part of the cloud base (you can see his account here). Nothing protruded downward, so from my perspective, things looked mostly flat. I think the funnel was more horizontal than vertical, as I have seen those sorts of things develop at that part of a storm in other cases. Anyway, way to go to spot that thing, Bill!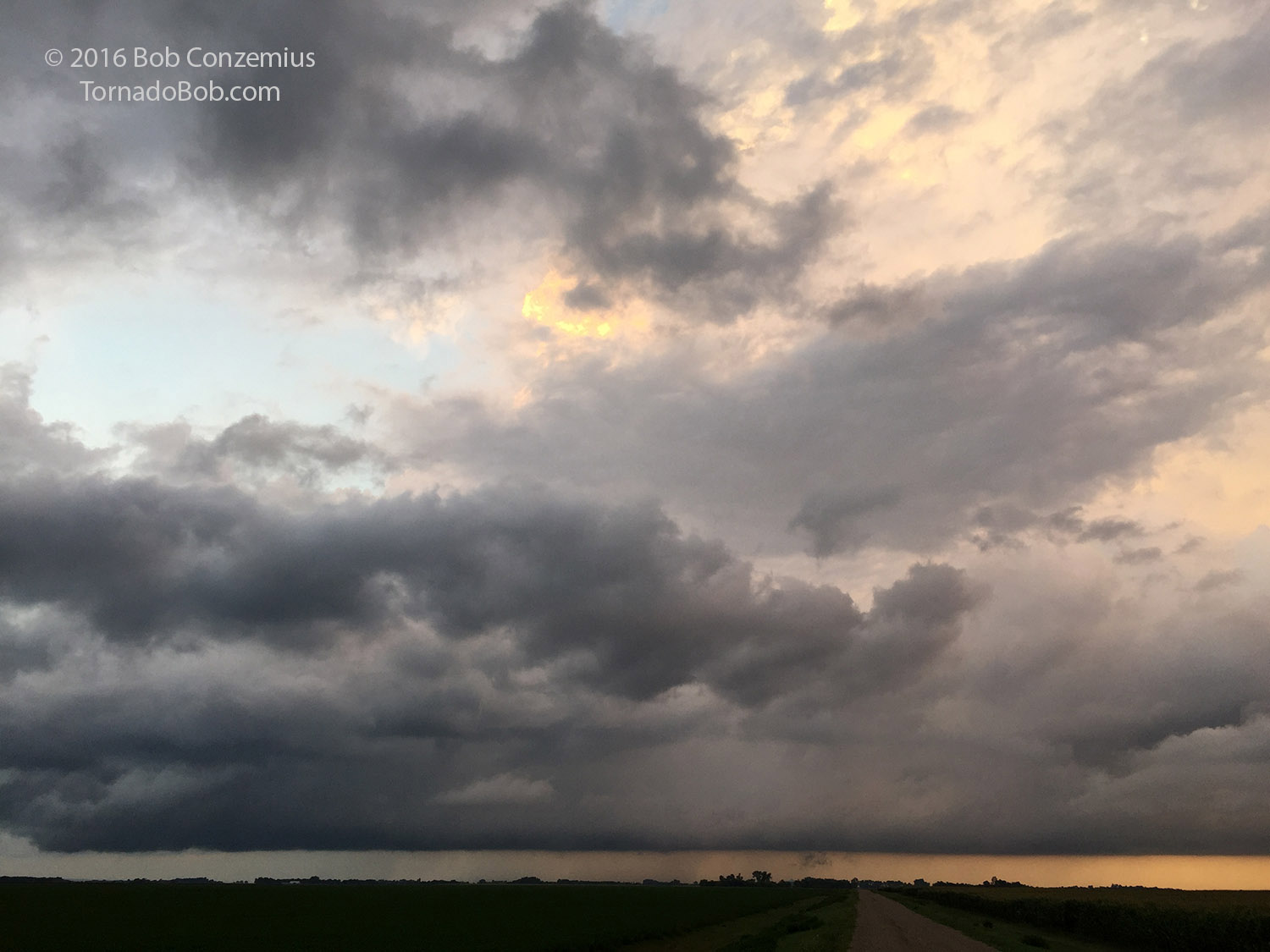 The updraft base at 9:00 PM, six minutes before producing a funnel that Bill Doms saw. The funnel developed at the leftmost edge of the base.
I continued eastward through Ortonville and darkness arrived. It was time for me to get back home. My route back home required me to drive througth the storm I had been chasing as well as another, stronger storm to its north. I stopped just south of Dumont to take a few pictures of the more northern storm, which was illuminated by nearly continuous lightning. I deviated a little westward to get behind this cell more quickly, and then took the most direct route home possible. It was a long drive back, and I arrived home at 2:40 AM! It was a pretty crazy, long chase, although not too crazy with the amount of severe weather. There were no severe reports with these storms until the line reached east-central Minnesota, where a few high wind reports were received.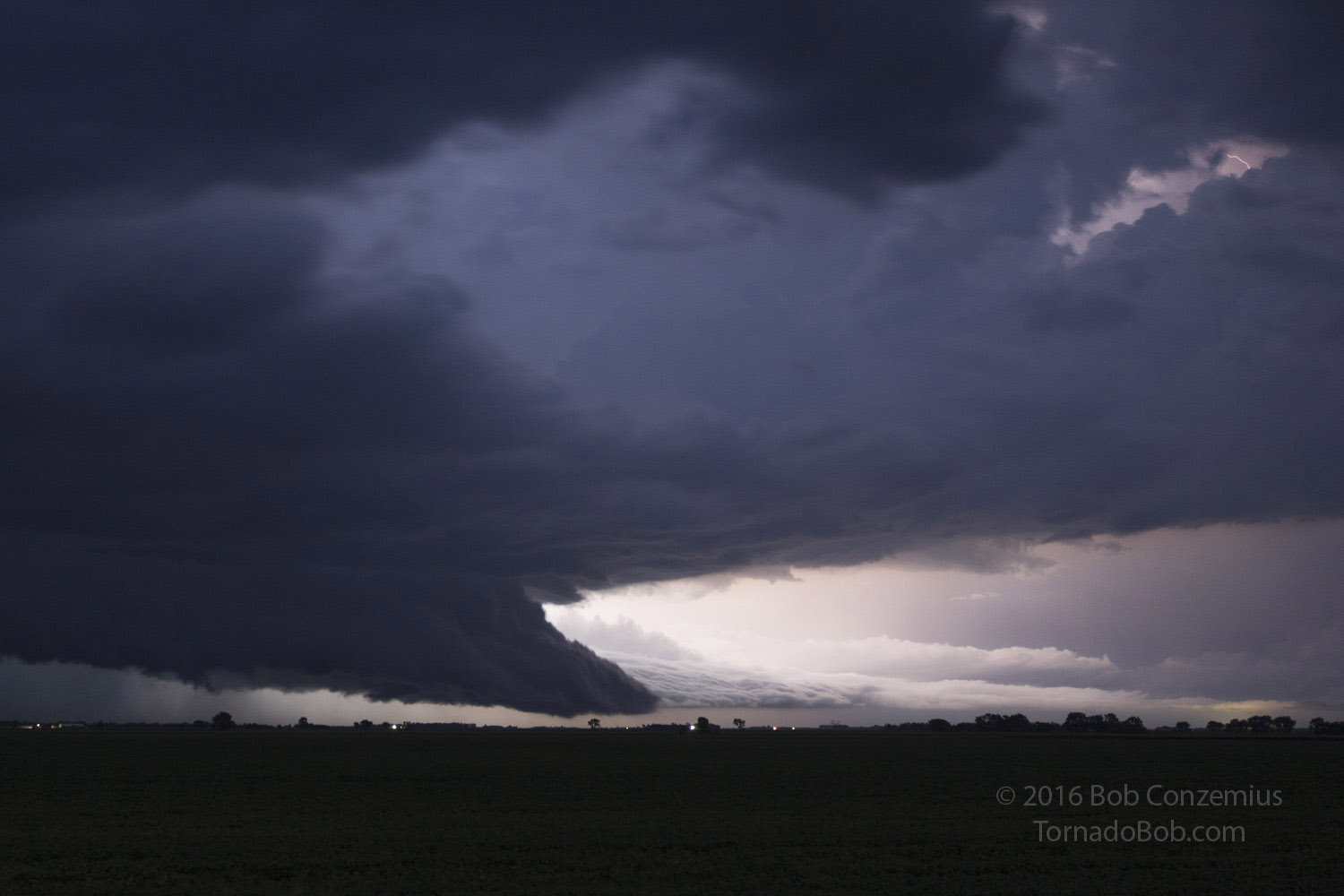 Storm viewed from near Dumont, MN.
The Routes
This was a pretty long chase at 625 miles total!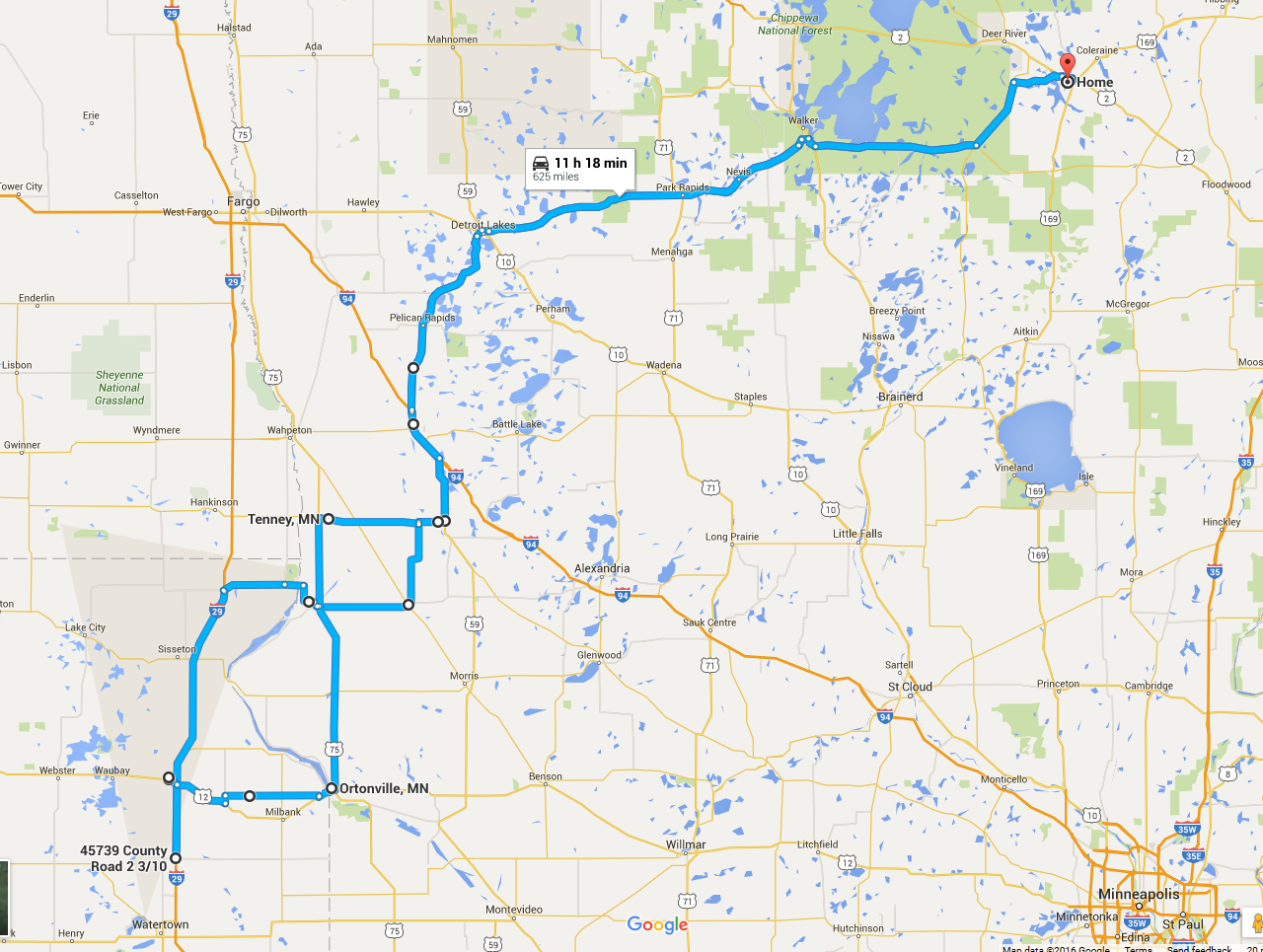 This is the route that I took on the chase.
Back to Storm Chases | Home