October 14, 2017 Auroras
Chippewa National Forest
The fourth day of a high speed stream of solar wind brought auroras. The previous two nights had been cloudy in the Grand Rapids, Minnesota area, so I did not go out and shoot, but clear skies on a Friday night had me out shooting again. It was a weekend, so I had a little more time to be patient for a show to arrive if I did not have spectacular auroras the moment I went out to shoot. Such is often the case with a continued high speed stream. The magnetic field strength typically isn't that great, but the fast solar wind can make things a bit more unsettled. A couple hours of southward-pointing magnetic field will brighten up the auroras a bit. All you have to do is wait for them.
Several hours of southward Bz had happened just before sunset, and that had things going before twilight had completely faded. I had some things to do at home that evening, so I did not get out right away when I should have. I could see the glow in the sky when I left home, and the first substorm happened as I was driving north on Highway 38 to my shooting locations. I had to stop at the nearest convenient spot to capture the show, but I was a couple minutes late, and I did not have the best foreground. Maybe I should have stopped right on the north side of town.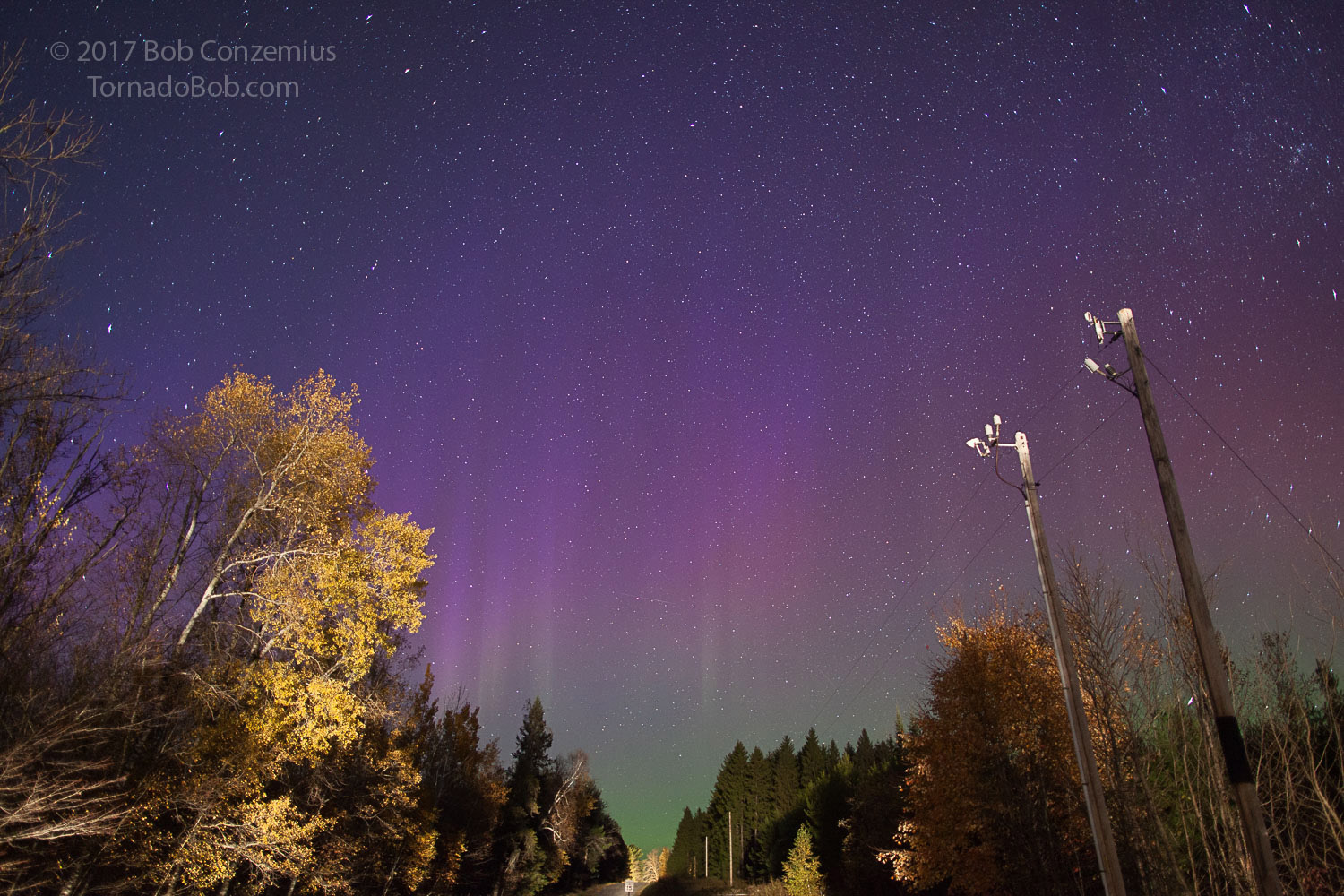 Auroras by Gunn Park north of Grand Rapids. 7:54 PM.
I drove a bit farther north to get into the Chippewa National Forest. By the time I got to Pughole Lake, the auroras had retreated a bit closer to the northern horizon, but there was still a bit of an arc visible. I waited for a few minutes before the arc brightened a bit, and I took a few more pictures of a small substorm. I thought the show might be good, but the auroras disappeared really quickly, and Bz was as north as it could be, which would force things to be a bit quieter. Just as quickly, however, the auroras returned in another arc on the northern horizon. I had so much traffic driving past my shooting location (weekend cabin traffic coming up from the Twin Cities) that I decided to move to someplace quieter.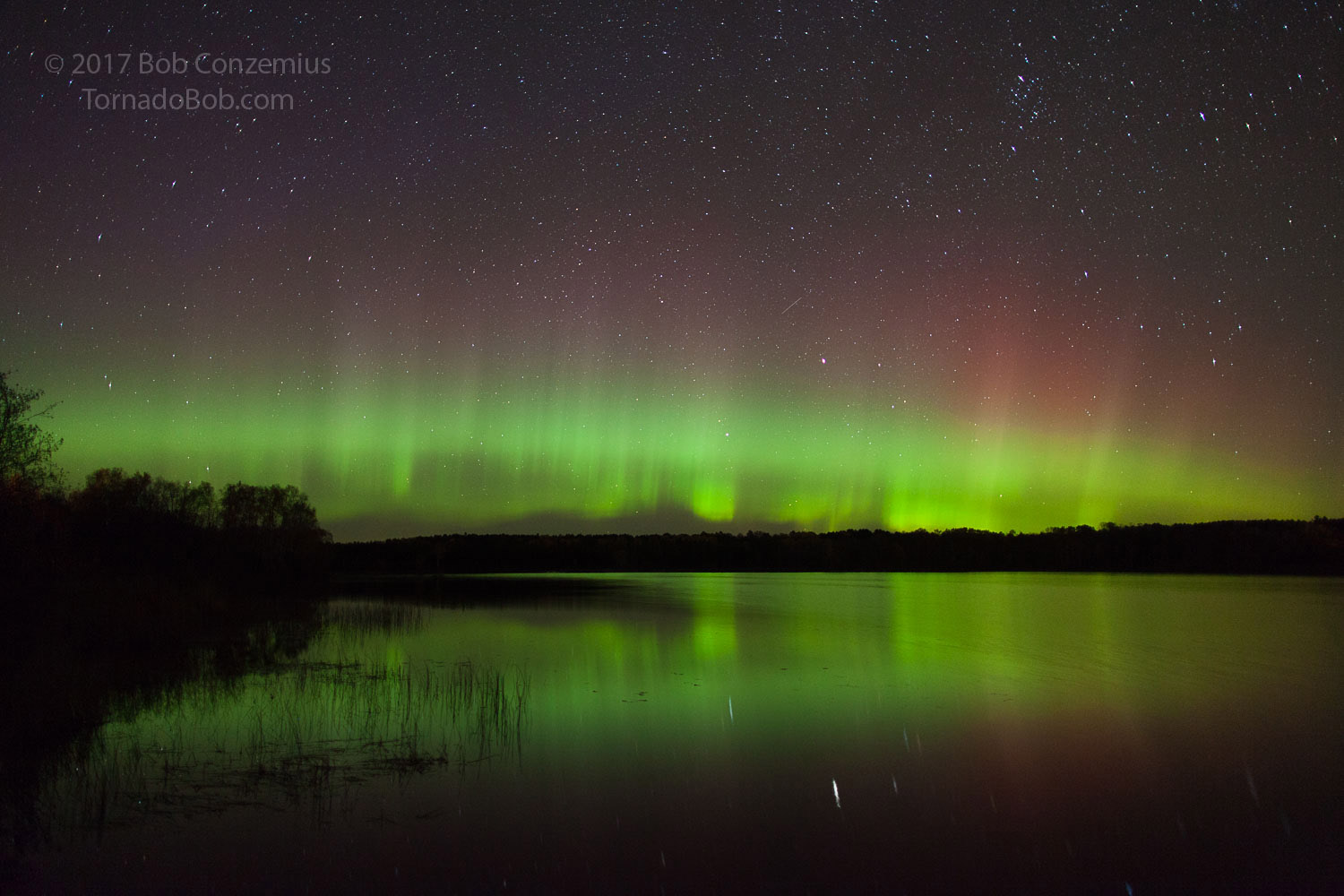 On Pughole Lake. 8:17 PM.

The brightest part of the show over Pughole Lake. 8:21 PM.

Rather than get another substorm at Johnson Lake (only a couple minutes away from where I had just shot), the auroral arc disappeared. Bz was stuck north, but I thought I'd wait it out. It took more than an hour for Bz to start going south again, and I had to wait an hour or two past that for the auroras to visibly brighten again. This time, rather than forming a distinct arc like they normally do, a diffuse auroral haze began to fill most of the northern sky. I was shooting f2.8 at ISO 3200 and 30 seconds because no part of the sky was showing any bright auroras, but one could see that the sky was visually not dark.
Eventually, a distinct arc formed, and it broke up into brighter, waving columns, and the auroral haze returned to the sky again as the brightest auroras dimmed a bit. I took a few more shots of the auroral "haze" with some embedded columns. I finally drove home about 2:15 PM.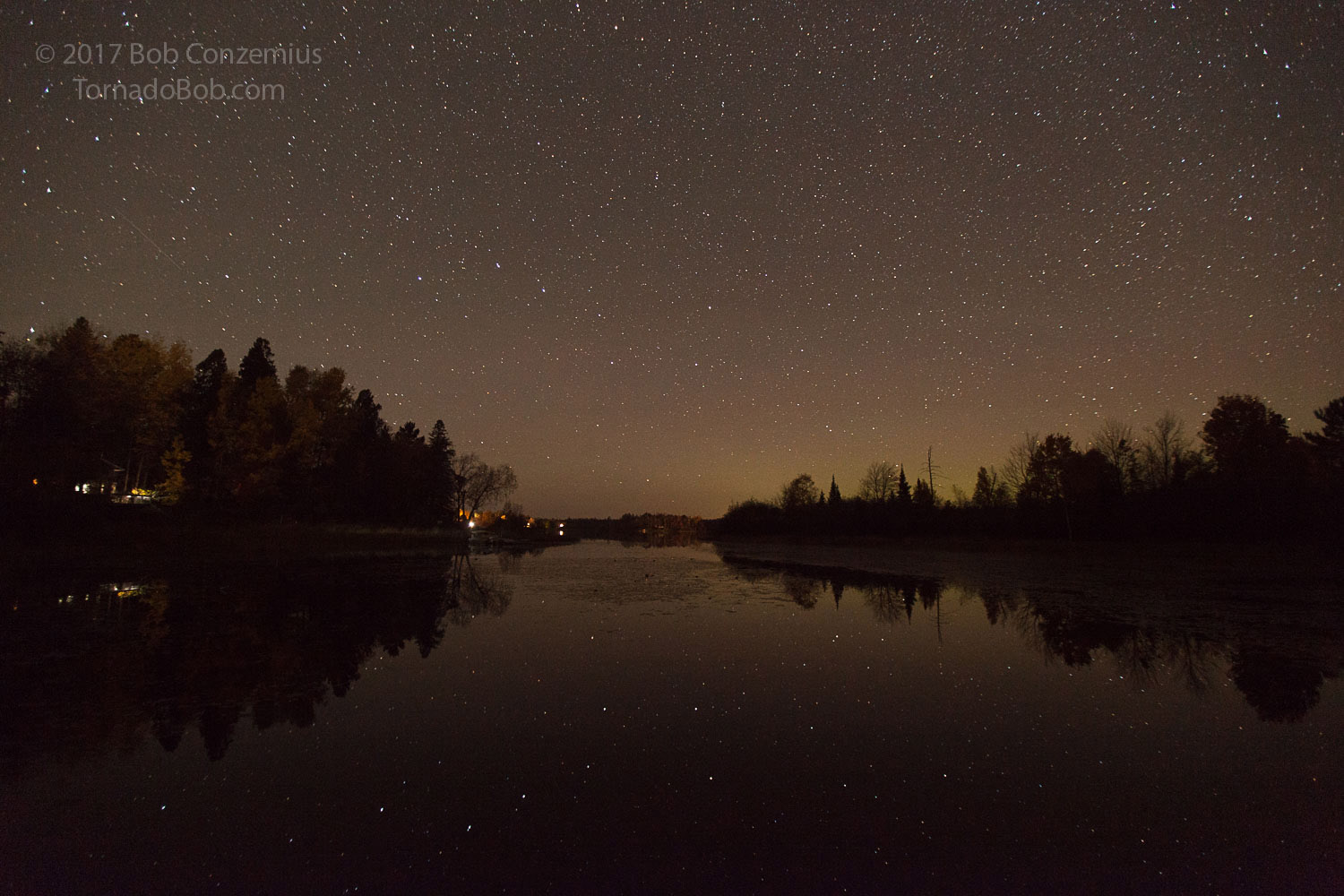 9:13 PM over Johnson Lake. There's only a very dim green glow on the horizon.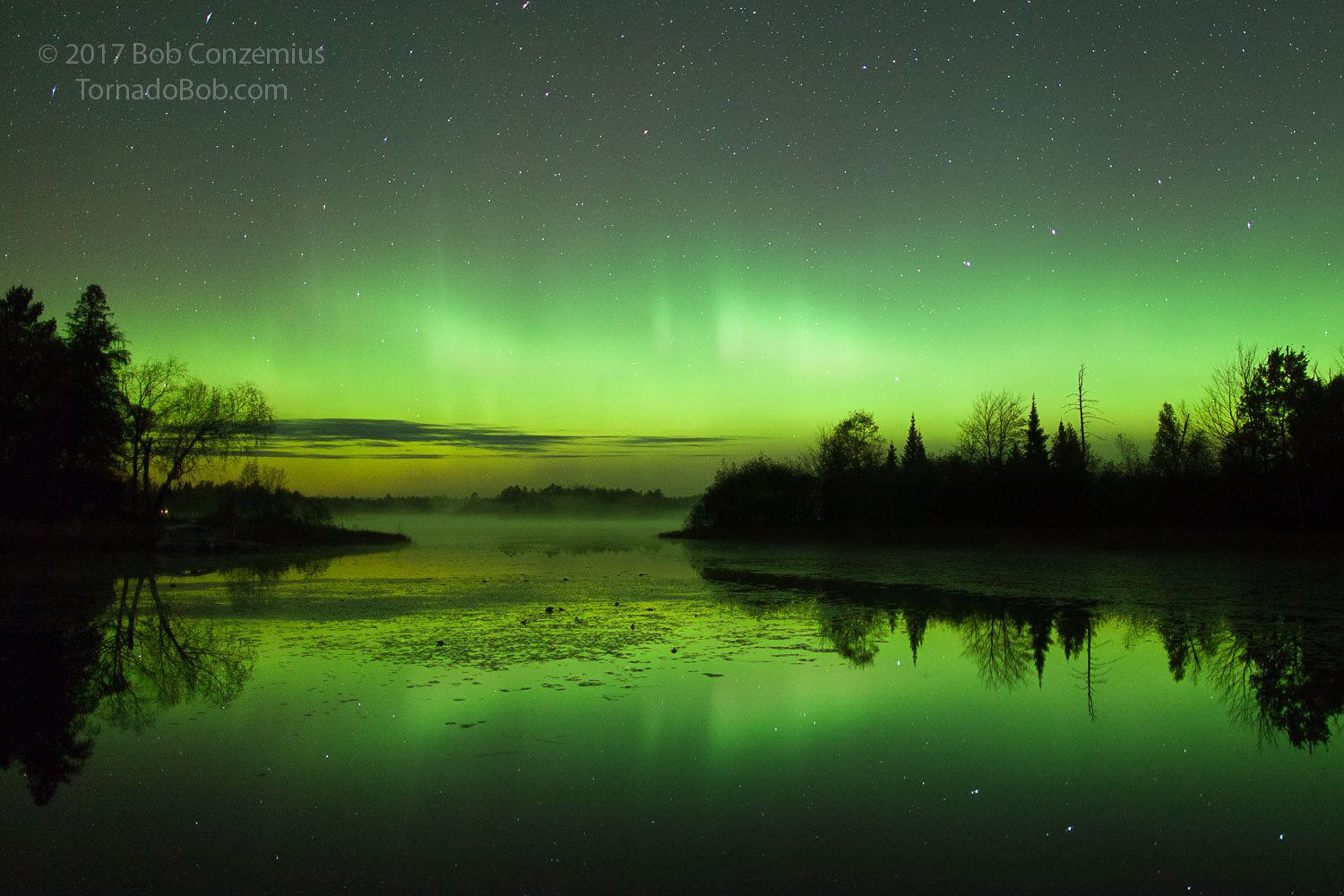 It took several hours for things to brighten up again. This shot was taken at 1:23 AM.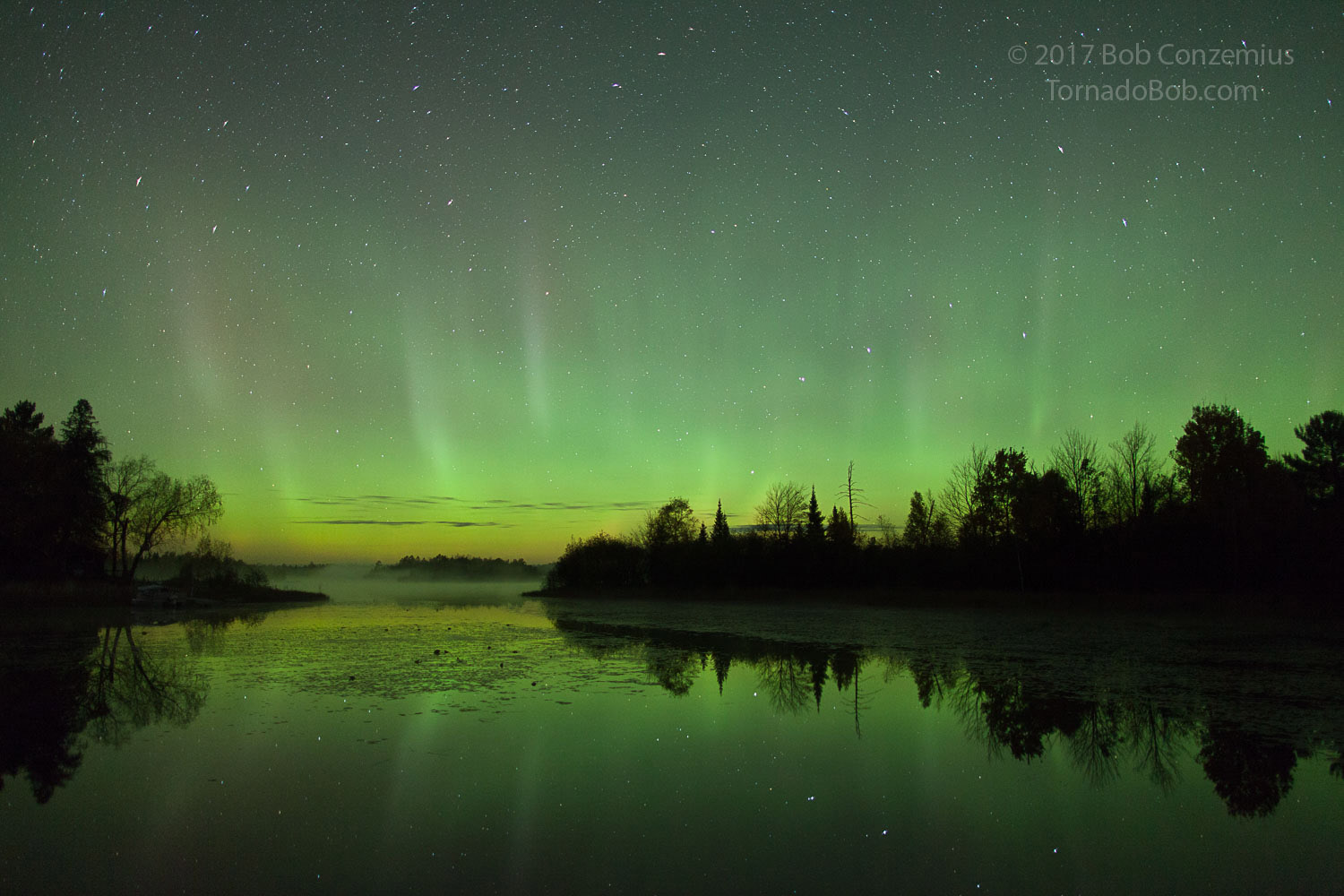 1:40 AM over Johnson Lake.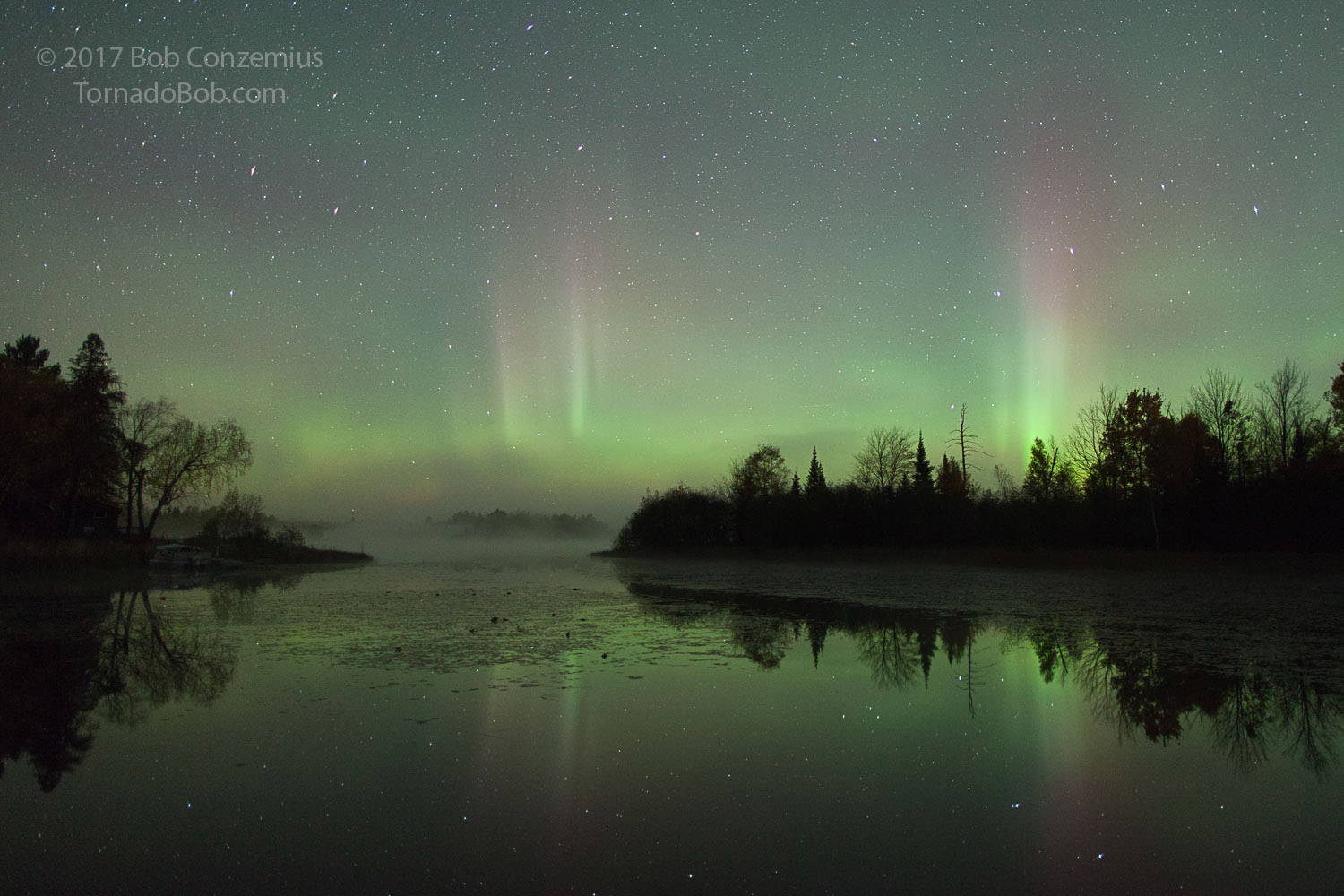 One of my last shots at 2:14 AM.