Valentine's Day Auroras 2013
Spring Lake, MN
For the second year in a row, I had a date with the auroras on Valentine's Day. I had to drive north to meet my date because the weather was cloudy in Grand Rapids, and I cannot admire her under cloudy skies. I drove through town with the intention of getting north, but as soon as I turned on Highway 38, it started to snow. I looked at radar, which showed a developing band of moderate snow. This was not good, but I remained optimistic that this was associated with a weak cold front moving through and would remain fairly narrow. That turned out to be the case as I reached the Laurentian Divide south of Marcell and found a clear spot in the clouds, but I could see more clouds to my north. I took a test shot to reveal the extent of the northern clouds.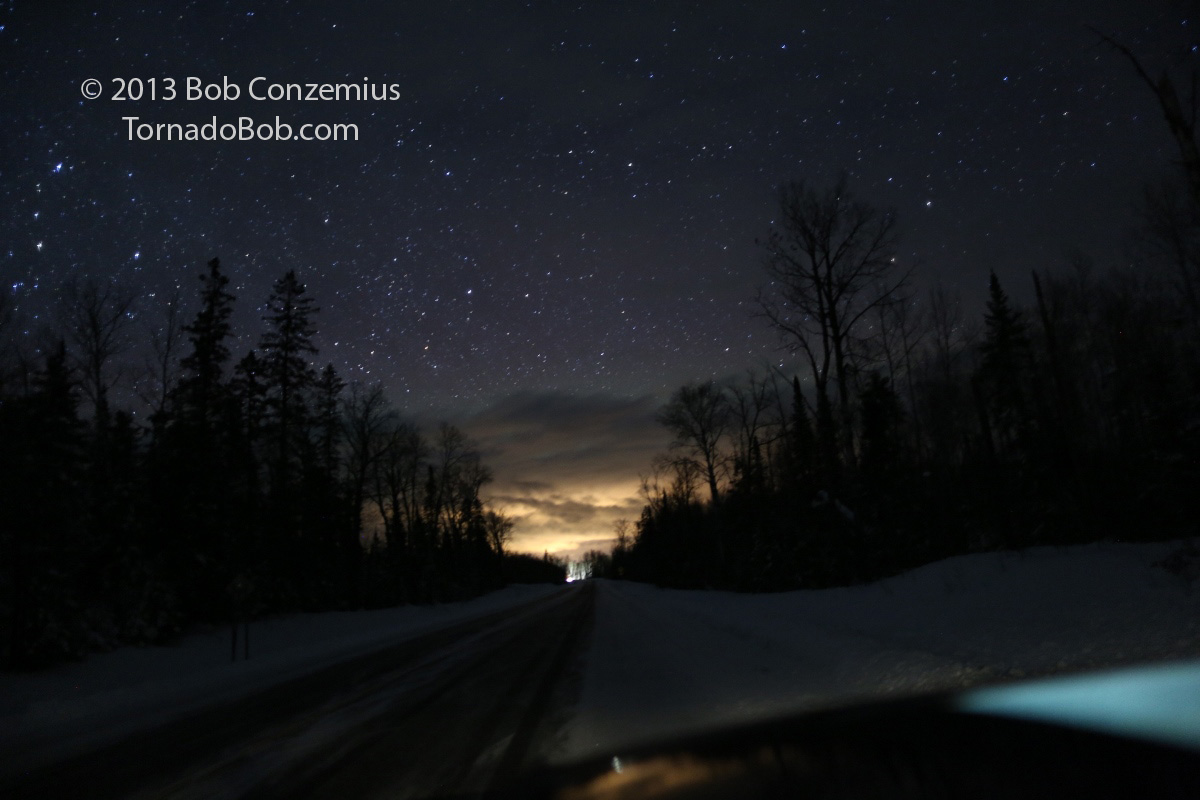 Stars and clouds underlit by the lights of Marcell (or were there auroras back there, too?).
I had a hard time telling whether I was seeing all clouds underlit by Marcell's street lights or some auroras in there, too. I decided to keep going because I was well past the snow now. I remembered there should be clear skies farther to the northwest, unless the clouds had filled back in. I turned west at Marcell and proceeded to Highway 6. I pulled over, got out of the car to look at the sky, and saw a few stars to the west, so I crossed 6 and continued west on County Road 4. A couple miles farther, I could see some green among the thinning clouds, so I stopped to take another picture.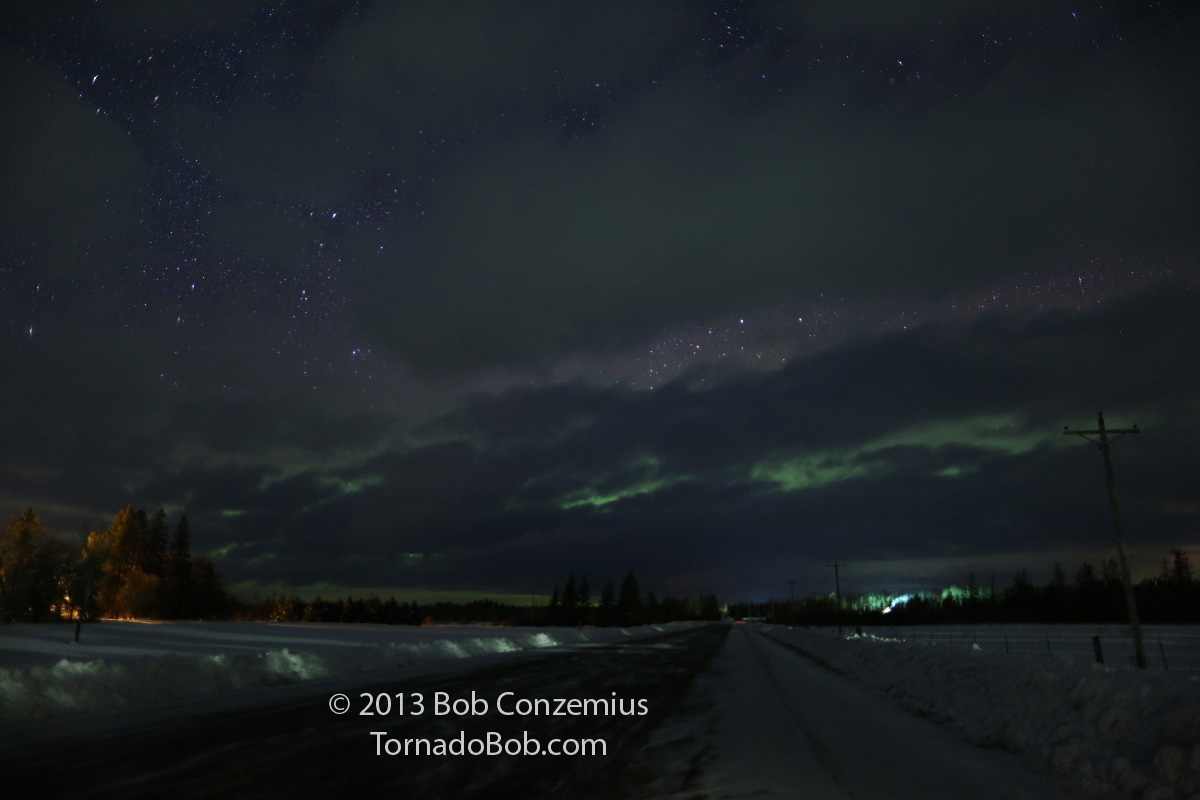 Clouds and auroras on County Road 4 west of Marcell.
I found success! However, this road would not make a very good shooting location because there were occasional cars going by. I decided to search for a more suitable spot with a pulloff. I found none, but I did encounter a clear spot about a mile west of Spring Lake. I stopped there and started to shoot time lapse to show the clouds moving off and the auroras being revealed, but a car was coming, and I need to move quickly because (1) my car was too far onto the dark road, and (2) I felt really self-concious, thinking anyone who sees a guy like me just standing on the road in the dark on a cold winter night with a camera in the middle of nowhere must think that guy is demented and a good reason to call the Sheriff.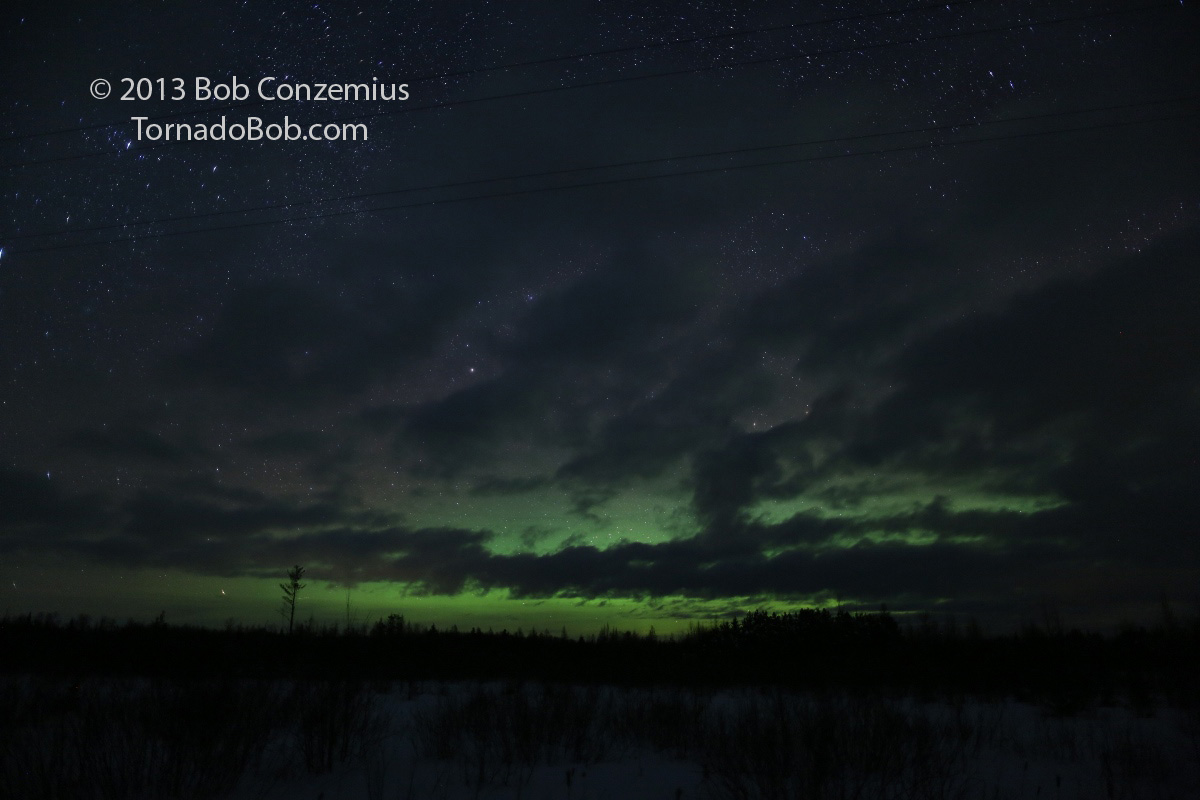 Clouds and auroras on County Road 4 just west of Spring Lake.
I went west for a new shooting location, but I only found dense forest on either side of me, so I decided to return to my original spot for another try. This time, there were no cars, and I could shoot for the better part of an hour. The auroras brightened considerably, and I got a nice show for the next 30 minutes or so.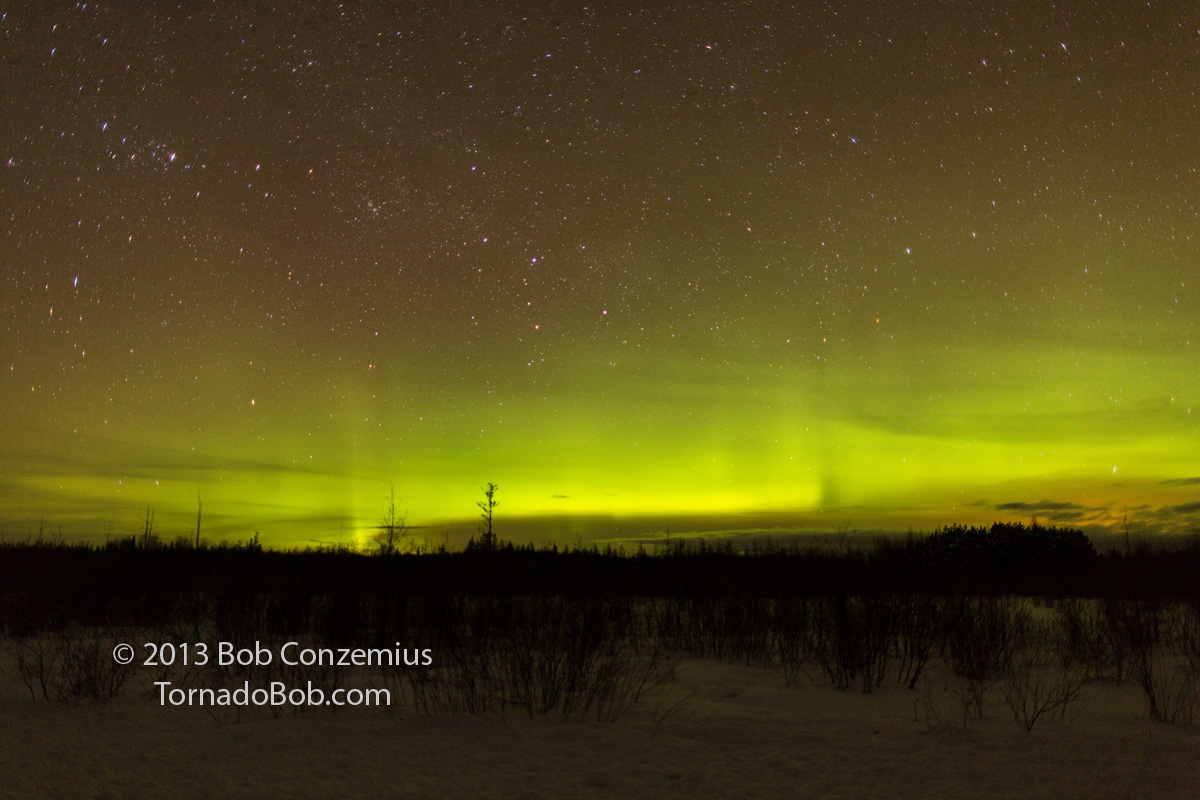 The auroras brighten considerably for my second attempt shooting from this location.
In the meantime, I looked on Google Maps for a better shooting location and found one on a lake a couple miles north of Spring Lake off of County Road 29. I'd have to take a small gravel road about a quarter mile to get to it, though. I found the road, and it was plowed well enough for my Jetta, but before I found a place to park, I saw a "No Trespassing" sign. Straight ahead was somebody's house. I would not be able to shoot here. I quietly backed out, although it occurred to me later I may have driven right past the viewing location I had intended to find because it was dark. I started the trip back home, but not before seeing some snow-covered pines and spruce. I always wanted to get that type of foreground in an aurora shot. The illumination without any moon was insufficient, but I fired off a couple shots anyway. At least the stars looked good. Overall, it was the best aurora show so far this year!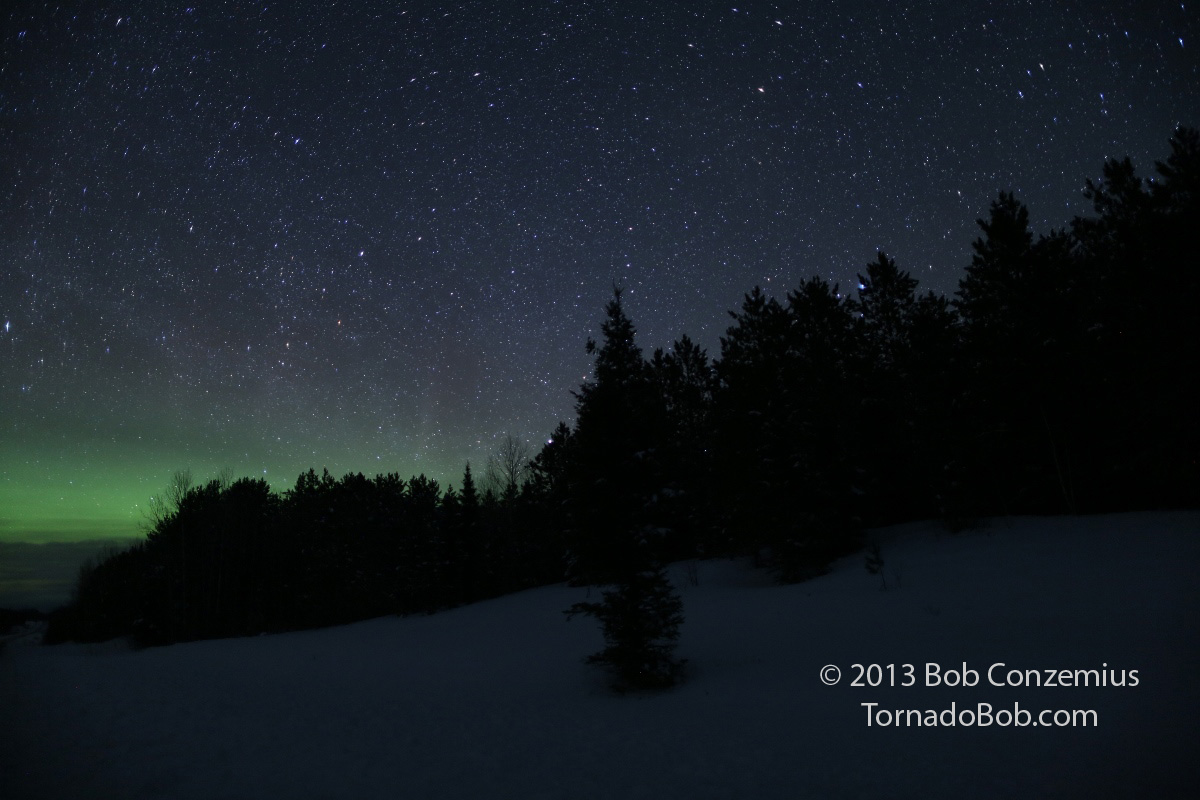 Trying to get the snow-covered pines and spruce with the auroras.
---