May 3/4, 2014 Auroras
Grand Rapids, MN
The interplanetary magnetic field went south to about -8 nT, sparking some colorful auroras. I was at a party in Deer Lake north of Grand Rapids and occasionally went to the end of the driveway to see if there was any green on the northern horizon. By 10:00 PM or so, I could see the green, and decided I would go a couple miles down the road and shoot some time lapse segments. As soon as I got my camera on the tripod on Pughole Lake, a substorm erupted.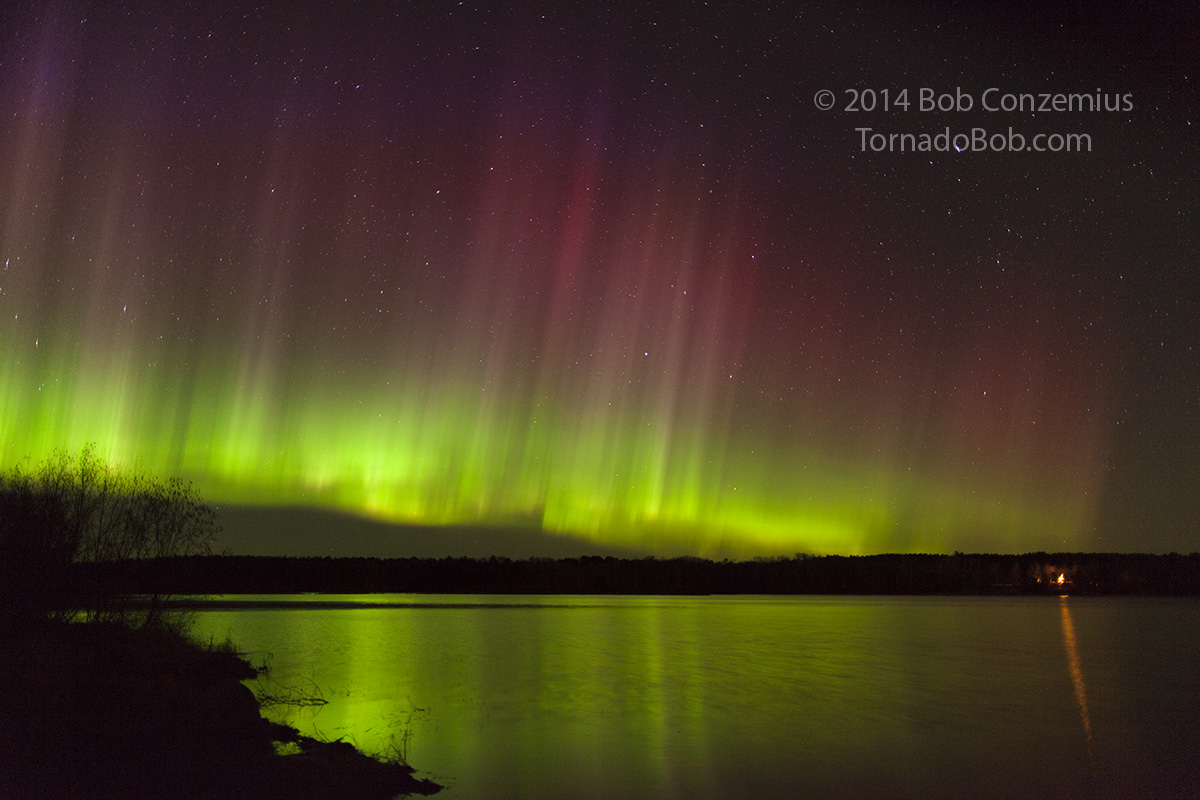 A substorm with the best multi-colored display I think I've seen.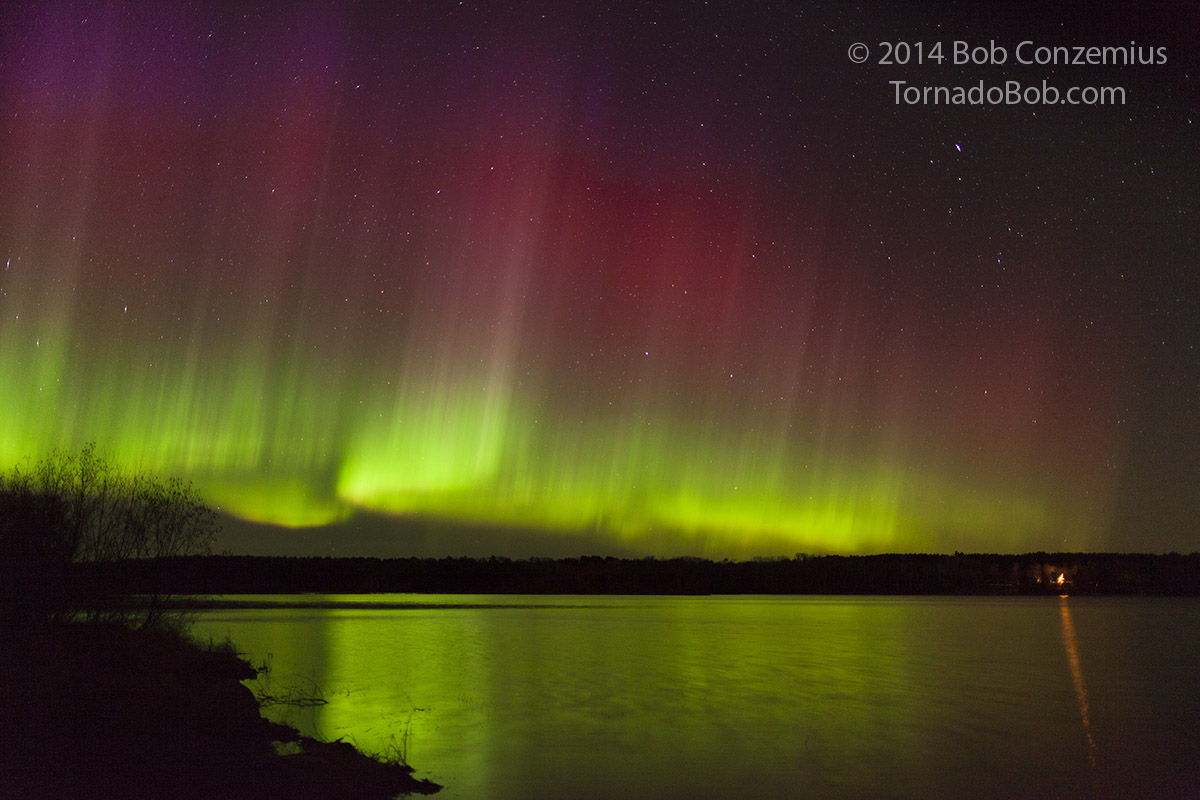 Seconds later.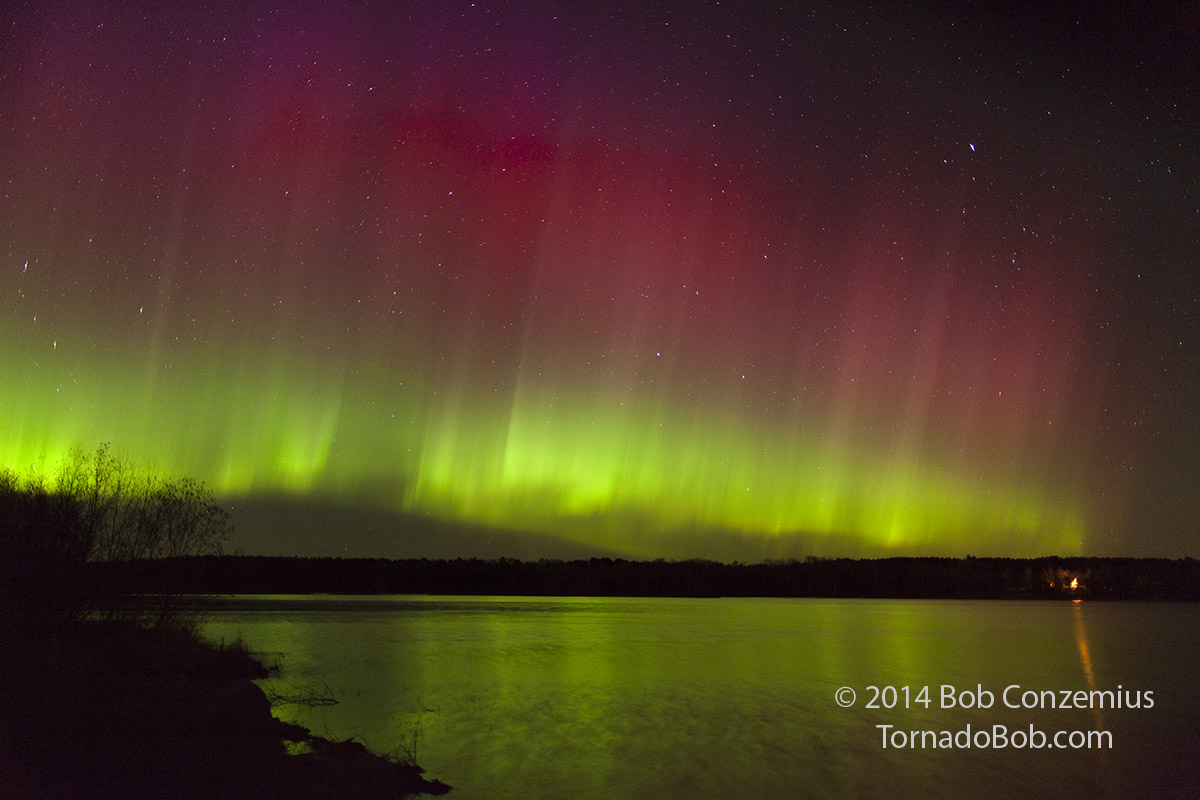 I don't know which of these has the optimal configuration of structure and colors.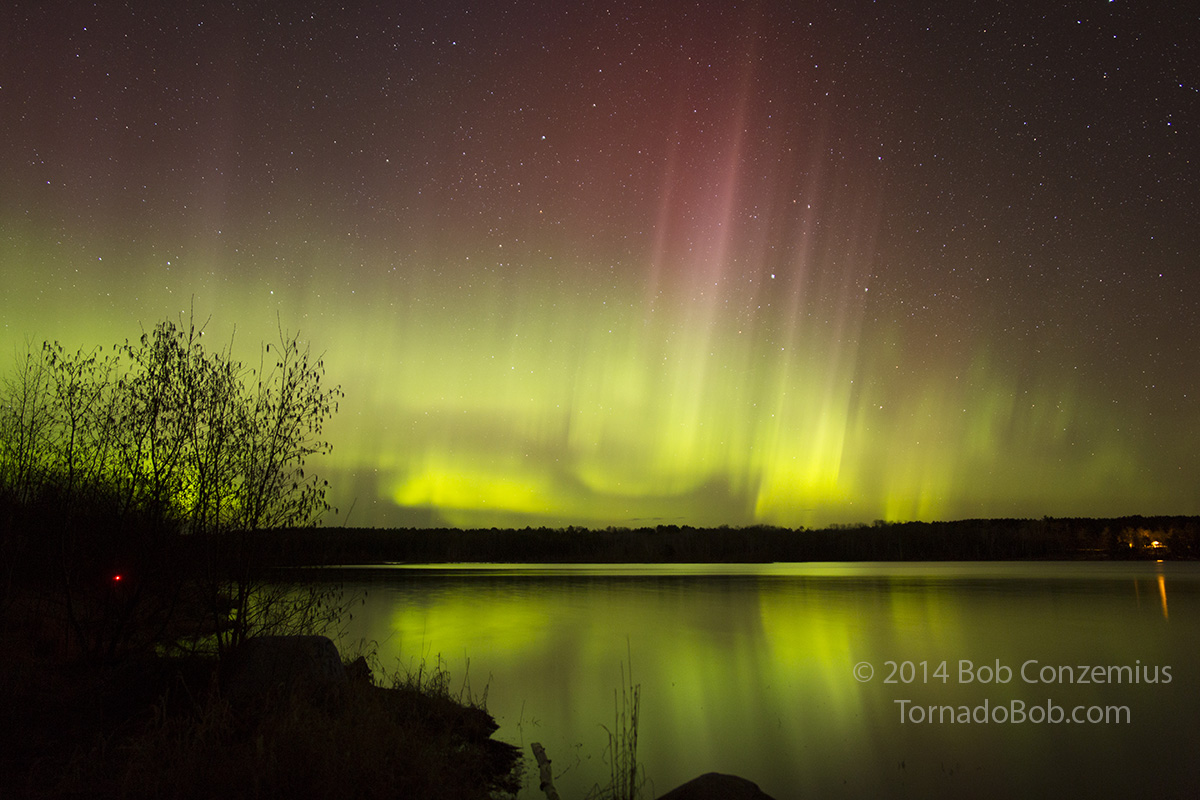 I set up the other camera, which, I think, had a slightly better foreground.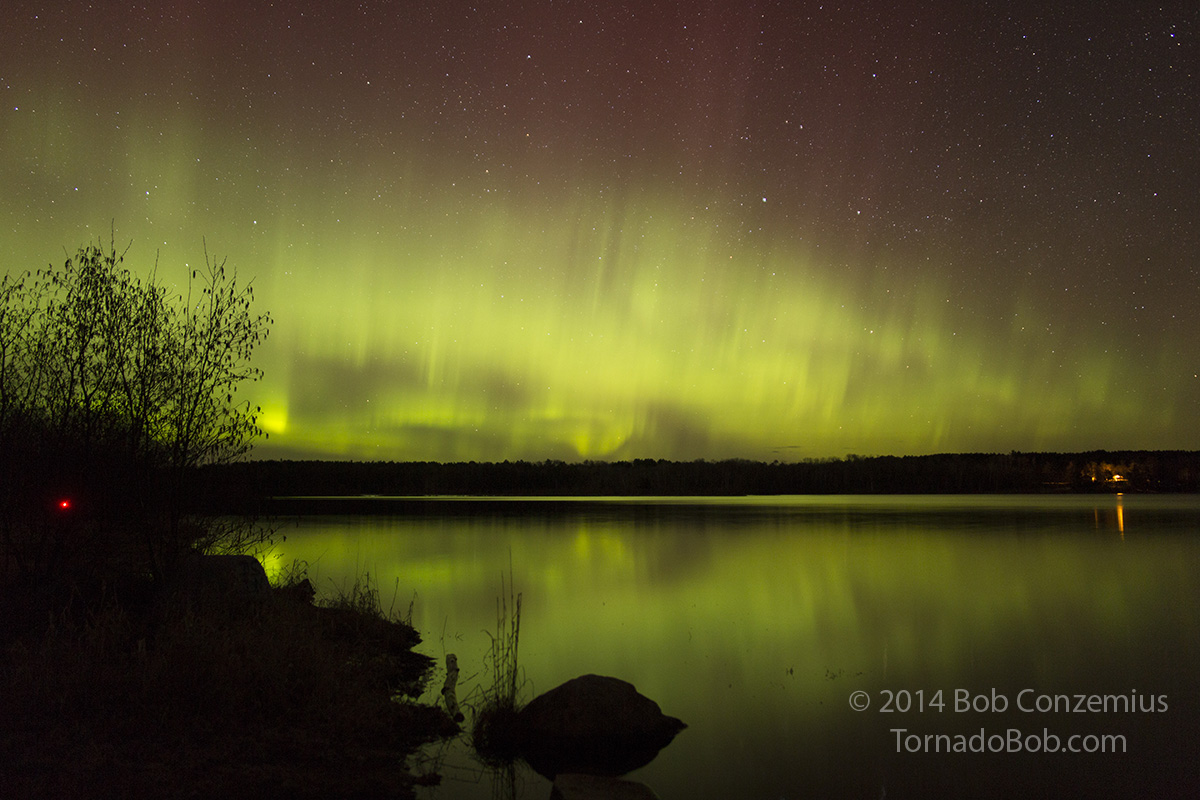 Tilt down a bit. Get the whole rock in there at the bottom. Oh, wait. The multicolored part is gone, now.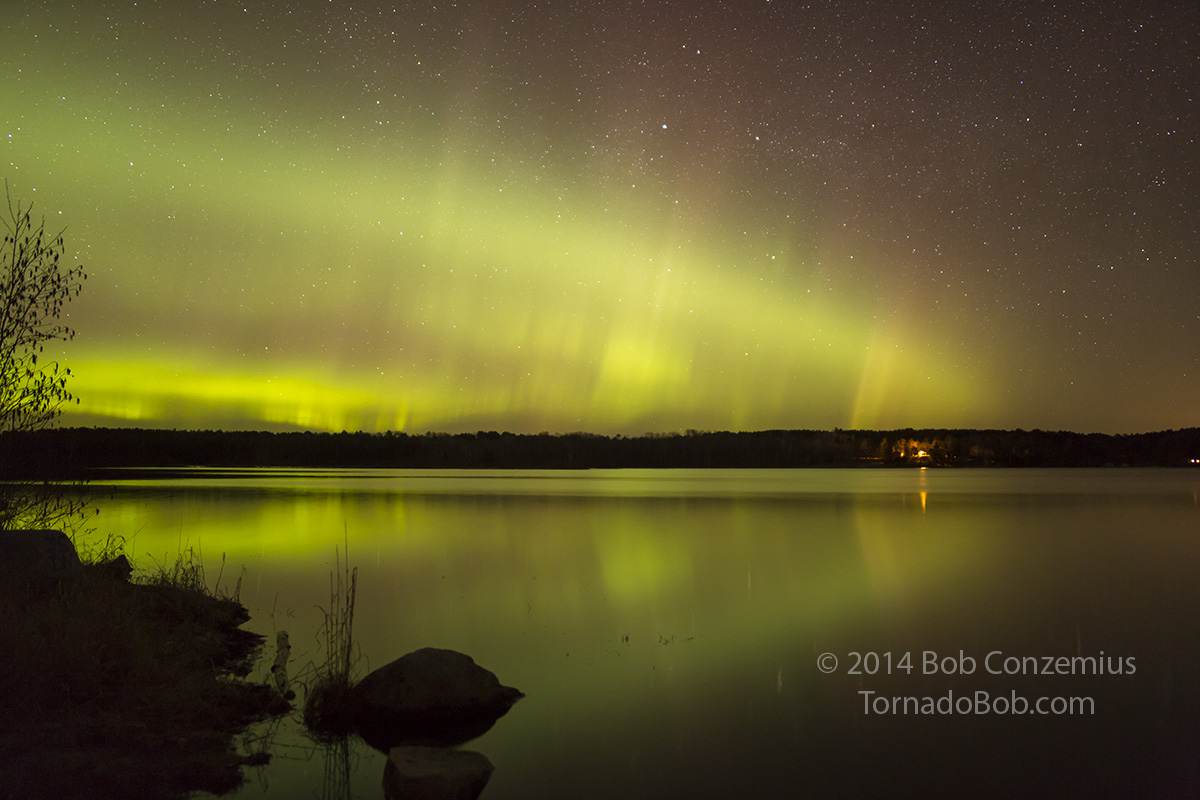 Oh, well. Recenter to get the eastern edge of the oval disappearing into the horizon.
The substorm started to subside a bit, and with the temperature becoming a bit chilly, I realized I did not have my jacket with me. I had left it at the party. Back I went. When I got there, everyone had left, and everything had been closed up. Oh, well. Back to shooting. I decided to try someplace different. The boat landing at Johnson lake was nice back on December 8, so I thought I'd try it again.
I arrived and found somewhat breezy conditions and some chunks of ice in the water with more solid ice farther out in the lake. The trees were making a rather eery sound with the wind whishing through the pines and blowing hard enough to make some of the trees sway back and forth. It wasn't quiet enough for me to focus on any distant animal sounds like loons, frogs, owls, or wolves. I just heard the wind. I set up cameras, feeling a bit wary of the unsettled conditions around me.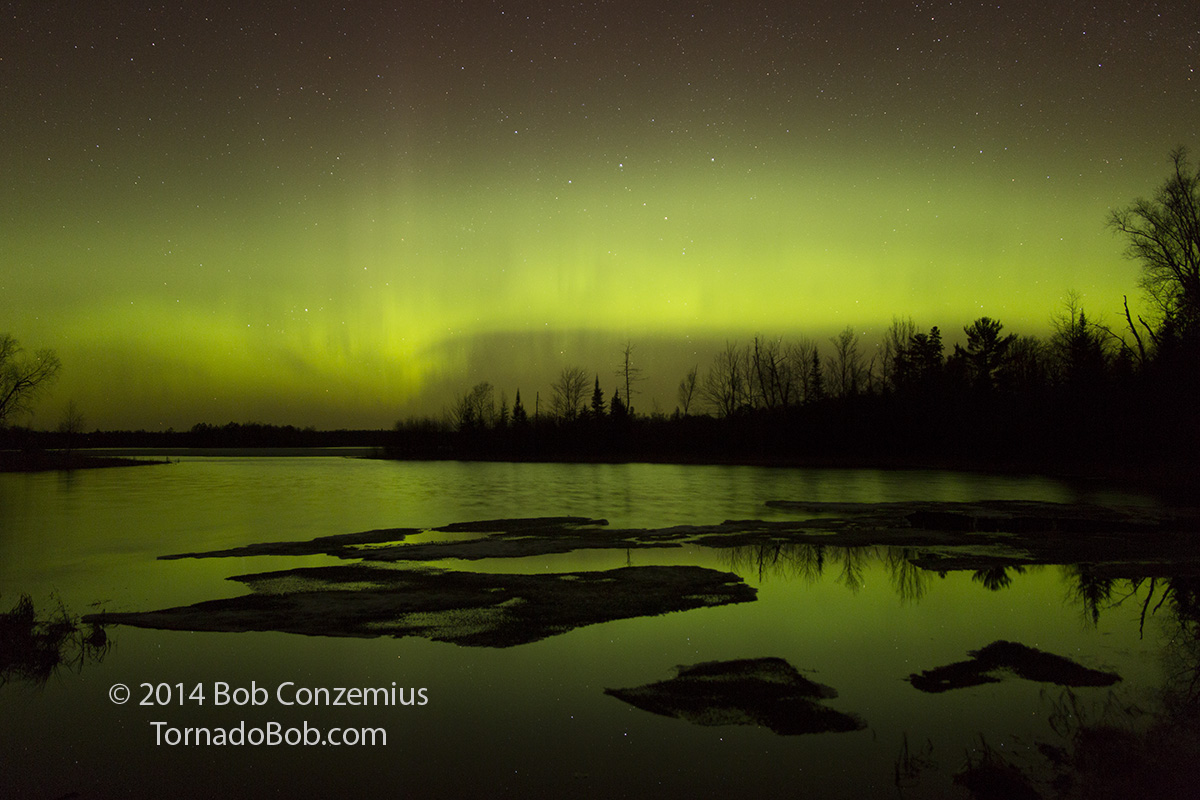 Green auroras with melting ice in the water. 24mm focal length.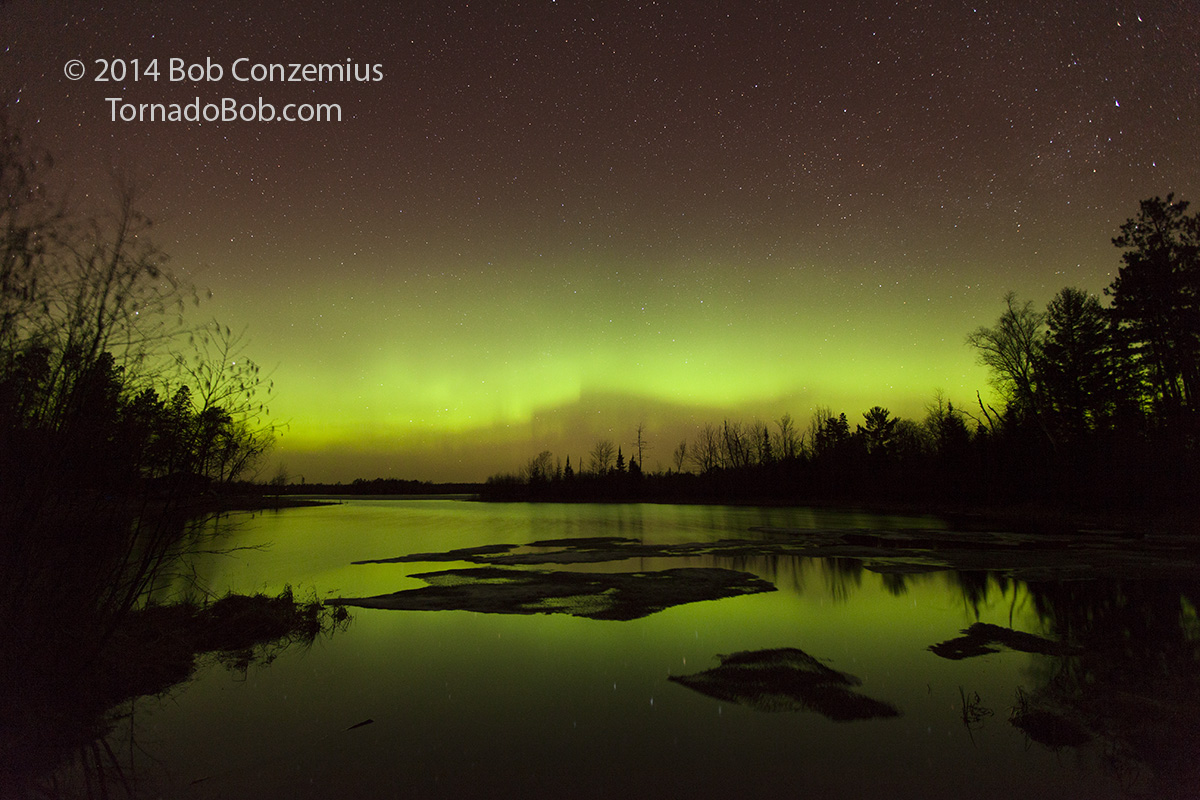 Green auroras with melting ice in the water. 16mm focal length.
For some reason, I just was not liking this spot. I envisioned a bear sneaking up on me from the east, unable to hear or smell me in the north wind, and I unable to hear it or see it. We would startle each other at the last moment, and both of us would run. Actually, my co-workers, who lived just a few houses down from where I was, had been having occasional visits from a black bear, so my imagination was not inconsistent with reality.
I returned to Pughole Lake.
A plainer, green band reflected on the water.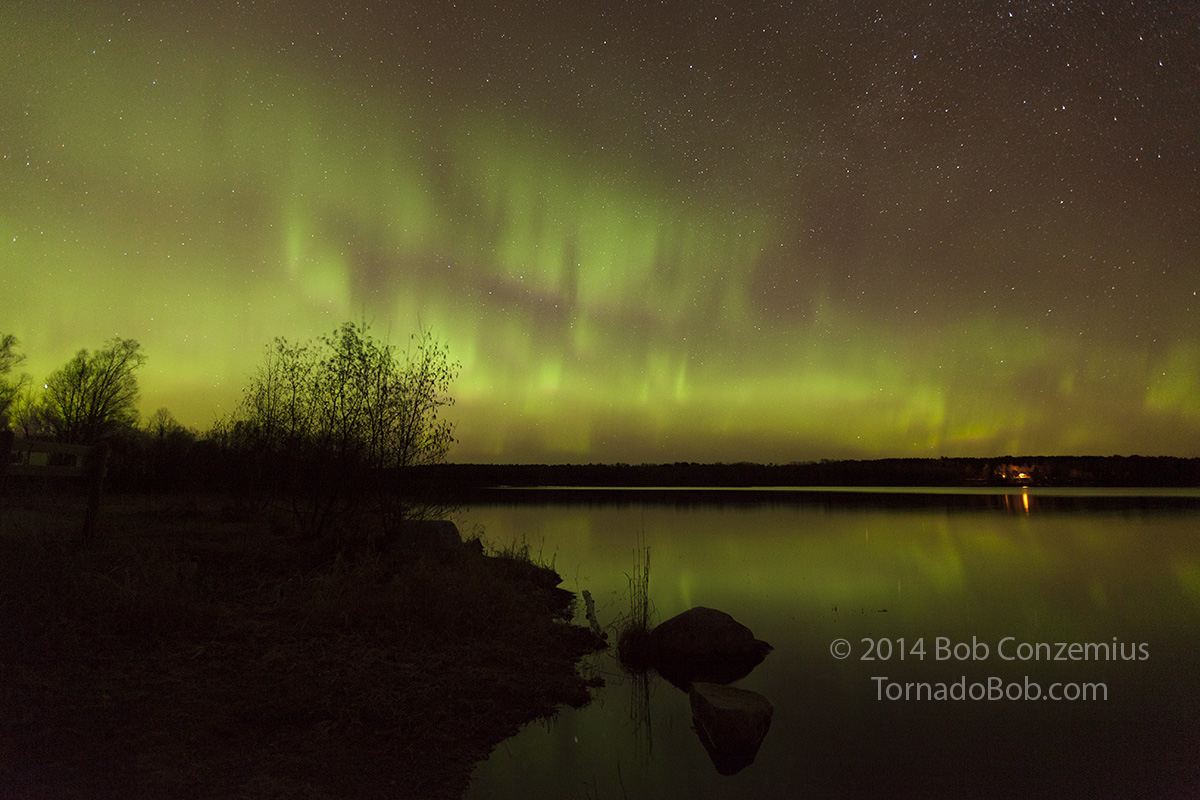 Auroras filled the northern half of the sky.
It was not even 1:00 AM yet, but I decided to head home anyway. I had to drive down to the Twin Cities in the morning, and Bz was drifting more northward, so I concluded that the best part of the show was now behind me. I returned home to upload my pictures. It was a nice, convenient photo shoot considering I barely had to drive a couple miles to get to my shooting location.