August 28, 2014 Auroras
Itasca County, MN
After last night's unsettled geomagnetic conditions, the solar wind was still carrying a pretty strong magnetic field with a primarily southward orientation. It was looking like the northern lights would start off right after sunset. I had planned to do a time lapse of the daylight to starry night transition, so I set up early at a site I had pre-selected. Since I wanted to get the Milky Way in the time lapse shot, I was pointing in the opposite direction. I had a second camera along, so I could take a few shots to the north, too.
The time lapse went off without too many problems (other than a dead battery, which ended it a little earlier than I would have liked), and the Milky Way appeared out of twilight, reflecting on the water. Because the water temperatures are relatively warm at this time of year, a bit of fog started to appear on the water.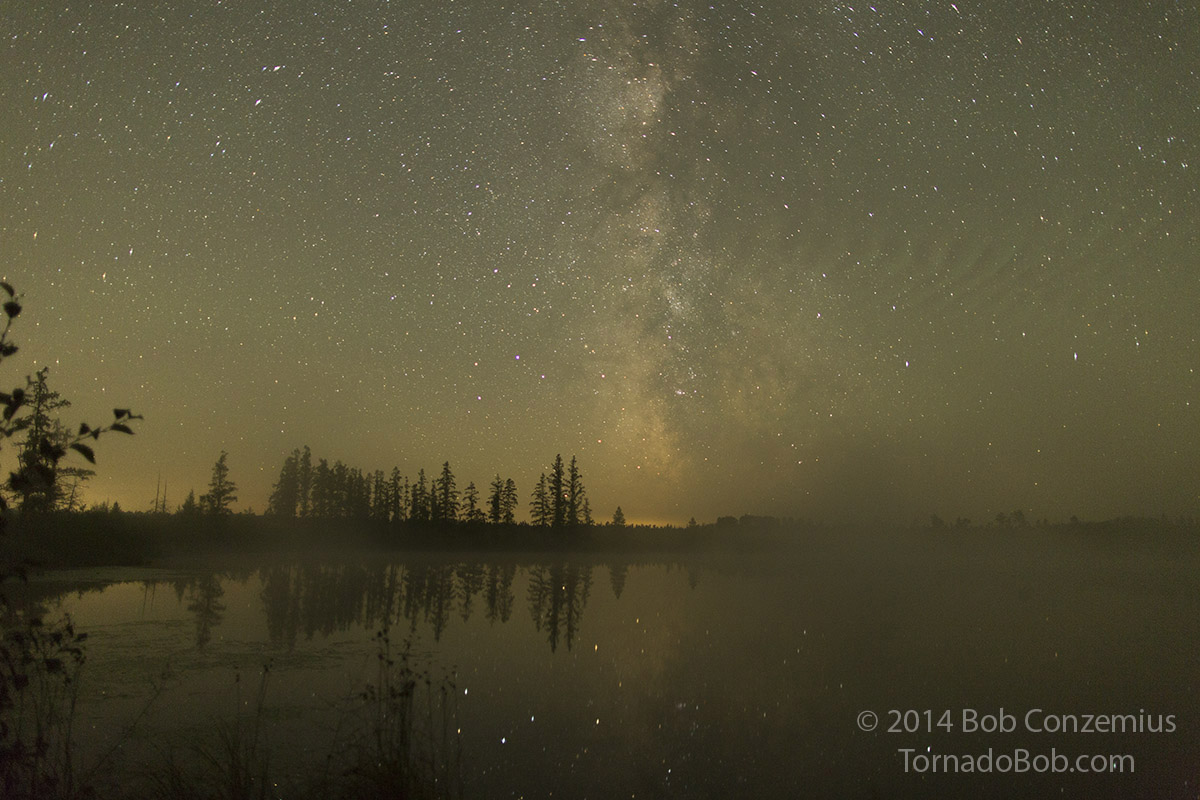 Johnson Lake in northeastern Itasca County, west of Side Lake, MN.
Indeed, the auroras were slowly appearing out of the twilight to the north, but it wasn't as dramatic as I thought it might be with Bz hovering near -10 nT and having been in a persistent state of southward orientation. The band was mostly on the northern horizon. I turned a camera north. The lake I was on was not well-suited for pointing north and consequently, only revealed the leftmost third of the auroral oval.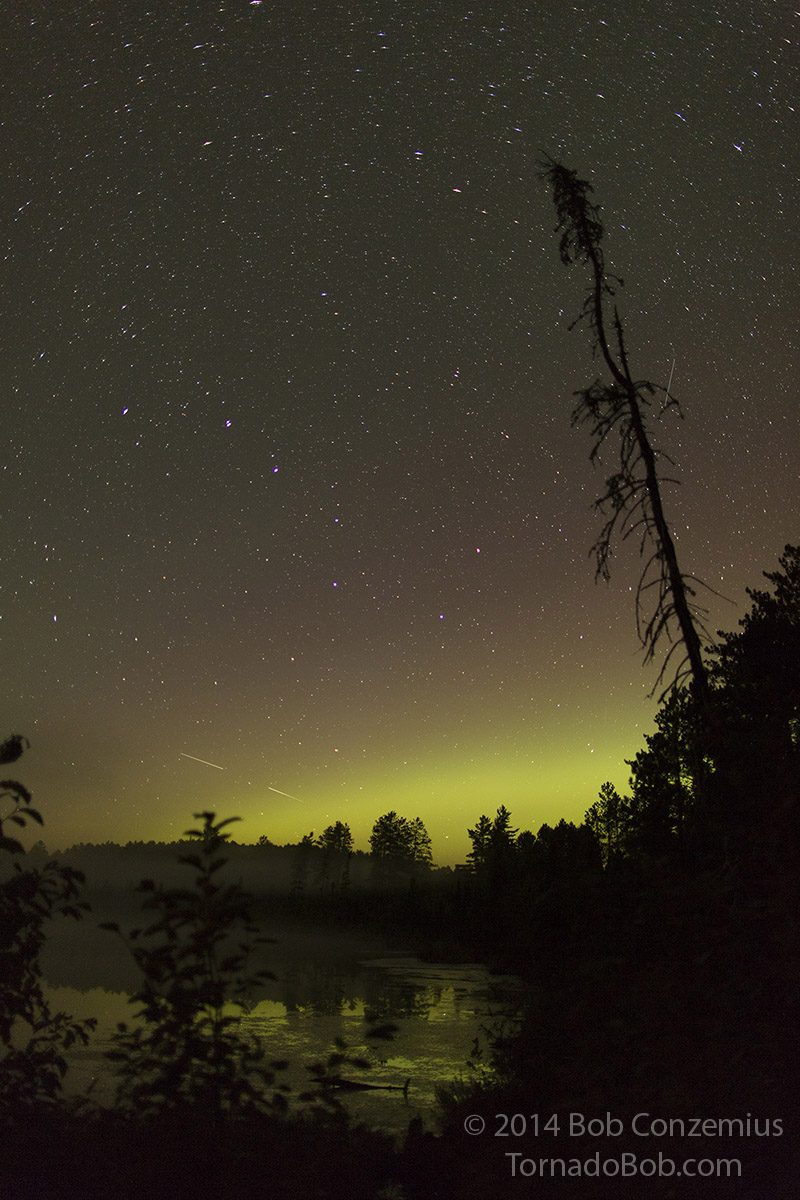 To the north, the auroras appeared out of the twilight. 10:49 PM.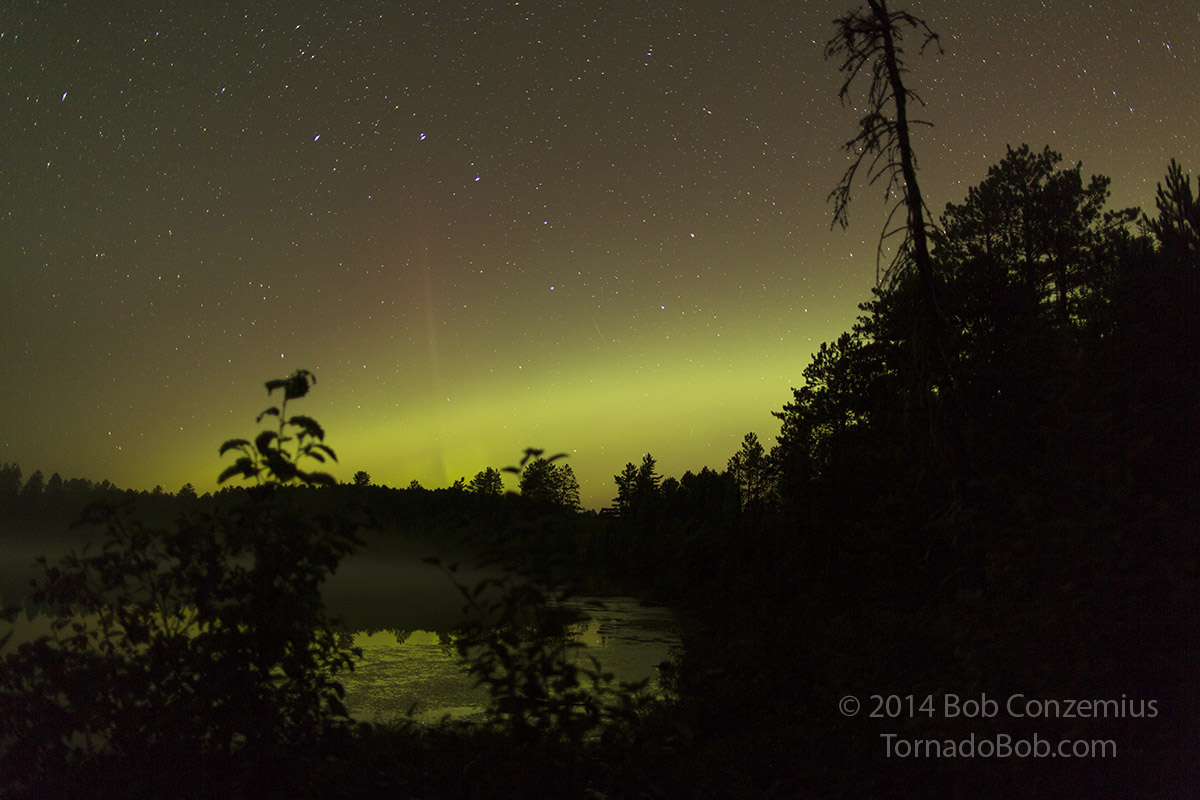 A steady, green band persisted. 11:30 PM. 24 mm.
With the Milky Way time lapse completed, I decided to train both cameras to the north and experiment with shots with the lakeshore and auroras in the scene. After a few minutes of this, the fog thickened up enough that it was now obscuring the auroras. Although it could have easily drifted back out of the way, I decided it was best to be in a non-foggy location, so I picked up and moved.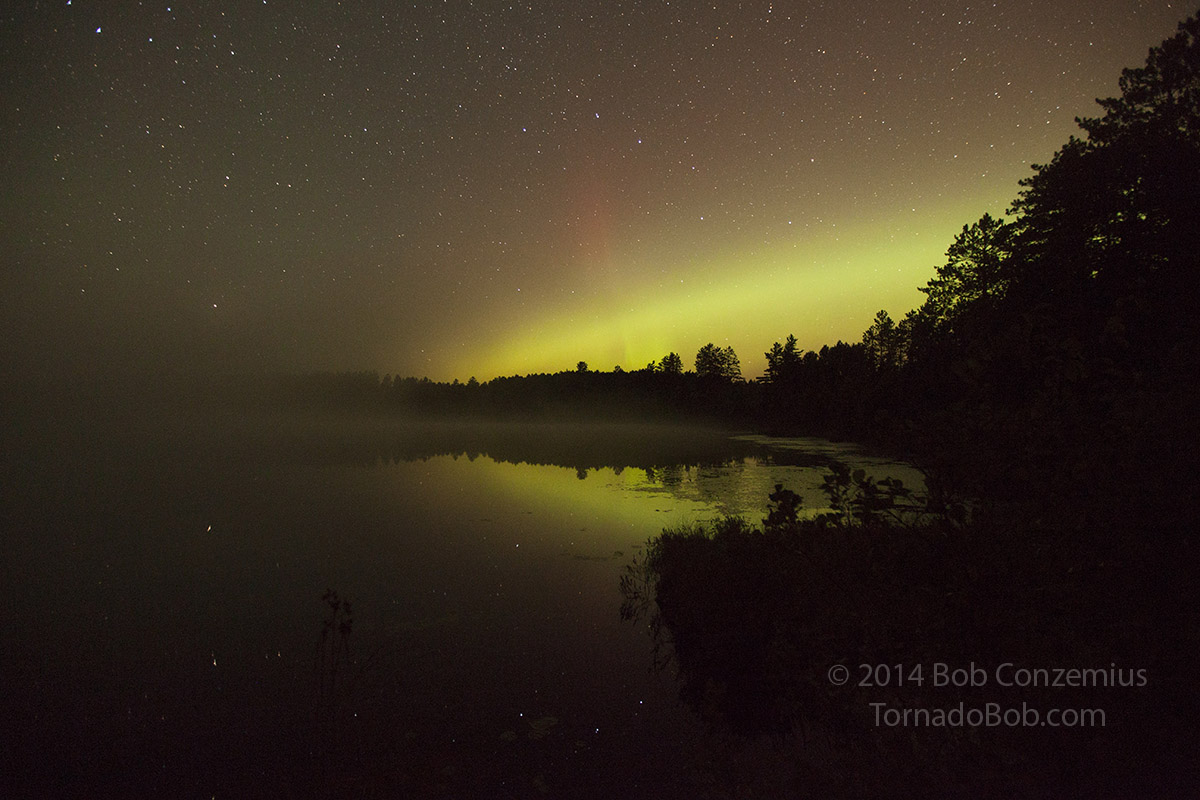 Now done with the time lapse, I pointed my wider angle camera north. 11:34 PM. 16 mm.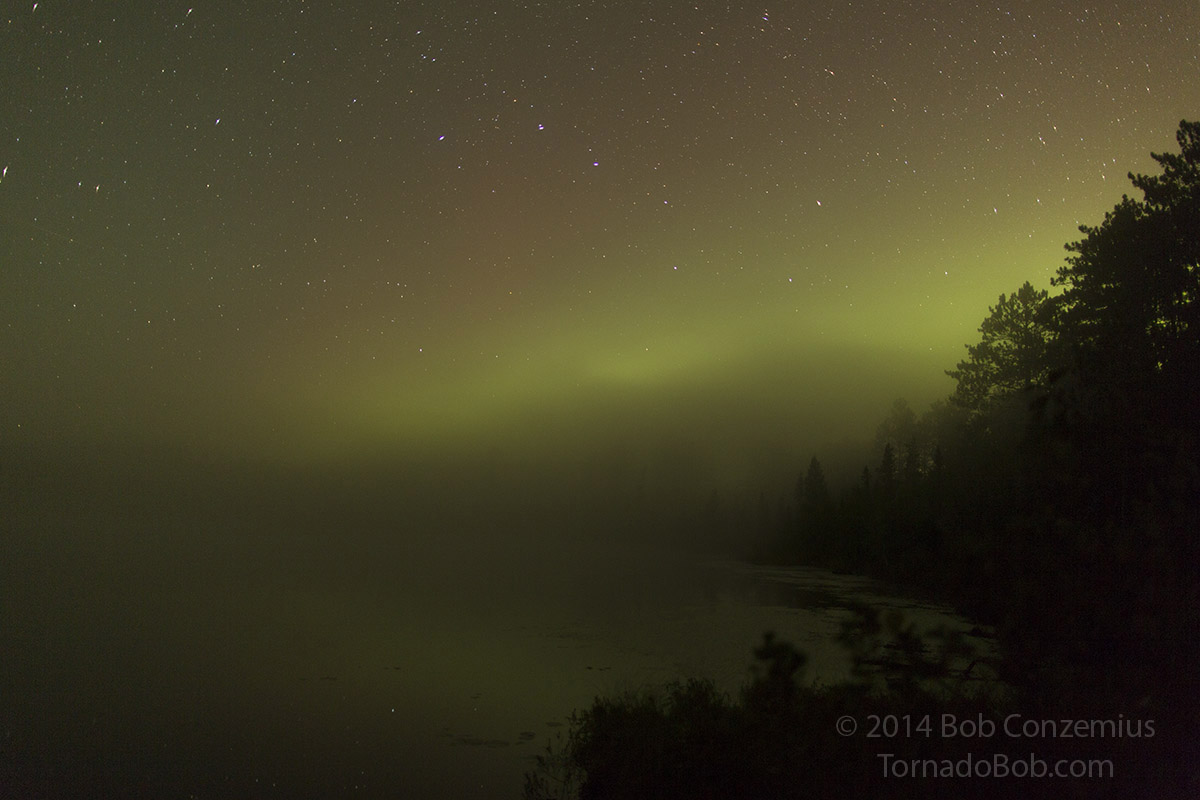 I was thinking of staying for the lights, but the fog thickened. Time to move. 11:34 PM. 24 mm.
I drove less than a mile to an opening in the woods looking over a boggy area on the north side of the road. My perspective on the oval had been affected by the partially blocked viewing location I had earlier. The oval was more off the horizon than I had thought, probably more in line with a -10 nT Bz (it had been between -5 nT and -10 nT during the day and had even gone north for a while, so the oval location really wasn't too surprising). I decided I would take a few picture here before moving on. I was tired from last night's aurora hunting, and it would be nice to get to bed a bit earlier than 5:00 AM.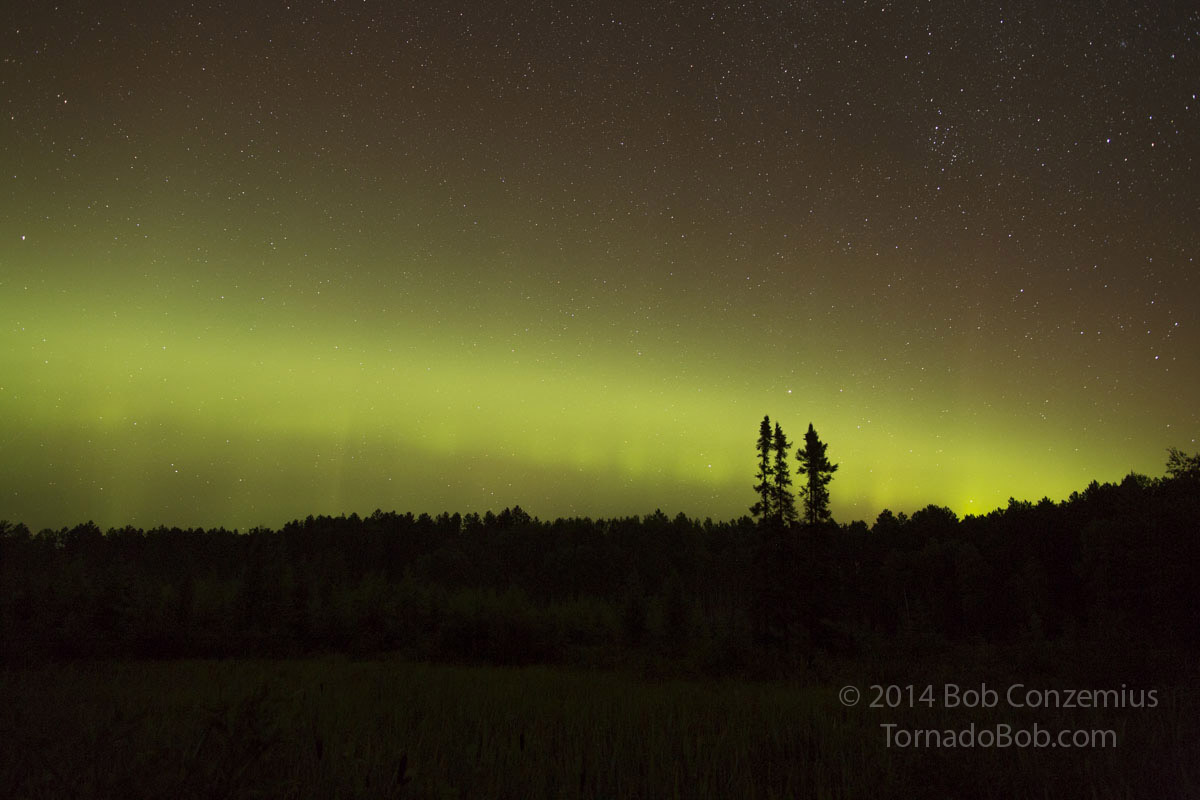 The oval is starting to show a bit more undulating structure. A substorm might be about to erupt.. 11:52 PM. 24 mm.
A hint of undulating structure was now appearing, and when this occurs around or before midnight after a long period of steady oval, it can only mean one thing. An auroral substorm is about to commence.
Surely enough, it began in earnest within a minute, and the western part of the oval was the first to reveal it. They never give you much warning, and you always have to be ready to change your camera settings quickly. Tonight, I was not functioning to full capacity mentally, as I was tired from only three hours sleep the night before. I had been shooting at f2.8, 20 seconds, ISO 1600 with my Canon 24 mm. When I noticed the left side of the oval erupting, I quickly went to ISO 3200. Rather than my next movement being to rotate the dial to f1.4, and then the other dial to a faster shutter speed as should have been the case, my desire to quickly fire off a shot overwhelmed my thought process, and my other thumb hit the shutter release button.
Anybody who has shot auroras when things are like this might realize that the next 20 seconds felt like an eternity to me, and a torrent of four-letter words ensued. I knew I was tired, and I was cursing myself for wasting the next 20 seconds, during which time the rest of the oval unzippered from left to right, bringing about the full glory of the substorm. The curtains danced about quickly in a dazzling fashion while I fumbled around, getting my settings right this time, and I pressed down the shutter lock on my cable release.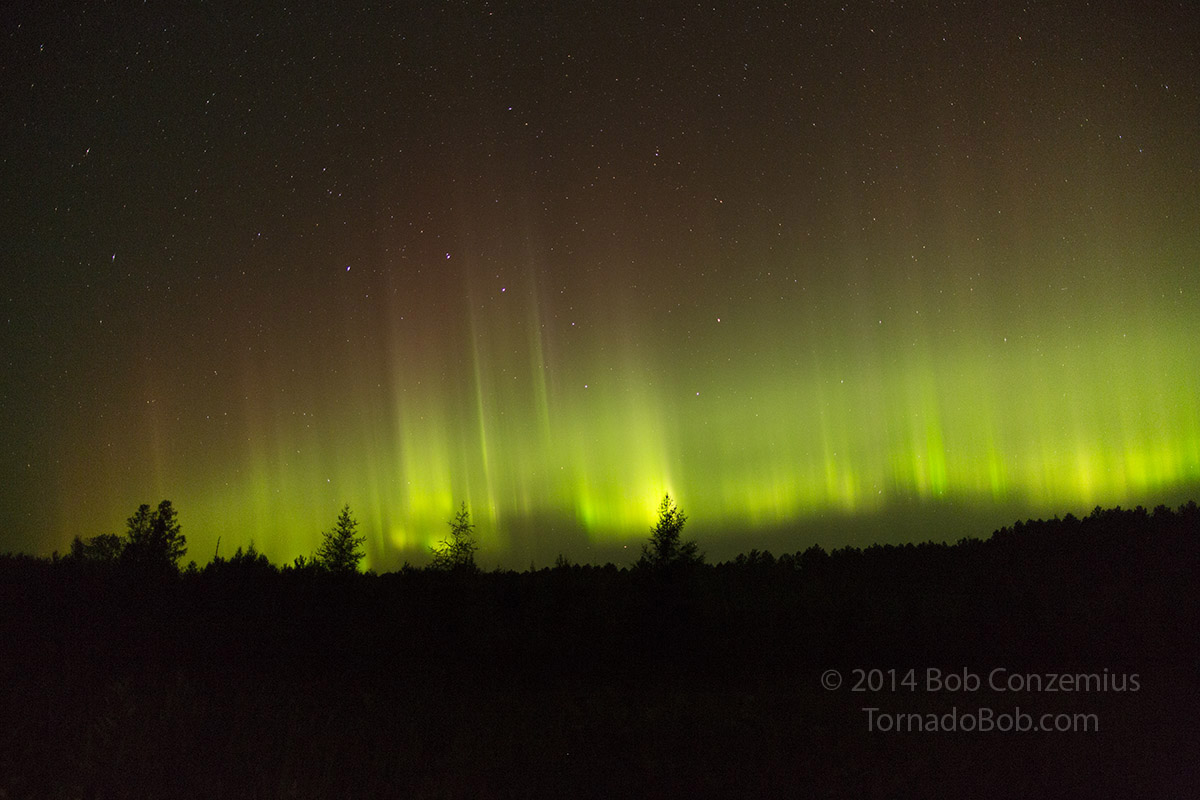 Finally, I get my settings the way I want. 11:54 PM. 24 mm, ISO 3200, f1.4, 1.6s.
The substorm wasn't originating from very far above the horizon, so I could fit it in with my 24mm lens. I also decided to try the Samyang f1.4, which has a lot less coma around the edges, to frame some still pictures while the other camera fired away on a time lapse. It would have been a little better to be at a lake to get the reflection on the water, but my lake location had gotten foggy, so here I was.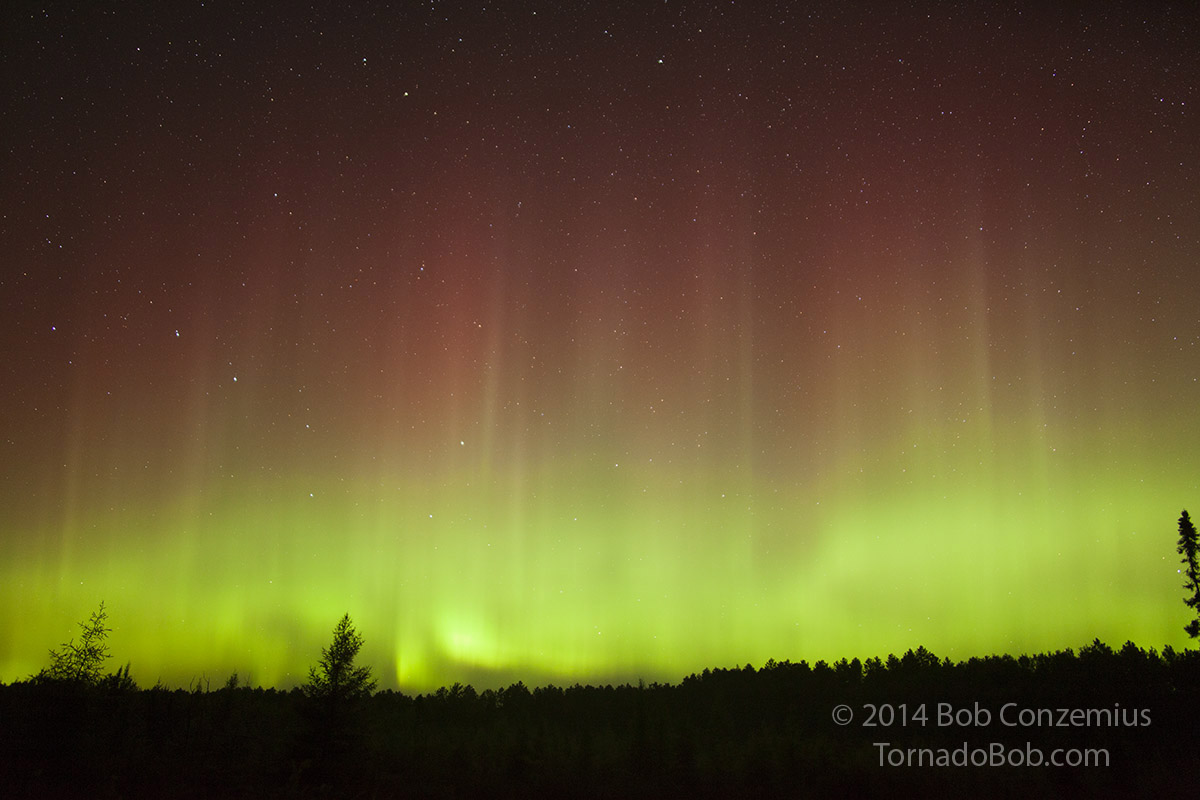 Image shot with the Samyang 24mm f1.4. 11:59 PM. 24 mm, ISO 1600, f1.4, 8s.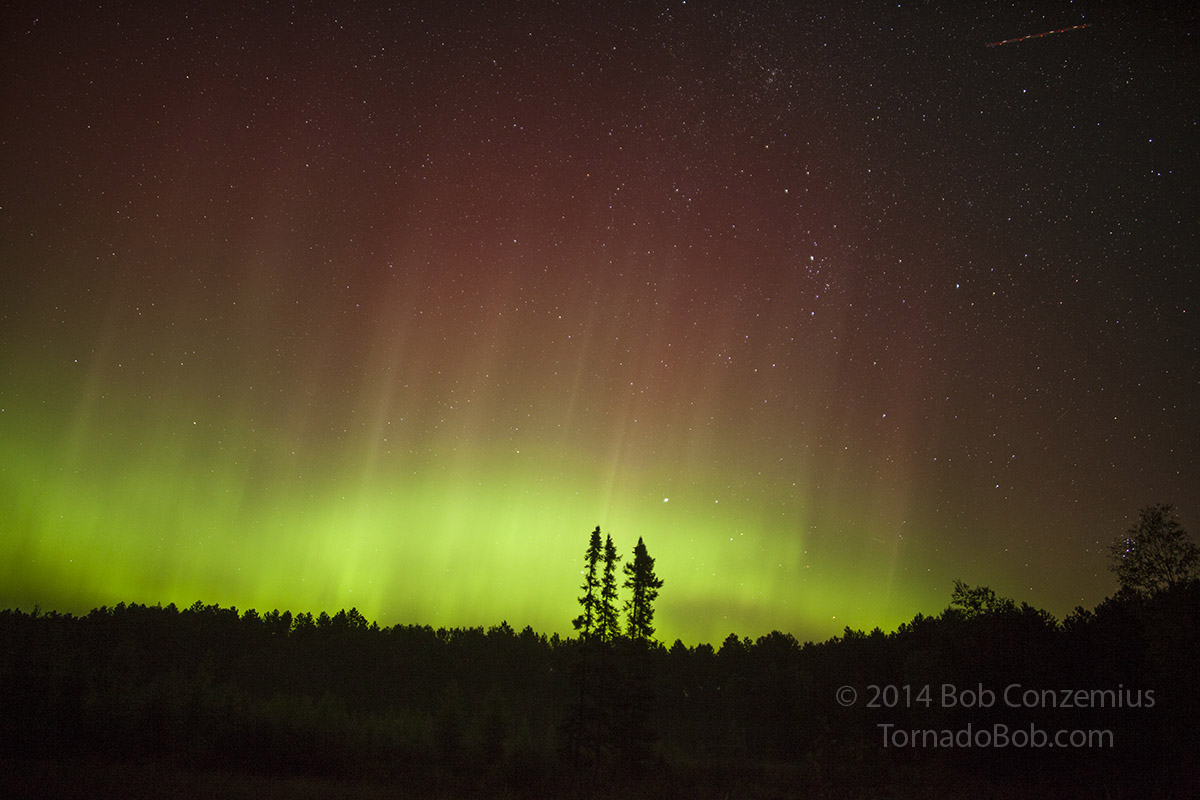 Image shot with the Samyang 24mm f1.4. 12:00 AM. 24 mm, ISO 1600, f1.4, 6s.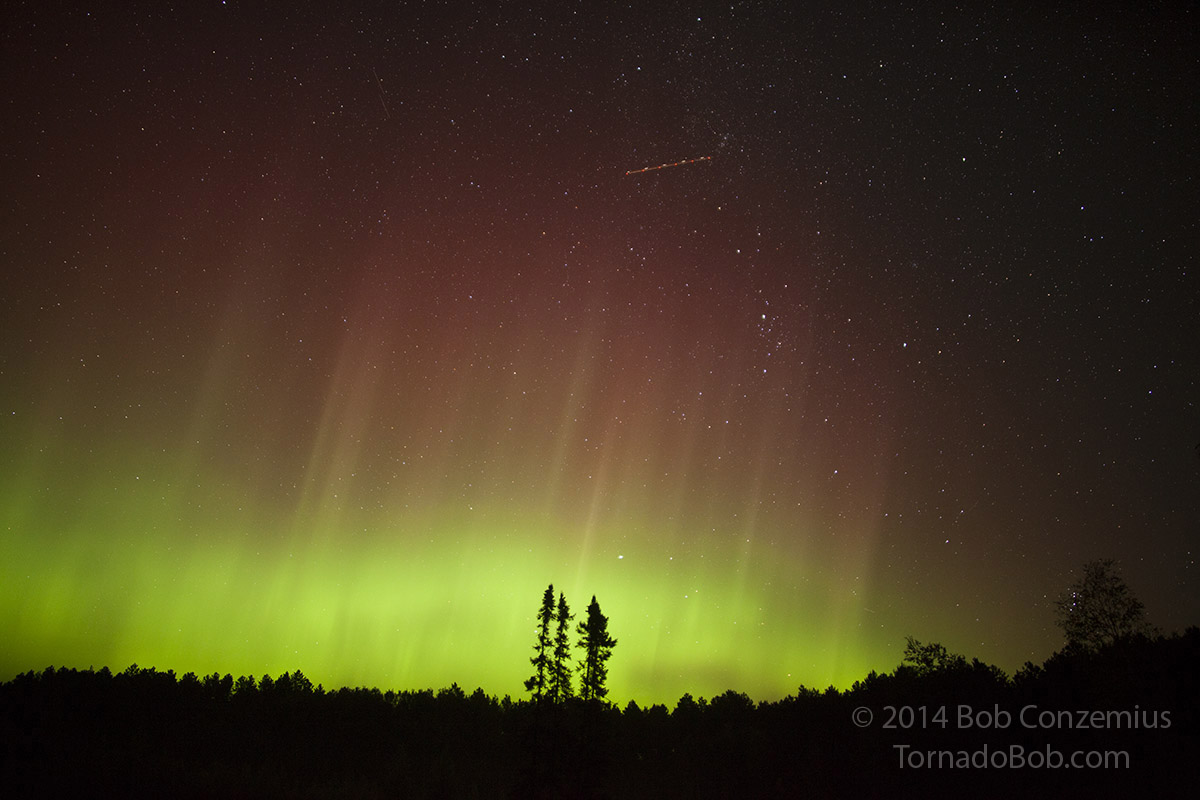 Image shot with the Samyang 24mm f1.4. 12:00 AM. 24 mm, ISO 1600, f1.4, 8s.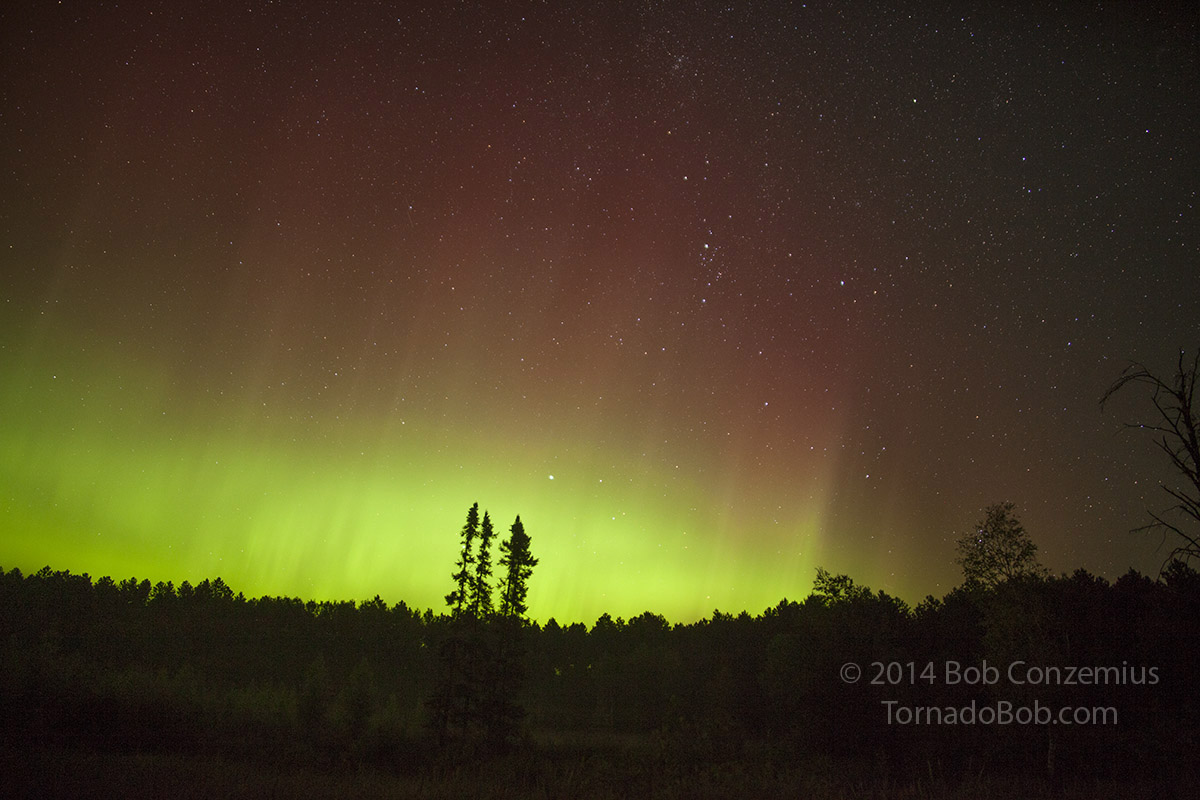 Image shot with the Samyang 24mm f1.4. 12:01 AM. 24 mm, ISO 1600, f1.4, 8s.
Somehow, I still like the Canon Lens, even with the coma. The images, color, and contrast seem a little sharper. The substorm had settled down after just a few minutes, as is usually the case, so I was about to leave, but some more tall structure appeared, so I fired off a few more shots.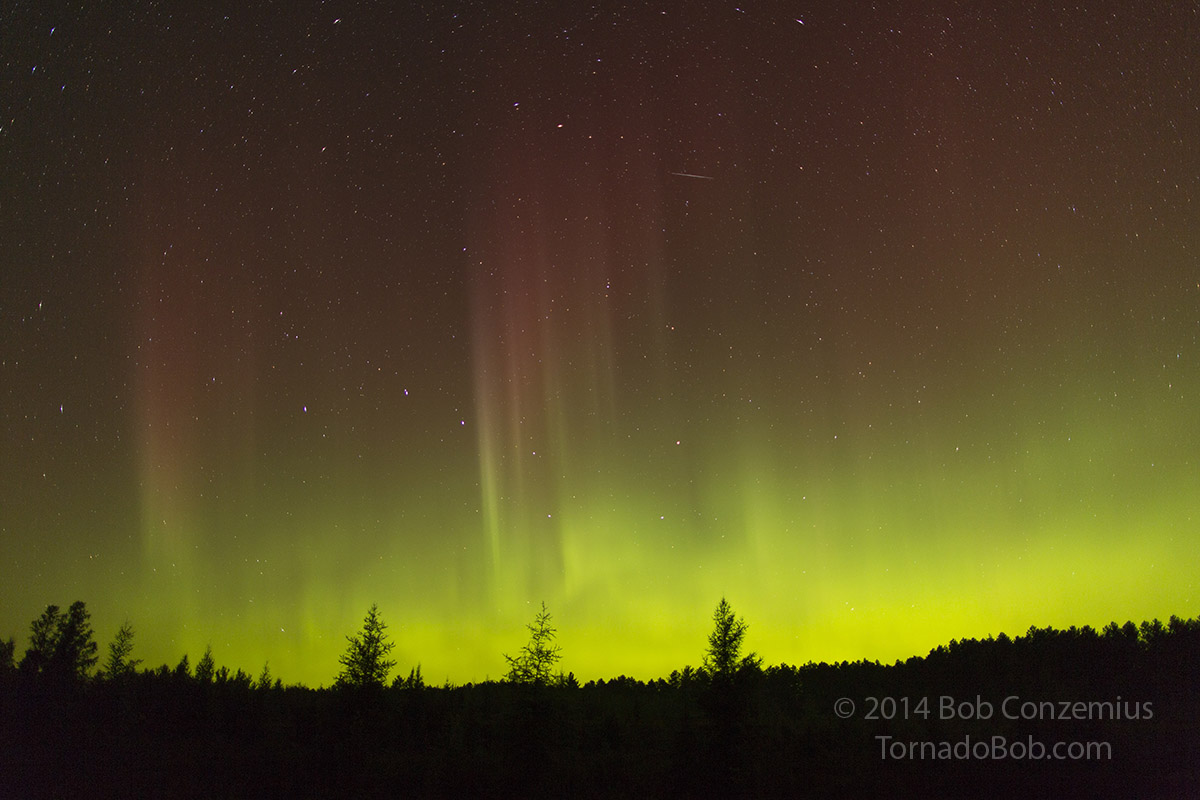 Back to the Canon 24 mm f1.4. 12:17 AM. ISO 800, f1.4, 8s.
Trying to get the Milky Way and Auroras in the same shot. 12:21 AM. 16 mm, ISO 3200, f2.8, 15s.
Given the best auroras during the night are usually with the first substorm, the best was out of the way for the night were probably done now. I started the drive back down Highway 65 toward home, but I didn't get very far before I noticed what some refer to as a proton arc, stretching from east to west across the sky, right overhead. I'm not sure what scientific evidence exists to refer to these as proton arcs, but that's what aurora photographers call them. They are a narrow ribbon of auroras that appear well south of the main activity, and in this case, they might have been a couple degrees into the southern sky. I found the next possible pull-off and got out my camera. This is a stretch of road that doesn't have a lot of pull-offs because it goes through forest land only. Nobody really lives here. Heck, for the amount of traffic on the road at this time of night (none), I could have just stopped at some random location in the middle of the road, but I decided to pull off. Whatever. I looked up and realized the reason I had found a pull-off and clearing was because this was the location where a high voltage power line crossed the road. Oh well. I fired off a couple shots anyway, then left for a better spot, but the arc faded quickly.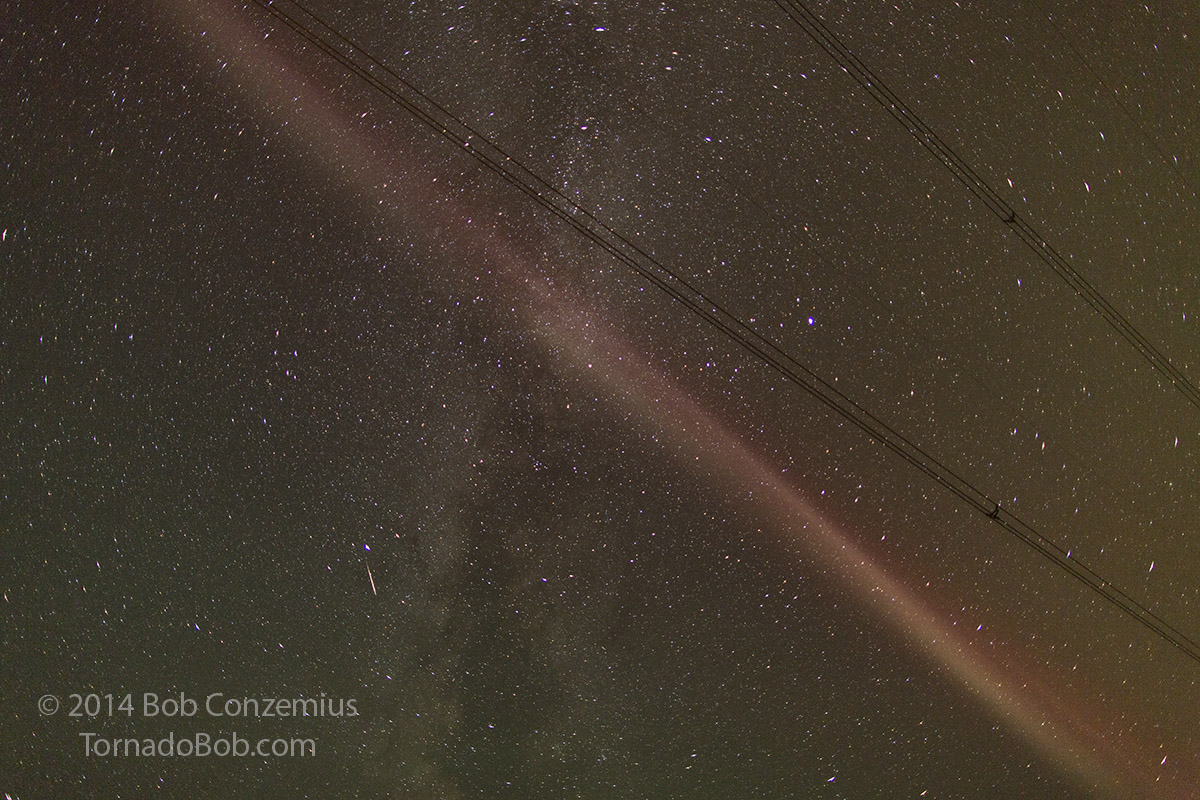 A "proton arc", Milky Way, meteor, and power lines. 12:47 AM. 24 mm, ISO 1600, f1.4, 8s.
The auroras to the north continued to look more as they typically do after a substorm, becoming a bit dimmer with the structure looking more like amorphous blobs rather than bright curtains and columns. I continued for home and made the turn on U.S. 169 at Nashwauk. As I drove along on 169, I noticed the oval brightening up again. Sleep would have to wait a little longer. As I wound through Coleraine, I decided to turn off and detour onto County 61 and make a stop somewhere north of town. The nearest shooting location was Prairie Lake. There was no major substorm like earlier, but the oval stayed bright and occasionally showed some structure. It was here that I finished my shooting for the night around 2:30 AM.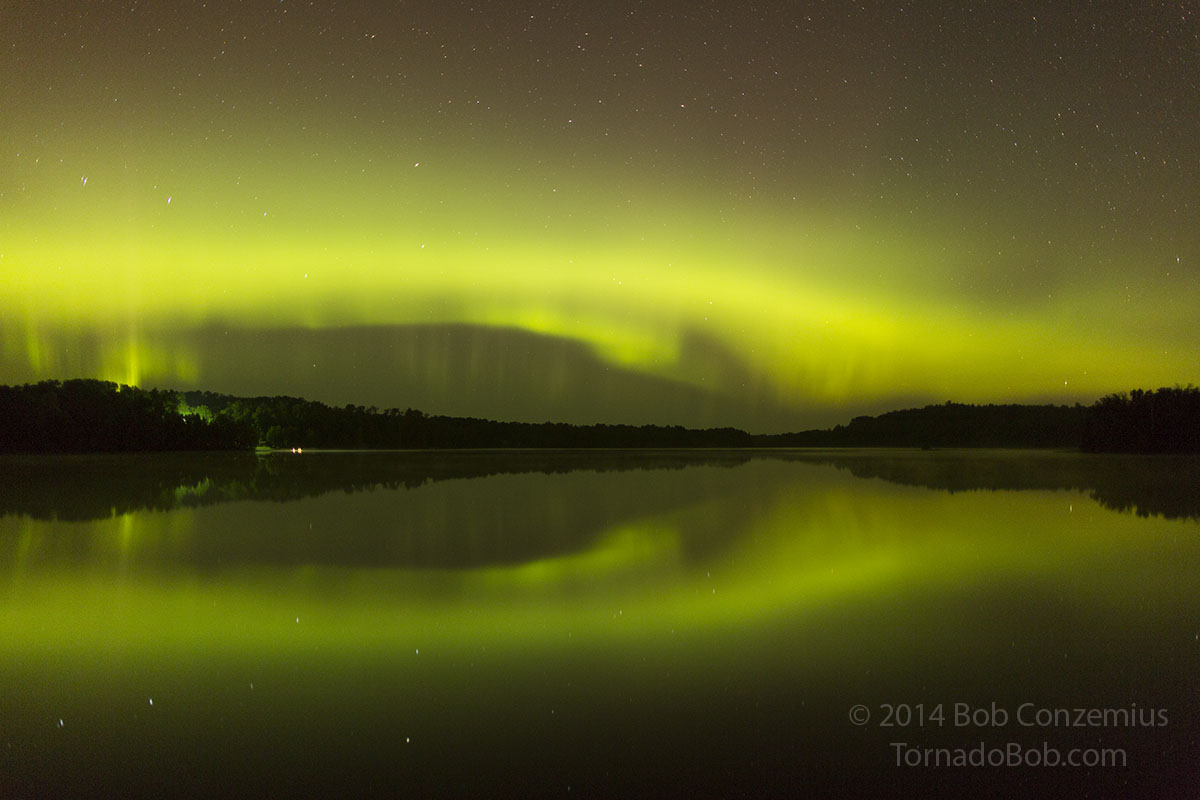 Prairie Lake. 2:05 AM. 24 mm, ISO 800, f1.4, 6s.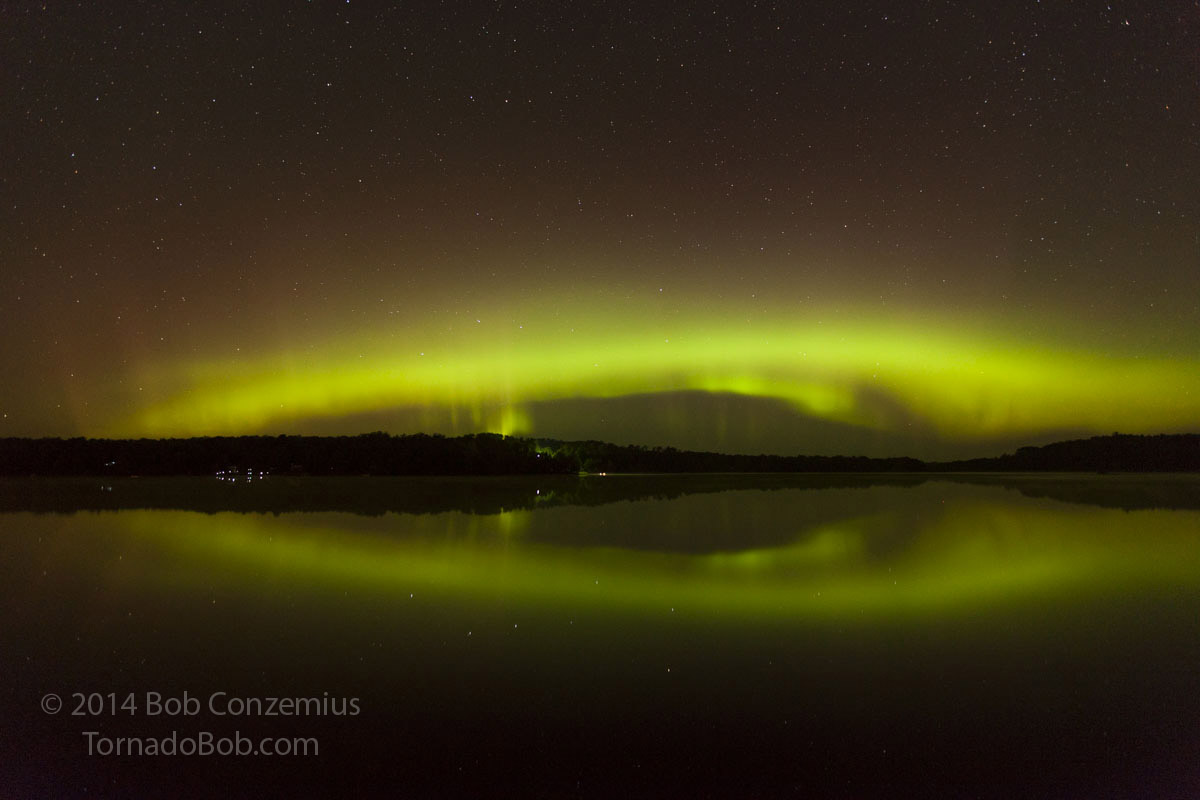 Prairie Lake. 2:06 AM. 16 mm, ISO 1600, f2.8, 13s.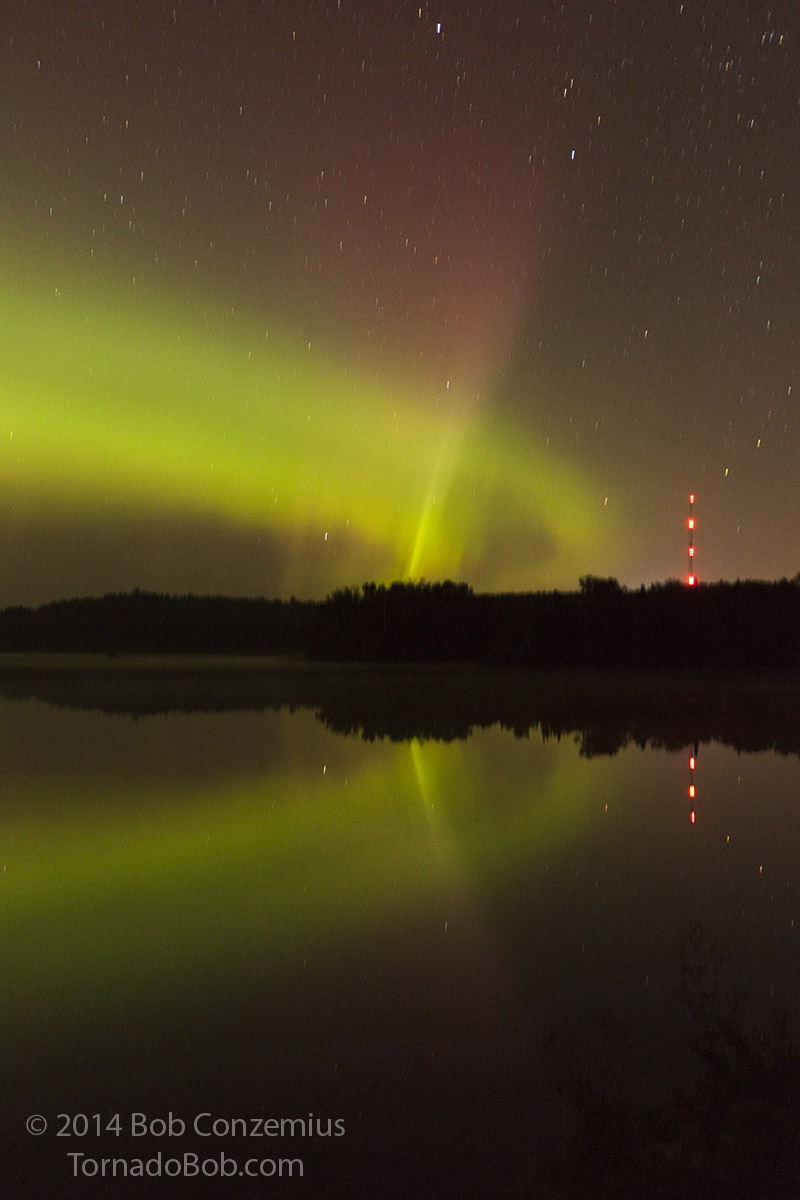 Prairie Lake. 2:20 AM. 16 mm, ISO 1600, f2.8, 13s.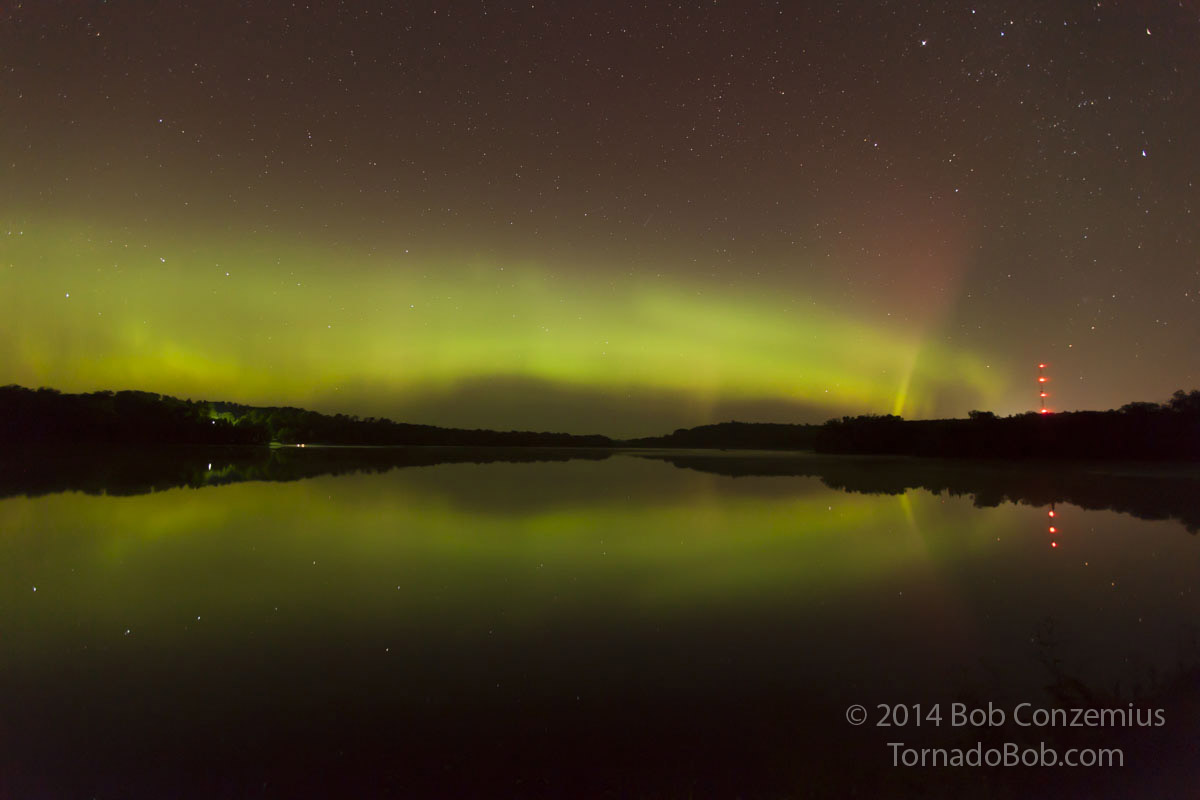 Prairie Lake. 2:21 AM. 16 mm, ISO 1600, f2.8, 13s.