June 8, 2014 Auroras
Chisholm and Ely, MN
A large filament eruption occurred on June 4 and sent a large, slow-moving CME into space, and this CME appeared to have a bit of an Earth-directed component, but the WSA-Enlil model runs showed most of the material would be directed to the south and east and would miss Earth. Thus, no significant impacts were expected. Nevertheless, LASCO C3 imagery showed a full halo, asymmetric CME with enough material in all visible quadrants to suggest a more potent CME impact was possible.
Impact happened about 11:30 AM on the 7th, and the magnetic field magnitude with the CME was nearly 15 nT, but the magnetic field was directed mostly north, and with almost 12 hours until darkness, it was likely things would settle down by dark, so I wasn't expecting to see much. I kept an eye on things anyway, and around 9:00 PM, the magnetic field strength increased back to 15 nT, and Bz started to go south to about -5 nT. With solar wind speeds approaching 500 km/s, I thought that would be good enough for a show, so I packed up my gear and headed northeast where I would shoot with Heidi Pinkerton.
When I was near Keewatin, I looked northeast and saw the auroral oval emerging from the twilight, and it was a bit farther south than I expected. When I got to Hibbing, some rather intense auroras appeared within this band, and these were bright enough to see clearly through the lights of Hibbing. I checked the solar wind parameters again and found that Bt had increased to 20 nT and Bz was now dropping into the negative teens. That was definitely good enough for a show. With things going strong already, it was necessary to find a place to shoot to capture this substorm. I passed by the Iron World statue at Chisholm. It was really brightly lit, but I thought it would make an interesting foreground. I had to go through at least five full stops to get the auroras and the statue exposed correctly. Here is the merged image.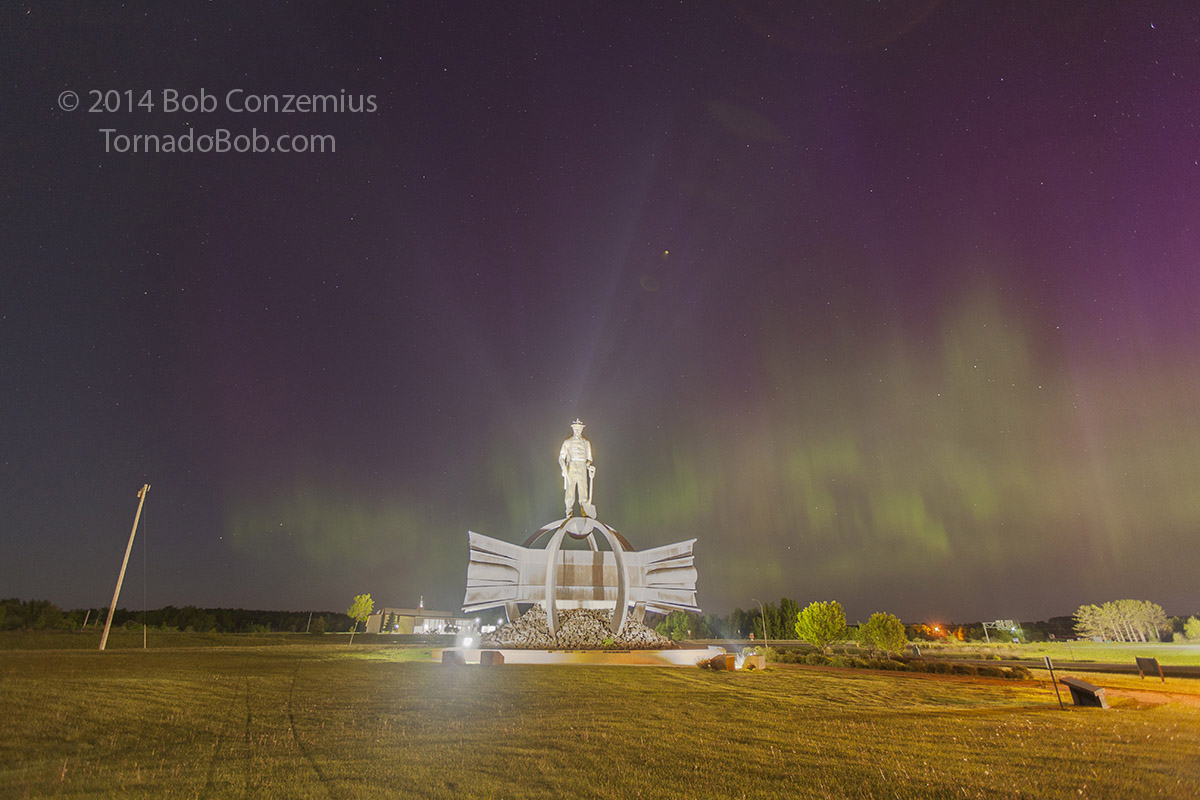 Auroras behind the statue at Iron World at 11:19 PM.
The auroras settled down a bit by the time I finished this first shoot. I continued onward to Ely and arrived at Burntside Lake around 12:30 AM. The auroras were starting to intensify again, so I set up as quickly as I could. They filled most of the northern half of the sky, and there were also a few patches barely into the southern sky.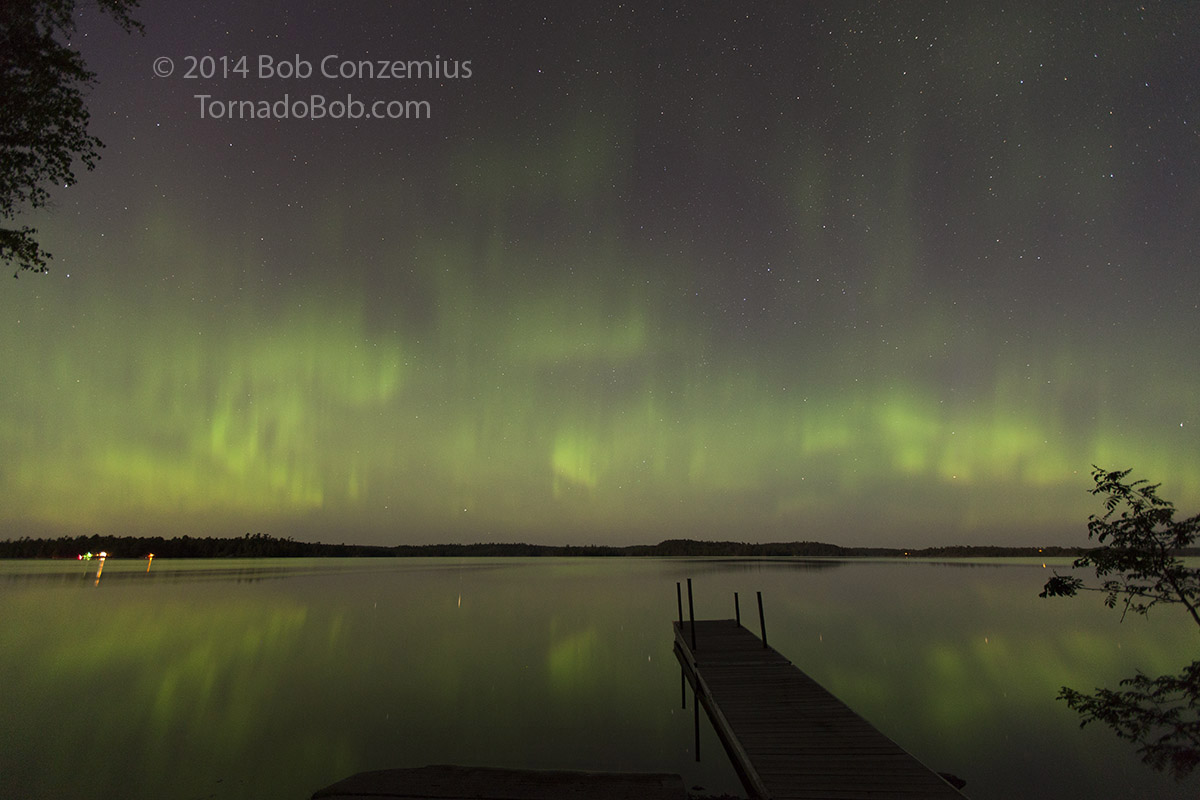 Burntside Lake at 12:47 AM. f2.8, 13 seconds, 16 mm, ISO 1600.
I checked Bz again and found that it had gone north-- quite far north, in fact, to near +20 nT. It looked like there would not be much time to shoot auroras under those conditions, yet sometimes the variation in the magnetic field allows the show to persist a bit longer. This, apparently, was one of those instances. The auroras continued to expand, so I kept shooting.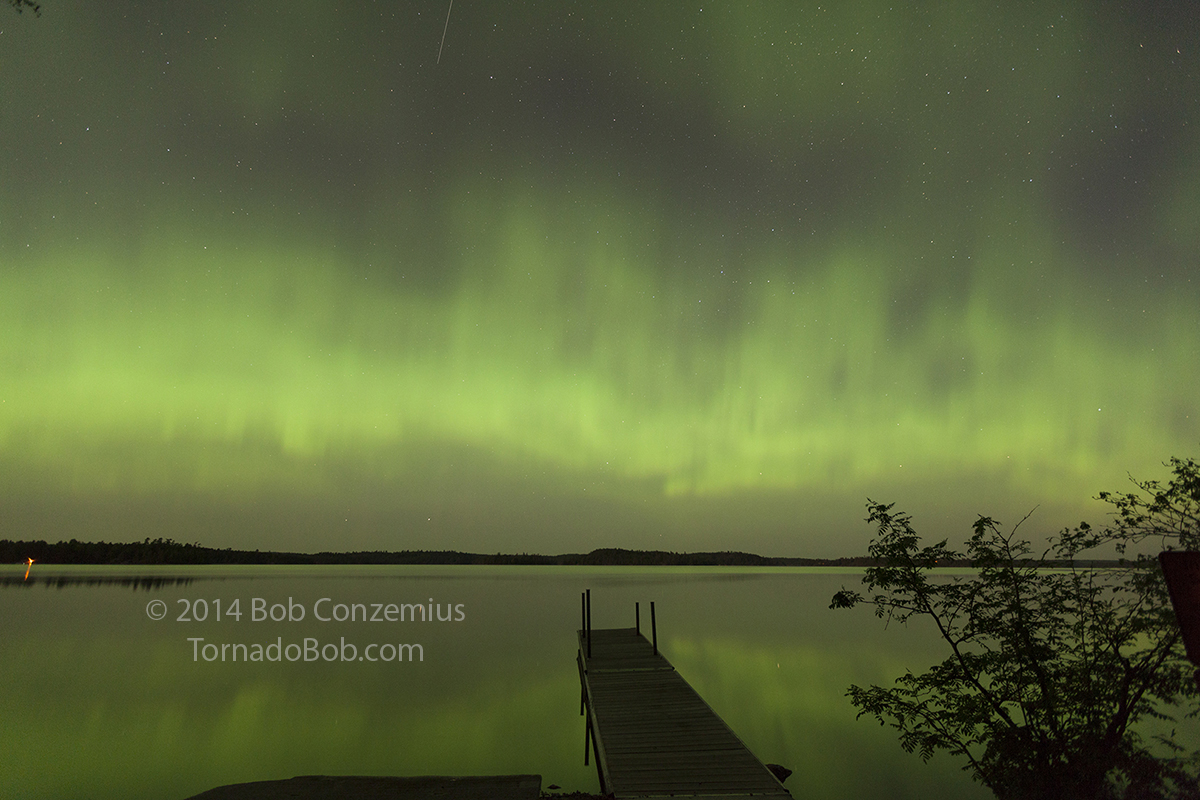 1:06 AM CDT. f2.8, 10 seconds, 16mm, ISO 1600.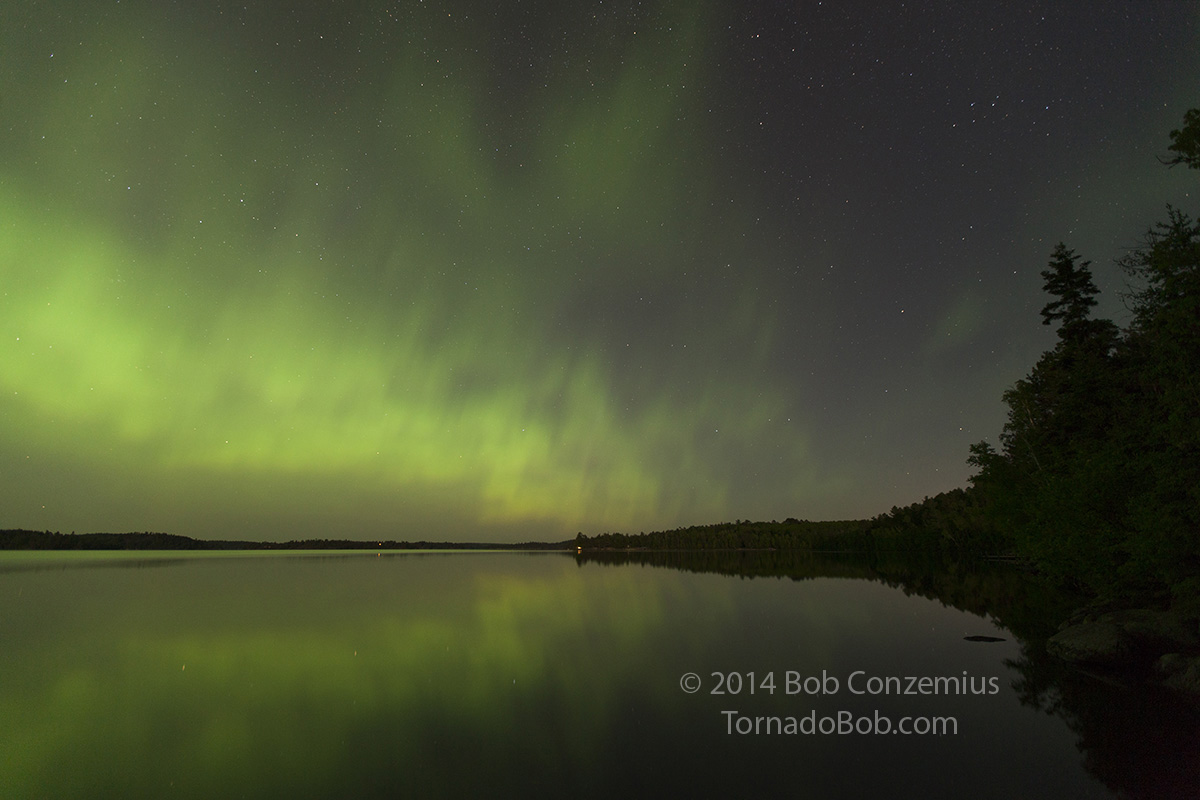 Looking east. f2.8, 15 seconds, 16mm, ISO 800.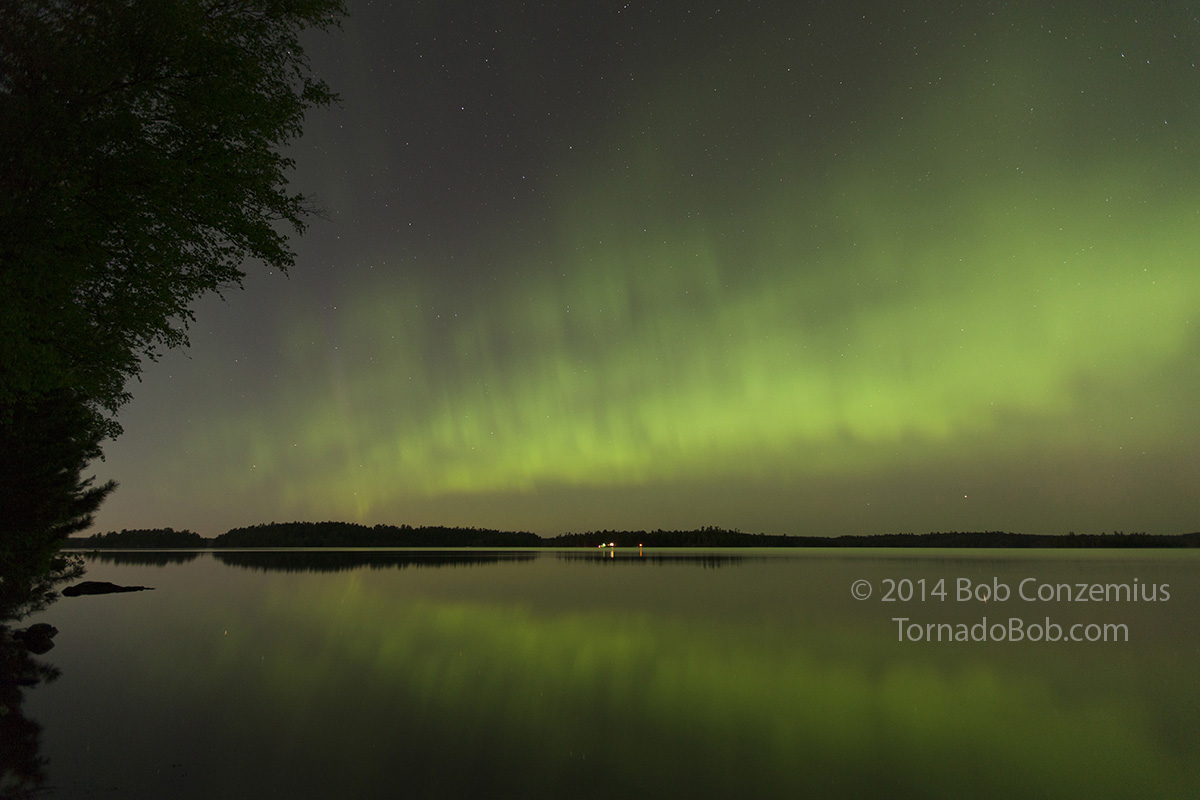 Looking west. f2.8, 15 seconds, 16mm, ISO 800.
I set the first camera up to do time lapse and got the other camera out to shoot some auroras directly overhead. Meanwhile, the auroras in the northern sky started to pull back north a little bit.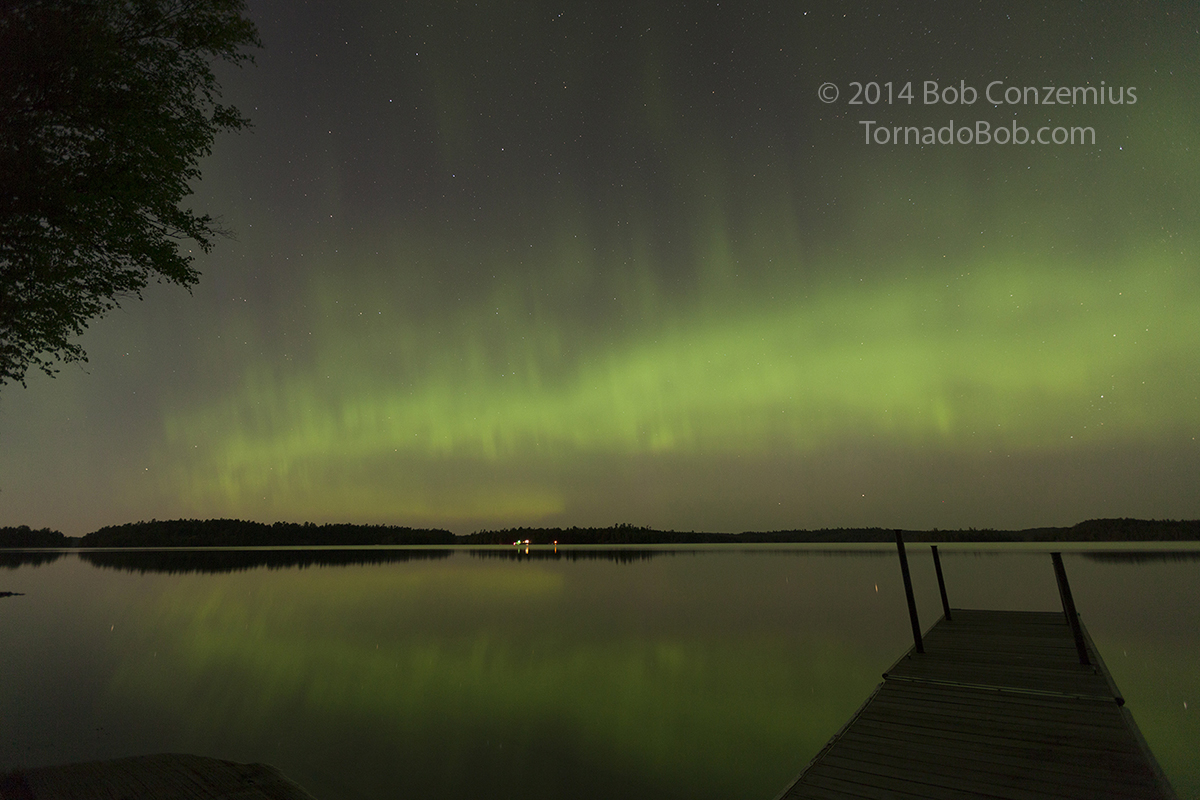 Looking northwest. f2.8, 13 seconds, 16mm, ISO 800.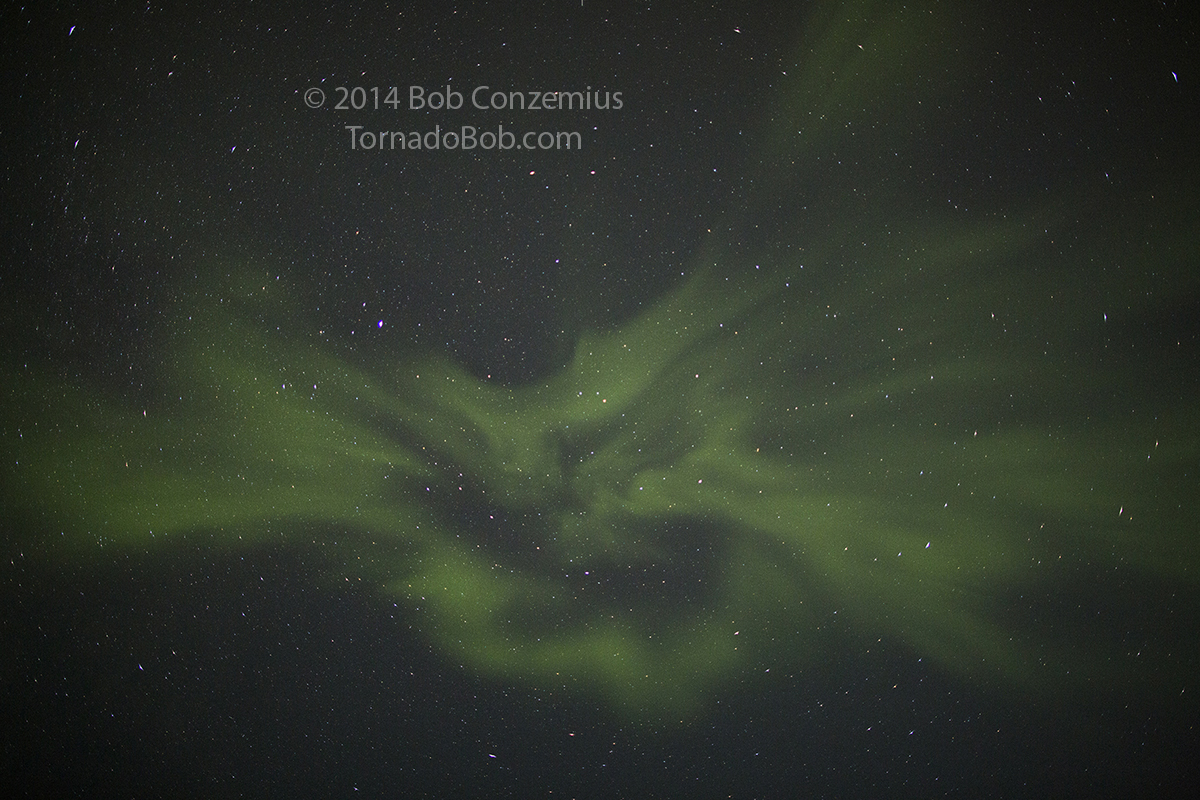 A weak corona at 1:24 AM. f1.4, 2 seconds, 24mm, ISO 3200.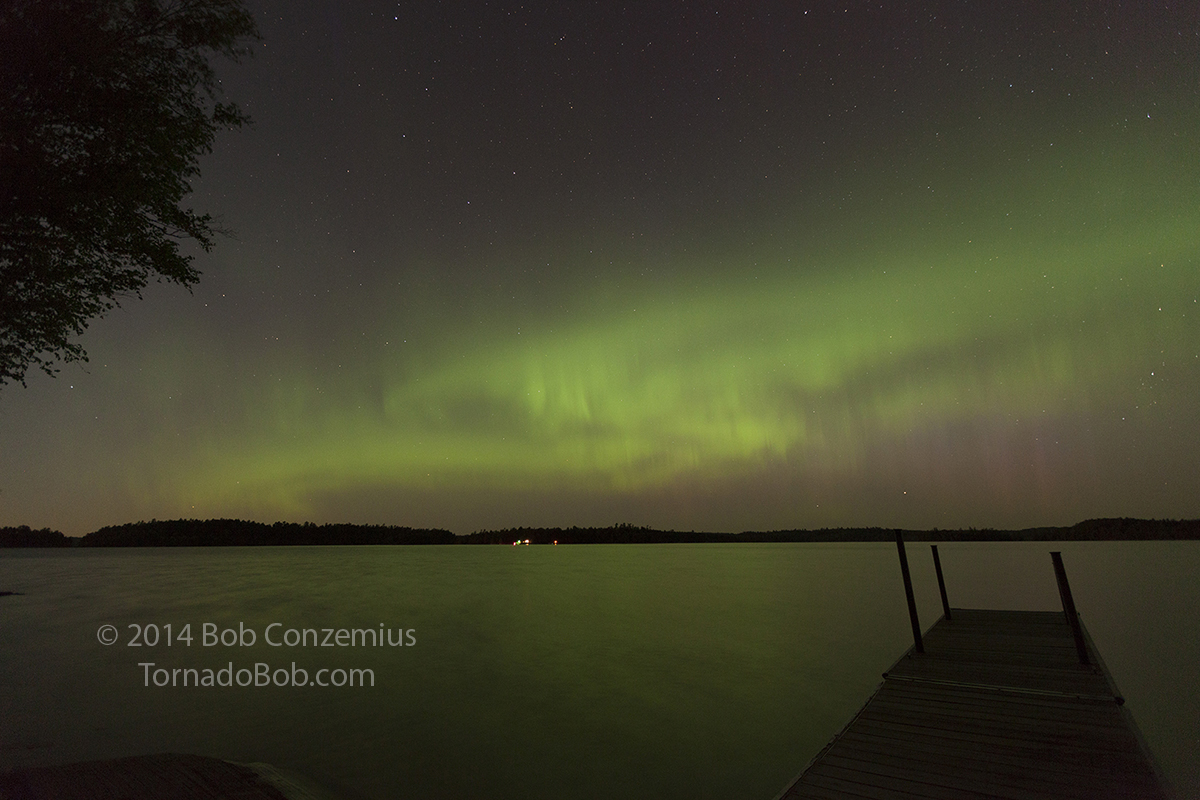 Looking northwest at 1:36 AM. f2.8, 6 seconds, 16mm, ISO 1600.
After that time, Bz remained locked near +20 nT, and the auroras retreated to a plain oval configuration about 15 to 20 degrees above the horizon. It was continuing on a downward trend and getting dimmer, so I announced I was done at 2:18 AM. Heidi started home, but I am always slow to leave a beautiful aurora scene. I grudgingly packed my cameras away in their bags, collapsed the tripods, and placed everything back in the car. I went back to the dock for one last look.
The auroras looked a little brighter, and contrary to what usually happens when Bz goes north, the oval had not retreated any farther to the north. Another check of Bz revealed that it was diving back south to -10 nT. I could even see some blue columns appearing to the northeast. Although the response to a southward change of Bz probably takes at least 40 minutes, the brightening indicated another substorm might ensue, if not in the next few minutes, then probably within the hour when the southward change in Bz passed Earth. The moon had also set, so the sky was much darker, affording better contrast. Back out came the cameras.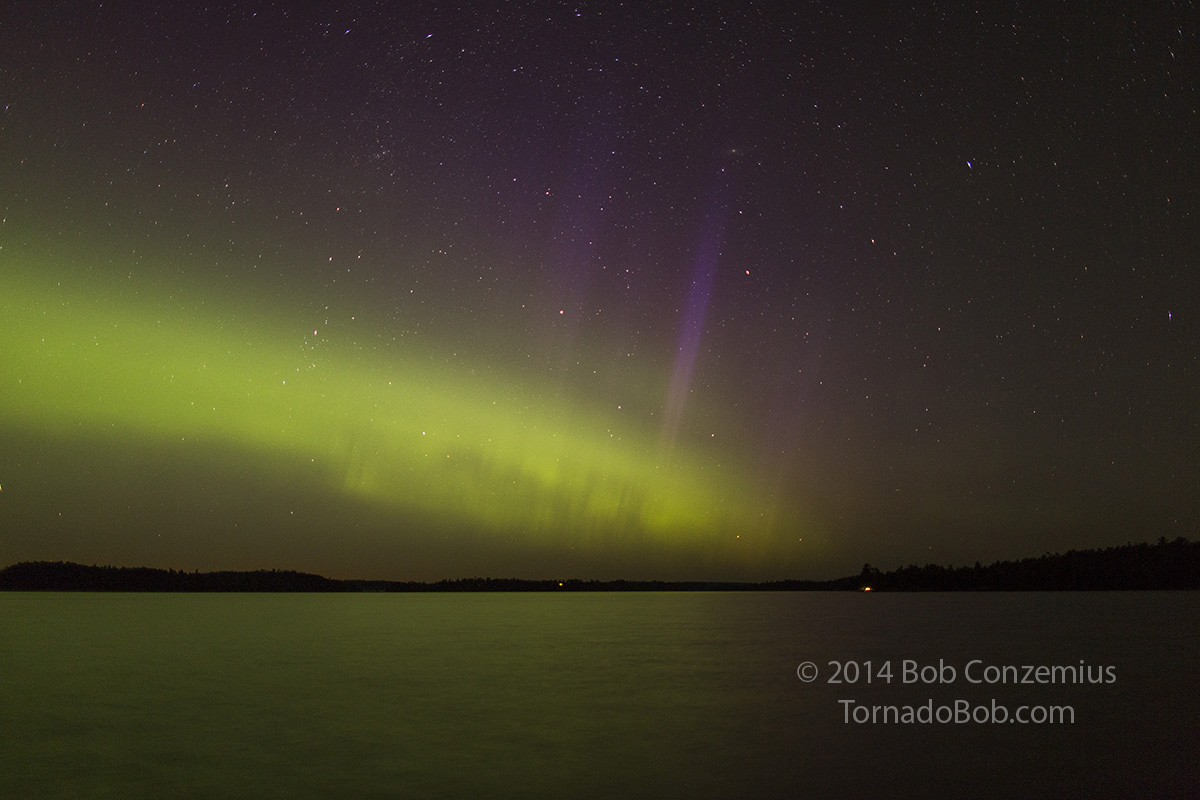 Looking northeast at 2:35 AM. f1.4, 4 seconds, 24mm, ISO 1600.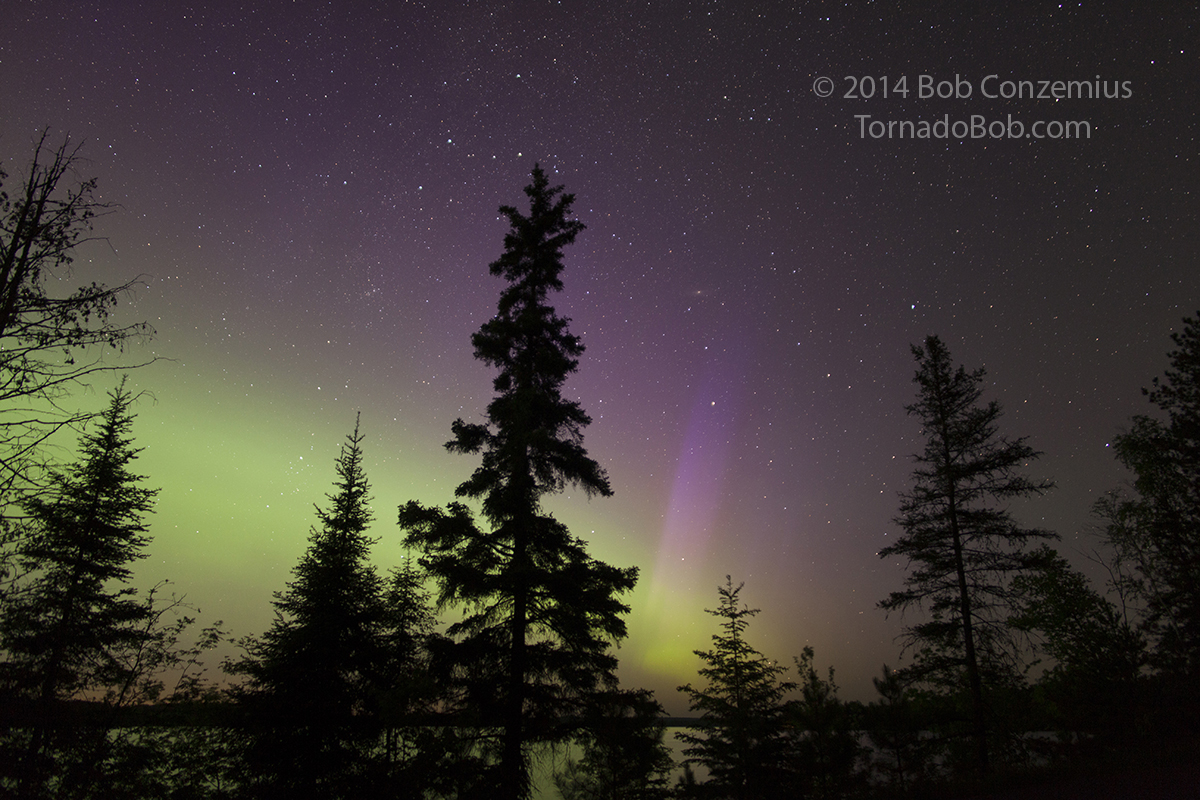 Blue column pointed at Andromeda at 2:41 AM. f1.4, 15 seconds, 24mm, ISO 800.
A few minutes before 3:00 AM, I could see that the horizon had lightened to the north-northeast. Morning twilight had already arrived. I pointed the camera northeast and set up another time lapse. A substorm gradually developed, and auroras filled much of the nothern sky with some pretty bright columns that stubbornly persisted against the growing light of dawn.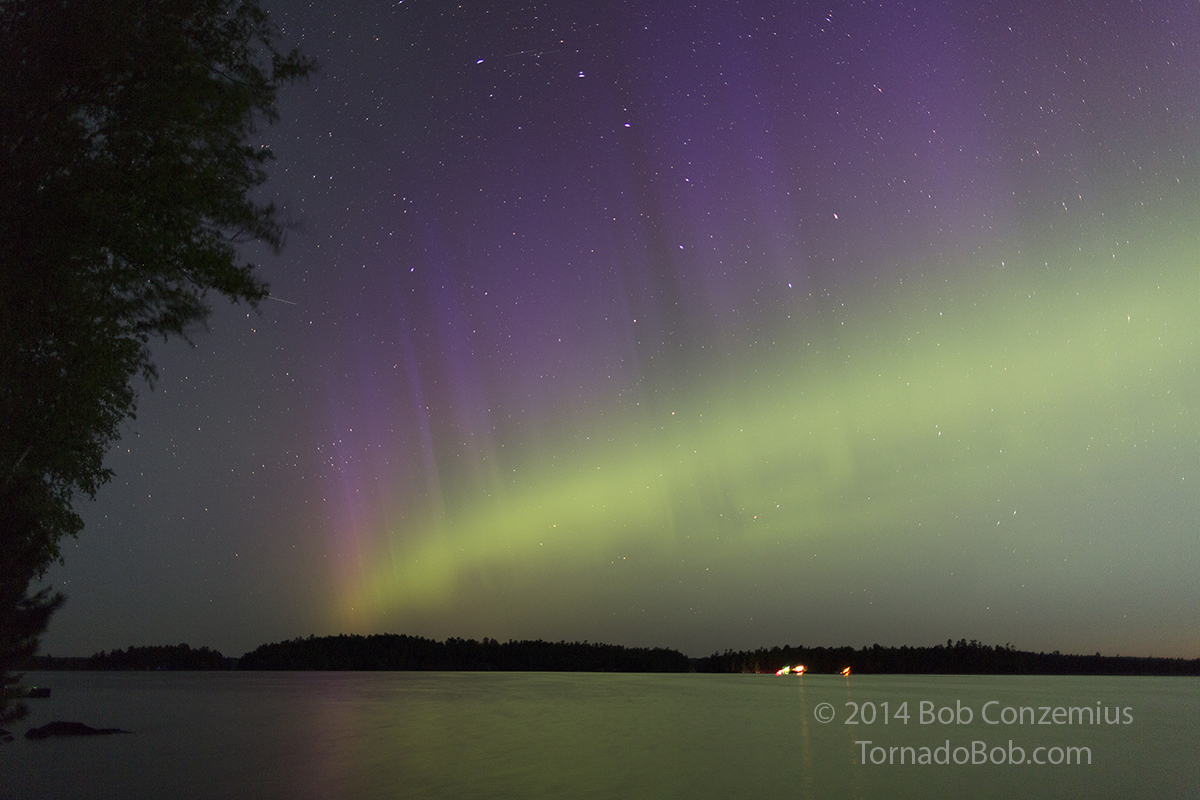 Looking northeast at 3:00 AM. f1.4, 8 seconds, 24mm, ISO 800.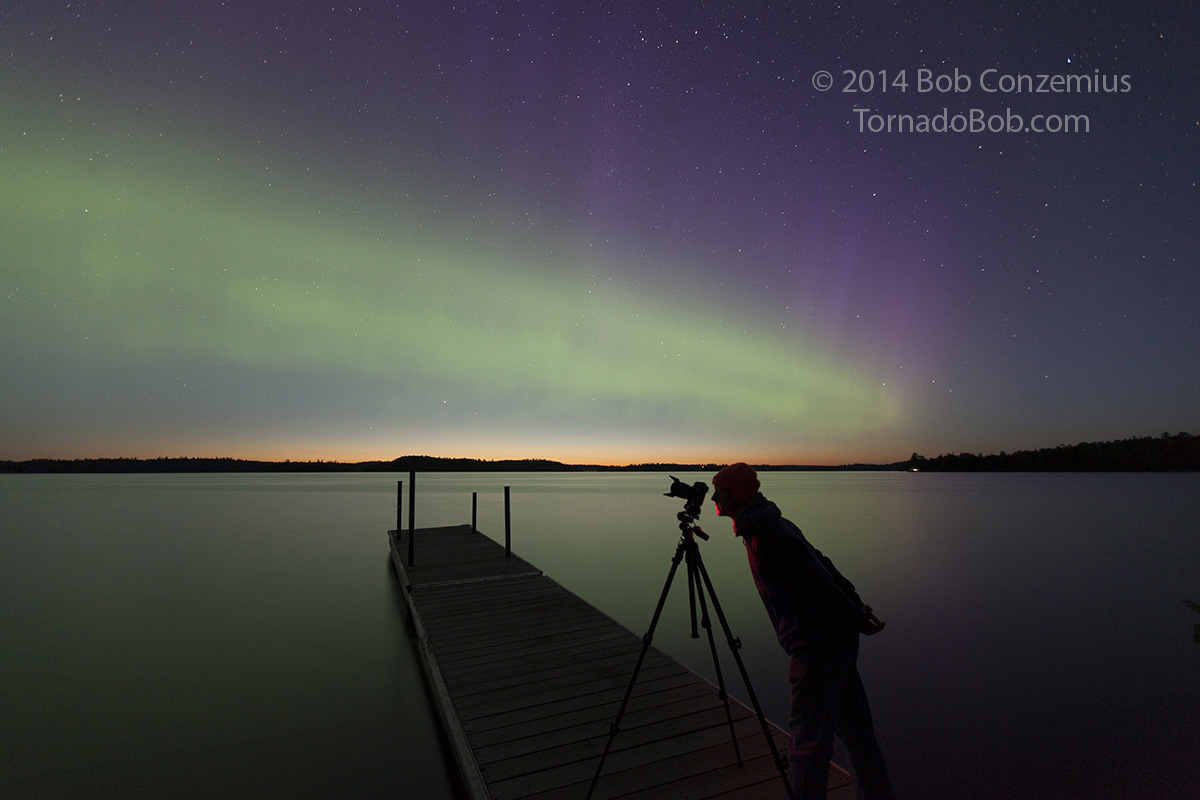 Selfie at 3:09 AM. f2.8, 20 seconds, 16mm, ISO 800.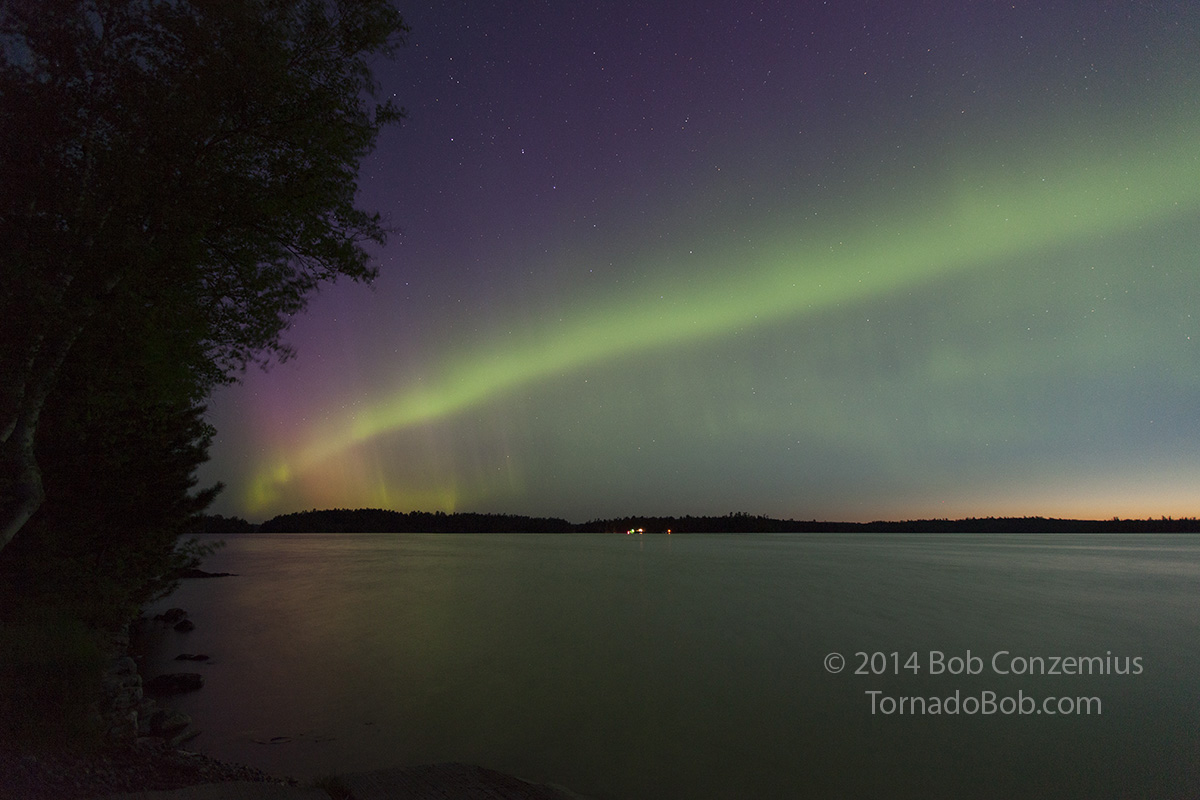 Developing substorm at 3:16 AM. f2.8, 8 seconds, 16mm, ISO 1600.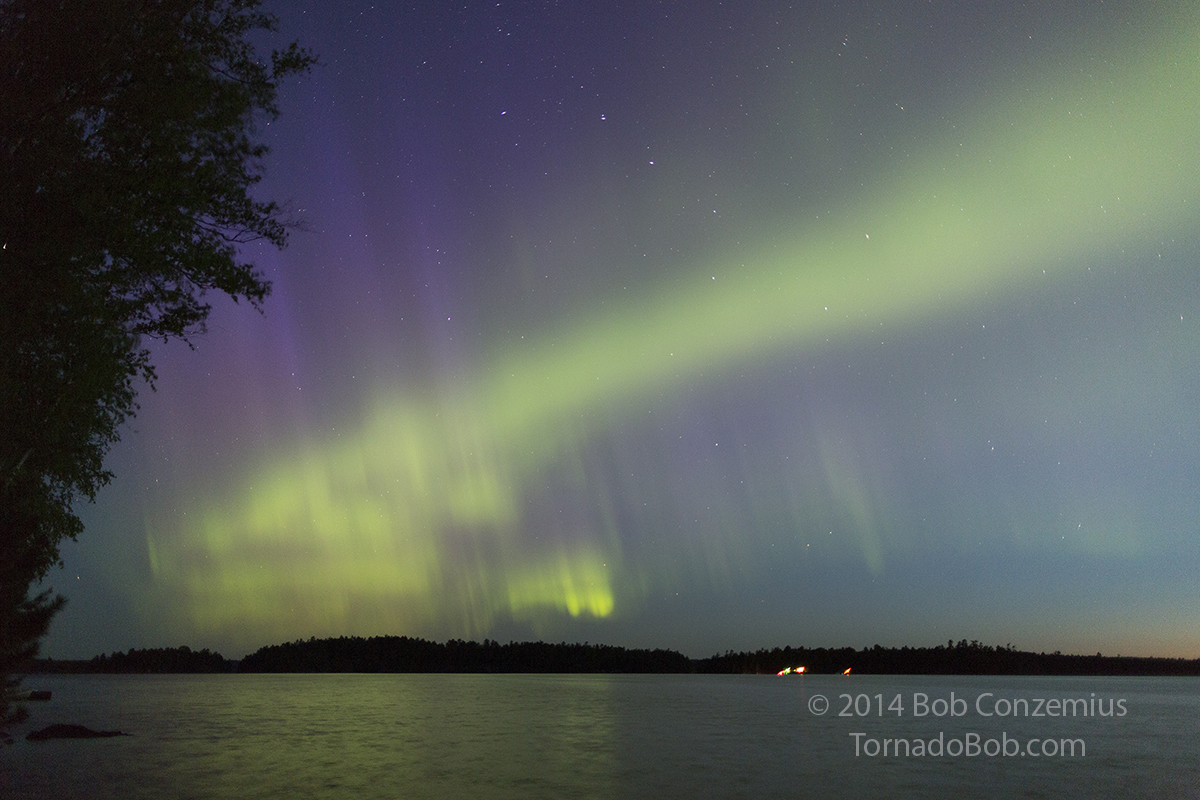 The substorm is underway at 3:21 AM. f1.4, 1.6 seconds, 24mm, ISO 1600.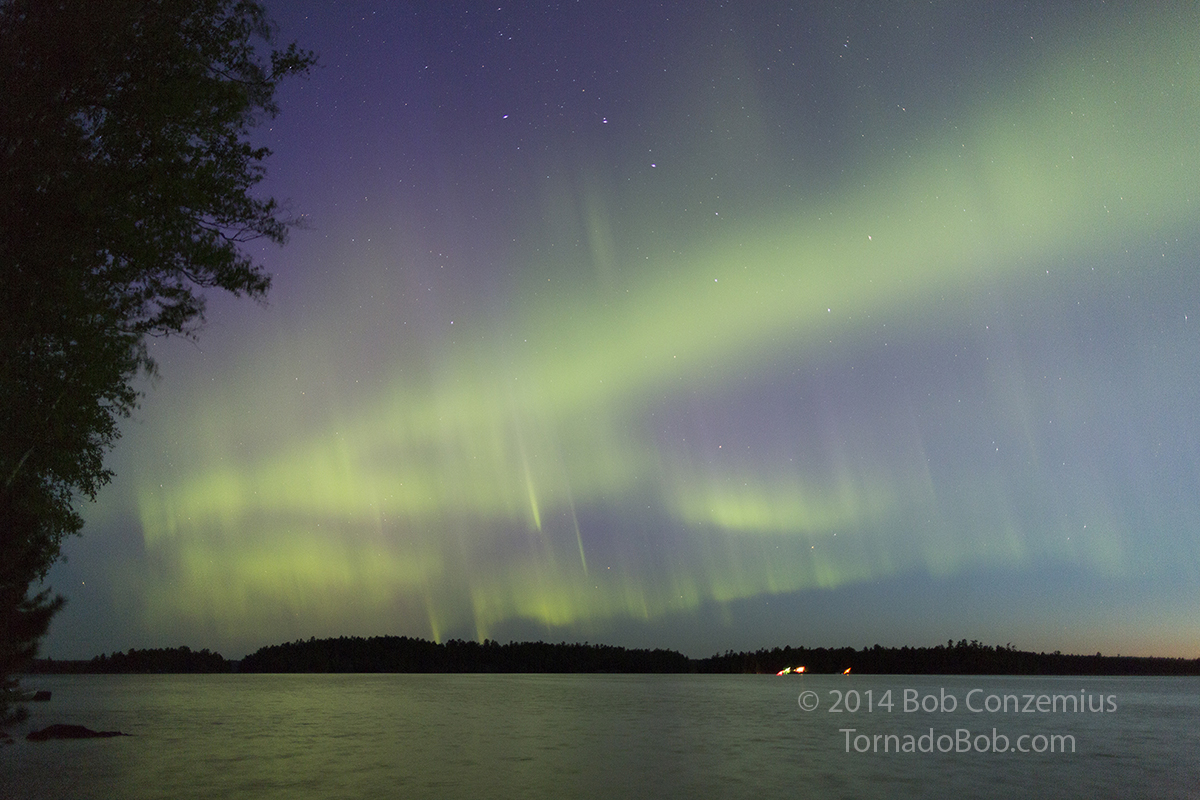 3:26 AM. f1.4, 1.6 seconds, 24mm, ISO 1600.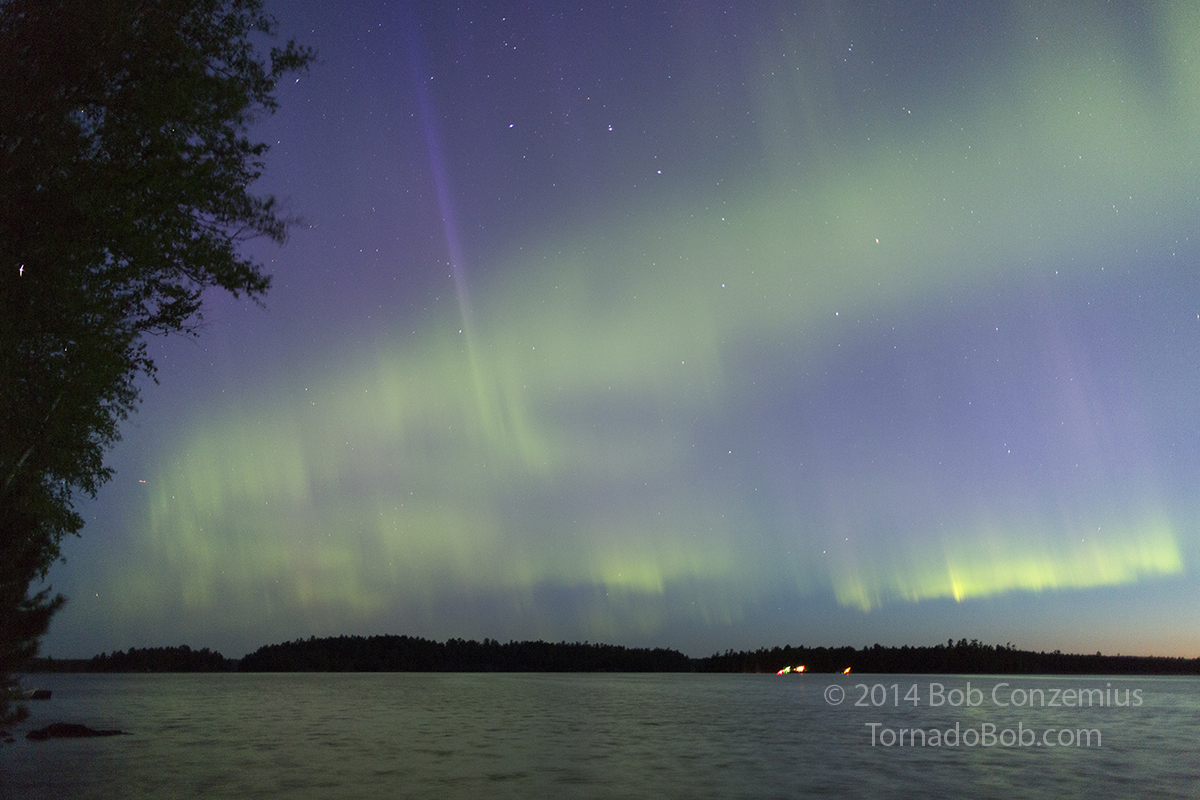 3:27 AM. f1.4, 1.6 seconds, 24mm, ISO 1600.
---