March 19, 2016 Auroras
Itasca County
This was a bit of a surprise aurora event. We had a high speed stream of solar wind earlier, but things were a little calmer. This might just be one of those cases when the solar wind magnetic field simply points south, and since we're near the equinox, auroras are more likely.
I had fallen asleep on the couch pretty early (10:00 PM), but as often happens when I wake up and actually go to bed, I could not fall back asleep. I checked the magnetic field, and it was south, but I felt like waiting until somebody actually saw something. Somehow, I did not feel like being the first one out there.
It took about an hour, and it turns out I did not have to wait that long. Because there was a bright moon, Pokegama Lake, south of town, would be okay for shooting because the moon would drown out the city light pollution. However, our winter's snow had just melted, and we had about two inches of additional moisture the past several days, causing the Mississippi River to approach flood stage at Aitkin. Whenever that happens, the Army Corps of Engineers holds back water at Pokegama Dam, and Mississippi River water flows backward into Pokegama Lake. The water at my shooting spot was too high to place a tripod on shore, and the encroaching water also meant that the winter's ice was now about 20 feet away from land, and I did not feel like wading in ice-cold water to get access to the ice.
Thus, I went out first to McKinney Lake on the north side of town and shot a couple images. The auroras were low on the horizon, so I used a 24-70mm lens and used narrower angle settings.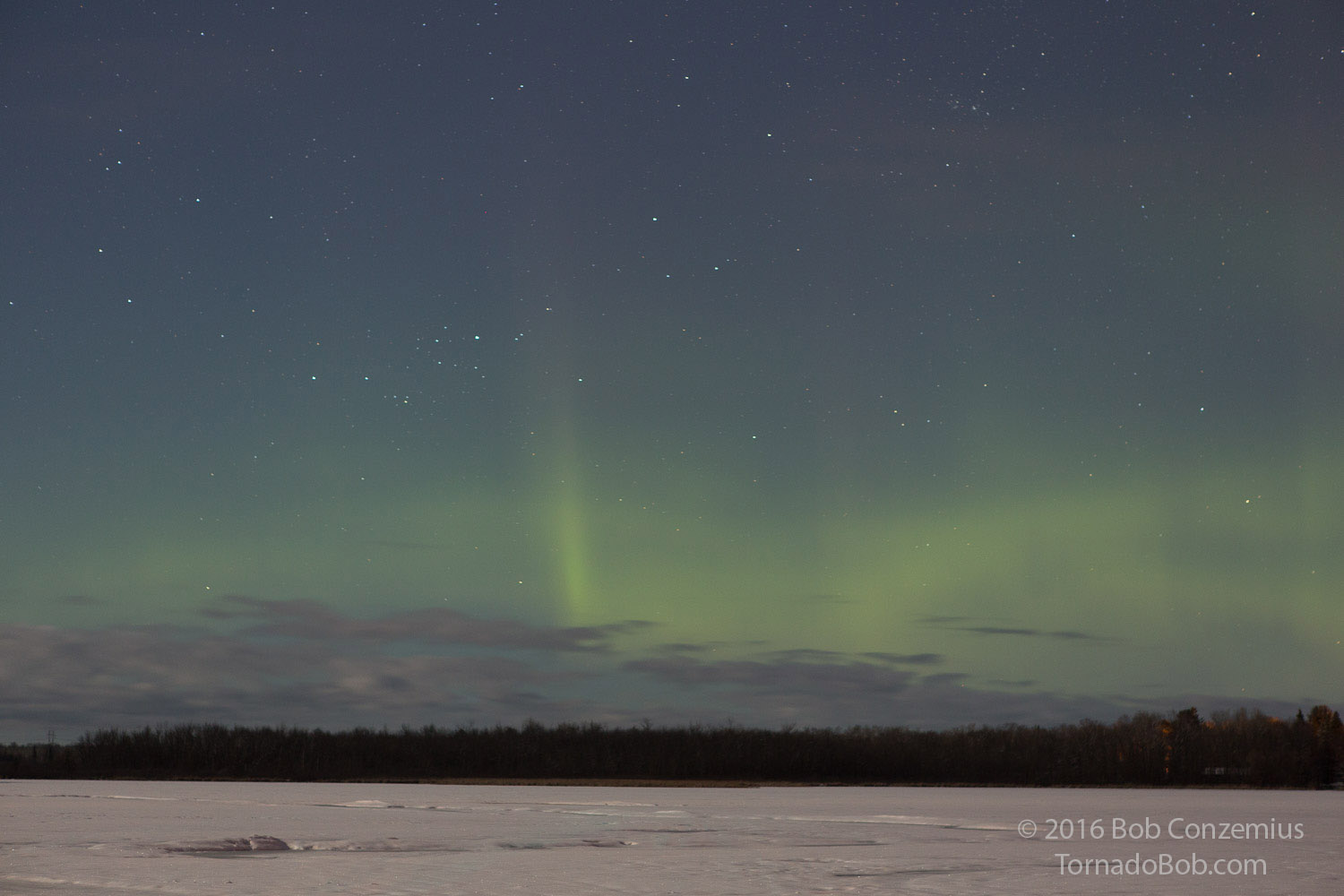 Auroras on McKinney Lake shot at 70mm.
I decided to go over to Prairie Lake.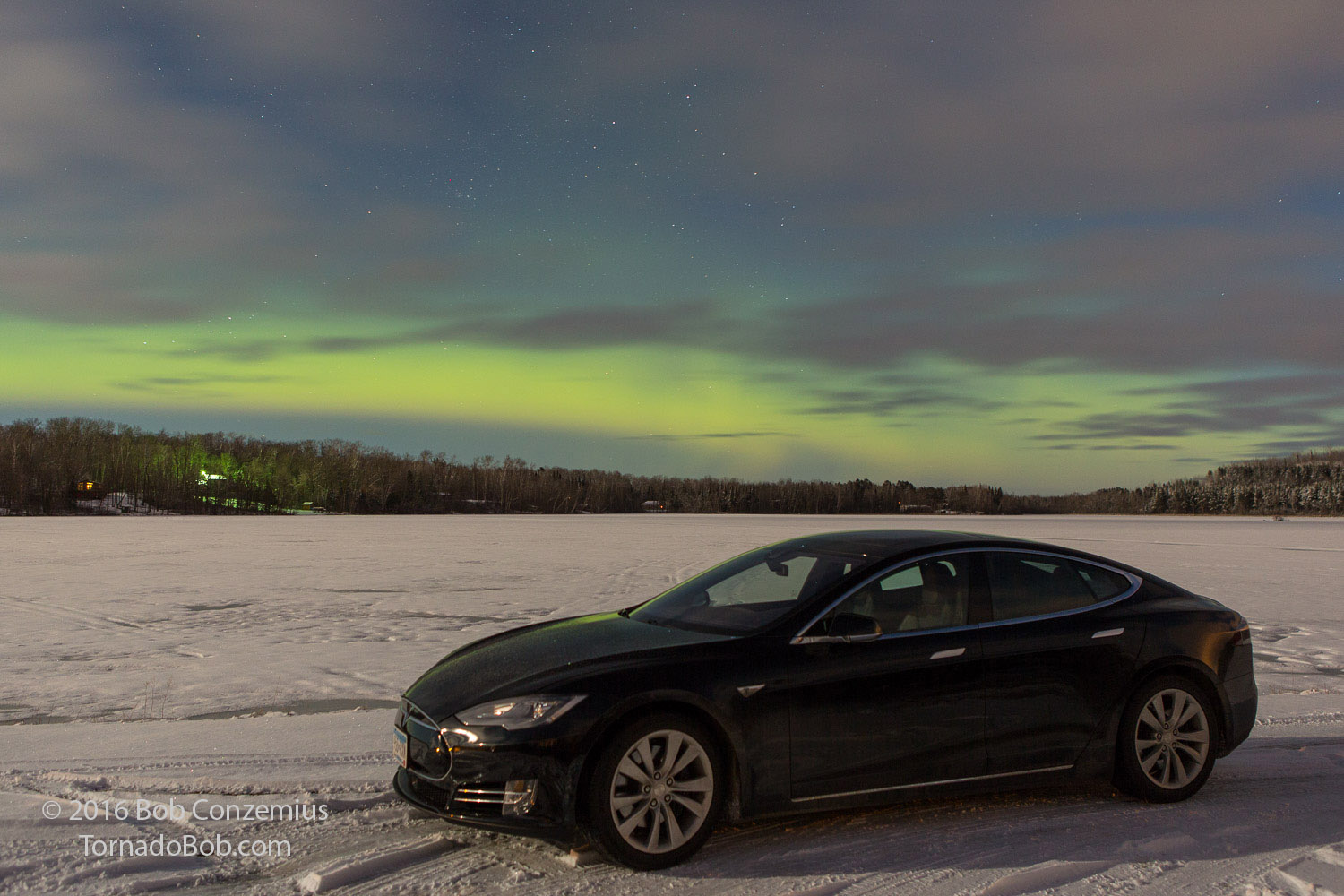 Auroras on Prairie Lake shot at 28mm and cropped a little.
After a few minutes of shooting on Prairie Lake, I had had my fill, and the clouds started rolling in again. I decided it would be a good time to head back home, but the auroral arc started to brighten up quite a bit. Time to head north instead to move out from underneath the encroaching cloud deck.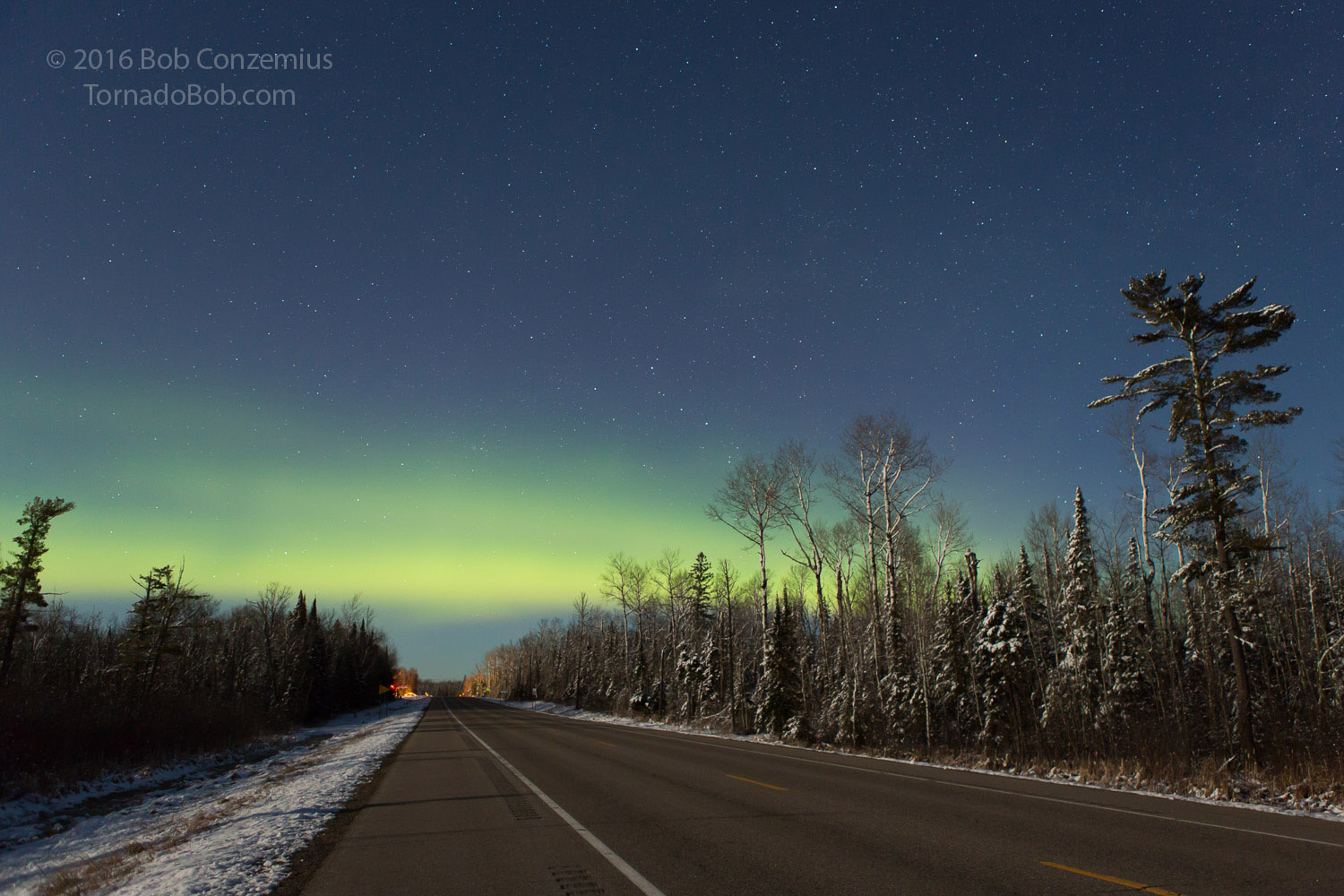 Highway 38 by Cedar Creek Grille. I shot this at f2.8, ISO 1600, 10 seconds, and cropped the image slightly.
Given the lake ice was starting to melt away from shore in a lot of places, I decided a hike into Trout Lake or Orange Lake would not be worthwhile, so I decided, instead, to try Pughole Lake. The view there was a little too much to the east, but the auroras were coming a little farther south, so I could photograph the eastern half of the arc if I could not get onto the ice. When I arrived at the public access, I saw someone had walked out to go ice fishing that day, and only a single wet step was required to get onto the ice. Rather than do that, I put on my skis to reach over that gap at shore and to distribute my weight once I got onto the ice in case I hit any weak spots. I did not find any, but the ice was fairly slushy underneath the snow.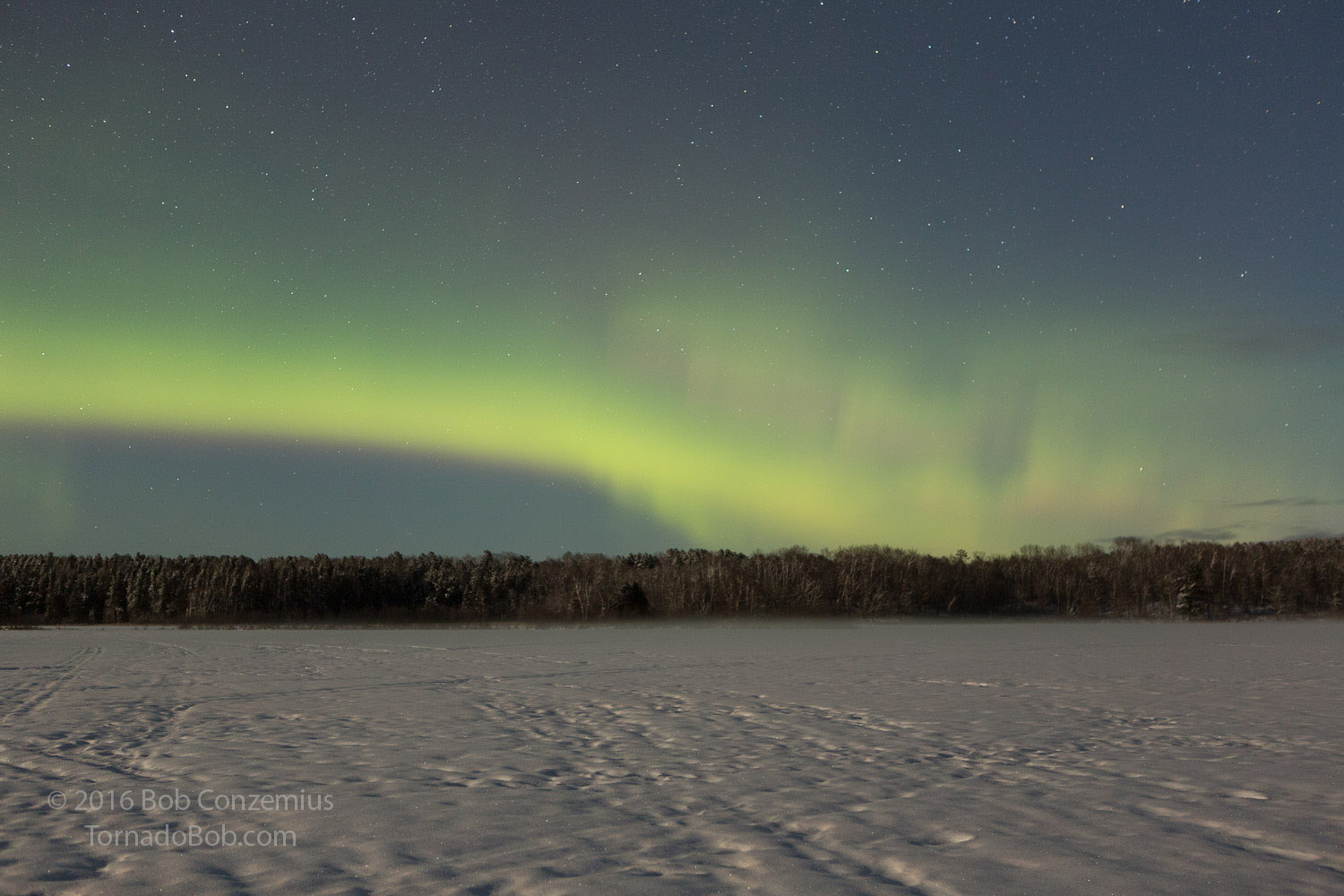 Auroras on Pughole Lake shot at 42mm.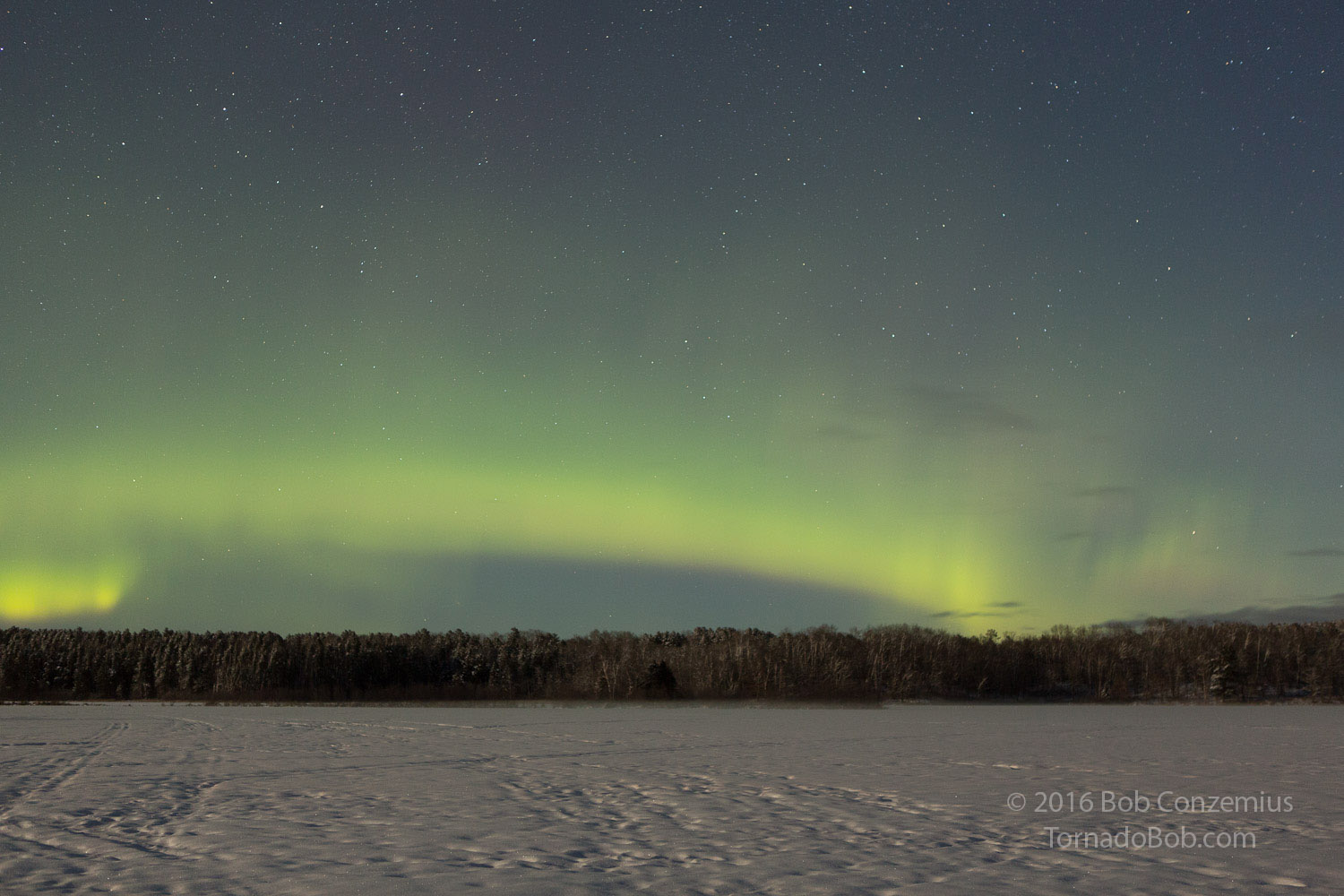 A little structure started creeping in, but this was about as intense as it got.
Once again, more clouds arrived from the east, and since I felt I had witnessed the brightest auroras of the night, I headed home.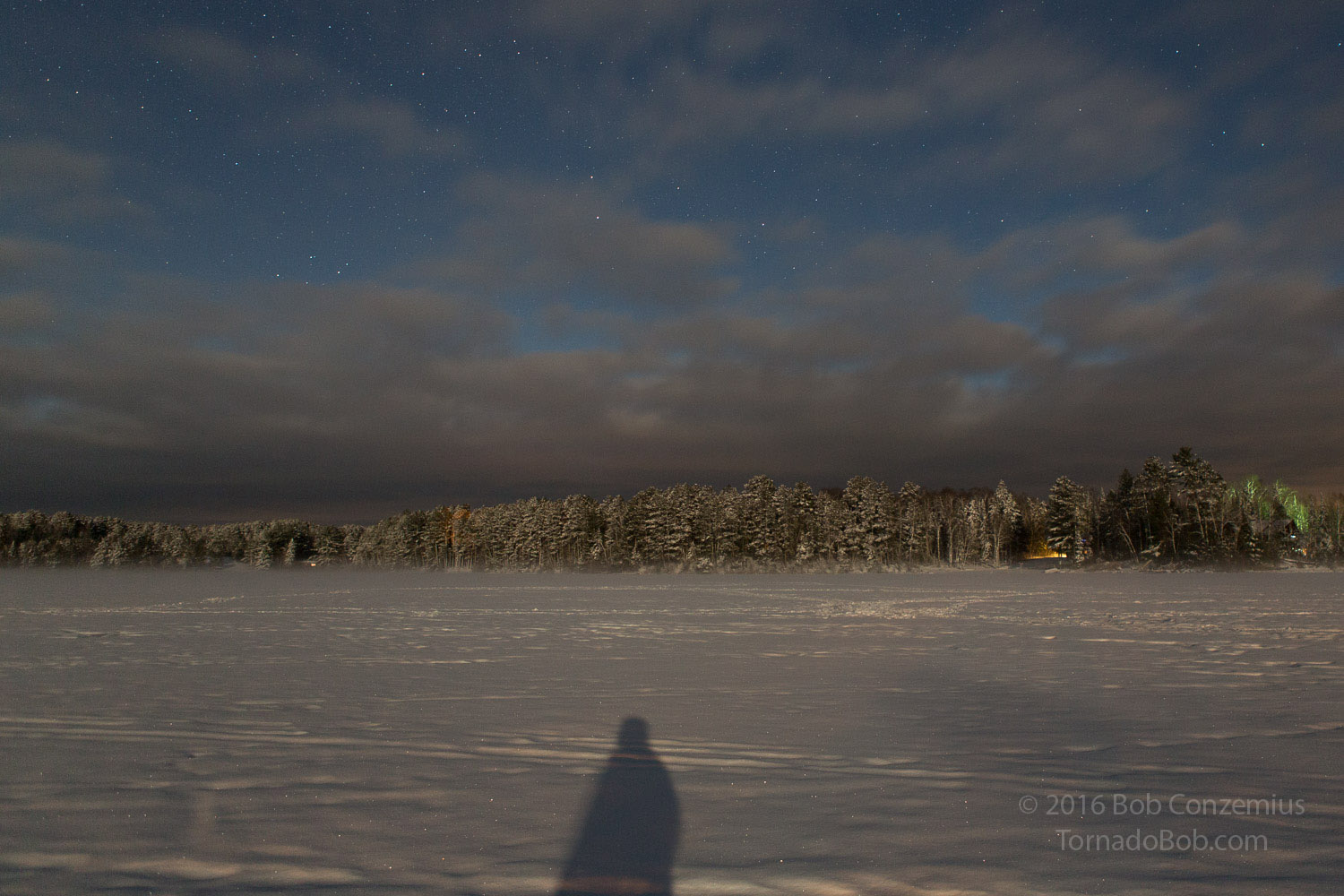 Clouds then came in from the east.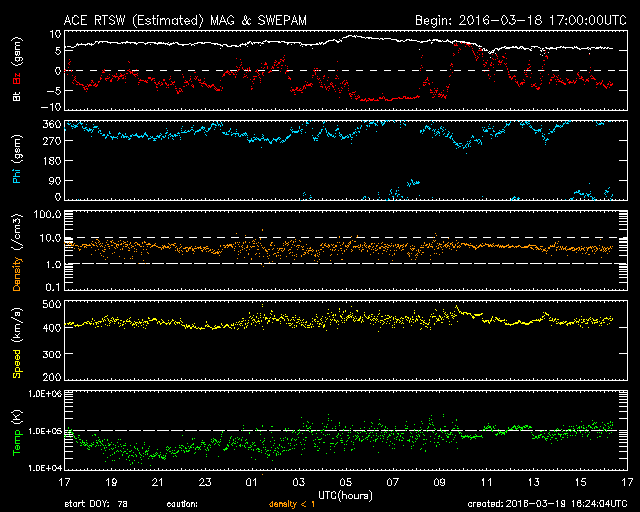 Solar wind conditions.