March 11, 2012 Auroras
Pughole Lake, Grand Rapids, MN
I had just finished attending an event for with Bridges Kinship Mentoring in town. I had heard there was a chance for auroras, but I was not keeping my hopes up because I had not seen them in over four years. Up until this year, I was paying very little attention to space weather and all the satellite data that I look at today. When I saw auroras, it was merely by chance, without expectations.
That was about to change. When I got home, I could clearly see a green band in the northern sky. I was witnessing my first auroras of Solar Cycle 24! I packed my camera and tripod and decided to head someplace north of town so I could see them a bit better and take a few pictures. I was undecided about where to go, so I just drove north on MN Highway 38. I found a pull-off at a boat landing on Pughole Lake. This would be a perfect place as I could simply walk out onto the lake and set my tripod right on the ice. There were a few clouds in the way, but not enough to ruin the scene. I started snapping away with my 24-70mm zoom lens at ISO 1600 and f2.8.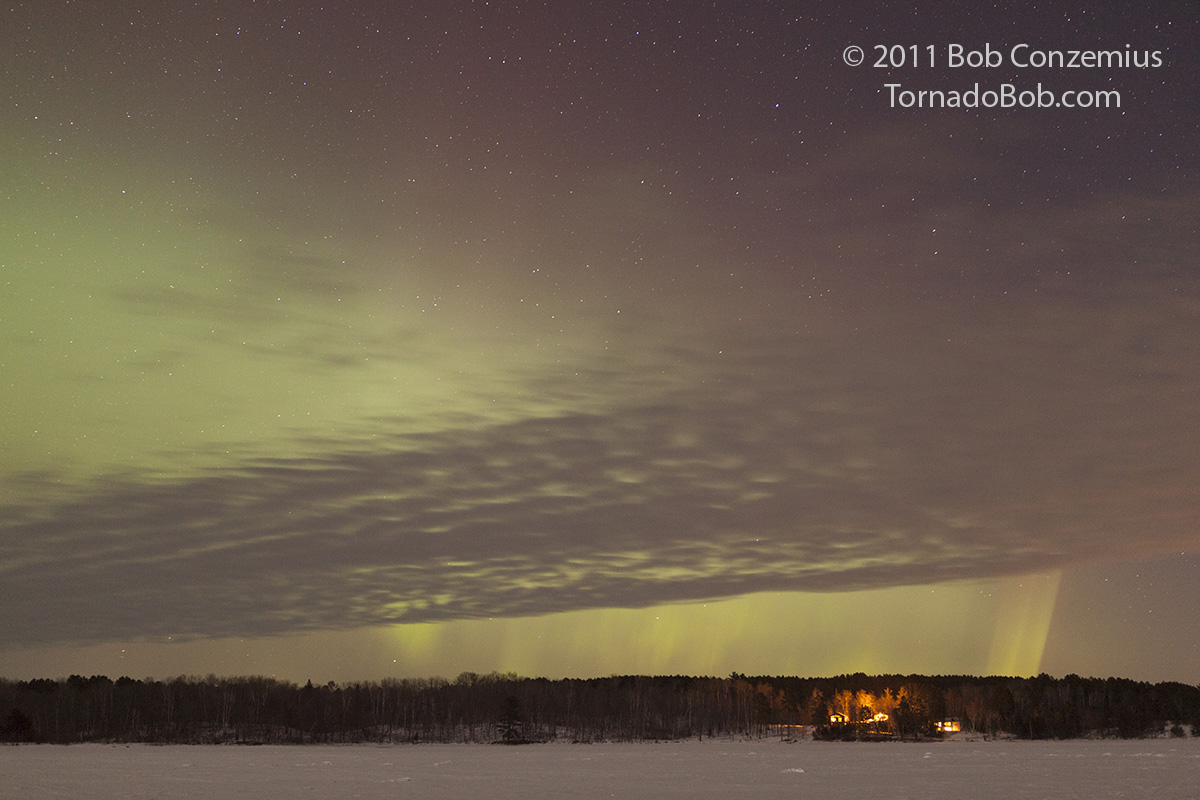 19 seconds, 43mm, looking northeast.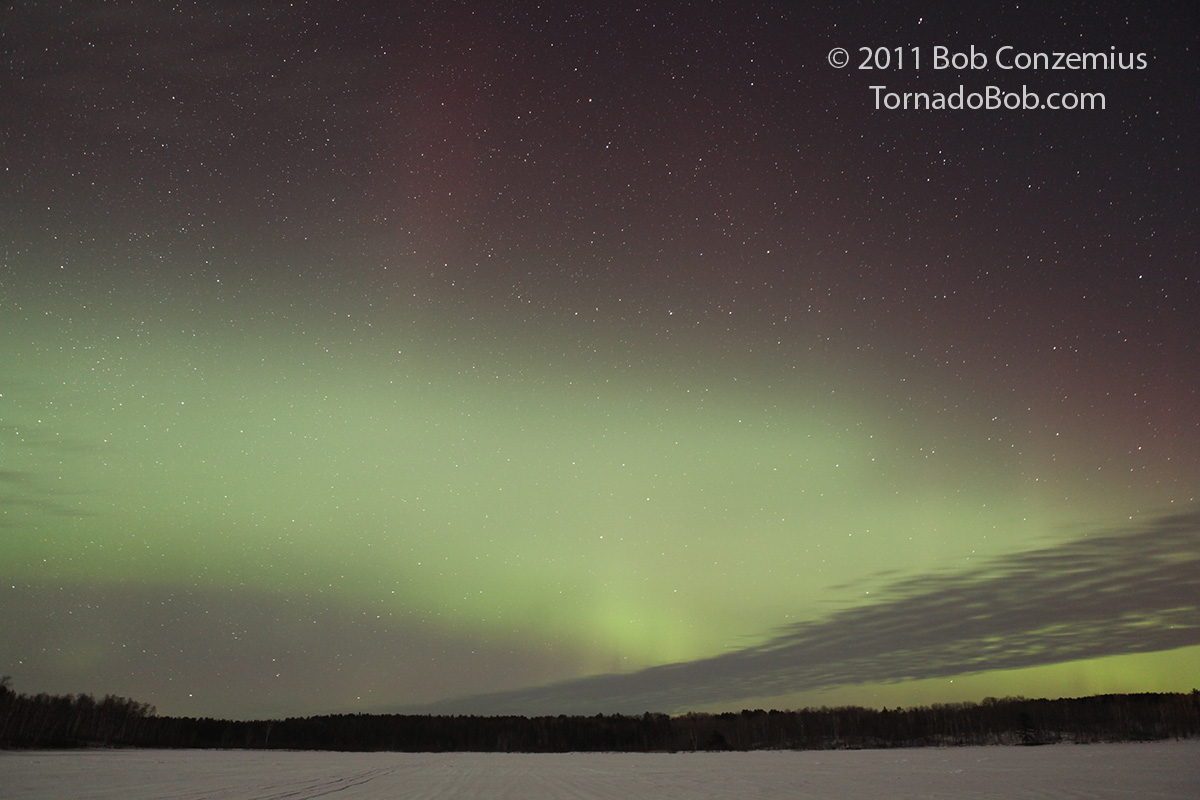 10:27 PM. A bright green band continues to glow. 30 sec, 24mm.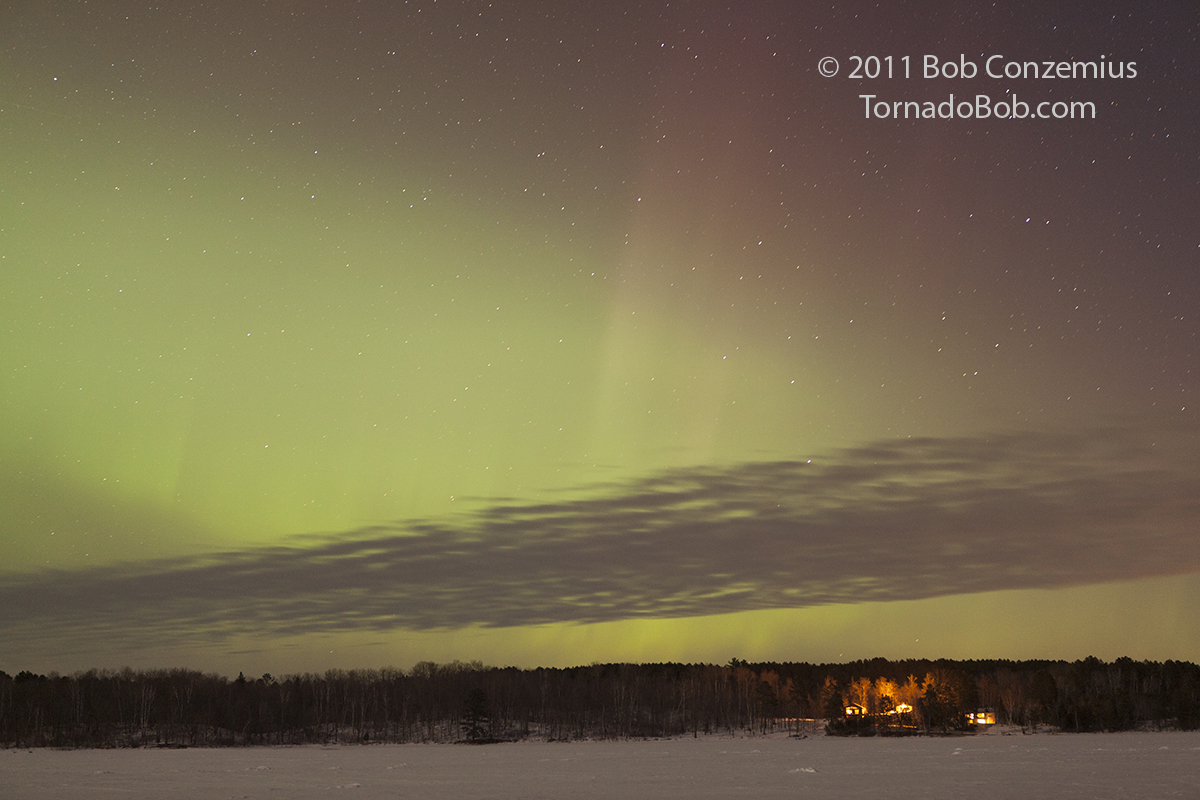 The band starts to move south and intensify. 24 sec, 50mm
Suddenly it occurred to me, as I was looking back at my first few shots, that it might be fun to take a bunch of pictures at regular intervals and stitch them together into a time lapse. I grabbed my shutter release cable, set my camera to auto repeat, and discovered how easy it was to take a whole lot of pictures. I was snapping pictures for my first ever aurora time lapse. I could now sit back and enjoy the show!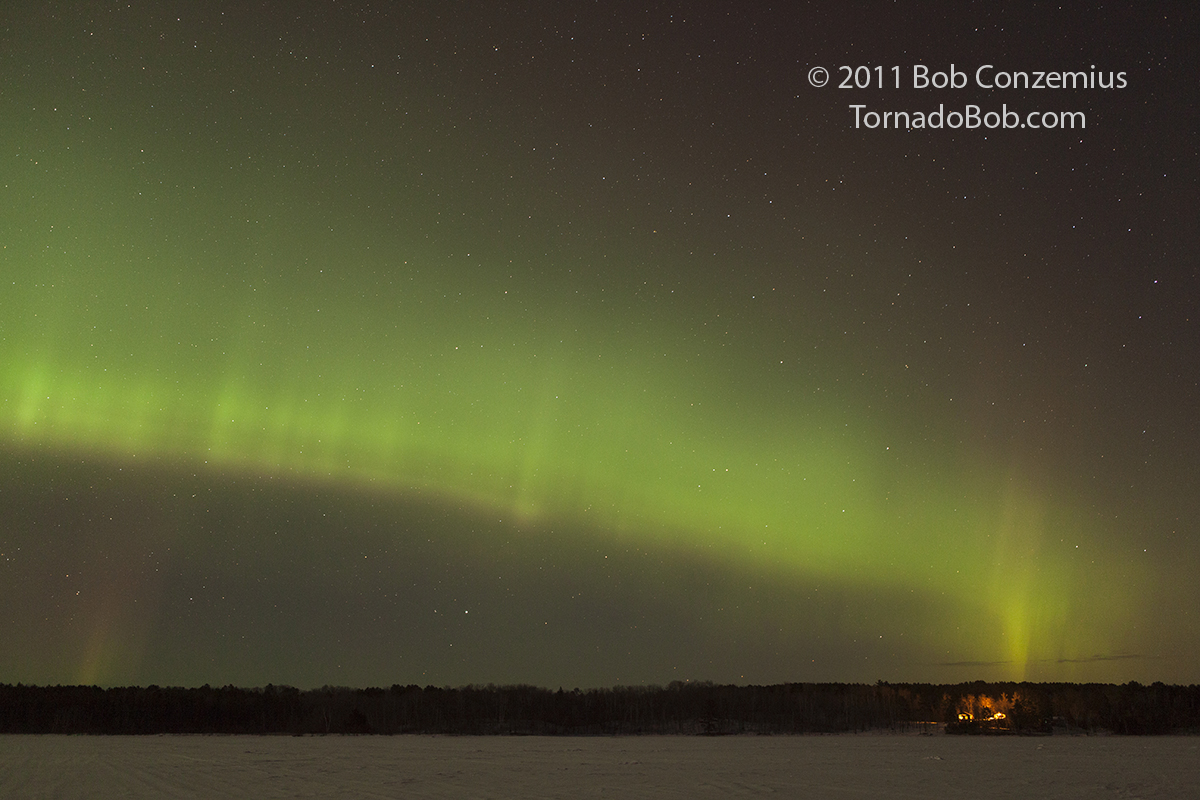 Suddenly, the band starts to brighten up with an undulating structure. What is happening? 32 mm, 13 sec.
The show continued for an hour after I started the time lapse without a lot of change in the appearance of the green band. There was some brightening occurring on the northern horizon, but that was about it. Suddenly, an undulating pattern of bright curtains appeared, and the auroras began to intensify a lot. It also happened that, since I was shooting continuously for the past hour in RAW mode, this was also the precise moment that my CF card filled up.
I fumbled around in my camera bag, with my hands cold from being outside for the past hour. I worked for what seemed like an eternity to get my spare card opened up while I was bathed in the green light of the intense show above me. Finally, I got the new card in the camera was shooting away again. I had missed the brightest moment by a few seconds, but auroras were now filling the entire northern half of the sky. When I took the next picture, the brightness of the auroras overexposed my shot so I had to quicken the shutter speed.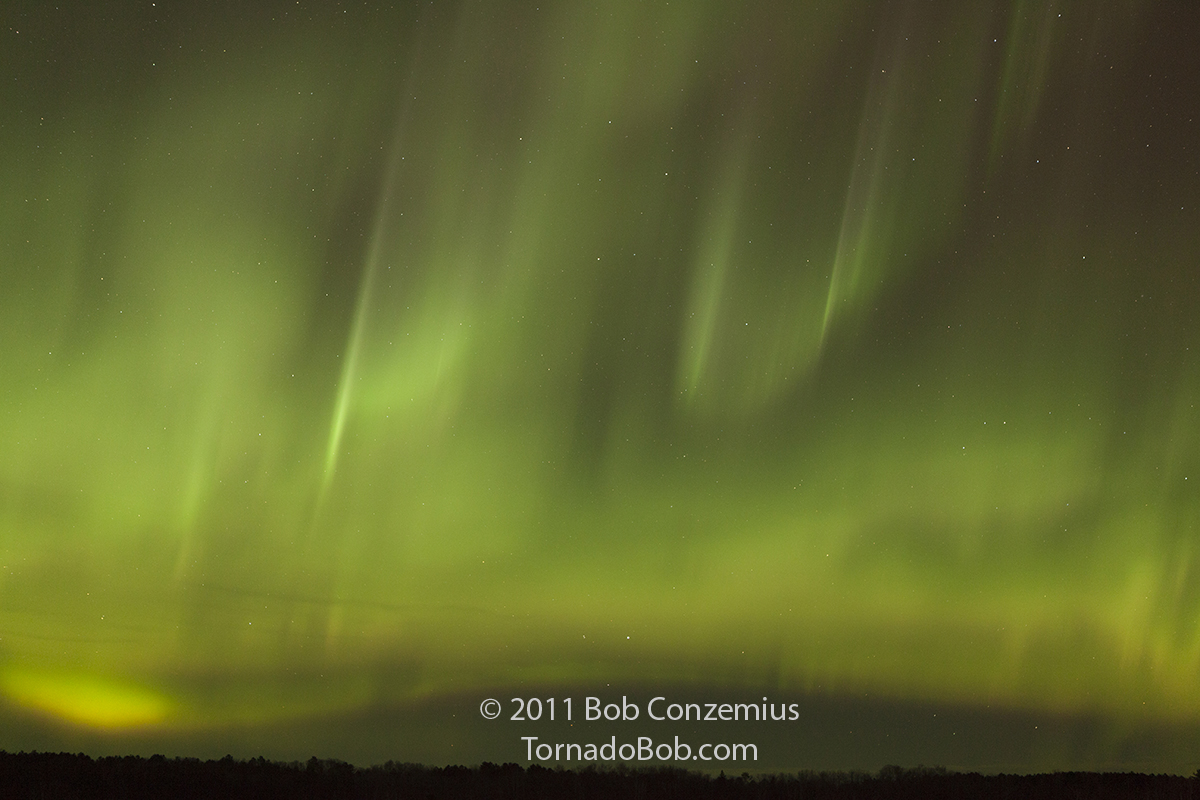 f2.8, 6 sec, 45mm. Time to switch to a wider angle lens.
It was time to switch to the 16-36 mm zoom lens in order to get all the auroras in one shot. I snapped a second time lapse sequence as the show retreated a bit to the northern horizon but also had some episodes of greater intensity similar to the first substorm of the evening.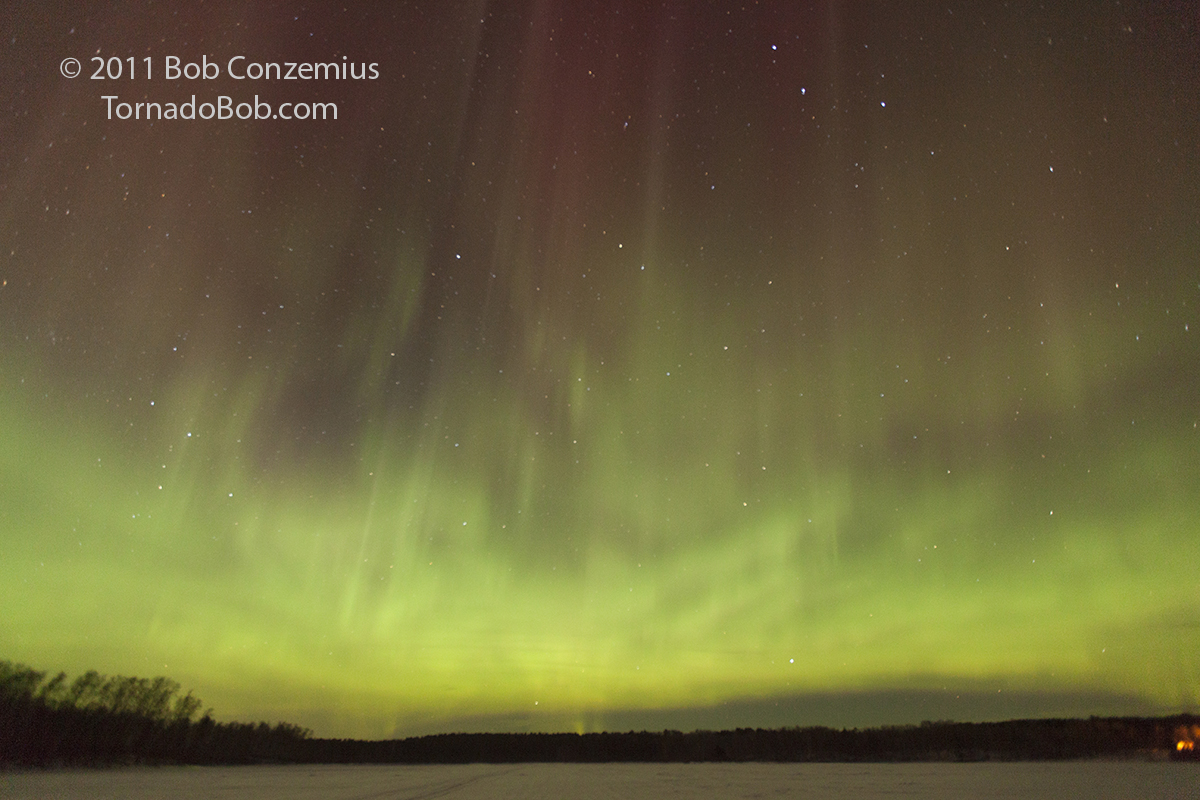 16mm, f2.8, ISO 1600, 8 sec. 12:03 AM.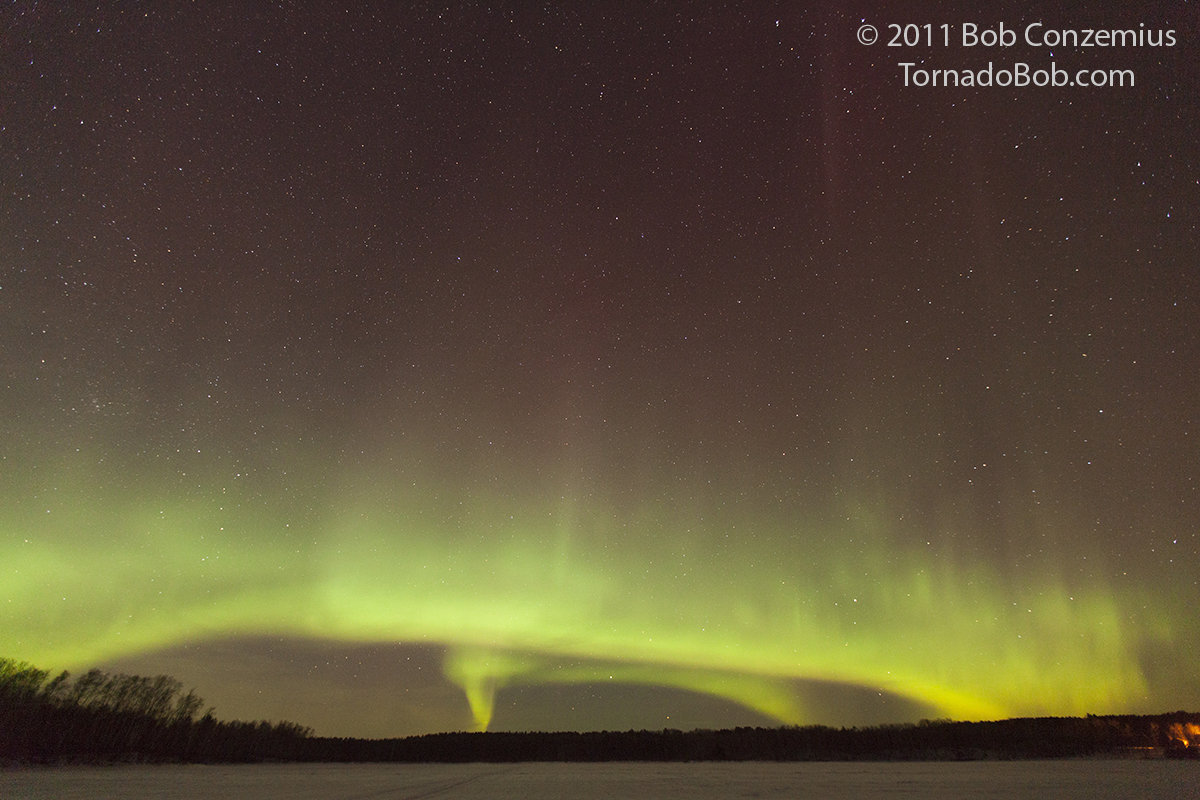 12:44 AM. An aurora tornado appears. 16mm, f2.8, 13sec.
---