January 22, 2014 Auroras
Chatanika and Parks Highway, Alaska
Click here for Dixie's blog entry.
After a day trip to Chena Hot Springs, which featured yet more cloudy weather, we were surprised at just before sunset as the clouds gradually gave way to mostly clear skies! I watched the data and saw things looked rather favorable for the auroras to show up. We ate a bit of dinner at the Lodge, and Joe and I were ready pretty quickly and decided to head out a little before Dixie, Kay, and Kim. We said we would let them know what we saw when we got to Cleary Summit before dropping down into Chatanika where we would lose cell phone coverage.
We drove through Fox up to Cleary Summit. There was barely any glow there at all. I almost could not see it. Still, the conditions looked good enough for the auroras to pop later on. I relayed the information to Dixie, Kay, and Kim, who were already on the way. We waited for them to get to Cleary Summit, and when they arrived, we all agreed that it was too windy. It was pretty warm with temperatures in the 30s (above zero), but the wind made it feel a lot colder, and it would shake our tripods. Down to Chatanika we drove.
When we reached the pullout, past Poker Flat, the aurora had gotten a little brigher. I noticed the Milky way was going to move along the northern horizon, so I set up a time lapse for it to do that.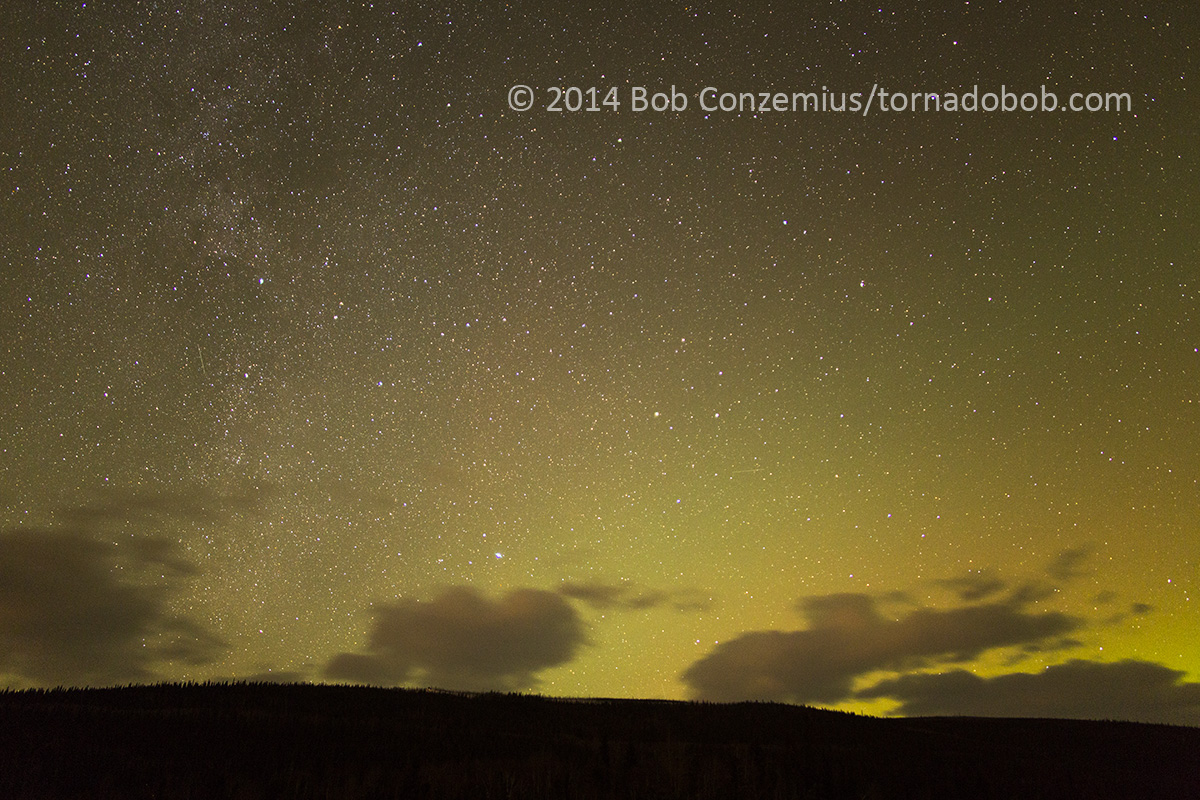 Milky Way and auroras at Mile 34, Steese Highway (near Chatanika).
The auroras started to brighten, but the clouds moved back in. Soon, the gals decided they needed to run back to the lodge for a break, but Dixie trusted us with her camera and left it to record her first-ever time lapse. It turns out we were not to be trusted and decided to photobomb her time lapse. I guess I would not have done that if the show was really great, but the clouds were going to hinder viewing of anything that did develop, so the temptation was too great. We inadvertently photobombed my timelapse, too!
Frozen river and auroras.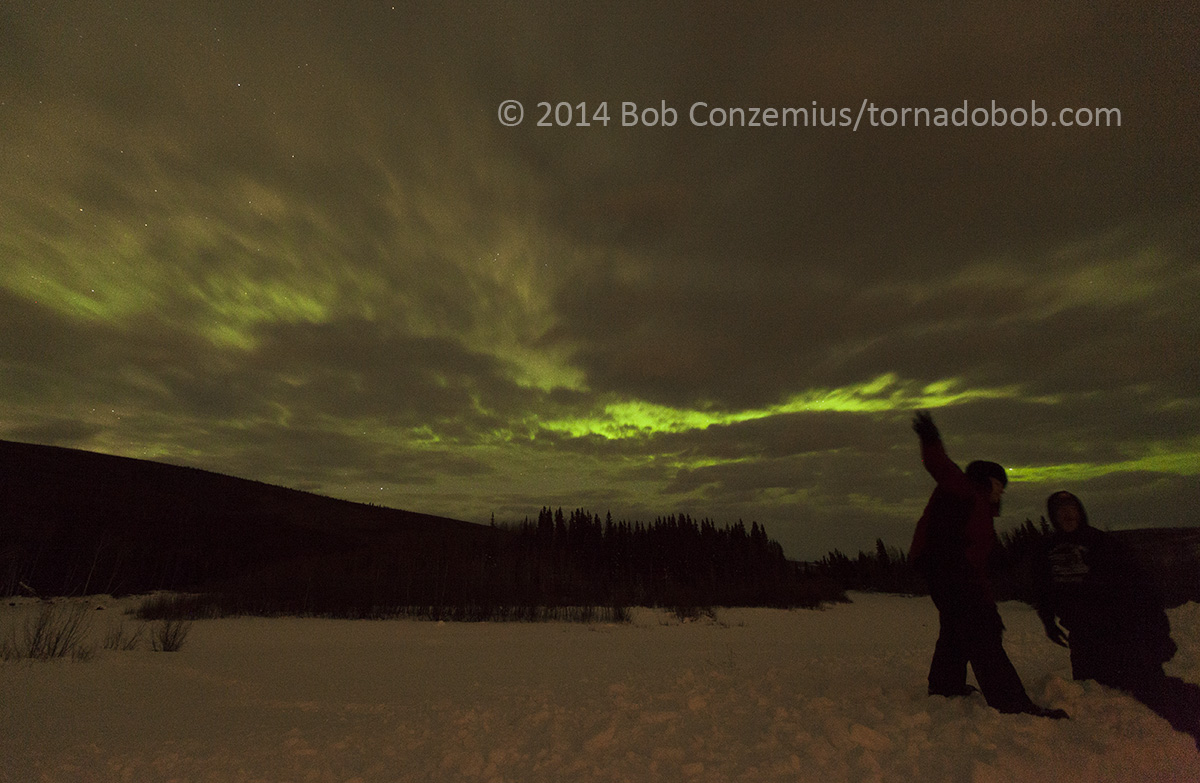 Photobombing Dixie's camera while she is away. I ended up photobombing myself, too.
When the gals returned, the sky was almost completely overcast. I asked them if they had looked at any data while they were at Chatanika Lodge. They hadn't, so it was now my turn to make a run to the lodge. I saw that there was a sliver of clearing moving in from the southwest and if we headed in that direction, we might be able to see some clear skies before the hole filled back in. We could see that the auroras were brightening up above us, so that gave us a bit more urgency to find a clear location.
We made our way through Fairbanks and got a bit more data along the way using our cell phones. I was also able to hook up the laptop and GPS and use my Verizon data card. We could plot our position on the weather maps that way. We started down the Parks Highway and made it probably 15 or 20 miles before we spotted stars in the southwestern sky. We continued until the skies opened up to the north as well. One nice thing about the Parks Highway is that there are parking spots every few miles where you can pull over and rest or shoot auroras. None of the ones we saw had an open view, however. That was not a problem as auroras around Fairbanks, if they show up, are usually almost overhead (unlike at home, where they're almost always within 20 degrees of the northern horizon).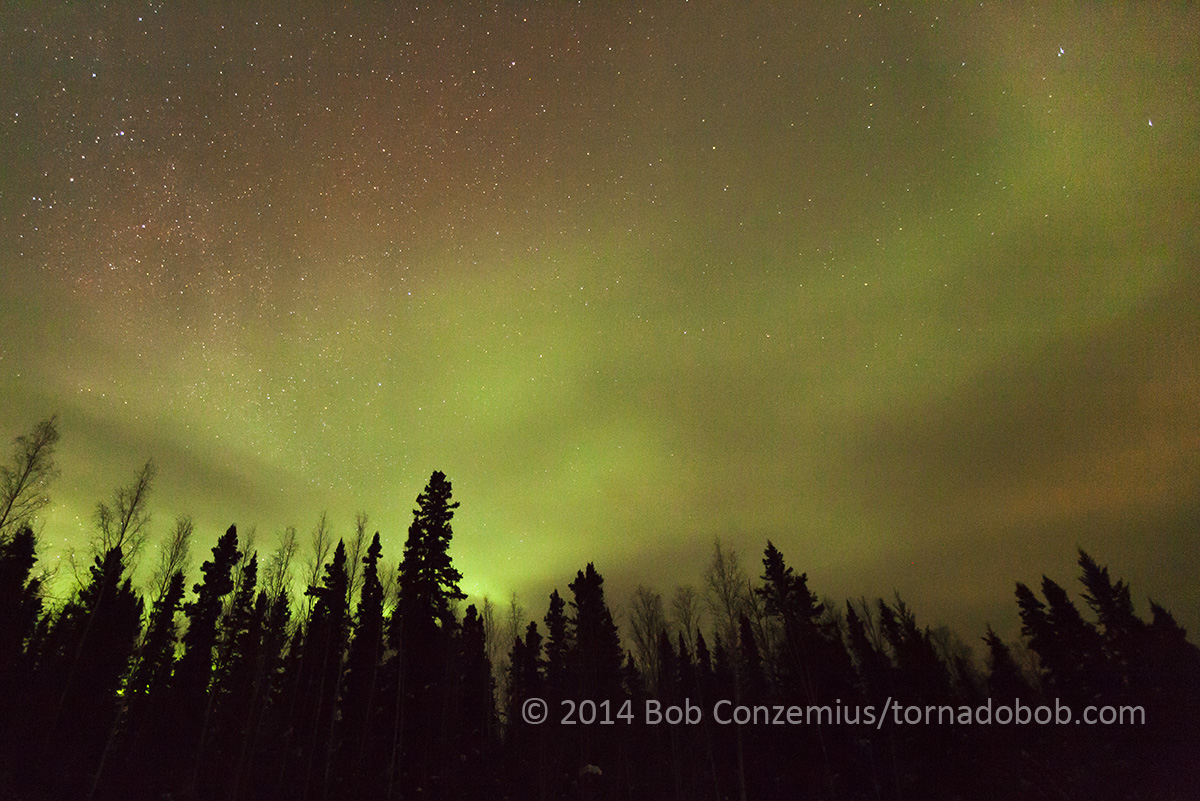 Great! Clear skies on the Parks Highway! Not for long.
Our clearing didn't last long, and it also began to snow. I looked at radar and thought the back end of the snow would move through, but it kept backbuilding, and the clouds got continually thicker. We shot until we couldn't see stars any more, but the green light still filtered through the clouds. We drove home at 2:00, battling sleep along the way.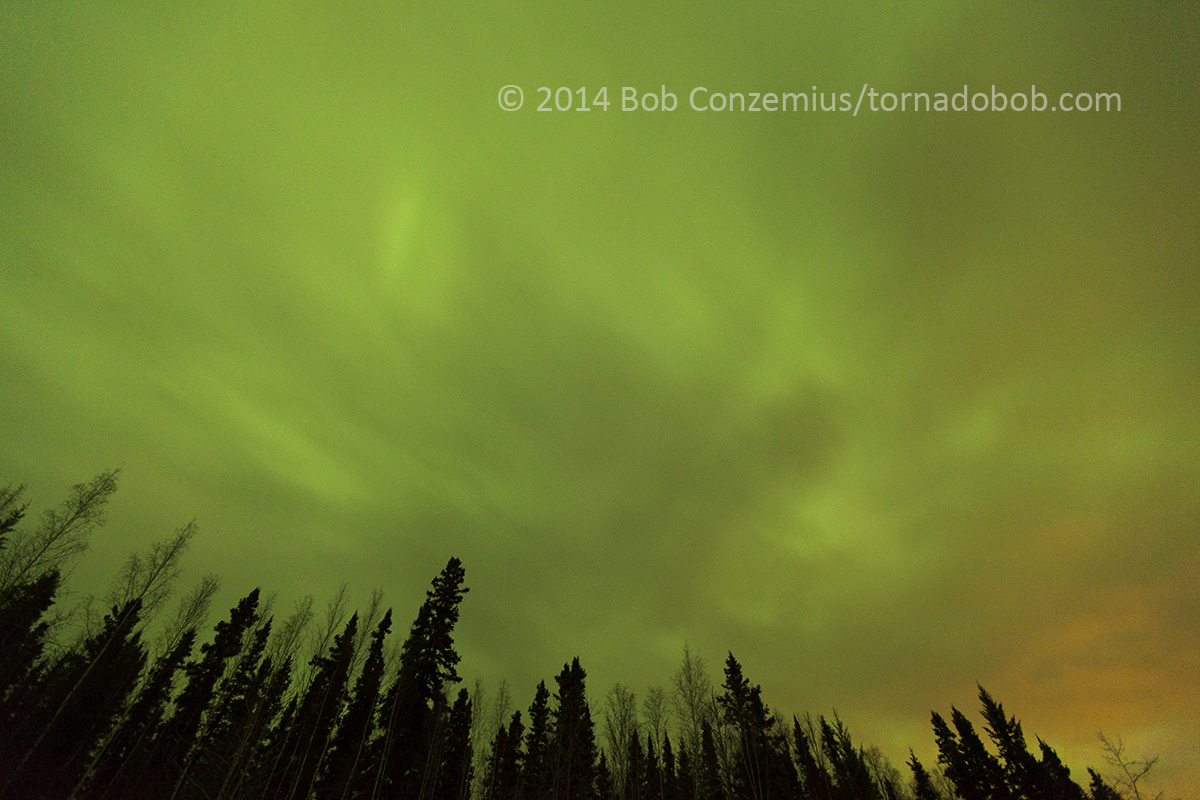 I am the master at photographing green clouds.