August 27, 2014 Auroras
Itasca County, Minnesota
A filament eruption hurled a slow-moving CME into space, and the Space Weather Prediction Center (SWPC) issued a G1 watch. I was initially a bit skeptical about it, but sure enough, Bz dropped south to around -4 or -5 nT during the late afternoon, and in the evening, it dropped further to around -10 nT. It was time to go out to shoot northern lights! However, a line of clouds and rain showers had moved in right at sunset, and it looked like it would be a few hours before things cleared again. To see auroras, I'd probably have to drive an hour to the northwest. Surprisingly, before I got to Cohasset, I could already see stars. I stopped at the boat landing on Bass Lake, and there was definitely green on the northern horizon beyond the clouds. A long exposure from the camera revealed stars down to the horizon, so this was already the clearning that I had been expecting. I took a few more pictures here, but the remaining clouds didn't seem to be in a hurry to leave, and a foul odor permeated the air at this location, so I decided to drive to another shooting location that I had just found in northeastern Itasca County.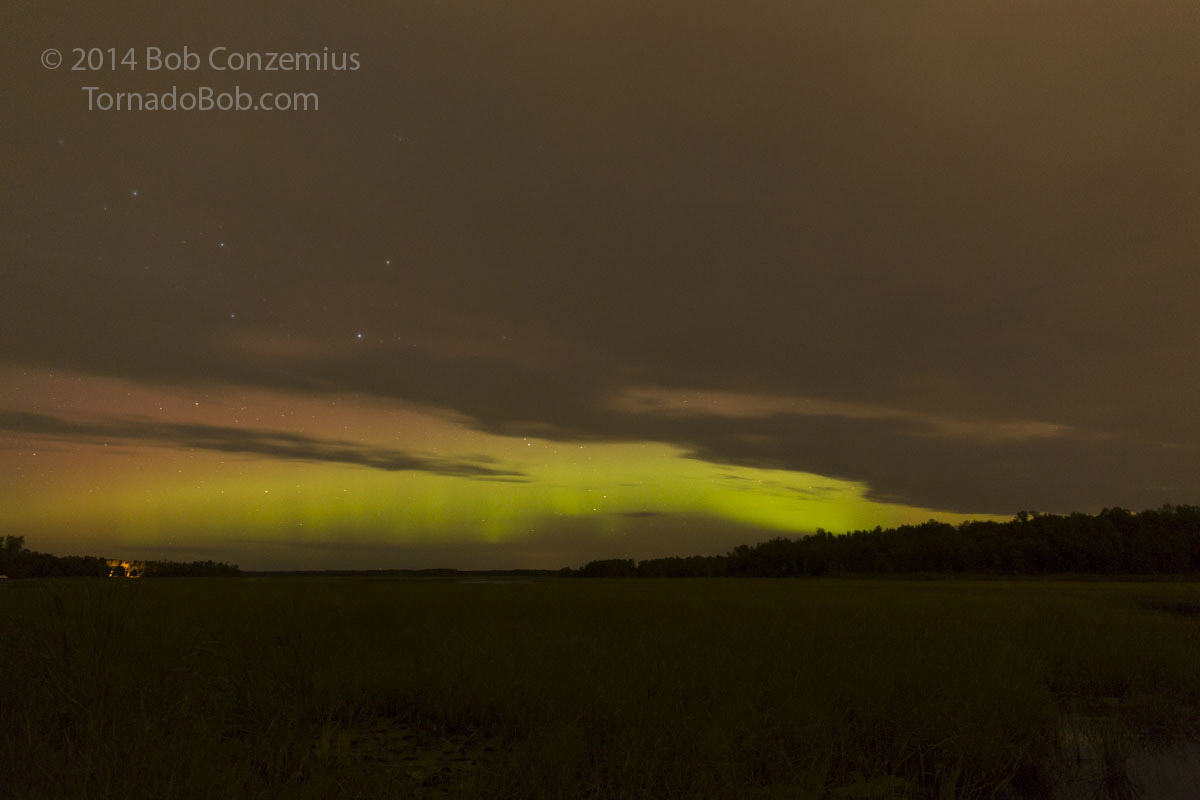 Auroras visible from Bass Lake just north of Cohasset.
On the way there, I set up the camera for a time lapse from the passenger seat. I had done that before with some interesting results and wondered whether it would work again tonight. Fog in the headlights made it a bit more difficult than before as mist rose from the road surface after the round of showers we had had earlier in the evening. I missed my turn to the new lake, had to turn around, and saw a wolf or coyote as I was turning around. During my drive, I could see some structure in the auroras, so I thought I might be missing a substorm. When I arrived at the lake, I caught at least the second half of the substorm because there was still a lot of structure visible. The camera showed it was mostly monochromatic, though-- all green.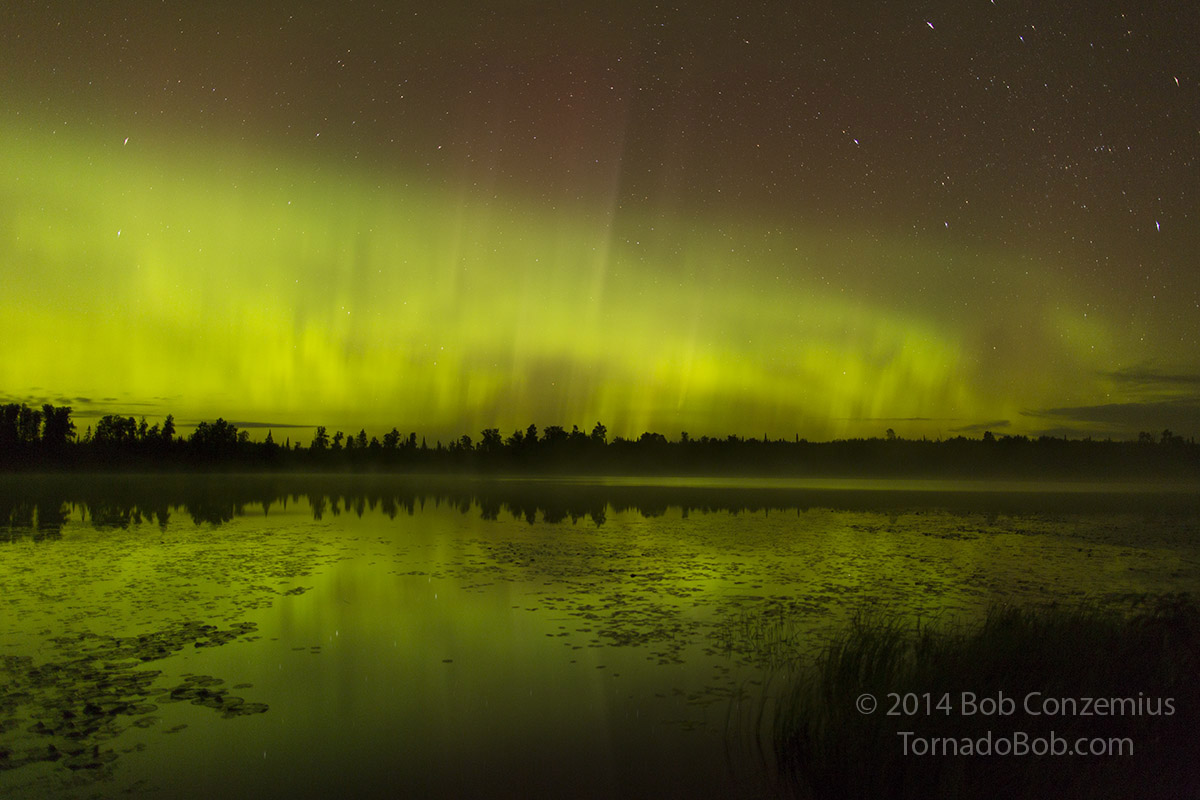 Auroras visible from Bower Lake in the George Washington State Forest.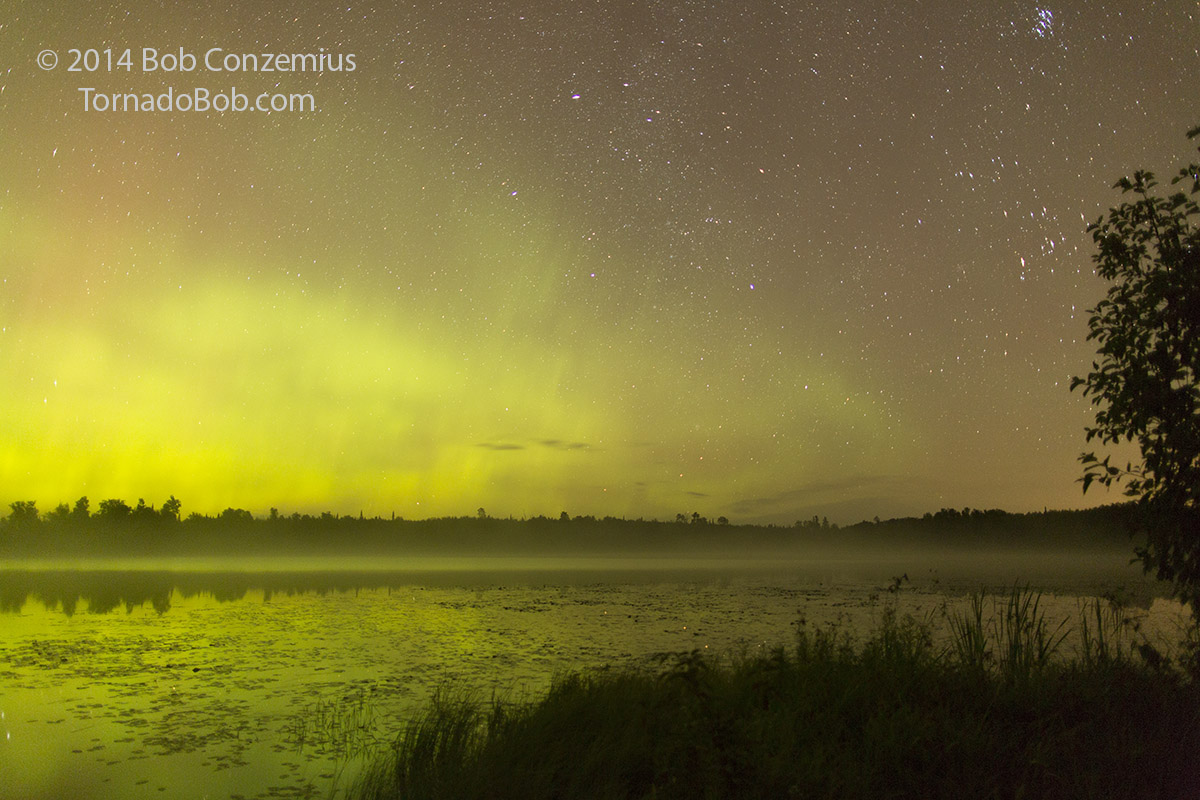 Longer exposure at higher ISO to reveal the fog on the lake.
After doing some time lapse work here, I decided to head toward home. I had work the next day, and I should be sleeping. However, I found a couple nice spots to shoot along the way, and a substorm finally erupted after 4:00 AM as I was pulling into Grand Rapids.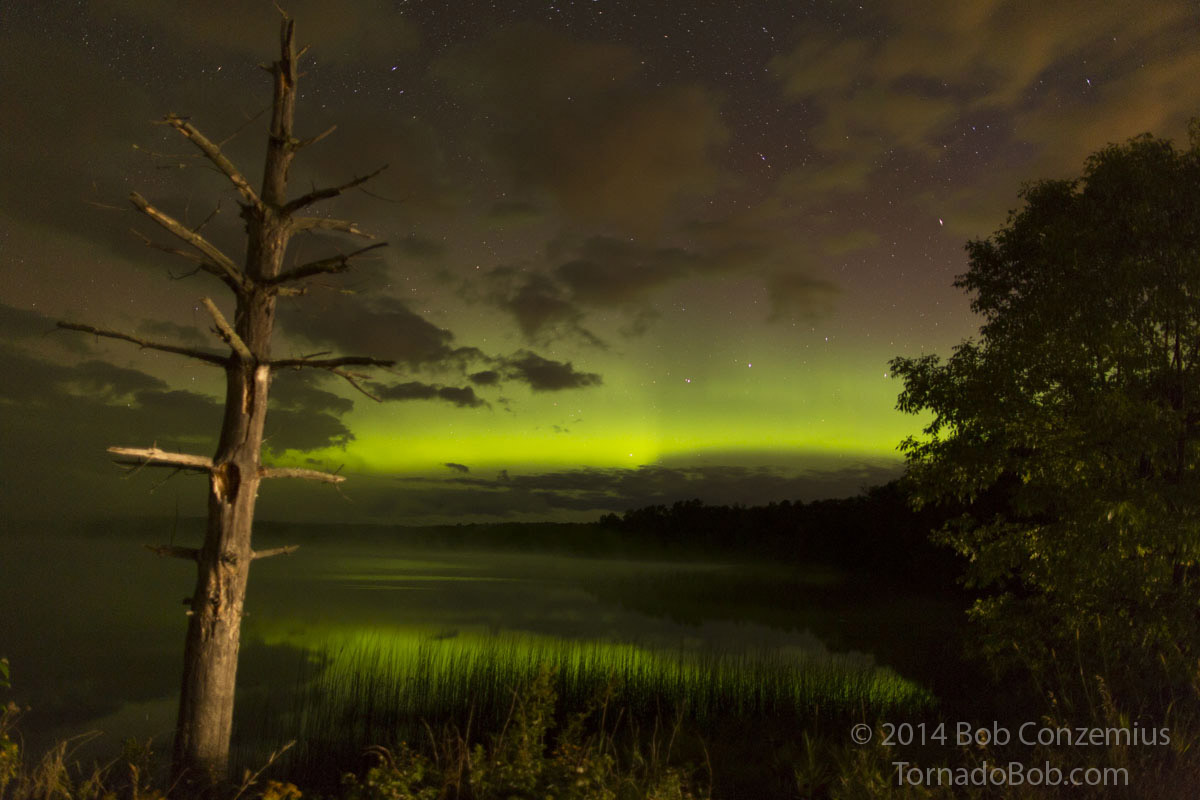 Snowball Lake near Pengilly.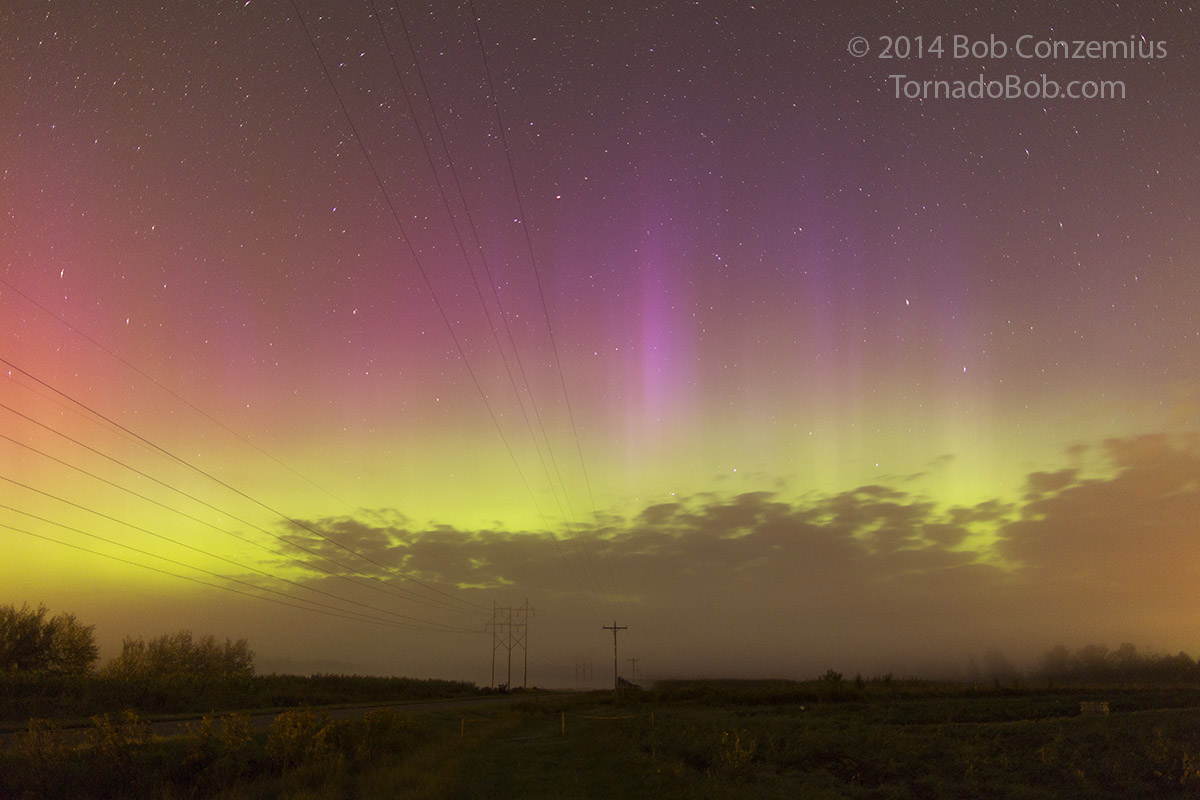 The main multi-colored substorm that night: near Itasca Commmunity College at 4:30 AM. 24 mm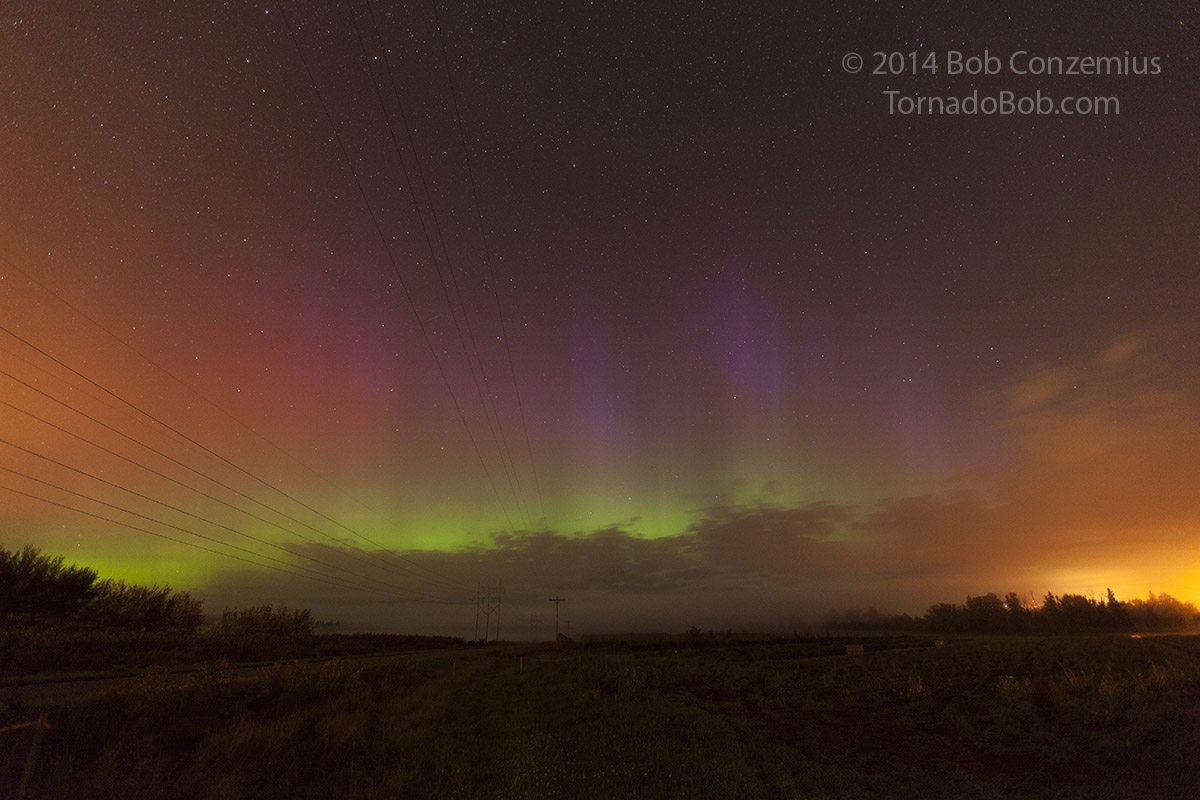 The main multi-colored substorm that night: near Itasca Commmunity College at 4:30 AM. 16 mm