January 20, 2014 Auroras
Cleary Summit, Alaska
This was the first night of our Alaska trip when we were able to see clear skies long enough for the auroras to pop out for a bit. We monitored the conditions from the Taste of Alaska Lodge, where we were staying. Around 9:00 PM, we started to notice some clearing skies, and the north-south component of the solar wind stream magnetic field (Bz) was tipping just barely south (2 nanoTesla), but that was all it takes to start auroras in Alaska. We suited up and headed to Nordale Road, just southeast of the lodge, to see if there was anything out there.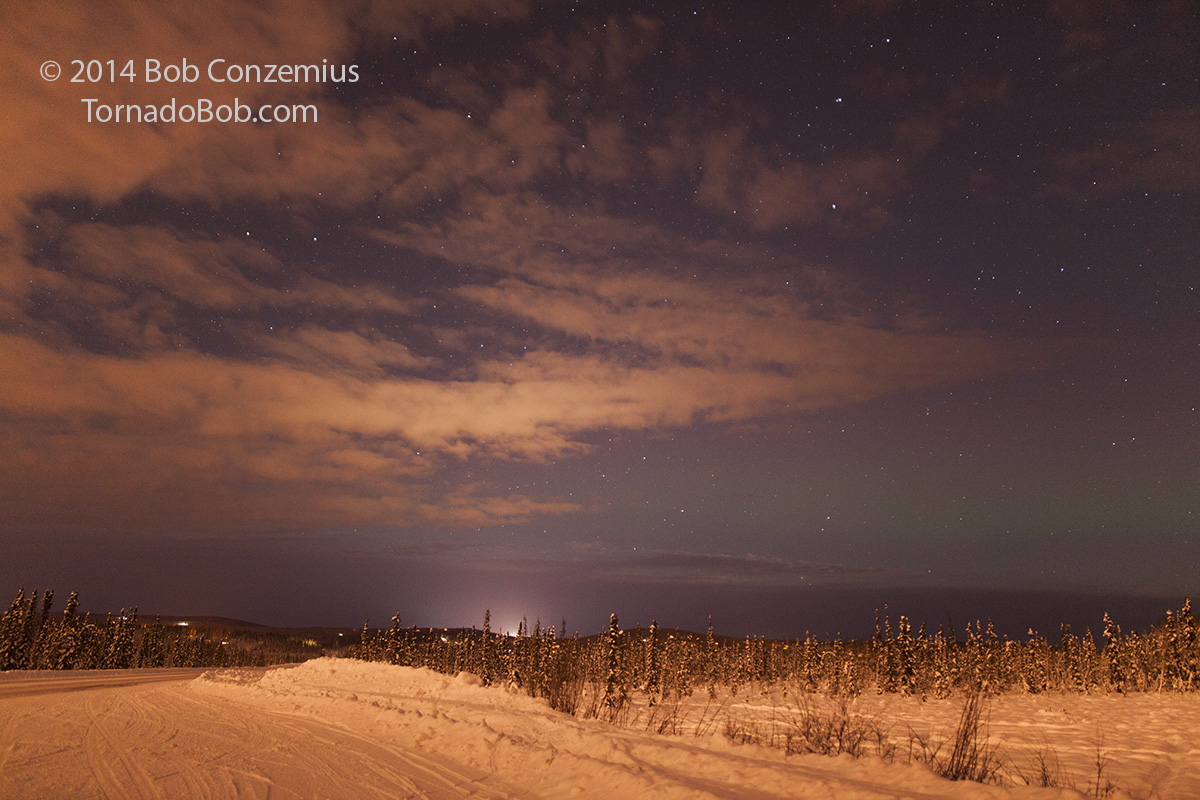 Very dim auroral oval visible from Nordale Road, just north of North Pole, Alaska.
It was barely visible on the pictures, but I could see it with my eyes. There was a dim auroral oval present. We thought it would be nice to try shooting from this location since there really wasn't much of a show, and this wasn't too far from "home", but there was a lot of light from North Pole and mining operations nearby. We decided to head up to Cleary Summit for some darker skies.
We found some darker skies, but the moon was now rising, and it was a little more difficult to discern the dim auroras. No problem, though, as they started to brighten up quite a bit. We took pictures from about 10:56 PM local time (when we could first see the auroras brighten up) until 12:39 AM, when the clouds had moved back in enough to make aurora shooting impossible.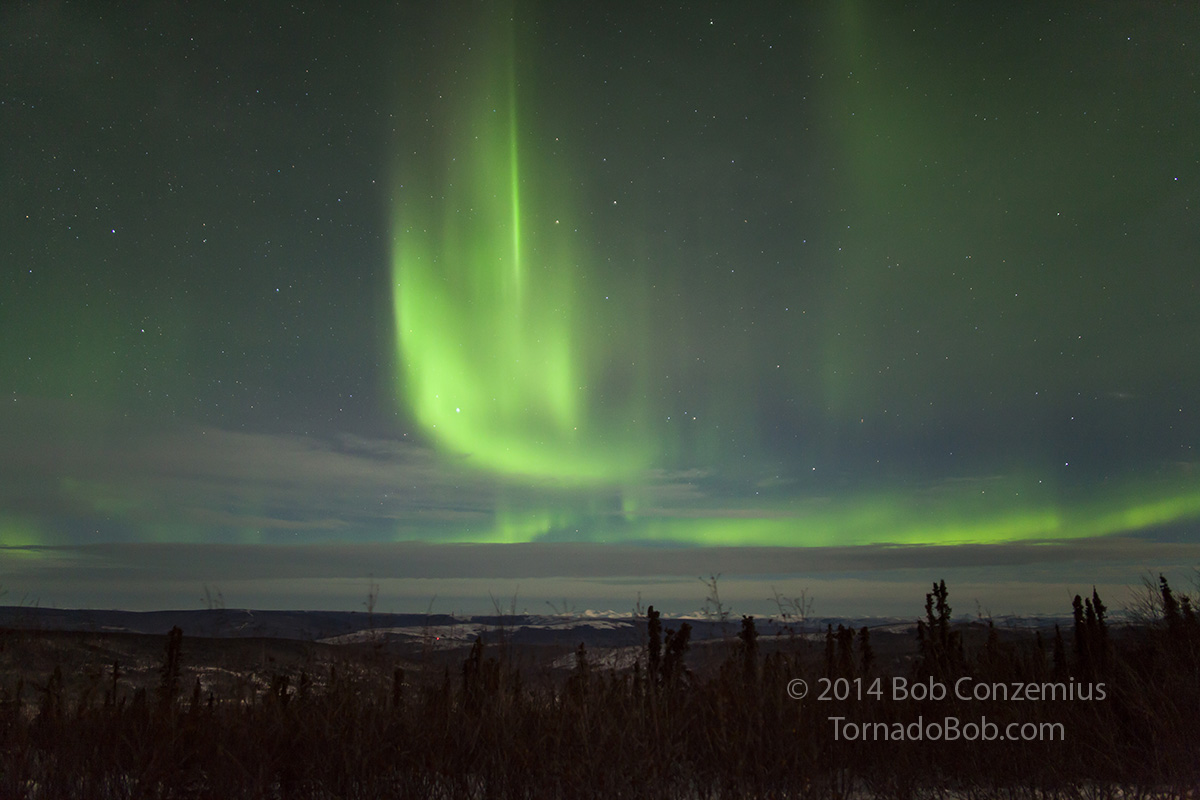 The peak of Sunday evening's aurora show at Cleary Summit. 24mm, f1.4, ISO 1600, 2 seconds.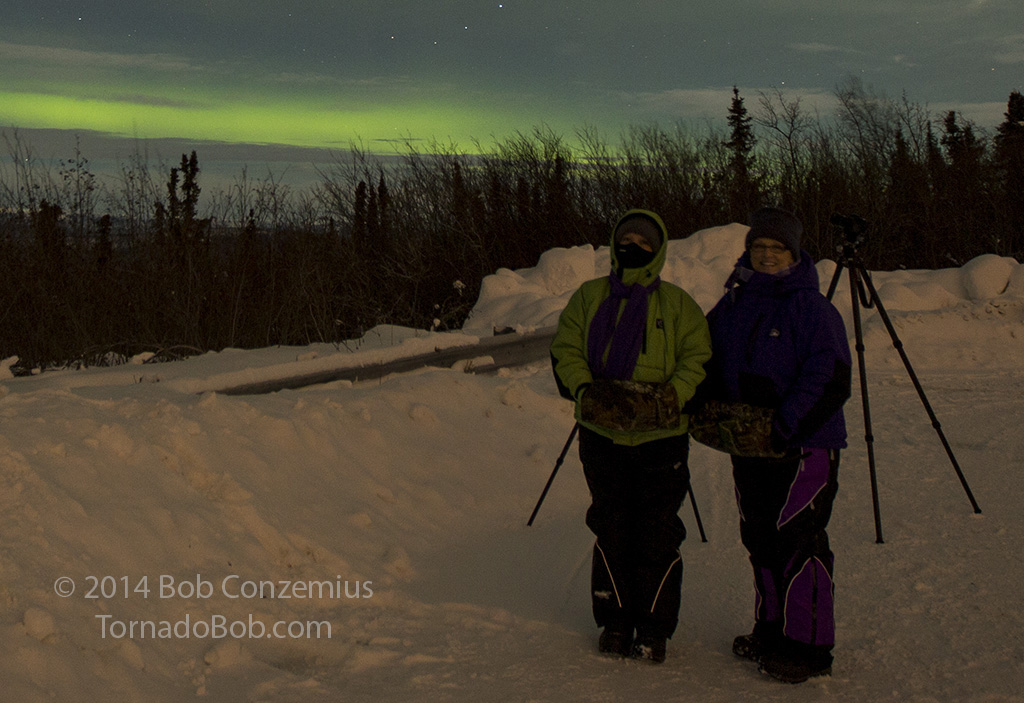 Dixie and Kim at Cleary Summit.
In the meantime, a group of Chinese students from Vancouver had pulled up next to us. We helped them get their cameras set up for shooting auroras and chatted with them for a few minutes. It turns out they had been in Alaska for a short trip, and they were headed home in the morning. This was the only chance they had to see the auroras. See they did, but they didn't get there in time to see the peak of the show. They did get to see at least a little bit of auroral activity, though, so they didn't strike out for their trip.
See here for Dixie Burbank's blog entry for this day of our trip.