February 8, 2013 Auroras
Trout and Moose Lakes North of Grand Rapids
A high speed solar wind stream from a coronal hole was starting to affect Earth, and we had nearly clear skies in and around Grand Rapids, so I decided to try one of my ski-in shooting spots given that it was getting later in the winter, and I had not done a ski-in aurora shoot yet. My selected spot of Moore Lake off the Joyce Estate ski trail would not work because the auroras just weren't high enough in the sky, and the magnetic field was not very far south. I would ski onto Trout Lake, instead. Trout was bigger than Moore, but it would require some bushwhacking in deep snow to get there.
I started to ski, but it was a real effort with all my gear, and I was overheating, even though the temperature was below zero. I decided to leave one of my two tripods on the trail (surely, nobody would be coming by to steal it) pack my outermost jacket in my backpack, and continue on to the point where the trail is closest to the lake. I took a test shot.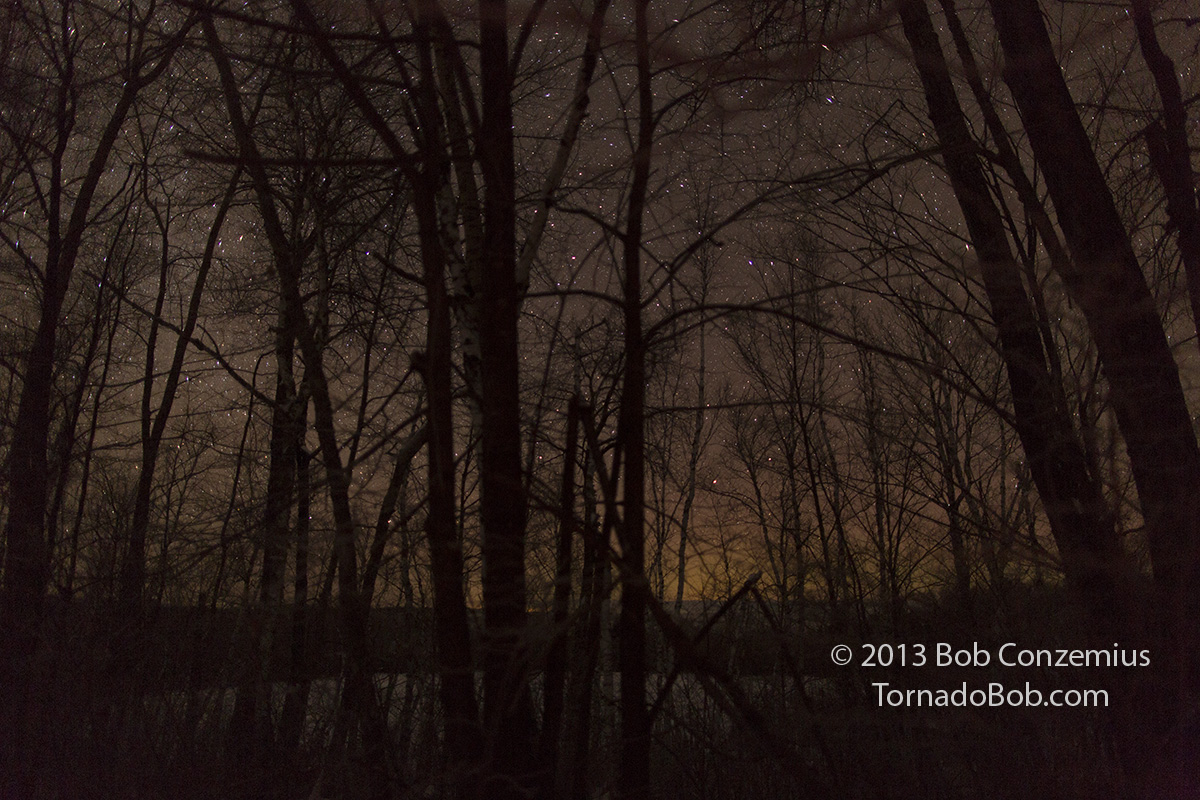 Auroras barely visible through the woods. Do I really want to bushwhack through knee-deep snow to get to the lake?
Gosh! The horizon showed only the slightest hint of a green glow. Did I really want to do this? The temperature was dropping, and the trees were cracking in the cold. Oh well, at least the stars were really bright. I found a spot where I thought the distance was shortest, and I slogged down the hill to the lake.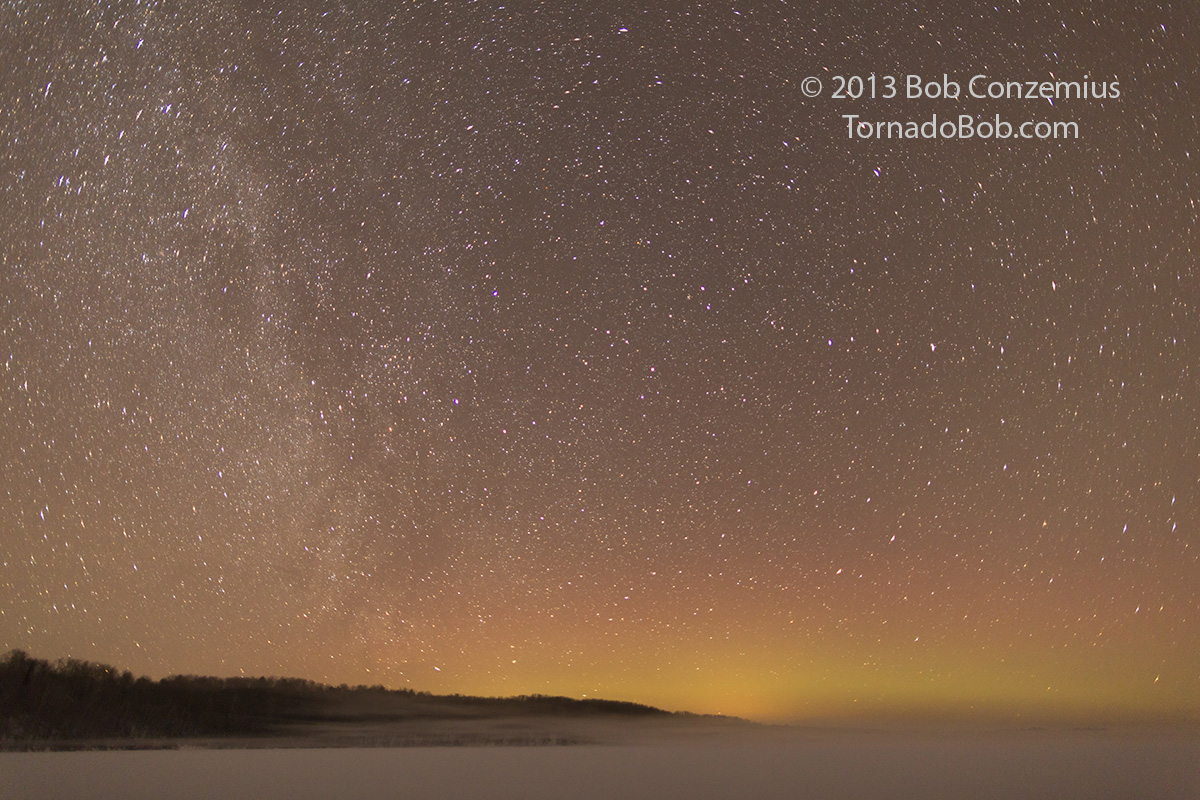 Ice fog, stars, and auroras on Trout Lake south of the Joyce Estate.
For the next 20 minutes or half hour, I shot a time lapse as the green glow on the horizon faded in and out of the fog but never really got bright. Soon, a bank of clouds moved in from the southeast. I guessed I would have to find a new shooting location. Since it would take a while to ski back out of there, I immediately packed up and slogged back up the hill to get back to the trail, then skied to my car and drove west.
I drove out from under the clouds more quickly than I thought. As it turned out, the clouds cleared on Trout Lake as well, and the fog would have continued to look good in my time lapse. It would have been a great time lapse of the fog and stars had I not hesitated halfway through because of the approaching clouds, but it only turned out to be a fair, pretty time lapse. Anyway, I stopped at a parking spot on the south shore of Moose Lake on County Road 19. The auroras were still not very bright, but the magnetic field was dropping south, and local midnight was approaching. I set up to shoot, but this was not the most private location. There were a couple houses close by, and there were occasional cars driving by on the road. They could see that I was parked there at this unusally late hour, and I was sure somebody would be stopping to ask what I was doing. Soon enough, somebody did. It was the Itasca County Sheriff. I reluctantly explained what I was up to (shooting auroras), worrying he would not believe me (there were no visible auroras), although I did add that I really wasn't seeing much yet. He said that was fine, and I thanked him for checking in. It's nice to know they're looking out for us.
Later, I heard another car drive by and stop pretty close at a neighboring house. These were two somewhat intoxicated guys just getting home from a night at the bar. They were loud enough that I could hear what they were saying ("I need to take a leak"), and they started to sing along to a song playing on the car radio-- some sort of old 50's or 60's type tune-- as they were singing and urinating in the snow. Their musical choice surprised me because they did not sound that old, but their drunking voices suggested they'd be more obnoxious than their tunes would indicate. I really hoped they would not notice me because I did not want to shoot auroras with drunk people. After a few minutes, I heard the house door open and shut as they went inside, and I was once again at peace.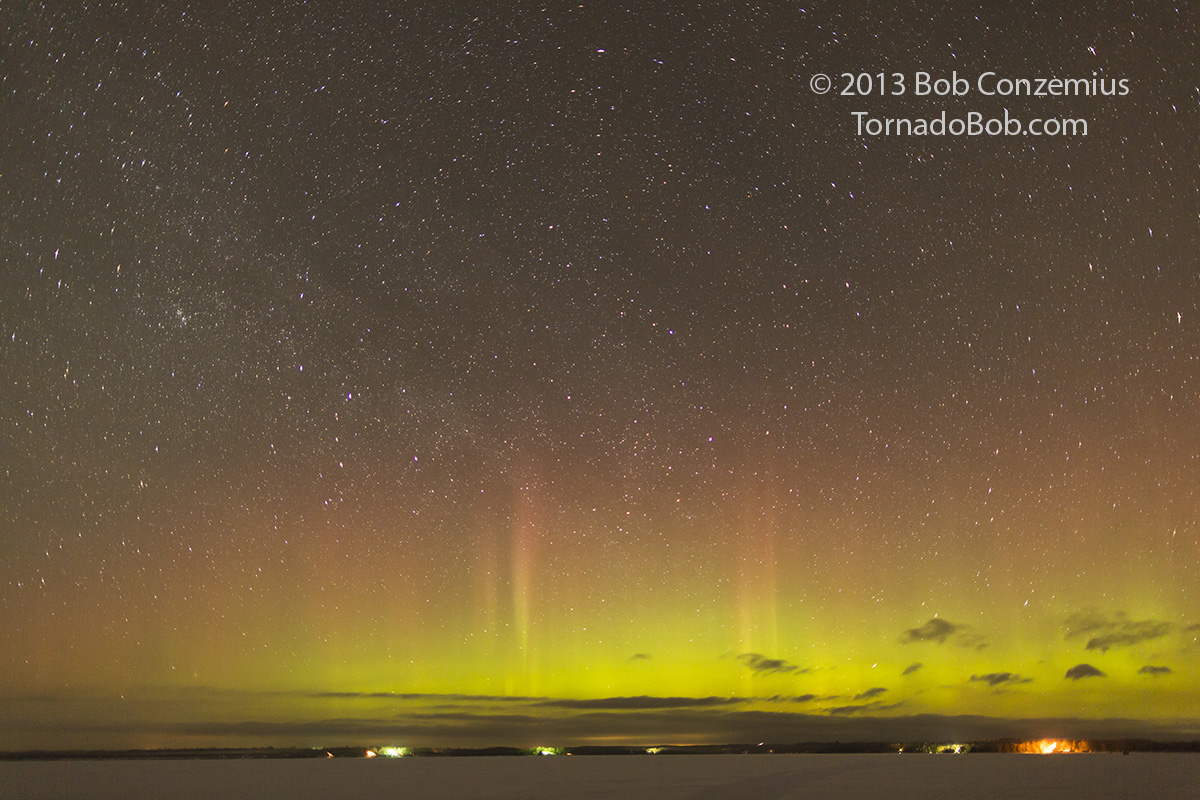 Ice fog, stars, and auroras on Trout Lake south of the Joyce Estate.
I finished off the time lapse and went home, uploaded the images, and made a time lapse out of both shooting locations. Click below to see that time lapse.
---
---